As AI gets smarter and businesses require more help to scale, we've turned to chatbots to help us manage client inquiries, provide customer support, and more.
Of course, some customers don't always have the best experiences or impressions when they use live chat software, especially if they're trying to get personalized service. More and more, people are looking for highly relevant content and personalized offers instead of one-size-fits-all messaging when engaging with brands.
So how can you make sure your chatbot is actually helping you give better customer experiences and boosting your customer engagement, instead of turning people away from your website or brand because of poor customer service and personalization?
Keep reading to learn about 7 creative ways a chatbot can boost your customer engagement and help you increase sales and customer loyalty in the long run.
7 Ways How Chatbots Can Boost Customer Engagement
Give Product Recommendations
50% of customers have said in a survey that they prefer shopping on online stores that let them connect over chat. So this shows us that one of the best ways to put your chatbots to use while boosting customer engagement is getting them to provide personalized product recommendations.
Because AI has come such a long way, it's possible for chatbots to glean information about your customers browsing your site and store and then provide highly targeted recommendations based on their activity.
For instance, if a customer has been browsing an apparel store's website, the chatbot might notice they're looking under the category of women's shoes. The chatbot can then offer personalized recommendations based on similar styles or colors of the item your customer might currently be checking.
Or if your customer is logged in to their shopping account, they can receive personalized recommendations based on their previous transactions with your brand. For customers that want easier navigation, they can also initiate a conversation with the chatbot and get an instant recommendation right away.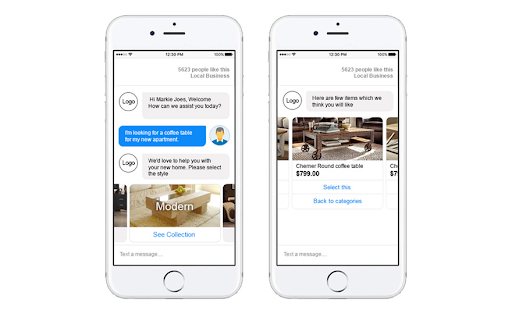 Improve Your Website User Experience
User experience, as defined by Brainstation, "is the craft of making the user's experience when interacting with a digital product as effective, efficient, and pleasant as possible. It is, in short, the process of building products with the user in mind."
Knowing this, chatbots can actually do wonders for boosting said user experience, particularly on our websites. If your site has several pages, articles, and content, a chatbot can eliminate the overwhelm by providing quick navigation based on what visitors are looking for.
People can choose from a menu based on their goals for being on your page, and your chatbot can deliver the most relevant next steps for them. After all, 69% of consumers prefer chatbots because of their ability to provide fast answers to simple questions.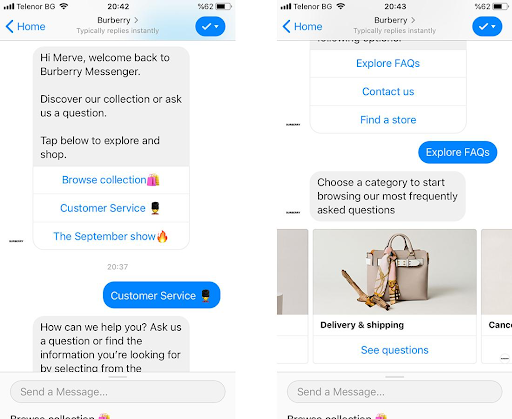 Gamify Your Promotions
Gamification is a powerful marketing strategy that helps make customers into engaged, loyal fans. It involves turning certain customer interactions into games—be it giving them rewards, points, or exclusive content like discounts and vouchers.
One simple use case for this tactic is giving surprise discounts or promos behind your chatbot interactions. This helps encourage users to engage with your chatbot since they don't know what to expect. But every option gives them a special and exclusive discount or voucher that they'll be able to use on their next purchase with your brand.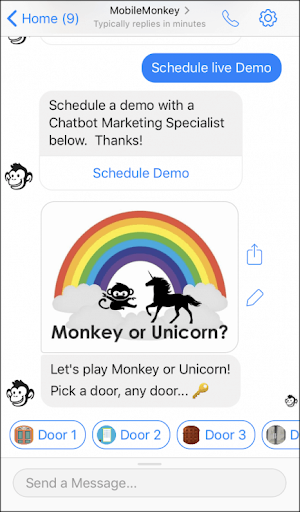 Image Source: MobileMonkey
Helps Customers Track Their Orders
As eCommerce and online shopping habits seemingly changed overnight, some first-time online shoppers might not know what to expect or where to go to track their order status.
Not everyone might check their emails as well, and their first instinct is to check the brand's website or social networks to get in touch with a customer service agent.
Make the process of checking their order status easier by making this an option in the main menu of your chatbot and maximize your automated touchpoints. Users can check their order status by putting in their order confirmation number.
Or if users are logged in on your site or have Messenger or WhatsApp accounts connected to their shopping account on your store, then your chatbot can easily pull up much-needed information about their most recent transactions without users having to input their order details.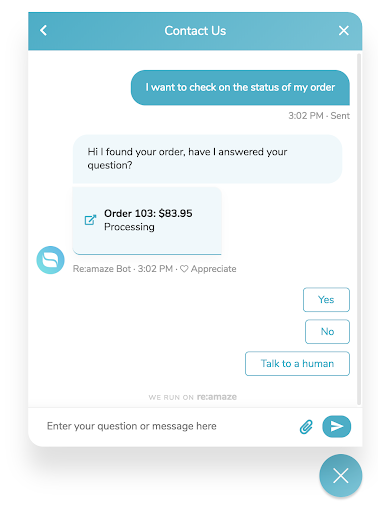 Serve as Your Multilingual Virtual Concierge
These days, you might need to focus on expanding your reach to reach a global customer base. Chatbots can be a fantastic tool to include in your global service stack since they serve as your multilingual virtual concierge.
This has the power to transform your sales process online because you're not only providing a personalized experience but you're also speaking a user's preferred language—helping you build trust between you and your customer.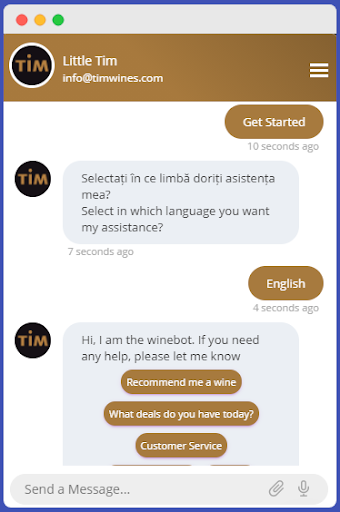 With Botsify, setting up a multilingual chatbot takes no time or effort at all—all you need to do is follow a simple setup process, and you can let your customers decide which languages they prefer to engage with your bot.
Onboard Your New Customers or Clients
If you run an online store, a digital service like a membership site, or an online course, then a chatbot might be just the tool to help you streamline your onboarding process with new and even existing clients and customers.
Consider that a new customer makes a transaction with your site then creates an account. When they're taken to their main dashboard, your chatbot can pop up and offer to assist them on their first steps.
Should they set up their profile? Check out a specific resource? Take a tour? Whatever you believe your new clients and customers should know immediately after signing up with you—even without you or your team to guide them through it in real-time—your chatbot can manage it while you focus on more important tasks.
Lead Nurturing
Finally, your chatbot might be a great source of engaging with leads before they're customers. While email marketing is still a reliable way to nurture leads, there's no denying the added personal touch that a chatbot can give.
For instance, chatbots are able to push new offers and helpful resources in real-time. Because messaging apps like WhatsApp and Facebook Messenger resemble SMS messaging, you're also hitting customers in a more personal, engaging space.
Studies have found that the average click-through rate (CTR) of chatbots can range anywhere between 15%-60%, which makes it more desirable to engage with leads that have already been warmed up to your brand.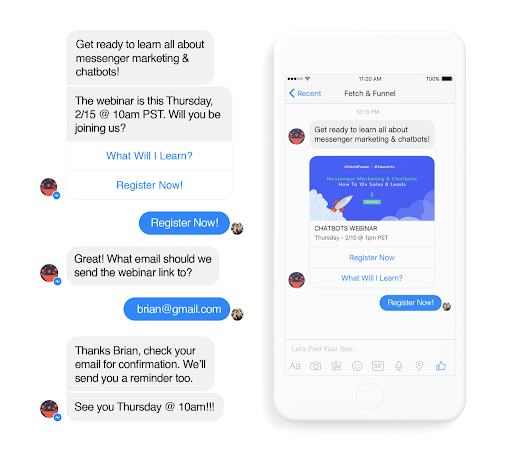 Key Takeaways
Chatbots can be a great boost for customer engagement in that they're more personalizable and interactable. Setting up your chatbot the right way can have a great ROI for your brand, especially if you make the most of their benefits. Sign up for a free trial with Botsify and reel in more leads, sales, and engagement with the best customer-facing tool for your business.
Kevin Payne is a content marketing consultant that helps software companies build marketing funnels and implement content marketing campaigns to increase their inbound leads.