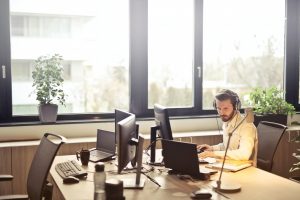 Customer service is key to establishing and growing a successful retail business, but for e-commerce stores, there are limited opportunities for interactions between customers and members of your team so it's even more important to provide an amazing service even when there's a problem. 
In this post, we take a look at some of the main things that eCommerce stores get wrong when it comes to customer service and how to avoid them: 
Making contact details hard to find
The first mistake that most eCommerce stores make with their customer service is making it impossible to get in touch with them at all. Whatever the size of your team it's important that someone is responsible for your customer service and you make it easy for your customers to reach you. 
If your contact details are buried or you're only available on the phone for one hour a day it makes a business seem untrustworthy. Shoppers will be put off by the lack of transparency and communication when they do have a problem and unlikely to make another purchase. 
Display your contact details and working hours clearly on your website, social media profiles, and at the bottom of any emails. And offer multiple ways for customers to get in touch — via email, phone, live chat on your site, and even social media if you think you can monitor it reliably. 
When someone does contact you, give them an estimated response time and direct them to your FAQ page so that they might be able to resolve the problem themselves. Taking these steps will reduce your customers' frustration and stop them from sending multiple customer support messages. 
Responding too slowly
While it's important to be flexible in how customers can get in touch, you also need to keep on top of all your customer service channels. If a store takes too long to reply, customers are going to feel like they're being ignored and unvalued; they'll be more likely to share their complaints with others or go elsewhere and not return to your store. 
Ensure you always have at least one of two people who are responsible for checking all customer service messages at least once a day. And set up an automated response that acknowledges someone's message and informs them that you're looking into the matter and will respond ideally within 24 hours. 
Disorganized customer records 
When an eCommerce store first launches it's often easy to deal with everything on an Adhoc basis. But when it comes to customer service this is a huge mistake. It's essential to start keeping clear records of your interactions with customers right from the beginning. It'll help you to provide useful responses with customers that you've spoken to before and will help to develop a relationship. 
Customer service software can be used to keep track of communication channels by using a ticket system to pull all your messages into one inbox. Your customer service team will be able to assign tickets and see details of the customer's previous conversations and their account. 
Making it difficult to return an order
As frustrating as they are, returns are always going to happen when you're running an eCommerce store. And while it might be tempting to bury your returns policy deep in your terms and conditions, give a short returns window, or just generally make it as complicated as possible to return an item — this isn't going to work. In fact, you'll put a lot of shoppers off placing an order in the first place, and those that do will have a bad experience and won't return. 
Treat returns as an opportunity to impress your customers, give them excellent service and they'll probably return and recommend your store to others. Offer a generous returns time frame, at least 30 days, if not more. Offer shoppers multiple options to send items back through different couriers, pick up and drop off locations. And provide returns labels with the order or the option to print a label off at the drop off point. 
Neglecting your most loyal customers
The customers that have problems and issues are going to be the most vocal and take up most of your time and attention. But it's important not to neglect your loyal customers who keep coming back to your store. 
Acknowledge loyal customers with personalized messages, offers, and discounts, and invite them to exclusive sales or product previews. You could also set up a rewards program for more long term engagement with your best customers. 
Recognizing their loyalty will help develop an even stronger relationship with your brand and also help you to reach new audiences as they'll be likely to share and recommend your store to others. Even in the digital age, word of mouth recommendations are the most trusted source of information about products and services.
Arguing with customers
Sometimes customers are in the wrong, or sometimes they complain about a problem completely outside of your control. But the worst thing an eCommerce store can do is argue back with a customer or try to shift the blame. The main priority for customer service always has to be to keep the customer happy. 
Proving customers wrong when they're already annoyed or disappointed with their experience is just going to make matters worse. Try to always be flexible when handling an issue and take a reasonable approach whenever possible. Avoid blaming anyone for issues, apologize, and do everything you can to fix the situation. Give each member of the team the ability to give a bit of leeway with a return that's a day late or offer a discount or refund for damaged products. 
Ignoring customers on social media 
Regardless of whether or not you intend for your social media channels to be used as support channels, you're going to get comments and messages from your customers through them. Ignoring any questions and complaints on social media won't just annoy that customer, it will also look really bad for other potential customers. 
Put a process in place for handling issues on social media. Ensure someone checks your messages, comments, mentions, and other interactions once a day. And outline a template response that includes an apology and explains that you'll message the person directly to resolve the problem. 
Not learning from customer service complaints 
For each complaint you receive or issue you're made aware of, there are probably many shoppers who didn't bother to get in touch and gave up on your store. It's important that your customer service issues aren't just dealt with and resolved on an individual basis. They are an opportunity to improve your customer experience and increase sales. 
Set up a system to pass on any feedback that needs action to be taken beyond resolving the issue for that particular customer. And once a month review all customer service messages to track common topics and issues. Use this as feedback to improve your products, how your website works, your product descriptions and photos, or add to your FAQs page. 
The main areas where eCommerce stores get customer service wrong. The focus always needs to be on providing customers with the best possible experience; so respond quickly, be flexible, and do everything possible to resolve the problem.