Imagine your work without technology is like you living in the 18th century. Today's era finds more comfort with automation rather than in the home or the businesses. There are many resources for automation in businesses and one of the trending is chatbot automation. 
You know the major functions of businesses might be running smoothly but you have to be sure in every aspect. Do you know what major functions we are going to talk about? Well, It is all about 
Customer Support-

that makes your customer satisfied,

Marketing

-that promotes your brand and brings customers to you and 

Selling

-to provides customers what they need and of course the profitability for your business. 
These major functions of your business require thought-provoking insight because it gives a boost to your company. So why not pay attention to some specific area that can be optimized excellently. 
Let's talk about automation! We live in the technological surrounding and businesses need technology to thrive your business at its finest.
As you notice, we have various AI tools from communication to tracking the sales, so why not try one of the demonstrated tools Chatbot automation, that fits all your major functions when it comes to reducing the communication gap, increasing sales, and optimizing your marketing style.
Chatbot Automation: A Promising Tool
How cute the kids are when they try to copy your words. Same for the chatbots!
A chatbot is a software that mimics like a human and reduces the communication gap between organization and their stakeholder i.e. Customers. The main purpose of this AI tool to use in your business is to make your communication channel optimize. Let's have a look at stats!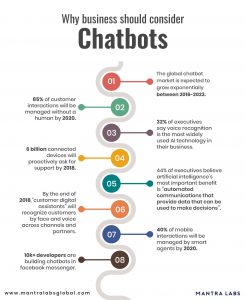 Source: Mantra Labs
If you pick the best chatbot automation platform, you can get many perks at the same time. The benefit of chatbot automation makes you surprised. It can vary according to its need and have various proven records of success. 
The chatbot provides instant help and 24hrs availability without any help from humans. Indeed, technology cannot eliminate humans but it can protect you from errors.
Once you use it you can see the difference in how easily you can get leads, smoothing ways of selling, and interactive marketing. 
Let's jump to the use cases in different aspects of your company.
Chatbot Usage In Real Life Business
As we discuss the major functions of our businesses, now we are going to compile all the benefits you can get from the chatbot automation. Many examples are set into the market. It's your turn to find your area and set it up to the mark.
Chatbot Automation Use Cases in Customer Support Service 
Chatbots are mainly used for customer support and carry out the job description of customer support agents. To respond to their questions, timely reply, the betterment of user experience, and proper communication to resolve their customer query.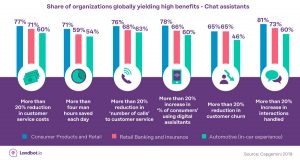 Source: Landbot
1. Chatbot resolves queries instantly
Here availability matters. Let's say you are organizing a cricket match event with a large number of people. As we know people are more excited about cricket matches, an announcement is needed to create a hype.
This is a big deal for you to manage your audience and give the required information. Now, the customer support agent is required to resolve the queries until they enter the stadium.
To provide high-quality support you can design a chatbot to help the audience with common questions. It can be:
Where do I buy tickets from? 
What is the cost of tickets?
What's the schedule of the match?
Is there a parking area reserved for outsiders?
Where should I get my seat #?
And so on…
Once you set up your chatbot for these regular events on your web page you can easily track your users and provide instant help by resolving queries.
It can reduce customer support workload effectively and can take help with humans when a complex situation occurs. 
2. Fun-loving chats with visitors
What inspires you the most when you go to any place for the first time? A welcoming gesture!
A well-spoken person and a cheerful talk make everyone melt. If you never tried it, try once and you can see how people attract you. A quite simple way to win over the deal is to make your conversation polite and well-versed. 
Let's suppose, the same query pours in your inbox and every next customer asks the same question. Maybe sometimes the customer loses temper and all the frustration gets off to the customer support agents.
Here the job of customer support agents gets complex!
Meanwhile, the agents try to calm him down, and consequently, they also give up at that time that makes the customer more frustrated. 
So, after reviewing the whole situation, we come to the point either you have to find people of a high level of patience (that may be a difficult task) or you need to find some realistic approach that is a chatbot. 
The chatbot is pro to make your customers satisfied even in worse situations. They can't lose their temper as humans do. But you have to build it in that manner first. 
Why not try Botsify? A cheerful talk with your customer makes the day beautiful!
The must-have tool for your business!
Get your first chatbot to support your customer service, marketing advancement and sales growth
3. Easy to search and quick recommendation items
Sometimes it is difficult to outreach your customer and find the needs of what they want. When customers search for a product they get frustrated by seeing all the stuff that actually they don't need. 
They want a quick way to find their desired product and chatbot do the same for them. And you know what,
50% of consumers prefer shopping online from the stores where they can connect over chat.
Let's say, you have a clothing store and a big sale you are going to live in. A huge crowd you face during sale day, (because sale offers are fabulous). Let the chatbot handle your task. 
When customers come to your site/app, they need an assistant for searching for their desired product and recommendation.
Chatbot serves like the same way, provides instant recommendations, and tries to convince customers to hit the button that increases the sale. 
4. Instant booking with quick confirmation
Asking questions when you are buying something is mandatory for customers. And most probably the questions will be the same. So why not you make it automated? While a passenger booking a seat in a plane, there might be some initial query like:
Is the urgent ticket available now?
What is the departure time of my flight?
Can I book my ticket online?
What is the procedure to return the tickets?
So on and so forth…
By answering such questions, a chatbot can help the customer and solve their problem instantly. Your chatbot just not only replies to the queries but also it can make it easy to take the desired action they want.
If they want to book a seat, your chatbot will be able to do this and they easily get the confirmation via chatbot. Are you seeing how perfectly it fits in all the way?
5. Chatbot build remarkable impact on the users
By helping someone, it feels great all day long. Same as a chatbot. Chatbot helps people and people get benefited from the chatbot. It creates a great impact on the customers and they feel secure or some kind of loyalty in your brand. 
Sometimes chatbot can instruct you, suggest you, provide locations, and much more. The beauty of chatbot is it always gets a positive response even if the customer is on fire.
69% of the public prefers to use a chatbot instead of a company's official app.
After taking help from the chatbot and finding the required solution, the customer feels much better and satisfied with your services. Chatbot automation gives a remarkable experience to the users and attracts customers more often. 
6. FAQs at your customers' fingertips
Your product is based on some authentic solution. First, you make the customer aware of the problem and present the solution through your product. If you miss out on this part, you can lose your customers. 
So, don't make others point out your weakness, first fetch out all the most relevant questions commonly known as FAQs and build your first FAQ chatbot.
No need for support agents to repeat the same question again and again. Make a chatbot for your customer's ease, they have to just type the questions and get all the answers on the screen.
Make your way easiest toward the success of your business. Botsify gives FAQ chatbot within just 3 easy steps, don't need your data just a website URL or FAQ section URL, botsify fetch all the FAQs in 3 minutes and you can have your FAQ chatbot.
7. A cost-effective tool 
Your workload increases as soon as you start moving towards success. And you need more resources to manage your work timely and effectively.
And as far as your workload increases, somehow you have to hire employees in a large pool. Same as your customer support agents also required staff to overcome calls,emails, messagings and all.
And if you hire agents, it will take days and the salary package you offer them and the benefits, it will be a high cost on your business. 
Chatbot works efficiently as a virtual customer agent and a cost effective tool that works for you round the clock without taking a break. You cannot find these perks in humans as they need rest, food and maybe they fall sick. 
Chatbot Automation Use Cases in Marketing
When it comes to promoting products, companies spend a lot of money on it. But a cost-effective campaign is not a big deal now. Not only promotions but also make your customer up to date with chatbot marketing.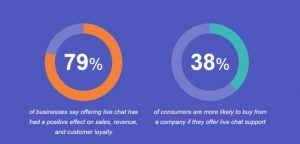 Source: Smart Insight
More than 2 billion messages are exchanged between customers and brands through automated chatbot systems. Let's have a look at how chatbot marketing helps you in your business.
8. A new resource for promoting products
Many strategies you can find to promote your product and services. And companies adopt it with some variations because people have different mindsets and want different types of engagement to pay attention to your products. 
For example, some people love engaging with the conversation, some might be interested in games, and many are interested in quizzes that end up giveaways. If your marketing strategy ends up some rewards, then it can be a boom!!!
As such, people don't show interest in filling lengthy forms and they leave after taking a single look. But if you offer the quizzes or puzzles instead of those types of boring stuff, you will surely win the heart.
Chatbot exactly does the same for your customers!
With chatbot automation tools, you can spice up your conversation with memes, GIF, images in your chat, and design fun-loving quizzes that give pleasure at first sight but indirectly it hits the promotion of your product. And end up with some recommendation and trial based giveaways. 
The chatbot is waiting for those companies who want more in less expenditure by engaging in a radically different way with their customers.
9. Chatbot generate lead with the sales approach
You can say chatbot marketing provides instant help with quick replies or a 24/7 presence for engaging customers. Chatbot service not only works for existing customers but also helps in gathering prospects and converting them into your customers.
Chatbot knows how actual marketing is!
This smart tool engages prospects in a new style of marketing and under the supervision of humans, it does a great job. Companies spend a lot more in the selling process and if they find a chatbot platform that manages their sales, it can be a big success for them.
As action reality, a real estate agency generated 50 leads in 3 months and the cost they bear on this is damn shocking. Nearly ⅓ of their total earnings off of their real estate lead generation campaigns. (pretty expensive in my senses)
After searching out, they approached Botsify-a fully managed chatbot platform and shook hands together. Within 3 months, they get 4500+ leads by using chatbot automation, that was a big achievement for them.
Consequently, the chatbot helps in making your position in the crowded market and provide your target audience in a while. 
10. Easy to generate an authentic email list
As we discussed above, generating qualified leads with chatbots is now the easiest and smooth process. Chatbot marketing has many other wings and a sequence of their features are so many.
From quick replies of FAQs to the well-versed short form, provide you a way to reach your customers. People need an easy way to do things and thanks for AI technology that makes this happen.
Instead of filling long forms, we all prefer short or one tap selection. Many dynamic ways are open for you and one is a chatbot that provides more convenience to your customer. 
From chatbot automation, you can have a beautiful and joyful conversation and get details from them or you can simply design one tap questionnaire that might be the perfect and convenient way to do your desired action.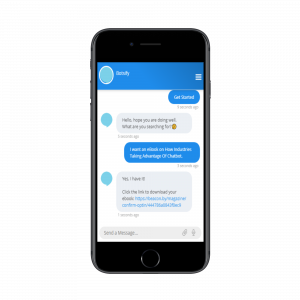 Like in the above picture, one of the customers needed an eBook guide and the chatbot offered them directly, without wandering on the website. Botsify offers free eBooks to its customers through the chatbot. 
They just provide a link and when a customer wants access to it, it'll show a quick pop up that requires basic detail or just email address.
Thus, a win-win situation occurs and by giving some favor you get your own desired query.
11. Chatbot makes an easy payment method
When a visitor comes to your site and finds their desired product/service, the second thing he finds is a pricing structure. As companies are introducing many pricing plans, it gets difficult to catch the best one. 
Your prospect may get confused after seeing your plan or maybe he wants assistance to guide him to get a reasonable plan according to their need.
When we go to the physical market, the salesperson shows a variety of things according to your needs and describes what you can get from a variety of products.
The chatbot takes over this responsibility at its finest. To help out your prospect or customers, chatbot becomes a salesperson and describes all the details including in the different packages.
After satisfying the marketing style, chatbot immediately offers payment mode and your customer finds it easy to pay service as well. 
12. Chatbot simplify funnel marketing strategy
Various strategies you can see in the market that help you to increase ROI by elevating conversion rate. To approach your customers, organizations find a way that describes the customer's journey with you and your products. 
The marketing funnel describes the customer's initial stage when they interact with your product to the last stage of completion of the purchase.
By evaluating your funnels, you can potentially drive greater sales, more loyalty, and stronger brand awareness. Chatbot makes your work easy by constantly providing awareness and pin them to consider your product.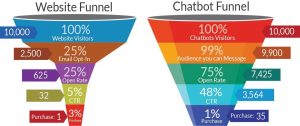 Source: GRIT
It tries to prelude your product first, if you get straightforward, such as offering a product to buy it at first meet up, it looks like how desperate your company is. Don't leave the impact of such nonsense. 
Chatbot believes in making a loyal or trustworthy relationship with their guest. The welcoming gesture with some sort of informative talk regarding your product creates an authenticity on your brand. 
Once you find chatbot marketing in action, you desperately want it to scale up your business. Provide data that helps in driving sales through the marketing funnel, you can normalize the way of the selling process. And do better than before, for sure!
Chatbot Automation Use Cases in Sales
Catering to your customers or prospects for selling is still the most difficult task for the human. The fact of humans is they don't get easily satisfied with a normal thing. They need some personalized touch to accept that the product is up to their expectations.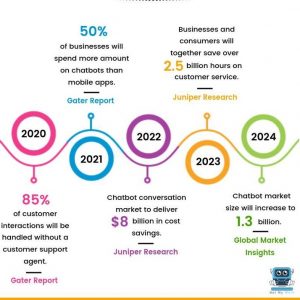 Source: Pinterest
Let's break the ice and walk through how a chatbot can be a sales-driven tool for your company.
13. Easy to create demo and recommendations for customer
As companies offer demo sessions before selling their product, present high compact proof about their product. In the offline market, this is face to face interaction and it is surely satisfied if you are well-spoken and know your customer needs at the very beginning to the end. 
But when it comes to the online market, physical human interaction may be a good replacement with the chatbot. The essence of the chatbot is to provide a full realistic assistant as humans provide.
Introduce product that matches their style and provide good suggestion for them 
Pro tip: remember too many suggestions makes your customer confused, so do research and try to recommend them according to their experience or previous data.
One more thing about chatbot automation is, it stores data to help you out your customer needs. According to their suggestion, you can create a demo booking, or instantly you might create demos on chatbot if you have this much access on it. 
With the Botsify chatbot platform, you can easily embed product images, videos, product descriptions, and the option that should be considered while the demo session, that is video chat. You can easily get in touch live through video chat and experience personalized face to face experience.
14. Chatbot become personal shopping assistant
It's been so long when people only rely on word of mouth. Now, technology gets the way clear for people, they can interact with things even sit on the couch. And make better decisions against multiple products. 
But the question is who assists them regarding better choice. If someone is not there, then it can be a big turnoff from your site. So, our technical world is getting stronger day by day. 
For example, if you just search the name of the product on google and when you come back to Facebook, insta or other sites you can see the ad of your desired product even with many different ads.
This is AI technology for you!
The chatbot revolutionized the selling process to assist consumers adequately. Chatbot helps in recognizing customers' needs by fetching data from them or their restore database. 
Source: Ruby Garage
By guiding them like a personal assistant, customers find ease throughout the buying journey and feel a better shopping experience from your store.
15. Chatbot serves like a sales agent
Large size companies serve 24hrs by adopting day and night shifts. But medium and small size companies can't afford it to have a huge pool of staff.
Mainly, the small and medium-sized business has small headcounts. What does it mean, they cannot run their business 24/7?
Of course not, chatbot works for small to large organizations and resists them to not stop their business even in a single day. Chatbot has many benefits and the most acceptable one is it is never tired and doesn't take rest even for a minute. 
As a sales agent, it provides information and satisfied customers about your product and tries to open up the door against any query. Engaging your prospects or customers with their conversation even when you take rest or enjoy Sunday!
16. Conduct feedback for future betterment
The way you feel the customer needs, you come up with better performance every time. Selling and marketing are two ongoing processes.
It is important to have access to your customer when your company needs to do something new or add new things to existing products/services. It helps in recognizing customers' wants.
But you can not ask people directly what you want. There are many practices people follow in industries. Taking surveys and feedback is top on the list.
Let's say, a man comes to your site, connects with a chatbot, and finds a product that he wants. After a conversation with a chatbot, he concluded that the product is up to the mark. 
The next step he has taken is that he completed the buyer's journey and purchased your product. After purchasing, the chatbot asks some relevant questions regarding their service and what they want more in this. Easy peasy!!
This is to fairly deal with anyone and provide the best ways to communicate with your customers in any regard. You can opt for feedback forms, surveys, multiple-choice questions, and many more.
Find Your Chatbot Platform
If you find a chatbot platform for your business, don't forget Botsify!
Botsify, A fully managed chatbot platform that offers you multiple features and dynamic plans for developing your business. 
I quickly sum up of the use cases providing Botsify for companies in a few lines:
Whatever your industry is, you can easily build your chatbot according to you. Many templates await you and that is free to use. All the resources you can easily find on the dashboard and get quick access after completion of your details.
Botsify offers these platforms:
And the list of the features are:
 To provide humanitarian assistance when chatbots confront complex queries.
The multilingual chatbot allows talking to different language people most easily.
Better your communication with face to face interaction when needed.
To conduct feedback or gather qualified leads or in any case when it is required.
To make your chatbot user-friendly, you can use your product images, videos, or Gifs, etc.
Botsify provides data storage to handle the accumulated data and places all the items in one row so that in the future you can also find ease in approaching customers.
Analytics to check out your chatbot service
Botsify dashboard has a lot of flexibility but the analytics seems to be the most relevant for you. This is used to identify both failure or excess.
It displays your chat flow and makes quick adjustments to everything you need in the conversation.
Book a demo to create your chatbot for your business growth!
Start with the first chatbot platform to upgrade your business operations
Partying word
Chatbot automation not only helps you in customer support but you can clearly see how a chatbot can help you out in three main aspects of the business. This piece will help you to differentiate the meaning and use cases of chatbot. And I'm sure in the future, I'll be able to write more about chatbot to spread the knowledge to my readers about chatbot. Because… 
Technology is expecting more enhancement in chatbot and other AI tools, so the business insiders thrive business operations with a more innovative style. But first, you should consider chatbot to autopilot your communication to your customers even in sales, marketing, or customer support operations.