Have you ever visited a SaaS website and interacted with their chatbot? It's a convenient tool for moments when you need information quickly about a company's products and services. A chatbot can be such a valuable tool that it may even help you turn a customer conversation into a conversion at a faster rate.
Sometimes SaaS companies take ages to respond to queries from potential customers. And what's even worse is that by not responding within a reasonable time, they make it exponentially harder to convert those customers.
A Harvard Business Review research report shows that the impact of responding to a potential customer within 10 minutes versus 5 minutes is a 400% decrease in the possibility to convert.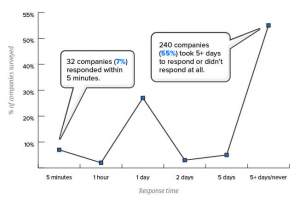 That's something you cannot afford. SaaS customers are high engagement customers. So you need to interact with them often. But thanks to chatbots, you can address customer inquiries quickly and not lose that valuable revenue.
This is just one of several benefits that chatbots have. Below are some other benefits chatbots offer SaaS companies.
Benefits of using chatbots
They offer faster and cheaper customer service 24X7.

They qualify leads and push them through your conversion funnel.

They book product demos for you.

They provide insights into customers' behaviors.

They are an excellent tool for website visitors who have problems such as hearing impairment.
With these many benefits that chatbots offer, it might seem like they are taking over the world. But to implement a chatbot for your website, you first need to spend some time understanding your target audience's needs.
For example, a SaaS website's audience has very different needs from an insurance website. Although there are benefits to insurance chatbots as well as SaaS chatbots, they will need to be created specifically for each audience in order to be effective.
So it is critical to understand your ideal customer and create your chatbot requirements for them specifically.
How to understand your target audience?
You will need to know your ideal customer—their most significant challenges, demographics, hobbies, interests, etc. And then, you need to collect and analyze this data.
Don't worry if you don't have all the information you need. There are multiple ways to get to know your customers. Customer surveys are one effective method. Say, if you have a form on your website, simply connect it to your CRM. For example, you can connect Gravity Forms to your Salesforce CRM and have all names, email addresses, and any other information you'd like collected.
Analyze this information and look for any patterns or things that are in common between your customers. Another great source is your previous conversations with your existing customers. Go back and look at those interactions and highlight things that connect them.
You don't need to have only one buyer persona. You can create multiple personas if you need to. After figuring them out, understand your customer's significant challenges. For this, reach out to your customer care and find the main reasons people contact you. 
This gives you a clear idea about the most popular issues your audience faces that your chatbot will need to handle.
Now that we have a foundation to build on, we can program our chatbot and customize it based on our target audience's needs. Let us learn three tips about how to customize chat flows for your SaaS website. 
Tips to customizing chat flows for a SaaS website
1.Use chatbots to segment your audience.
We already spoke about the many benefits of using chatbots. One other benefit is they can be another source for you to segment your audience. 
How? 
By running specific campaigns targeted at them with more accuracy than you could get in a blog post or lead magnet campaign. Instead of running usual campaigns directed at broader audiences, you run campaigns over chatbots with an Account-Based Marketing (ABM) approach.
This is slightly different than your typical ABM campaign. But it is based on the same important elements: Prequalification and hyper-segmentation of leads.
Account-based marketing is the opposite of the approach most SaaS marketers take. It moves away from the usual inbound marketing path. You produce content to generate traffic to your website targeted to a broad audience, only to convert a handful of them.
ABM instead focuses on segmenting specific accounts that you want to acquire and personalizes messages just for them.
If you're an enterprise SaaS, think about a dream customer for your business. It can even be a behemoth like Microsoft or HubSpot. As already said before, our goal with an ABM approach is to use chatbots to prequalify and hyper-personalized the client's experience, so it appears like you're marketing just to them.
But does this approach work? The numbers back it up. Research conducted by Alterra said that 97% of businesses that have used this strategy had the highest ROI than any other tactic they've tried.
Let's get into the details now.
Using your chatbot, you can first prequalify visitors who land on your website with the help of informational questions. These can be in a quiz-based format so that it takes away the pressure of a standard sales approach. It can even make the inbound lead generation process fun and lighthearted rather than seeming like you're out to grab their information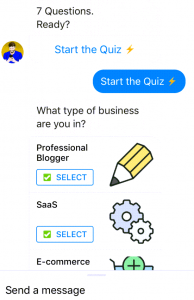 This approach allows you to approve or disapprove of the visitors who make up your traffic before they become leads—before you spend immense time and effort fighting for their attention and business, just to understand that they weren't a good fit later down the line.
Instead, you virtually filter out the weeds to reveal only the best of the best. It lets you get right to the point and turn interested visitors into quality leads while ditching traffic that won't fetch you a dollar.
2. Use chatbots to build your contact list.
Email lists are the lifeblood of most businesses' growth. Without that contact information, traffic to your revenue-generating pages is meaningless.
Bringing traffic to your website is hard enough already, let alone converting those visitors into leads and gathering their contact details. Any SaaS website you land on these days is filled with CTAs asking for your contact info in exchange for say, newsletter content. It can be repulsive and may even send away potential leads right back to where they came from.
Email CTAs, too, are subconsciously avoided because they are overused. And most emails don't even reach where they are supposed to: your lead's inbox.
So how do we use chatbots to do the trick? How about coming up with fun ways to deliver content that users can opt into with just a click instead of typing an email?
Jeff Bullas recommends an interesting strategy: Instead of email opt-ins to build your lists, use Facebook Messenger bots for your CTA.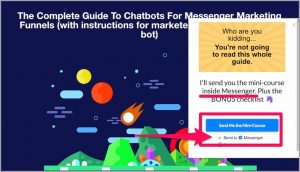 This is how it works: once a website visitor opts into your Messenger bot as a lead, instead of using email to deliver content, the bot will automatically deliver that content. Plus, you can continuously re-engage your users with your Messenger bot based on their subsequent actions to keep them nurtured without much effort.
Another huge benefit is you can put a link to your chatbot anywhere you want to generate visitors.
For example, place a link to your chatbot directly on email or social media to scale your website and bot traffic fast like how Search Engine Journal is doing it.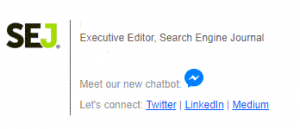 3. Use chatbots to create a new marketing funnel for you.
Marketing funnel is a popular strategy for pushing website visitors from casual blog readers to paying customers. Usually, marketers establish a funnel that usually involves a standard practice of content creation, lead magnets, drip emails, etc. to drive the sale home.
But these measures aren't that effective because they need a lot of manual work and effort. This skyrockets your overhead expenses. According to a study by Capterra, conversion rates for SaaS businesses aren't so impressive.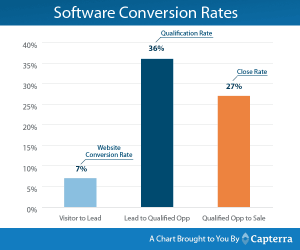 At each stage of the marketing funnel, you will lose more and more potential customers. Of course, that is natural in any business. But it need not be the norm.
You can't afford to spend so much time and money during each funnel stage if you're ultimately losing a big part of your leads as they move from top to bottom. Adding to that, a majority of SaaS companies just don't have the time to respond as fast as chatbots can. This results in you losing even more potential customers.
Now the difference with chatbots is that they allow you to automate your entire marketing funnel process and follow up with leads immediately.
This is how it works: When a user sends a message on your website's chatbot (say on Zendesk), they automatically become subscribed to the bot. Now the conversation flow begins. Here is where you start to know them better with top-of-the-funnel questions. And based on how they respond, you offer content like webinars, downloads, whitepapers, etc.
If the lead is interested in these offers, your bot then moves to the bottom of the funnel to grab their contact details to transfer to your sales team. These bottom-of-the-funnel (BOFU) leads are followed up with, and your sales team can interact with them one-on-one if they aren't responding.
It's important that you track this progress and see that the leads are taken care of. To make that easier, integrate your chatbot software to your project management tool. If you use Zendesk and Asana, connect your Zendesk to your Asana account so that each Zendesk ticket is automatically turned into a task in Asana that is assigned to a specific salesperson. Most Asana alternatives will also allow you to perform this task also. Also, make a comparison between Monday and Jira, for example, to find the best solution for your needs. This way, you can let your sales team know when their attention is needed.
Wrapping up
Chatbots are powerful tools that are now beginning to shake up marketing in the SaaS world. Use these tips to build a chat flow that suits your needs so that it will take over your grunt work, allowing you to spend time on converting those leads. And for experiencing a Best chatbot you can try Botsify Chatbot platform now. Botsify will help you out in solving many problems related to Saas Websites.