Are you looking for a good eCommerce sales solution? Multilingual chatbots are the best solution. Chatbots are examples of artificial intelligence that are rapidly occupying the e-commerce world. Wondering why? Fast added value can be achieved more easily in terms of improving business performance and quality of service. Also, there seems to be a growing interest in chatbots that are part of the company's software applications.
For those who are still wondering what a chatbot is. As the name suggests, a chatbot is a computer program or artificial intelligence program that uses audio or text technology to lead a conversation.
Chatbots are very popular with organizations around the world. According to a report released by Business Insider, 80% of businesses will want to use chatbots by 2020. One of the most exciting advances in chatbot technology is the ability to communicate with users in hundreds of languages. This campaign is especially useful for businesses that are active in the region or want to expand their market with new demographic groups.
Chatbots or virtual assistants are better than humans when it comes to learning a new language. Speaking dozens of languages, users can go anywhere and speak anywhere. You can market your eCommerce sales in multiple languages.
Natural language batteries are an important tool for organizations like yours that go beyond direct markets and operate in countries with promising new customer groups. Build a multilingual chatbot. This gives you a significant competitive advantage. This is subject to change if we don't know when to integrate the multilingual chatbot into your site.
Did you know?


Key Benefits of Using Chatbot for Ecommerce Sales
Enhanced Customers interaction
Many consumers speak multiple languages, but it's easier to shop in their language. The truth is that people rarely shop on websites in English. Language determines how long you stay on your website, so if you can't talk to global customers in your language, you're in trouble. Customers don't spend money on brands. If you want to compete with multinational companies, pay more attention to the language. Given the global nature of the world, localization for healing should also be active. You can even use plugins and tools to translate your entire site to serve visitors from various geographies.
Instant customer engagement
As I said, customers, today prefer to send a message to the company instead of calling. However, for customers to start a business, they must respond promptly. According to a Harvard Business Review survey, a 5-minute delay in response to a customer request reduces customer engagement, and a 10-minute delay reduces customer engagement by 400%. Retail chatbots respond instantly to leads and increase customer engagement by 54%…
Drive more eCommerce sales 
Chatbots can be integrated into your website or shopping app. By giving customers immediate answers, trading chatbots dramatically increase the number of eCommerce sales in your online store. According to a recently reported Ubisend report, 40% of consumers want suggestions and suggestions from chatbots. Online customers are willing to spend $400 or more in online stores using chatbots.
Reduce customer acquisition cost
As you know, customer acquisition (CAC) is a measure of how much you spend on acquiring customers, and the lower your CAC, the better. Chatbots shorten ACW because they provide instant and engaging conversations in online stores. This way, your customers stay on your website longer. Additionally, chatbots for retail and e-commerce websites provide personalized product recommendations, which increases the likelihood of converting website visitors into customers. 
Build Customer Loyalty
Customer loyalty, also known as customer retention, is another measure that chatbots can improve. To build loyalty with existing customers, consider instant chatbot integration, and provide customer service and relevant product recommendations to keep in touch with your target audience.
A multilingual chatbot helps you stand out from the competition
If you don't stand out from the crowd, you won't succeed. There is chatbot technology, but not all companies use it. According to Forbes, only 57% of businesses use or plan to use robots. Implementing a multilingual chatbot is very low frequency. Integrating multilingual bots into your site will help you stand out from the crowd. Chatbots that speak your preferred language will help you understand and appreciate them. This is why having a multilingual interface is so important.
Ecommerce Huge Sales- Black Friday and Cyber Monday
E-commerce retailers will also have the opportunity to sell records during BFCM 2019. Keep in mind that Thanksgiving is the end of the month and consumers will have a week less than usual to complete. Holiday shopping. People will be more concerned about removing products from this BFCM's listing, so you should do your best to get people to choose your store.
Fortunately, we have a referral tool that can make BFCM the most profitable business this year. Of course, this is a Facebook Messenger bot! Chatbots are great for almost any business growth, but the synergy between bots and online stores is particularly strong.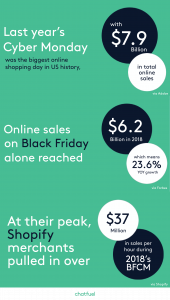 Boost up your E-commerce biggest Sell
Gather quality leads on this black Friday and cyber Monday, 10x your ROI with automated chats
How an eCommerce Sales Chatbot Can Maximize Your Black Friday and Cyber Monday Sales
Black Friday offers huge opportunities for online retailers, but there are so many companies offering Black Friday deals and discounts that competition can be difficult. Black Friday chatbots are a great way to stand out this year. These virtual providers can help improve customer experience and increase sales.
This year's SaaS Black Friday sales forecast predicts consistently high growth. Black Friday is going to be the best we've seen recently. Business Insider expects total spending on Black Friday weekend to reach $59.6 billion, the highest growth since 2011. Many online stores are getting ready to handle the traffic increase.
A recent study found that 68% of Black Friday shoppers said they would optimize their online purchases.
On the other hand,
Cyber ​​Monday is running out. This leads to an avalanche of shoppers looking for e-commerce websites looking for discounts. It is expected that 59% of your shopping budget will be spent online this year's holiday season. Most of this money will be spent early after Thanksgiving. Only US buyers spend $431 on Cyber ​​Monday. With Black Friday, these two days kick off the billiard holiday season.
Cyber Monday sales in 2018 were $7.9 billion, an increase of almost 20% over 2017. Additional growth of 20% is expected in 2019 and revenue is expected to be $9.4 billion. Cyber ​​Monday is set to set a new record this year and become the busiest shopping day during the year-end and New Year holidays. Reservations are expected to increase between 19:00 and 22:00 Pacific time. Cyber ​​Monday is the most important shopping day in Europe and America.
A multilingual chatbot can help you out in grabbing all those customers. You can communicate in any language with the help of multi-languages features.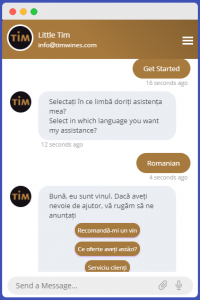 Create an unforgettable customer experience
Research on Facebook found that 53% of respondents said they were more likely to shop at companies that could write in person. If this message starts an immediate conversation with the bottom, it will provide friendly and helpful help in an instant. It's an unforgettable experience that makes people come back again. You can also remember your interactions with the floor using these three factors:
personality

. Not only are bots effective, but they are also good to interact with when properly built. You choose a healing personality that fits your unique brand. If you want to stand out among your customers, for example by joking, sharing GIFs, and adding the right amount of emoji, you can do it easily. Before BFCM arrives, use the A/B testing plugin to see what your audience responds best to.

Personalization

. It was a more memorable experience. "Hello, how can I help you?" Or "Hello Janet, welcome! We have a brand new cashmere tablecloth that you might like. Do you want to see them? Bots can include all sorts of personal elements in conversations, from the user's name and time of day to previous purchases or interests and product selections.

Customer-oriented

. The point is that you have to design healing for your customers. If that helps them, you'll position your brand as a brand that focuses on customer satisfaction and get them back.
Chatbot increases the average size of the cart
Chatbot Sales Friday can be built with additional sales opportunities in mind. It is suitable for providing the products and related products that customers want. Chatbots can tell customers which products are selling fast and will soon be discontinued. It creates a sense of urgency for hesitant buyers and helps drive them through the sales funnel.
Selling chatbots can reduce cart abandonment.
Discarded trolleys are a problem that plagues online shopping all year round, and Black Friday is no exception. The average bounce rate for Black Friday in 2017 was 74.5%. This figure increases to 81.1% when viewing data only on mobile devices.
Many customers add products to their shopping carts to return them when they are sold. This is especially evident during the Black Friday period when shoppers expect retailers to offer deals. The Black Friday Sales ChatBot can contact anyone who has left items in their shopping cart. You can sign it or offer additional incentives to encourage purchases.
Sell ​​free human agent chatbots for more valuable work
Chatbots help people with swaps, refunds, and frequently asked questions. This frees human agents to solve more urgent service problems. Also, chatbots can easily deliver conversations to people when needed. The result is a well-functioning customer service team ready to embrace the Black Friday craze.
Virtual sales agent continues to generate revenue all year round
Black Friday chatbots do not unpack and leave after holidays. This brings long-term value to the customer support team. For chatbots, sales growth lasts year-round.
So Why not Hire a Local Support Agent?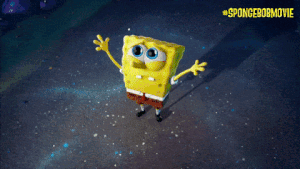 What can you do! There are many options for positioning your brand in a specific area where you want to go. You can translate web pages, frequently ask questions, and hire a local customer support agent for every language your customers speak.
Or, a cost-effective and responsive chatbot can do everything for your business, easily track customer queries, and speed up the response.
Good luck-the Botsify Multilingual chatbot is in the league!
Not only do you understand multiple languages, but you can also choose any language you choose for your bot and create a context-sensitive multilingual chatbot that responds to customer needs in that language.
Pretty cool isn't it?
So Let's discuss more on Botify's Multi-Language Chatbot…
Botsify's Multi-Language Chatbot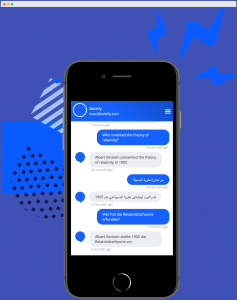 If you decide to use Botsify's Multilingual Chatbot, your chatbot is capable of conversing in multiple languages. You just make your chatbot in one language and make it able to converse in 190+ other languages with a single click using Google Translate.
     
If you're ready to expand your customer base and increase your eCommerce sales, start building your multilingual chatbot with Chatfuel today! If you need help along the way, we have plenty of resources for you to take advantage of, too.
Create your Multilingual Chatbot with Botsify
Gather quality leads on autopilot and 10x your ROI with automated chats
Customer Diversity Improves Sales Performance
According to sociologist Cedric Herring, business diversity is one of the most important factors in predicting sales revenue. That's right it's one of the most important factors. According to his article in the American Sociologist Review, diversity is associated with increased sales, revenue, and customer revenue. After analyzing data from more than 500 U.S. commercial companies, Herring also found:
On average, the companies with the highest diversity generated nearly 10-15 times more sales than the lowest-rated companies. Companies with greater diversity are more likely to report a greater market share than average. Increased diversity correlates with an increased customer base.
"Diversity is more likely to be beneficial than homogeneity because growth and innovation rely on people from different backgrounds working together and making use of the difference," Herring wrote. published in Personnel Psychology found that creating an atmosphere of diversity in major US retailers produced nearly $21,000 in annual sales.
And not only herring has studied this effect. The authors of a workplace diversity study 
A multilingual chatbot can help you in increasing customer diversity by allowing you to talk with the example of E-commerce companies using Chatbotpeople belonging to multiple languages and multiple cultures.
It's not so much fun now. E-commerce robots are being used by businesses around the world to provide customers with absolutely amazing experiences. Here is an overview of the best ways to use chatbots for eCommerce.
Nike-sneaker design
Nike's Stylebot for Facebook Messenger was aimed at female customers. A personal stylist can heal, even a consumer "magic"!
The bot allowed users to upload an image and then customize a pair of Air Max 90s with a color scheme for that image. Imagine making shoes with memories. You can upload an image of sentimental value to you or someone you care about and get sneakers directly associated with it. If you've always wanted to keep memories, now is your chance.
‍Sephora-learn, order, enjoy
Sephora, one of the world's largest cosmetics stores, has a team of three chatbots that operate between Facebook and Kik.
Virtual Assistant of Sephora

Sephora's Reservation Assistant

Sephora's Kik Chatbot
Among the three, it provides makeup tips, shares videos on how, and even allows consumers to book makeup times at regular Sephora stores. Thanks to the brand, consumers are very passionate about the fact that they interact with chatbots frequently.
eBay-Find equipment, place bids
ShopBot eBay was originally designed to send updates to bidders 15 minutes before the auction closes. This gave the bidders a chance to win the auction. ShopBot is designed to help customers find the right product for them with all the right questions.
H&M-carefully selected selection
The bottom of the H&M Kik starts by showing a picture of clothes and asks you to choose your favorite clothes. The next step is to tell the cure what your fashion genre is. Preppy, classic, bohemian, casual, or grunge.
By asking more questions related to the style and expression of clothes and asking what suits you, Healing creates a profile according to your personal preferences. Now it will help you choose your favorite clothes. There are also forums where consumers can rate each other's clothes. It gives a feeling of success when consumers like clothes. It also helps increase sales because consumers feel compelled to wear the clothes they design.
Final Thoughts
One of the best ways to stay ahead of the competition is to automate tasks and simplify complex tasks. So the value of shopping automation lies in its ability to automate processes throughout the system.
For e-commerce platforms, shopping automation can help streamline the sales process. You can streamline many steps of the buying process, leading to more sales and more closed offers. On the other hand, it helps to increase interaction with visitors to your website. The way to communicate with chatbots at any time attracts millennials.
According to consumers, an e-commerce site with 24-hour service is the biggest advantage of chatbots. Being able to provide an eCommerce website 24/7 can be the difference between a closed business and someone handing it over to a competitor.
With a large number of eCommerce websites available on the internet, your business must stay ahead, and for this, you can consider moving to India to gain an edge over your existing competitors. Botsify knows what it takes to build a successful eCommerce sales chatbot that functions as a powerful sales tool for your business without losing the humanity of a live agent. Contact us today to find out how we can help transform your business.
Book a Free Demo Meeting with us
Gather eCommerce quality leads on autopilot and 10x your ROI with automated chats