Adding spice in your Facebook marketing makes it more fruitful for your business, so let me introduce one of the greatest using tools "Facebook Messenger bots" in the town. Initially, people thought Facebook is the place of entertainment and all the social media platforms are just for having fun-loving content, but the marketer makes it a better place for them.
It is a big opportunity to display your brand on the screen, not just display but generating sales. Messenger users represent a large portion of the customer market in eCommerce — and linking to your Facebook community with a Messenger bot is an absolute win.
Facebook is one of the most influencing applications and you can find millions of people throughout the world over there. Do you know how Facebook messenger bots virtually revolutionize business? If not, then after reading this post, you'll be knowing it from today.
Do you know?
There are over 300,000 Facebook Messenger Chatbots active in the market today. 

On a messaging platform with more than2.32 billion monthly active users worldwide. You have almost done it.
If you want to set your target audience and you find them in one place, it will be easy to target them. The above stats show how frequently people use Facebook and you can imagine what messenger can do for you and your business. 
Ways To Increase Conversion Through Facebook Messenger Bots
More than 20 billion messages are exchanged between business and users monthly on Facebook Messenger. Through answering questions and performing most of the preliminary work usually performed through customer service staff, now chatbots can help to ease the buying process and increase conversation that will be beneficial for your company.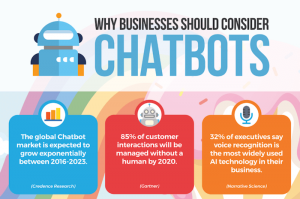 Source: Medium
 If you do Facebook marketing for increasing your conversion rate, then chatbot is the must-have tool for you. Let's see how chatbot serves your business at its best.
Providing Instant Customer Service for Your Facebook Audience
It is the most difficult task to satisfy your customers and their needs. Once you have done it, you win the game. Many AI tools here to increase conversions but on Facebook were 1.3 billion Messenger users globally, which provide marketers a big platform to cater to the audience. For this, chatbots work tremendously for marketers. 
Facebook shows your products and instant messenger bots give support to your customers. Mind it, when you build the chatbot, keep the FAQs related to your product in your mind. It is important to have exceptional consumer care to lift the retention rates and set you apart from the competition. 
High-quality content and to the point answer ensures your customer that you provide maximum help in making decisions whether they should buy or not.
Pro tip: make your bot concise and one-click options like multiple choice, it can enhance the customer interest by just clicking the options.
Messenger Bots Helps to Generate Sales-Driven Results 
After having a conversation with a messenger, it's time to uplift your sales. When people experience good customer care, they ultimately jump to buying your product or services.
Let's not make a disturbance in between. If you embed chatbots on Facebook messenger you can directly connect with your website too. The traffic can increase your conversion rate with your Facebook marketing and website marketing as well. 
There are many leading brands that use Facebook messenger marketing and provide instant help with chatbots that make your customer convinced about your products. Facebook Messenger bots have good open rates ranging from 70% to 90% which is 2 to 4x better than email.
Build Brand Awareness That Makes People Visit Your Product
Just looking at your Facebook page in the suggestion and making a perception about your brand is not enough. You need to optimize your brand to be aware of your visitors. Making a beautiful Facebook page with a number of product images is good for you.
But do you think when your customer just clicks the "send message" button, what he expects from you? The fully detailed view of your service. So, no need to waste your customer time, as soon as they click the button they know about you by seeing your description. And not only this, but you can also set the icon of your logo just to memorize your brand at first sight. 
You can also embed some quick FAQs about your company if you want to increase brand awareness, but a Lil bit short and concise. 
The Journey Of The Comment Section To Facebook Messenger Bot
When it comes to increasing your conversion rate, first of all, you need to capture the audience. By putting eye-catching products with some appealing content that makes people interested. 
So, Facebook makes a room for you and you can simplify your activities on your page. By making ads you can easily approach your audience as well. When people see ads, or if they want your product they will certainly visit your page, do comments. 
When they comment on your page, you can easily drag them into their room via messenger chatbot. Chatbot directly replies to their messenger, and users can talk and get information about your product comfortably and make your conversion rate high.
Send Product Videos To Maximize The Worth Of Your Customer's Lifetime
Video marketing is another way to engage your customers without making them bored. Yes, you heard me right, if your site, Facebook page, or other channel have video content, your audience will surely give it at least a minute. So why not in messenger bot? 
As soon as your customer interacts with the messenger bot, and wants a quick look at your product, you can send them related videos. They don't need to wander different channels, product demos are just a click away. 
It says good click-through rates are between 28% to 48% which is miles ahead of the single-digit click through rates on email. You can also send them new broadcasts but mind it, not frequently just once a week.
Messenger Bots Allow To Include Augmented Reality
It is a high time to compete in this digital era. As many leading brands using Augmented reality in their Facebook messenger bots. So, customers can try a quick look in the chatbots and also increase your ROI and conversion rate at its high. 
Victoria Beckham is one of the first people in her chatbot to accept Virtual Reality, and the effects are truly amazing. It makes shopping easy for all the people who have not trusted in online shopping.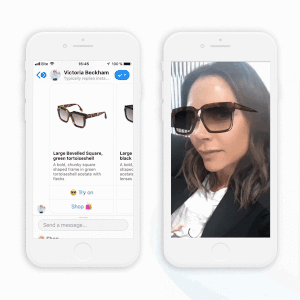 Source: chat marketing
Many people are still not happy with online shopping because they have had some bad experiences with online shoppers. It may be from customer support or your product quality. Make sure, both should be fixed after reading this piece.
Immediate Feedback via Messenger Bots With Customers
To increase the conversion rate, you need to optimize your service frequently. You have to know your audience's needs and how much they are satisfied with your products and what they want more in it. 
It'll surely help to research your business product by putting yourself in your customer's shoes. But again, don't bother your customers, try to offer giveaways in the return of their time. 
Additionally, Chatbot also sends giveaways to your customers whenever you want. Many seasonal sales or new arrivals, any discount offer is made, Facebook messenger bots up to send exciting news to your customers. 
Also, you can create Facebook contests through messenger chatbot. Through this, you may engage your customer in fun-loving activities to make them remember and for spreading the words in the community.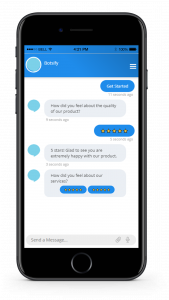 Why Should You Use Facebook Messenger Bots?
On a serious note, the Facebook messenger chatbot is flawless for Ecommerce marketing. No doubt, a large number of people are using social platforms for shopping. That's why online marketing is getting wider.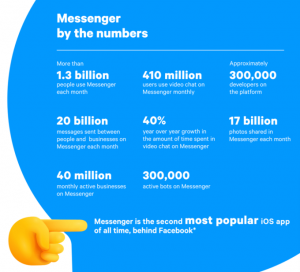 Source: TechCrunch
For some people, it saves time, managing other work rather than wandering in malls or some time users trust them and fearlessly shop while sitting at home. So, first, you have to build trust in them to go further with your product or services.
Here comes chatbot, it is computer software, able to communicate like a human but unlike humans, chatbots do not need rest, break, and not being late. It works like a mimic boy who helps customers by giving responses exactly like you teach them. 
Eventually, It gives assistants to make good decisions for completing the buyer's journey. When spoken to, the bot will automatically respond, gather data, and give users the necessary messages based on the actions of the user. Can't do this by support agents or only emails.
Readout: Messenger Follow up is better than Email Follow up
Let's have a detailed look at why you should use Facebook messenger bots?
1. Ready To Go Replies
If you want to acquire customers then make sure you don't let them wait a minimum of 2 seconds. Your customers expect that you are here to give information all the time. That's why your customers can come at midnight or early morning or whatever the time they get free. 
When they are scrolling on Facebook and suddenly they see the desired products or services, they jump on the messenger to chat with you and get information. But you cannot sit and wait for anyone's query all day long, in this way you can lose those prospects.  
So, the solution is Facebook chatbots, that instantly take the customers as soon as they click on the "send message" button. And give authentic replies in seconds. Facebook Messenger bots work for responding to any query, booking information, and any assistant instantly.
2. Reach Your Audience Faster
It is found that the open rate of messengers who use Facebook more frequently than emails. As soon as the user comes to your page through any referral link or ad, the messenger bots open to help the visitors.
In addition, Facebook Messenger has paid advertisements that can be submitted to someone who has been recently in contact with your Profile. Right, that means you have a user list already. To attract high-intent clients, you can use these ads in parallel with your chatbot.
3. Save Time And Money Of Customer Agents
Every day you have to tackle the same queries and the same issues like tracking the product, cancel the booking, refund procedure, and all. And no offense, it takes time and if you have not many agents to solve your customer issues, then your customer can have a bad experience.
When you hire customer support agents, you have to pay them individually or sometimes you have to hire for night shifts to assist your customers 24/7. So what comes next to make you timeless and reduce your cost? 
It is a messenger bots that works 24/7 efficiently without skipping one at a time. It responds in less time and reduces customer support agents to maximize your sales. Let's free up yourself and your employees for those tasks that a messenger can not do. 
4. Messenger Bot Like A Lead Finder
When trying to help out customers and prospects, Facebook messenger bots can acquire leads without making them frustrated. The chatbot gives a personalized touch to your customers and tries to build loyalty, they fetch the basic information from your targeted customers so you can easily find a way of reaching out in the future.
You can also make a user-friendly lead generation chatbot to get the information easily without bothering the customers. You can design your Facebook messenger bot as your needs like name, email, phone number, etc. 
5. A Reasonable Suggestion With Bots
You'll get amazed when your user gets a suggestion with bots. It works like, which flavor you need"? Or Have some fries with that? Or Would you like to taste our new flavor?
These look super cool and a worthwhile suggestion for your foodies customers. Not only foodies customers, If you have a clothing business, transportation business, or any other, but you can also make your suggested in-line products that you have.  
Let's have a look at how messenger chatbot suggests your products or services that make your customers eager to shop. You can see the bot over there.
6. Engage And Re-engage Your Customers
You surely listen to the process of the sales funnel. How efficiently you use your funnels to track your customers buying journey. If they are stuck on any of the funnel processes, your automation tool reminds your customers that he/she didn't complete their purchases (or maybe you can remind them with some discount that you did not offer them before).
Chatbot also works the same to re-engage your customers to let them complete their buyer's journey. With their content and whenever a new arrival comes, they remind them to buy your new products. Engage them with some personalized offers in different events, so they can enjoy buying with you. 
7. The Bot Can Be Where The Customers Are
You are running your business in the US and a customer wants to buy your product in Germany? No need to worry about communication, your bot assists them efficiently. Meanwhile, if it needs any human assistant, your chatbot sends you a notification and you can easily continue with them. 
Even if your customers want to book your service or buy your product, they can do it instantly by staying on the Facebook page with the help of  Facebook messenger bots.
8. You Can Trace The Bot
While using a chatbot as a user may be difficult to have data but as a chatbot owner, you can get all the data of your customers. Not only this, but you can also even trace your chatbot as it works according to your training, or maybe any disturbance occurs.
Further, you can take a look every day or in a week as you want on your bot. And find out how many people use the bot and what chatbot responded to them back. All the analytics is on your fingertips.
So, I hope you got the idea about WHY you should use bots rather than having long calls and waste your day with repetitive queries. 
Tips To design Facebook Messenger Chatbot
Make your bot simple, don't overdo the text. Try to make simple and common words that can be understandable to others.

Use related emojis and GIFs to make your content joyful and attracted to the user

Try to make your chatbot close-ended, so your bot doesn't get a complex situation.

Create a bot with maximum functionality and avoid useless images or options.

When you design a bot systematically, close-ended questions make your user easiness, to just tap the option, and it is considered more helpful for your customers.

Add images to display your product images and videos as well if needed. 

You can also add your logo in the chatbot, so it looks more personalized and enhances your brand awareness.

If you go for open-ended questions and answers, your bot must convey a message in an informative and concise way.

Your bot must be trained and provide human-like touch in its conversation. 

Take a break between message sending response, not overflow your bot, it seems like a normal conversation.
Create your Facebook Messenger chatbot to elevate your conversions
Sync your Facebook page with messenger bot and increase CX by 85%
Wrapping up
After having a long read, I'm sure you are willing to build Facebook messenger bots for increasing your conversion rate as soon as possible. There are more things you can experience after getting a chatbot.
It is important to find out the best platform that gives you many resources to make a super-duper messenger bot. There is no chance to make a single mistake. So let's have a Botsify!
The process of building a chatbot seems difficult but it is the easiest way to do once you are used to it. You will explore many other resources like plug-ins, conversational forms, analytics, live chat, and much more that Botsify offers and I couldn't describe here. 
Maybe I missed something that could help increase your conversions, so log-in to a Botsify account and explore by yourself and let me know what I missed.