The essence of the chatbot in business creates hype in the market. It is not just to automate your communication, it is more than that, let see how chatbots come up in our life.
If we talk about today's chatbot market, there is a long list of chatbot builders that you can use. Along with the numerous advancement, chatbot took over their place in the industry. A few days back, there was a hype of AI chatbots and it hit a flashback for most of the companies. When it comes to defining chatbot, I'm here to assist you. 
Me: Hey, May I help you to understand what chatbot is?
You: yes!
Me: A chatbot is a software that conveys an automated response to your queries without the help of human agents. It works like a human but unlike them, it does not take rest, or any other excuse to not communicate with others. 
It is that simple!
You could find your answers at a glance, it was me but didn't expect that humans operate the chatbot. It has an intelligent interface, unlike humans it gets available 24/7 and works non-stop even on weekends. Along with the maximum functionalities, it can work simultaneously for thousands of people. 

The power of the chatbots now increases and seems like an unpredictable tool in the coming days. But I just wonder, is that chatbot powerful for long or is it magic? Have a short look at it.
Evolution of chatbots 
The origin of the chatbot is not new, it has been around for decades. The first chatbot was screened in 1966, introduced with the name of "Elizza". It got immense attention when it first responded to the non-directional psychotherapist in an initial psychiatric interview. And after that series of the chatbot was built and is still known in history.
In 1972, the second chatbot "Parry" came up with minor changes in the competition of Elizza. After the successful experiment, Jabberwacky planned to create the first chatbot to simulate human voice.
In 1995, ALICE was the most famous chatbot of the 20th century that was more efficient and the inspiration for Apple's personal assistant chatbot "Siri".
So, we can say that chatbot in business is not the idea of today, but it is the oldest form of bots that are hidden for today's people. The excessive use of chatbots in businesses makes us realize how important and how impactful it is. 
A big market is working on chatbot development that helps companies to uplift their sales and optimize customer support service. By taking advantage of quick replies, 24/7 availability, and other exceptional functionalities that reduce cost and human workload, business owners should carefully find the platform where they can avail all these perks in one. 
Things to Consider While Selecting Chatbot for Business
This section discloses the top five aspects that business owners need to keep in mind while choosing a chatbot for business. It helps to differentiate chatbot platforms comparison. You can easily compare the chatbot pricing structure from different platforms. Having the right technology at the right from the start will not only provide ease to your customers but will also add long-term loyalty to your company.
Define the Nature of the Chatbots
Every business and its goals are different. Identify your customer's needs, their buyer's journey, frequent experience with your products or services, and recognize the fathom of their pain points. Knowing your customers' actual desires in advance would lead your company to success.
This makes your chatbot customer-centric and you can provide a high-value to your customers. Whether you want a chatbot for some specific campaign, lead generation, operational efficiency, process automation, or Q&A, or in all cases, helping you to sort out efficiently. 
Identify the Features of Chatbots
If you are heading toward chatbot for your business, you need to compare what features make your chatbot efficient and intelligent. The chatbot does not just respond to the users but you can also use it for capturing leads, easy payment methods, show your products & recommends the user by identifying the experience, remind your customers that you forget your abundant cart, and all sums up, it increases your sales.
For better understanding, let see few chatbot features that you should look into:
Conversational Forms: chatbot conversational form is used to acquire information from the individual for better lead generation.
Broadcast Messages: once your chatbot is associated with a Facebook messenger, you can broadcast messages to many users.
Media Blocks: various media elements can be done by using media blocks such as product images, videos, sliders, files, etc.
Chatbot Menu: the chatbot user can find the catalog or menu over a single button, without redirection to another window. it is easy to find users in the detailed section of products/services.
Make Sure Your Chatbot Incorporates NLP and Speech Support
With the frequent changes in technology, you can find chatbots in business on a simple or advanced level. You have to provide a human-like touch when anyone interacts with a chatbot. It feels like a natural human language. Make sure you pick that platform where you can replace human agents with bots without any fear.
This is only possible if the chatbot development platform provides Natural Language Processing (NLP) and speech support. These types of chatbots have the ability to deliver a better user experience and understand the emotions that help to respond accordingly. It also helps to understand and maintain user data according to experience and interactions.
Omnichannel Support and Integration 
The presence of marketers on all social channels is the new normal in the marketing of any business. And if you want to get a single chatbot platform from all the channels, choose the one that provides omnichannel features.
Adopt a platform that provides chatbots for all the social channels, ads, websites to provide a unified experience to all the users. Make sure the user interface is versatile enough to deliver top-notch service across all platforms.
This also helps you to grab your customer's attention all over the channels in terms of conversation with your customers. If you do a chatbot comparison, you may find platforms that offer Facebook Messenger chatbot, website chatbot, WhatsApp chatbot, and SMS chatbot. 
Easy to Handover Bot to Human
No doubt, how much chatbot is advanced, it never eliminates the human agents. But it can reduce at the lowest level at some point. When a chatbot faces complexity, the ability to transfer the conversation to the human must be seamless. 
For example: if someone wants human help, the bot couldn't understand at all. The bot can enable an agent to start communicating on the same channel, whether it's the website, Facebook Messenger, SMS, or WhatsApp. A live chat solution at the same platform is needed to complete all spices of the chatbot platform. 
Kind of Chatbot Platforms Available in the Market 
There are a variety of choices in the chatbots that you can use for your marketing channels. Either you want chatbots for Facebook to capture a large audience or you want to entertain your visitors and generate leads on the website.  
Today's marketing starts with social media channels and ends on the same point. And we know well that marketers have outspread on all the digital platforms to promote their products. On the other hand, the chatbot in business works for all the channels and it is basically the need of all the marketing platforms. Let's do a chatbot platform comparison and see what they are offering.
Facebook Messenger Chatbot
Many chatbot developers (such as Manychat, Chatfuel, MobileMonkey) offer only Facebook messenger chatbot that helps to optimize Facebook marketing campaigns in terms of conversation with your targeted audience. With over 2.7 billion monthly active users, you can show your presence in the huge market and increase your brand awareness from time to time. 
It is easy to build a messenger chatbot for business rather than a separate mobile application of your brand. Chatbot reduces the barriers between you and your audience and helps to entertain them efficiently. Along with other chatbot functionalities, it also redirects your Facebook ads into the personal inbox of the users and you can try this feature with Manychat, Chatfuel, intercom, etc.  
Website Chatbot Platforms
In this era where eCommerce marketing is rising, the website makes a sleek way for the eCommerce industry. A website is an interface where online marketers create an online shop so that the viewers can see and buy the product. So, another availability of chatbots in business is a must.
Thanks to the chatbot, it acts as a seller on the website and helps the visitors make buying decisions regarding your products. A 24/7 assistant for your website is as essential as a shopkeeper in the mart.  If you can examine chatbot platform comparison, you can have a fully-managed website chatbot feature from the Botsify chatbot platform.
Omnichannel Chatbot platform
The most sought-after chatbot platform where you can find all in one. Various chatbot builders are providing chatbots for multiple channels with unified data analytics. The interface must be flexible for all the channels that are easy to use and better for customer experience. 
Omnichannel chatbot platforms are able to provide you several chatbots for your channels such as Facebook messenger chatbot, WhatsApp chatbot, SMS chatbot, Website chatbot, and live chat solution as well. Like Botsify, Intercom, Landbot, Drift, etc are the platforms where you can find an easy integration process on all the marketing channels. 
Flow-based or Story-based UI Chatbot, Which One Should You Adopt?
Critical attention to the chatbot development process should be considered while opting for a chatbot platform. With the help of chatbot builders, you don't need to have a programmer because most of the platform offers you to make your chatbot by yourself with no coding skills. 
When you sign up for creating a chatbot for your business, you need to understand the platform attentively and give attention even to the slightest pop-up. An initial step for creating a chatbot is to fill the conversation field as you want. If you find complexity in making a chatbot story, you may need a full guide or a chatbot consultant. So, before sign-up for a chatbot platform, with the help of UI-based chatbot comparison, you need to know which can be easy to understand and build by yourself.
Story-Based UI: It is more convenient to build a chatbot that has a story-based UI, this makes it easy to build a chatbot in a few seconds. However, it sorts out the conversational flow leniently with the help of your prepared script for your chatbot. When you start making a story, you can clearly sense where you should put your answers that the chatbot will be saying after interacting with the user and what your FAQs that you will be going to answer.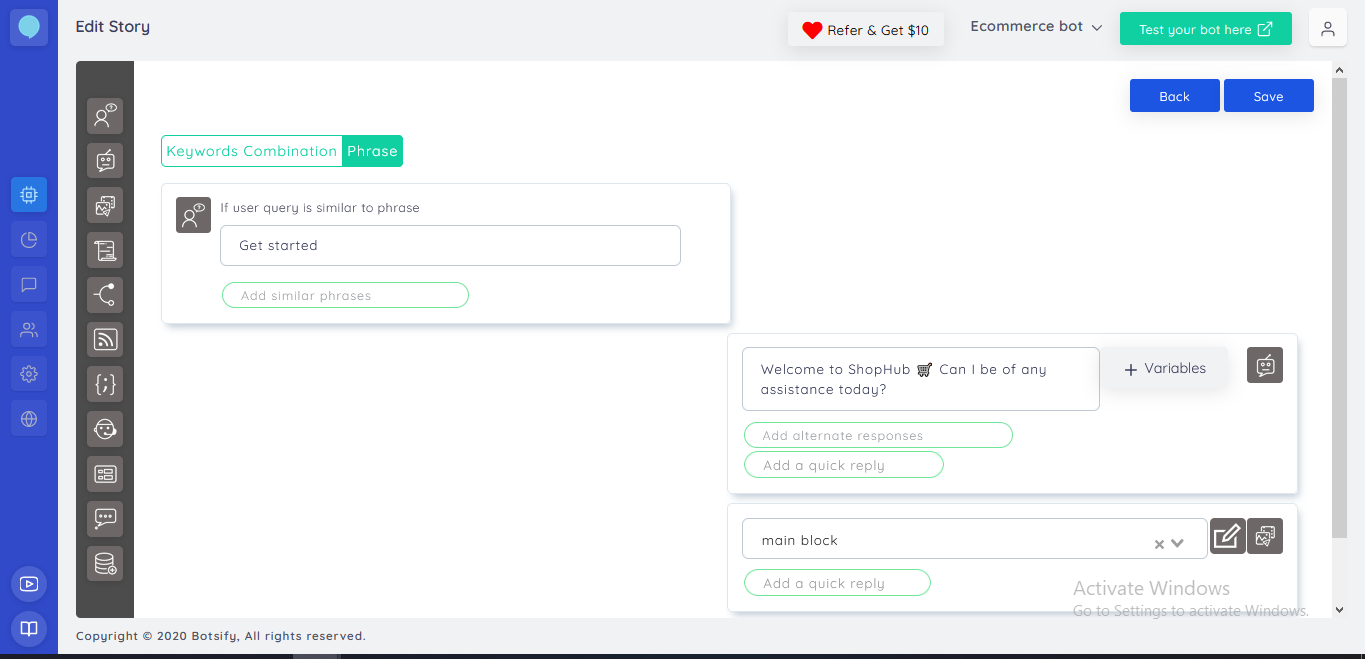 Flow-Based UI: It is a drag and drops block situation where you can make a flow by yourself. A flow-based interface gives you a smooth surface where you can add blocks as you need. It's a little bit confusing and needs concentration when you start to create conversation flow.  It has a complicated option for your response and user queries. Sometimes people feel difficulty using the flow-based chatbot. 

Chatbot Results or KPIs to Track 
When we talk about Chatbot in business, we think it reduces the gap of communication. But it is more than that. In business, a chatbot is a track that joins many loops of the business. With the help of chatbot automation, you can increase CTR, maintain the records of your data, smooth your sales funnel, enhance the user experience, optimize CMS, generate qualified leads, and other factors that we are going to discuss.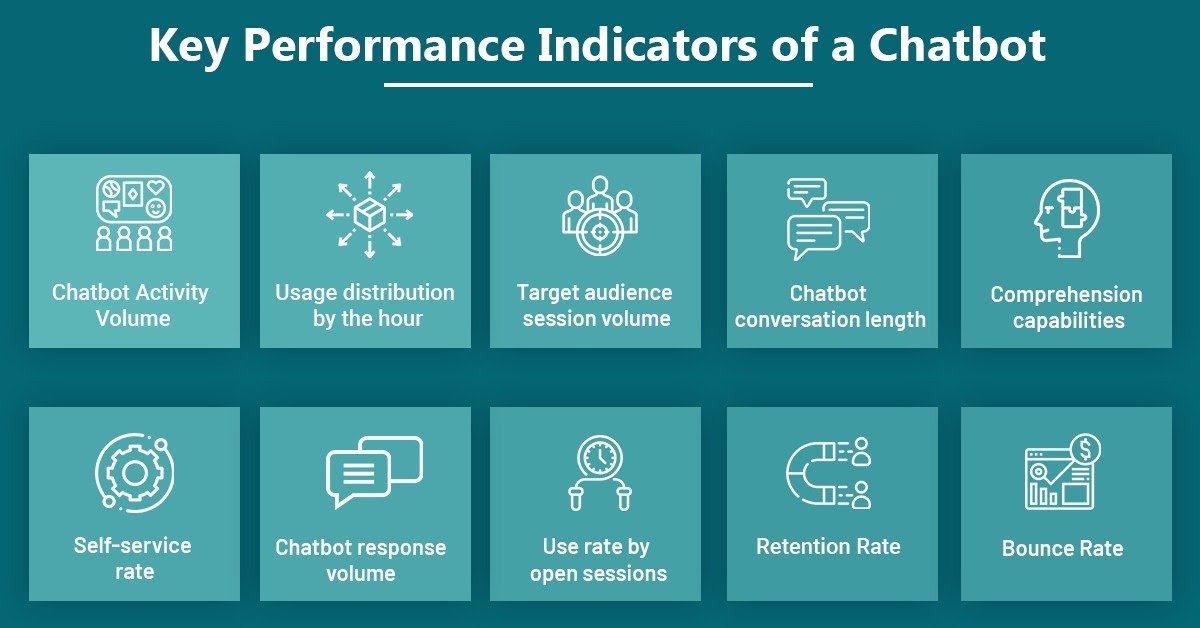 Just to evaluate the effectiveness of chatbot in business and streamline the activities of marketing, make sure to track your KPIs of the chatbot.
Voluntary or Prompted Usage of the Chatbot
When a user comes intentionally to interact with a chatbot, it is called voluntary use of a chatbot. On the other hand, if it is used after having a sign, it is prompted the usage of a chatbot.
Either the user deliberately interacts with the chatbot or after receiving a pop-up message. In both ways, you can compare and measure chatbot activeness. But if there is a high rate of voluntary use, it is a great indicator of your chatbot performance. 
Total Outbound Conversation
To determine the KPI of the chatbot in terms of conversation, firstly train it according to the customer-centric approach and then test its performance. If the rate of total outbound conversation is high, it means your chatbot features perform well and predicts the chatbot comparison outstanding to other competitors.
The volume of User Session and Bounce Rate 
To monitor your chatbot performance, it is comprehensive to have a data-set on your chosen chatbot platform. Once you start the evaluation, you can see various elements that can help you to recognize where you are lacking. 
How much time a user spends on your platform (that is a session) and how purposefully the chatbot makes them stay there, is such an achievement for your business. If the result does not meet the criteria, it means the bounce rate is high and your chatbot fails in its expertise. This should encourage you to change its content, reconsider its customer service positioning, optimize chatbot features or other factors. It's a metric that should be carefully monitored.
The Stable Retention Rate of Your Chatbot User
The Retention Rate refers to the percentage of users who take help from your chatbot again and again. In your specific line of operation, this metric can be contrasted with the normal frequency of customer communications. It will give a clear indicator of the importance of your chatbot and its presence among your customers' help.
The old-fashioned customer support takes several hours to solve the basic queries. That's why chatbot in business creates hype by having this specialty. The maximum time a chatbot can give to the user is 1 second. And if the chatbot fails to do this, it loses the credibility of a chatbot. It helps to increase the response rate and try to sort out the user's query in a few seconds.
If your chatbot could capture leads without any hassle, it makes your future customers onboard. Measuring chatbot efficiency by having qualified leads is the sublime way to capture your target audience. Statistically, a chatbot in business can generate 36% qualified leads that can be converted to your potential customers. 
Botsify
– Easy to Build And a Fully-Managed Platform
Botsify firstly appeared in the year 2016, a pioneer chatbot platform with zero coding skills where a non-techie person can easily create a chatbot. Botsify aims to provide a fully-managed chatbot that helps companies to optimize customer support, acquire qualified leads, promote products and elevate sales & revenue. 
Botsify makes it possible that humans and chatbots can work in the same place that's why a live chat solution also witnessed that Botsify is worth trying. With Over five years of services, Botsify is continuously working on the user experience and adding boatload chatbot features in their services to grow their clients' business. 
It is the fastest and finest chatbot for you, do you want to try and hesitate it is difficult to give it a try as compared to other chatbot platforms. No worries 3 quick steps and you will get your own.
Step 1: Sign-up with your account
Step 2: Create your conversational flow according to your customer needs.
Step 3: Save the story and test your instant and fastest chatbot ever. 
Facebook Launched Chatbots, Botsify Followed!
Botsify, a fully managed chatbot platform where you can have optimum functionalities and integration in just one go. Botsify emerged when the Facebook messenger came into the market (in 2016), and it is labeled as one of the pioneer chatbots in history. The chatbot comparison with Facebook messenger is not confusing, if you want a customized chatbot with multiple features, it's time to have a platform that is fully managed. 
Botsify offers a no-code platform for the users when it was just a fantasy for others. It has been helping businesses to upgrade their position in the market by having AI chatbots with the advancement of NLP. Till now, the chatbot has served 8000+ leading companies and helped them to increase sales and optimize customer support and this process is still going on.
What Makes Botsify an Omnichannel Platform?
Botsify chatbot platform refers to the omnichannel experience where you can get a maximum number of channels for your marketing activities. It helps enterprises to have a fully managed chatbot for all the channels where you can get a single chatbot for all your marketing platforms for your targeted audience. The top chatbot omnichannel platform for your communication are: 
Since Facebook launches Messenger chatbot, Botsify is the one who came after this as compared to other chatbot platforms. Botsify offers a non-coding chatbot for the ease of Facebook marketing. It helps the visitors to respond 24/7 non-stop anytime/anywhere. Botsify also provides chatbot development services with their expert chatbot consultant.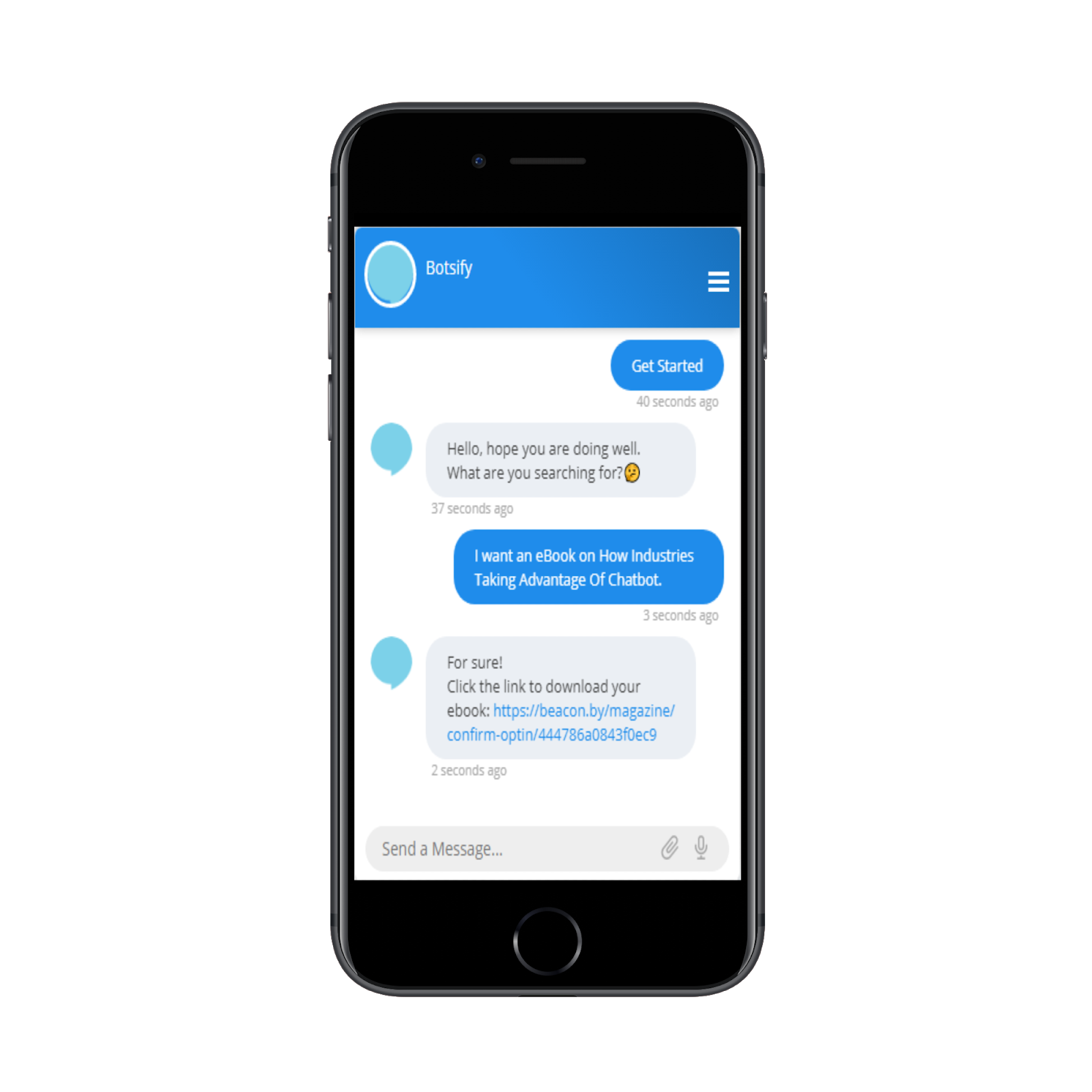 With Botsify, you can access your messenger chatbot with a QR code. It is unique as you may not find it in Chatfuel & itsAlive features. With the optimum functionalities, you can send media elements, files, recordings and make your visitors engaged for a long time. Once the user is done with all the responses, they surely decide on buying your product with a great satisfaction level. 
Botsify makes your business WhatsApp personalized and an instant way of connectivity. While many businesses want to provide a personalized experience to their customers, here is Botsify who helped them to go with their decision.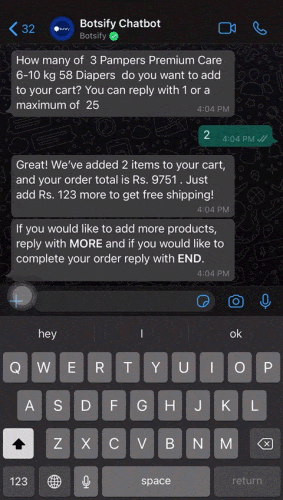 You cannot find WhatsApp chatbot features in other Botsify competitors like ManyChat, Chatfuel, FlowXO, Intercom, Drift, itsAlive, etc. It's only Botsify, where you can find WhatsApp chatbot. By reshaping your WhatsApp account into a chatbot, it enhances the user experience with instant support on it. 
Instant support, 24/7 availability, offline working hours, is not just a dream. Botsify makes this dream fulfilled for the organization and helps them to increase their website visitors more frequently.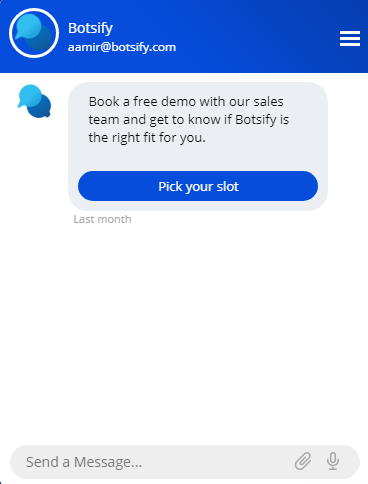 When visitors need an assistant or they need to make any purchase, they don't need to go multiple pages or any other application, Botsify chatbot has all in one. Add every element to make your chatbot fascinating and if you find difficulty, don't forget Botsify provides a fully-managed chatbot development service on the go.
Engage your customer as much as possible channels, so they will not forget you for sure. For sending bulk messages of your promotions and discounts, SMS is still the best option to proceed with this. SMS chatbot is responsible to answer any quick query or you can send them vouchers for having fun and increase your customer engagements.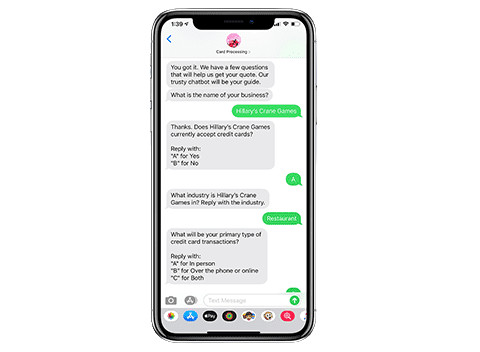 Livechat added value to the Botsify chatbot platform with their multi-purpose interest. It is easy to take over human agents when a chatbot fails to respond to any complex query. A trouble-free transfer bot to humans, make this platform effervescent. Software World also rated Botsify as a TOP RATED LIVE CHAT  software in their research list of top 10 best live chat software.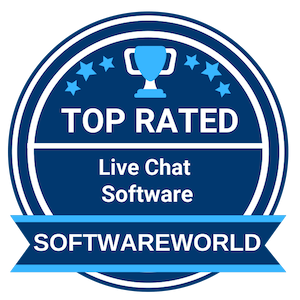 Dynamic Integrations of Botsify Chatbot 
Add any plug-in to your chatbot and make your actions easiest as much as possible. Here are multiple integrations that Botsify allows you to connect with your bot that you may not find in Botsify competitors' integration list. 
Zapier: At any stage in the conversation or on the submission of the conversational forms, Botsify will act as a gateway and process the data to Zapier webhook.
JSON API: The main objective is to retrieve the API response. This special JSON API for Botsify integration is just a request method that returns a URL response. You can watch the number of respondents you get from the URL you have attached or linked to Jason by using this tool.
Dashbot.io:

 

With this integration, you can easily monitor your active users of the chatbot regularly, weekly, or anytime whenever you want. You can fetch data of your visitors and optimize the area where you are lacking.
Google sheet integration: Having a feature of conversational form and not having any file to save it, it's useless. Here at Botsify, you can integrate google sheet to export data of the conversational forms or other basic information of your chatbot user that helps to acquire qualified leads.
Stripe: Botsify chatbot makes payment methods convenient and trouble-free. With stripe integration, you can streamline transactions from your clients.
Integromat: Botsify helps to connect with integromat and helps you to link with other applications, so it's quick to access other platforms simultaneously.
Optimum Features of Botsify Platform
If you compare Botsify to other platforms you can see the optimum features lined up for users' ease. Let's see the main features of Botsify chatbot that impact your chatbot performance: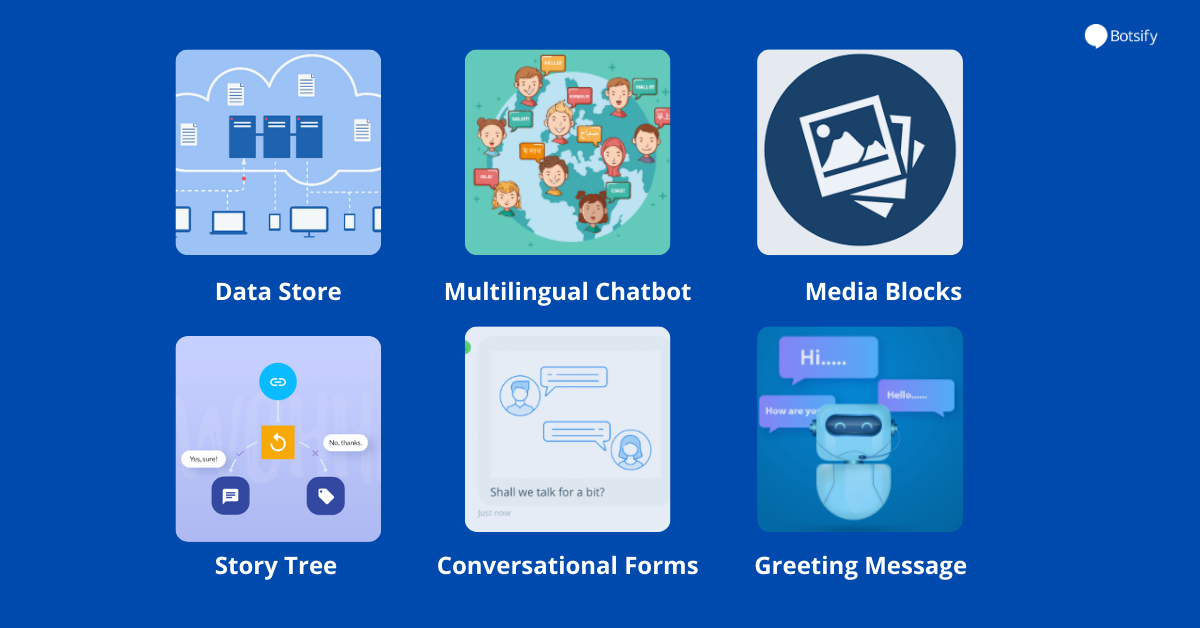 You can gather leads from the basic information of the users or you can simply make a customized complex form for any context. Botsify conversational form has various fields of emails, text, and numeric details and an easy way to integrate your conversational form with google sheet to export all data.
Botsify allows you to set up media elements including images, video, sliders, files, and recording in just one tap. Botsify chatbot features can help you to increase customer experience by giving the touch of attraction in your conversation and engagement elements. 
Monitor your chatbot usage at your Botsify dashboard without having any complex integration. You can easily access the platform to gather data and evaluate how your chatbot performance is going on.
This chatbot feature makes it easier for you to analyze your chat flows so that, where applicable, you can make immediate adjustments. To see the bot vs. user interactions, simply zoom in and out.
Botsify chatbot has the ability to enhance the user experience by conversing with almost 195+ multiple languages. It is easy to interact with different people and spread your business network throughout the world.
Pricing Structure of Botsify
Till now, we have discussed chatbot features and functionalities of Botsify, is it worth spending on Botsify chatbot in business? I hope you are up for this because the worth of this chatbot is surprisingly reasonable and cost-effective as compared to other Botsify's chatbot competitors.
Let's see the starter!
You can get a 14 days free trial of your very first sign-up to Botsify with full access on the dashboard without any initial payment.
Dedicated Account Manager 
Only Botsify can give you a dedicated account manager that helps you to develop a chatbot according to your business needs.
Unlimited Chatbot User on Custom and Business Plan
On the custom and business plan, you can have unlimited chatbot users without any terms & conditions. 
It is the specialty of a chatbot that it works all round the clock without the need for human help unless a complex query hits on. Botsify chatbot has the ability to secure customer response time even in offline hours.
Botsify claims that it has a fully managed chatbot platform that provides chatbot consultants and support whenever you need it. And manages your customized chatbot with a good understanding of your company's goal.
A weekly reporting of your chatbot usage is sent via email where you can reveal how perfectly Botsify chatbot works and if you think there is an unusual disturbance, the Botsify support team is just one call away.
Have a quick look at the pricing structure: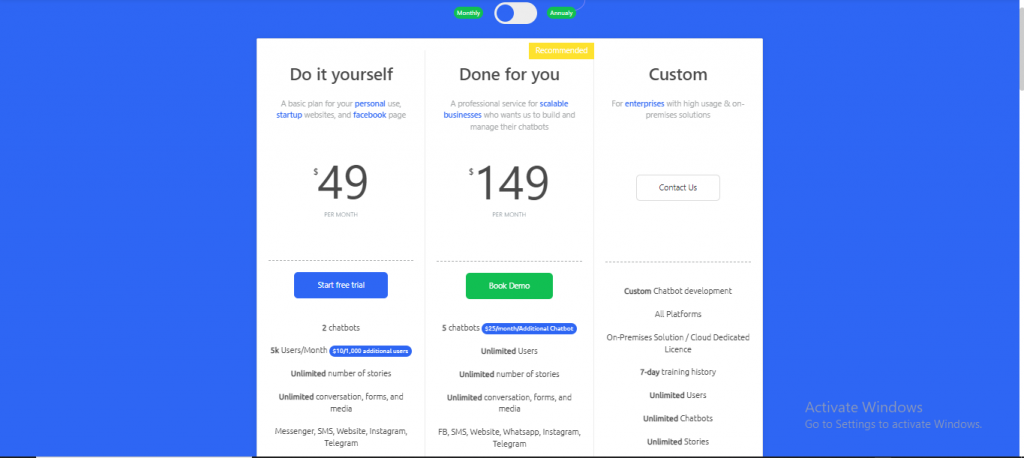 10 Things Differentiate Botsify From Its Competitors
Botsify occupies a big place in the chatbot industry and also has a great deal with competitors. It is important to choose carefully the assets for your company as you are planning for the long-term. Botsify comparison helps you to differentiate why you should choose it for your business. Let's examine platforms in terms of chatbot feature comparison and concentrate on what extra Botsify added value for you.
Essence of a Fully Managed Platform
In the industry, there are several chatbot competitors. What Botsify makes difference is they serve their clients in two ways. Firstly, the Botsify chatbot platform is as easy as its customers can easily make a chatbot in 3 steps. They have a story-based UI which helps in making conversation flow methodically. 
Secondly, they offer a chatbot consultant who can coordinate with you and make a customized chatbot as you want. It is not enough for one time, Botsify chatbot development managers are always ready to train your company's bot whenever you want to add your requirements.
Acquire Users From Facebook Comments
With the Facebook messenger chatbot, you cannot just interact with your customers in the inbox but also you can acquire in the comment section from your official pages. Unlike chatfuel, intercom & Drift features, Botsify provides this attention-grabbing attribute for enhancing your Facebook marketing activities.
Simple and sleek integration can help you to export data of your chatbot users, how many customer hours saved, How many messages responded by the bot, what average chat time with customer, and how much teammate hours saved. 
If you analyze chatbot comparisons, many chatbot builders like ManyChat, intercom, FlowXO, Freshdesk, MobileMonkey, etc couldn't assign multiple teammates' features. You can add multiple teammates by giving access to your chatbot. You can assign anyone to train and manage your bot after giving the access. 
In Botsify competitors' list, you may find WhatsApp integration, but a fully managed chatbot for WhatsApp is the need of your business account. Get your WhatsApp chatbot to increase personalization and user experience.
You can sync your bot in two different ways i.e. Simple synchronization and auto-synchronization. Simple synchronization (also called a clone) refers to making a copy of your bot and allowing you to edit the original one that couldn't affect the copy bot. In auto-synchronization, bots make changes simultaneously with the all sync chatbot.
Botsify is always available to help their client whenever they face issues in the Botsify platform. They inform you when the maintenance of your chatbot is scheduled, so you can prepare your human agents to perform their duty.
Botsify provides a seamless experience when it comes to generate leads and gather basic information about your visitors. Also, you can build forms for hiring candidates, admission forms for the education industry, and easy to gather booking details as you need. 
A weekly webinar is held by the end of Botsify that helps you to discuss issues and any difficulties you are facing regarding the platform. Botsify CEO Usama Noman makes sure of their presence every Tuesday of the week and tries to figure out all the issues in this live session.
With the live chat solution, Botsify also has a video call feature where you can talk with your customers face to face wherever they need human help. You can present a product demo and convince them to buy your product in a one-on-one meeting.
Botsify vs chatfuel comparison
In Botsify vs Chatfuel comparison, examine who wins.
Botsify offers QR codes for Facebook messenger while chatfuel doesn't offer this.

Botsify chatbot can acquire prospects from Facebook comments sections.

Botsify allows you to export user data while chatfuel doesn't provide this ease.

Chatfuel doesn't have WhatsApp features while Botsify offers an omnichannel experience with all major platforms including WhatsApp.
Botsify vs ManyChat comparison
With Botsify chatbot, you can assign multiple teammates while in ManyChat it doesn't.

Botsify chatbot evaluates conversation rating while ManyChat doesn't allow it.

ManyChat doesn't have WhatsApp features while Botsify offers an omnichannel experience with all major platforms including WhatsApp.

With Botsify, a well-managed chatbot help center, on the other hand, ManyChat couldn't have it.
FlowXO doesn't have WhatsApp features while Botsify offers an omnichannel experience with all major platforms including WhatsApp.

With the Botsify platform, you can block specific URL/IP if you don't want to show chatbot on it while in FlowXO features, it doesn't include.

Easy to sync your chatbot with Botsify features as compared to FlowXO, it doesn't include.

Botsify organizes weekly webinars for assisting customers regarding any chatbot development but FlowXO doesn't.
Botsify vs Intercom comparison
With Botsify chatbot, you can assign multiple teammates while in Intercom it doesn't.

Botsify chatbot can acquire prospects from Facebook comments sections but Intercom doesn't have this feature.

Intercom doesn't have WhatsApp features while Botsify offers an omnichannel experience with all major platforms including WhatsApp.

Easy to sync your chatbot with Botsify features as compared to Intercom, it doesn't include.
Botsify chatbot can acquire prospects from Facebook comments sections but Drift doesn't have this feature.

Intercom doesn't have Drift features while Botsify offers an omnichannel experience with all major platforms including WhatsApp.

Easy to sync your chatbot with Botsify features as compared to Drift, it doesn't include.

Botsify has a lead form to capture authentic leads while Drift has no lead generation form feature.
Botsify vs Freshdesk comparison
With Botsify chatbot, you can assign multiple teammates while in ManyChat it doesn't.

You can export conversational history with Botsify but with Freshdesk, you can't.

You may not find a multilingual chatbot in Freshdesk features but Botsify provides it with almost 195+ languages.

Easy to sync your chatbot with Botsify features as compared to Drift, it doesn't include.
Botsify vs MobileMonkey comparison
With Botsify chatbot, you can assign multiple teammates while in ManyChat it doesn't.
Botsify vs ItsAlive comparison
With Botsify chatbot, you can assign multiple teammates while in ManyChat it doesn't.

ItsAlive doesn't have a customer branding chatbot while Botsify provides you a customized chatbot and white label service as well.

Botsify chatbot can acquire prospects from Facebook comments sections but Drift doesn't have this feature.

Easy to sync your chatbot with Botsify features as compared to Drift, it doesn't include

ItsAlive has limited integrations, Block IP/URL feature on the other hand Bostify has all in one.
See more Botsify chatbot comparison here: 
Botsify vs ActiveChat comparison
Infographic View of Botsify vs Other Chatbot Competitors 
A comparison of Botsify and its competitors gives a huge competition in the chatbot industry and guess what Botsify is soon winning this race. You can see the below infographic that shows how Botsify competes in the market in terms of pricing features and functionalities. 
Decide Whether You Just Want a Chatbot Platform or a Chatbot Expert Too!
The need for a chatbot is no longer hidden for the organization. Either you want to improve customer experience on your website, or elevate your sales by keeping your presence on the Facebook market.
The chatbot takes good care of your customers and helps you to get potential customers. The mobility of chatbot API is easily used for mobile and desktop interfaces that provide a streamlined experience on all the mediums.
Botsify helps you to compete in this race by providing a unified and fully managed chatbot. Also, you can engage a Botsify chatbot development team member, to organize and train your bots.