The omnichannel retail strategy examines the benefit of your business and your customers. The privilege of taking over omnichannel retailers in the fashion industry contributes to improving retailer-customer relationships. The better you serve your customer, the more you can strengthen your association.
As Darr Gersovich, VP of Marketing at Ensighten said:
"Interpersonal relationships are ingrained so deeply into our social fabric that a customer will view your entire brand as a singular relationship … [omnichannel] ensures that customers receive a personalized conversation with your brand."
By finding what your customer demands, you have to sync every channel which is involved in your selling process. It would be rather an online or offline market. A survey taken by the CMO Council reported that 85% of people globally prefer a mix of physical or digital channels for interaction brands.
To determine which of the channels you can prioritize for grasping your audiences, first you must integrate all the mediums and analyse what makes your spike high. To resist inconvenience, find out ways to make your omnichannel retail strategy. Before taking a step forward, you should know what omnichannel is and what you can extract from it.
What Omnichannel Actually Is…
The story begins with two overlapping buzzwords i.e. omnichannel & multi-channel. It is a fact that omnichannel depends on multi-channel concepts. These terminologies look confusing and it's not always easy to tell the difference between the two. But don't end up here, we are going to reveal it.
Multichannel Retailing: It means "many" channels, not all. You can sell or promote your product on different channels, mainly online and offline. But those multiple channels work silos independently from one another. In this case, you can reach out to your customers and your customers also know where to find you in the offline market. 
Multi-channels provide product information to the customers and the channel distributes the information manually. This process refers to the company-centric approach. These channels work separately and run different services at the same time. Customers don't feel the consistency in these multiple channels.
Omnichannel Retailing: The word omnichannel means "all" channels, organizations use it to optimize customer experience and provide a user-friendly platform for selling purposes. It helps to optimize retail strategy in the fashion industry and focuses on customer needs, provides what they need, and communicates in a personalized and similar way. 
The key difference behind this is, it integrates all the channels, gathers data of your customers, and makes a unified profile of your customers to optimize the shopping experience. Omnichannel retail provides a customer-centric approach and syncs your customers with the brand. By maintaining the unity of multiple channels, customers are more likely to expect a seamless experience.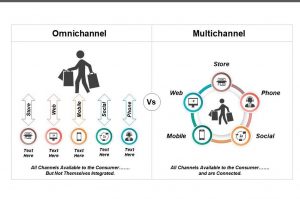 What Successful Omnichannel Retail Strategy Is…
The omnichannel retail strategy revolves around brick and mortar localities, mobile browsing, online fashion stores, different social channels, and whatever you can use to run ad campaigns. In fashion stores, customers want active participation on your side either you greet them or assist them throughout the buying journey.  But the basic purpose of the omnichannel retail strategy is to unify your channels for your customers. It all started with data management. Customers appreciate unity and consistency, which gives them the following significance:
They can trust your brand.

They know you pay attention to the slightest query.

You know them well by using previous data.

They find more comfortable experiences with your brand.

You can provide user-friendly channels
In the fashion industry, the omnichannel retail strategy involves multiple channels but not limited to them, it can be more than that I mentioned below:
Email Newsletter

Social Media 

Paid organic search

Referral sites

Campaigns 

Phone calls, messages

Virtual assistant
In a world, where businesses become more and more customer-centric, it is very important to unify all the networks. To achieve this goal, omnichannel and chatbot play a crucial part in any modern business. You will be amazed when you experience the combination of chatbots and omnichannel marketing together.
Your customers may change the devices or medium in the entire process of buying but always see the consistency and seamless experience. They don't hesitate to change the medium because they know your channels are integrated with the maximum number of data. It will be easy to interact with your customers after one week.
But how it all starts with?
A visitor comes to your fashion store site, looks out your portfolio, and stops on the piece of well-designed shirt that he wants to buy. After ten minutes they leave your site to just put it into the cart but without making a purchase.  The omnichannel will investigate what's wrong with him. Now, an email newsletter he received about that particular stuff with other different materials that he wants to purchase with some exceptional offer or discount. Have a look at how AMAZON tackles this situation.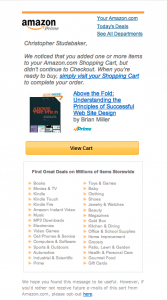 Source: Cart abandonment
Meanwhile, Facebook runs ads actively and tries to remember what he left into the cart. Your visitor decides at the same time and clicks the button "Shop Now", your omnichannel strategy gets activated and takes him to your site where they once left out. This is how you can complete the buying process by simply managing your channels.
Whether you try to increase sales, retail, the omnichannel retail strategy allows you to make a significant relationship with your customers. Your fashion retail store never considers to be part of a single platform, rather than you can link with all your channels to decrease the bounce rate of your prospects.
Top Omnichannel Retail Strategy Users In The Fashion Store
I am listing down 6 best users of omnichannel in the fashion store who streamlined the way of communication with their customers in every touchpoint.
Topshop

Neiman Marcus

Oasis fashion

Nordstrom

Canada Goose

Sephora
Let's discuss Oasis fashion store and Sephora fashion store, how they unified their channel.
Oasis fashion store
Oasis fashion is the leading fashion brand based in the UK, running online retailers and almost 80 brick-and-mortar stores, along with 96 globally spread in the fashion industry. A big name in the retailing fashion industry and occupies customer attention around the globe.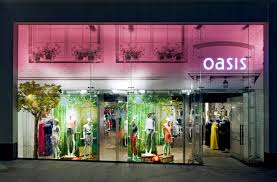 A huge network serves people in different touchpoints and interestingly all channels are integrated to give an end-to-end experience.
Provide proactive online  & offline store experience:
They display all the well-prominent products on the page that users can see or buy online or at the nearest physical store. In the physical store, you can use an iPad for showing product and purchasing purposes. While there is a section of an inspirational gallery, they used it to show customer experience by putting all the user-generated looks and integrated into Instagram.
It means, their profile is directly integrated with their instaStore, and users can ultimately connect with all the expected looks and catalogs of the different trends. Users can add in shopping carts all their desirable products and later on they can buy with the online or opt-in "find in store" feature. If a customer has an app for the store, he can see the location of the nearest physical store. 
The oasis fashion store is also viable for "know your customer and remember their style". The integration system allows them to remember customers' past experiences, outfit styles, and preferences. In case, if the stock of clothes is not available, the retailer recommends them according to their past shopping experience, and they have well-versed return policies that enhance the loyalty of the brand. They declare that this integrated strategy resulted in a 48% profit increase in the same year.
Sephora fashion store
A French beauty company offers cosmetic products for men and women. It has almost 2,300 stores in 33 countries. By automating their sales process, they perform very well in the fashion market. 
Physical store and online store experience
Sephora ideally works for physical and online stores. However, Sephora fashion chatbot performs outstandingly in different channels, they increase profit, great customer experience, generate leads, and much more. To integrate all the channels, Sephora set a customer-centric approach and provide a seamless experience. 
Speaking with an interview, Mary Beth said: "Stores play an important role because even with more and more touchpoints, like social and voice, people are longing for a personal connection in real life," adds Mary Beth. "When they come into one of our stores, they can interact with one of our Beauty Advisors and get this really personal advice."
In an online search for lipstick, you may find 500+ products there. Sephora fashion store gives visual interaction with chatbot and provides a visual look to the customers. Chatbot suggests customers according to their style and past experience. Sephora chatbot provides information, tracking your order, nearest location, or easy to reach contact details. Whichever channel you use, you see the consistency and unified channel.
Omnichannel Retail Strategy In The Fashion Industry
If you are still wondering how to create incredible strategies to boost up your retail fashion industry, then you are in the right place. With this section, you can find what best for your fashion store and how you can spread your channels globally. 
Insight your buyers' personas
Categorize the personality of your customers by analyzing data. What they research for, where they really exist, what type of style they choose, and so on. You can easily categorize them by Gen Z, Millennials, Gen X, and Baby Boomers. You can further divide into gender or age.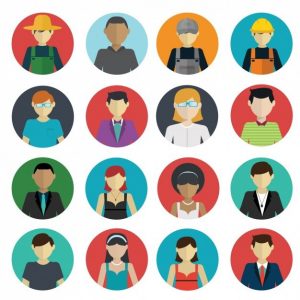 As per the report, 74% of consumers get frustrated when they receive content that has nothing to do with their interests. After developing customers' identities, you can evaluate which medium they choose to communicate with your fashion store.
You can automate your data gathering strategies by using chatbots. The conversation form you can use on your omnichannel retail strategy to gather basic information about your prospect will give them a personalized touch.
Retailers think It is a bit difficult but no, once you start this flow you can see the change in your revenue. Involve your team member to get something out of the box.
Embed chatbots at omnichannel
The basic concept that should be implemented seriously is to link all the channels with each other. If you do not do this, you can not run the omnichannel strategy in your business. The fashion industry was more excited to initiate omnichannel than other industries. Impressive research says that 73% of customers use more than one channel and one device during a single shopping journey.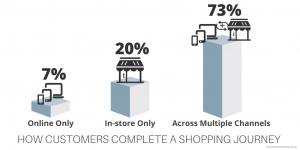 Source: Intelistyle
Using chatbot automation, you can easily associate all the channels and fetch data with different platforms. The fashion industry avails all the technical opportunities to roll out their business. That's the sole reason, a huge crowd in the e-commerce business is coming from the fashion industry.
Select the most targeted channel
By optimizing your omnichannel strategy with technical tools, you can reach out to where your target audience interacts with you. Preference should be given to those channels where your data point out your customer traffic.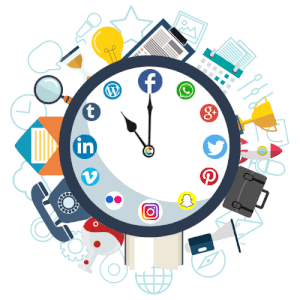 It will help you to set automated virtual assistants like chatbots to overcome customer queries, direct way of communication, and real-time assistant. The more rapid you give the response to the customer, the more likely to build trust in your brand. 
Chatbots easing customer support for omnichannel buyers
Research shows that 54% of millennials will stop doing business because of poor customer service. 50% of Gen Xers and 52% of baby boomers say the same. Your customers are a cornerstone and if you don't facilitate them it will be worse for your business. Being available 24/7 is not possible for humans but the world is digitized now.
Multiple assistive technologies have been invented till now and one of the achievements is AI chatbot that works to assist humans and provide a great customer experience. Have a squint how rapid chatbot responds to your customer!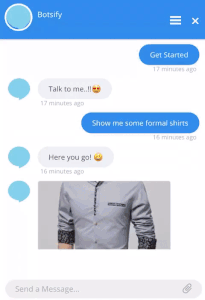 Source: Botsify
Instead of investing in customer support agents, you can replace that expense with chatbots. It automates your conversation with your customers around the clock without taking a rest and having irresistible working hours. It works globally and provides worldwide data whenever any visitor interacts with your channels.
As Walker said, by 2020 customer experience will mean much more than price or product quality for a consumer. That's why currently companies try to integrate omnichannel into their business processes"
Easy to analyze your retail strategy with chatbots
To work tirelessly, you want to determine the results or what outcome you generate at the end. By opting omnichannel retail strategy, you will surely gain something bigger, but you have to keep an eye on your efforts. Either they are working or need some improvements to optimize strategies in the fashion industry. 
When you integrate chatbots, it will make your communication better, generate leads, conversational forms to get feedback, or any campaign to the data gathering purpose. But do you know, you can analyze your chatbot data with Botsify, either it provides that outcome of what you want or not. All the analytics you can find on the Botsify dashboard and you can effectively run your campaign with chatbots.
Get feedback and offer discounts with omnichannel chatbot
To optimize retail in the fashion industry, it is obvious that you have to plan something exciting to make your customer engaged. Seamless interaction with omnichannel and getting exciting offers with the chatbot is the best combo ever.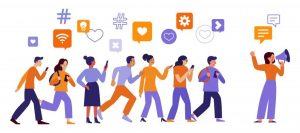 Source: Commbox
It means you can inform your prospect or customers about your discount offers through chatbots. Also, it is easy to take feedback by using forms that are embedded in chatbots. The chatbot gives personalized touch and tries to convince people by sending greetings, offering templates, birthday wishes, or sale discount vouchers.
This is your customer-centric approach and how you can plan strategies to optimize your fashion industry. Moving forward, you are going to know what benefit you will get by using omnichannel and chatbot because they are meant to be together.
Omnichannel And Chatbot: The Best Combo For Your Business Growth
To market your product, you should plan a big amount to spend on it. Through omnichannel and chatbots, you can reduce your cost, save time, and increase efficiency. Most businesses are trying to use these two super-cool tools to increase social engagements. You can find what benefits you can get by using the omnichannel strategy in your fashion industry.
Omnichannel chatbots gives a competitive advantage
Business without competitors is nothing. You have to optimize your product by taking all the measures from your competitors' side. Your customers are a big challenge in this aspect. By optimizing the omnichannel strategy, it helps you to extend your market everywhere. So, you don't lose sales opportunities because your customer sees only your brand present far and wide.
In the fashion world, many leading brands set up new strategies every next day. The benefit of wandering every touchpoint is to make sure of your presence and create a highly-engaged environment with an omnichannel retail strategy.
Omnichannel chatbots provide a great user experience
As I said previously, customers are more concentrated on customer experience and high engagements. Research shows companies that prioritize the customer experience generate 60% higher profits than their competitors.  If your fashion store didn't welcome your customers with a happy gesture, then you may lose them in a second. You need to remember their past preferences to make their shopping more convenient and consistent too. This personalized approach helps you to retain customers and give better customer experience.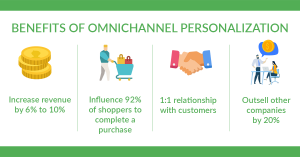 Source: MoEngage
It is a bit difficult to arrange big data or facilitate it all in real-time, but a chatbot can do this with 100% assurance. These slightest behaviors give a worthy loyal impact on your brand.
Integration of chatbots at omnichannel, Increase sales and profit
For you, the meaning of business is increasing sales and generating profit. No doubt, all the business insiders have the same perspective. Omnichannel allows you to create a big mass pool by getting all the channels in your hands.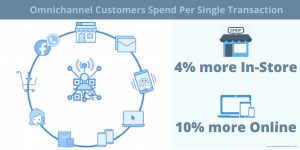 Source: Intelstyle
The more you create paths for your customers, the more profit you can generate. It is obvious that people use different mediums to buy clothes, jewelry, cosmetics, and other accessories. The chatbot that you will use in your channels will not disappoint your customers and give a timely response to your customers. By using omnichannel strategy and chatbots to market your product, you get benefited from both hands.
Operational efficiency and easy to reduce cost
To acquire your customers, you need to emphasize your daily operations and try to minimize costs. Certainly, you think about how these operational costs minimize and increase your sales. This is the great interest that the fashion industry gets by using omnichannel.  You can decrease the cost of customer support agents by deploying chatbots on omnichannel and ensure that no customer leaves your site with any confusion even at midnight. It is unable to process requests and assist all around the clock for a human but chatbot works 24/7 without taking a single break. That's why people prefer to live chat to save time.
77% of people say that valuing their time is the most important thing a company can do. – Forrester Research.
Chatbot also streamlined the selling process to give one-click touch. Chatbots assist them by showing all your products, giving information, and visible buttons. With only one click, they can "add into the shopping bag", know about "prices", or directly jump on the "buy" button.
Generate in-store and off-store traffic 
As per the report, Only 9.6% of Gen Z reports buying items in a physical store –– considerably less than their older generations (Millennial at 31.04%, Gen X at 27.5%, and Baby Boomers at 31.9% respectively). In this digitized era, people still use traditional marketing means of brick-and-mortar stores. It's totally fine, some people don't have access to the internet and other issues.
That's why Omnichannel strategy provides you all mediums even in digital markets or traditional markets.  For the fashion industry, all channels are open to you. Either in online stores or offline stores. You can generate traffic in both ways and not give a single chance to your competitors to occupy your business. 
Build chatbots at omnichannel to generate leads 
One of the foremost benefits you can get is generating leads to make your prospects, potential customers in the future. Chatbots play a crucial part in generating leads. If you build chatbots on your channel, you can optimize the lead generation process by gathering data. Chatbots politely ask your customers to fill your concern date and find ways to build trust and leave a great impact on your brand. In the future, you can send emails, newsletters, discount vouchers, Sale day offers, and more!
In a nutshell,
All the retailers possess multiple resources to make customers well-informed and create a big mass crowd to make money. In the fashion industry, omnichannel is a significant game to connect to worldwide prospects. Omnichannel requires focus and concentrated work from your side and ultimately it is worth investing time on this purpose. 
By optimizing strategies, you can retain your customer in the long run and provide a great experience to your customers. Now it time to work on an omnichannel strategy and deploying chatbots to make your function smoother. You can say, soon, a chatbot is a must-have tool for any business that wants to stay in the market.
Early adoption of chatbots can make a huge difference in your selling process. Botsify gives the opportunity to save time, reduce cost, and increase your sales. Build chatbots with Botsify on your Omnichannel to make a healthy dose of originality.