AI marketing is the most overwhelming for many decades. And now the most trending in the marketing segments. If I am not wrong, AI marketing tools contribute a lot more to marketing. Or you can say in business growth that keeps all of the marketing functions on the straight path.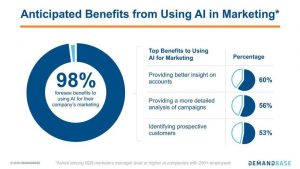 Source: Smart Data Collective
Mind it, no one can stop innovation, but all of us want more and more. What do you think?
As you can see, marketing adopts new styles, trends, and new challenging ways to maximize industrial growth. They transform traditional marketing into a digitized way. 
Here comes AI marketing. One of the biggest challenges of business intelligence marketing is to manage data that helps in your digital marketing campaign. 
Just a couple years ago, Gartner analysts predicted that by 2020, AI technologies would be pervasive in almost every new software product and service – a prediction that Harvard Business Review seconded earlier in 2019.
AI marketing tools have the ability to data exploration, appropriate analytics, easy to use data visualization tools and techniques.
But, the questions we have in mind are how? What? Why? I know it looks like a lot to digest, let's begin with basics.
What you think AI marketing Is intelligent marketing?
First and foremost AI is an artificial intelligence that has the ability to think, understand, learn, and act as a human interface. It means AI is most probably all the skills of problem-solving, thinking, communicating, and acting against the data provided by you. AI Marketing is intelligent marketing that minimizes all your marketing hurdles to zero levels.
The motive to introduce AI tools is to make them capable of doing things without human interaction. And you can easily see in your surroundings, many AI marketing tools assist you or help you without human interfaces. Here you can see how you can describe AI.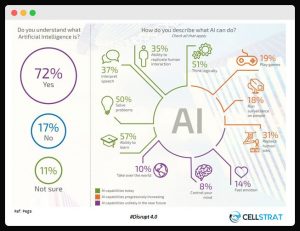 Source: Cell Start
Now, AI marketing tools is absolutely helpful in marketing functions where you can evolve like a boom. The impact of AI marketing directly on the ROI of your marketing campaign. It gives leverage to optimize customers' journey. 
You can achieve this ROI based target by using AI tools. like big data management, machine learning, virtual assistants like chatbots, voice recognition, automated ad campaigns, and other processes that were preliminary dependent on humans. 
Interestingly, our organization helps out the other industries to adopt a much-needed AI tool i.e. chatbots. To streamline communication with customers such as a single query to lots of booking, chatbot assists all of them without skipping one.
Why AI Marketing? Is it Important?
Business needs Intelligent marketing to stand out in this innovative generation. First, traditional marketing changes into digital marketing, and now technology automates digital marketing and emerges as AI marketing. It's a big chain!!
The impact of AI is a big chunk of determining big marketing data through social media, email marketing, content strategy, or other web things. Further, it enhances the opportunity to get perfect insight in a short time frame, helps in marketing campaigns and ROI faster as the insight below!
Source: The Keen Folks
 A study by Smart Insights shows that out of 100 leading marketers from different industries, 55% of companies are implementing or already considering using AI in their marketing practices. 
Let's take an example of the AI-powered tool Chatbots
You cannot imagine a human who works 24/7, 365, without taking a break, smart to respond to hundreds of people at a time and a single worker instead of many. Now thanks to AI, it gives the chatbot that can easily manage these tasks without being tedious. 
Lots of customer agents hired before chatbots but still, the efficiency drops down and down. Why? Because they are human, they need rest, they can't work with you for long, or other problems that have been overcome by chatbots.
Companies start to build a chatbot on their websites, Facebook Messenger, WhatsApp, and other messaging apps. Like Alibaba used AI marketing tool at its best, they Embed chatbots on every channel, they create AI fashion stores where you can buy accessories by just standing in front of the mirror. They have virtual customer support agents and much more to boost up their sales and provide a highly personalized experience.
Not only Alibaba, but other top tier companies like Amazon, Starbucks, Nikes, Unilever and many outperform companies using AI marketing tools, so you can imagine how they manage their data and improve customer experience.
To perform well in the huge marketplace and want to elevate the satisfaction level for your customers, you have to know why AI marketing is important to you. Have a look!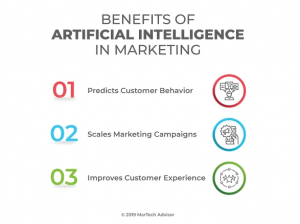 Source: Martech Advisor
AI marketing Helps to understand customers
When you understand your audience what they are looking for, it makes it easy to set your future goals. By the advanced algorithm and multiple AI data gathering tools, you can easily interpret customers' needs. 
AI Optimize User Experience
With the help of intelligence marketing, you can promptly catch new trends and work on them for a long time. As AI superpower chatbots optimize user experience by helping out consumers and prospects, many other functions of AI marketing optimize customer experience and increase brand loyalty.
AI Promotes Automation and Personalization 
To make your customers happy, personalizing your conversation helps a lot. 80% say they are more likely to do business with a company if it offers personalized experiences. AI gives the opportunity to automate all your customer support operations. For example: 
To build an AI chatbot on your social channels gives relief and reduces your time and cost in an effective way. It may be any query, any email, or any giveaway message, chatbot delivers all your communication in the simplest way.
AI Marketing tGive Accurate Data Set 
By using algorithm tactics, AI provides an exclusive detailed data set and manages it in an organized way. So you can easily see what's going around you. All the driven data scrape from the internet, using predictions, your new launching and you also can analyze if anything happens wrong.
AI Marketing: Plus Point for Digital Marketing
AI is not new for many of them, knowingly or unknowingly, you interact with it in daily life. But if it comes to businesses, no one denies the fact that the existence of AI. Even now you can see the vending machine in your cafeteria, how quickly it operates without any human existence. Like Wow!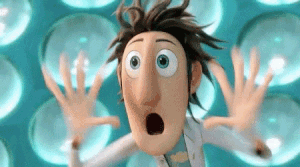 Everyone is familiar with digital marketing tactics and it incredibly works to balance your marketing campaigns. Digital marketers say that Artificial Intelligence has led to a cost-effective consumer experience and personalization. 
AI marketing adds prestige to digital marketing and makes it better to perform with less error. This intelligence marketing resolves many martech solutions that arose in past years. 
In digital marketing, we talk about email marketing, content generation, website development, etc. These are now converting into AI marketing tools with perfect automation. You can integrate all your selling channels and make an omnichannel retail strategy, it is one of the applications of AI marketing. 
And yes, It is obvious you cannot replace humans but you can minimize human error and real-time soothing work by using intelligent marketing. Let's explore all the transforming digital marketing tactics in the context of AI marketing tools in the business.
AI Automates Communication via chatbot
In the past few years, the demand for chatbot has increased at its peak as people know how effective it works. It is one of the familiar and dominating tools that is used as customer support across the organization. Instead of hiring lots of customer support agents, Business owners decided to introduce chatbots.
I second that chatbot optimizes the communication between customer and retailer. As per research, 63% of respondents prefer messaging an online chatbot to communicate with a business or brand
AI marketing revolutionized the concept of digital marketing to automate chat via chatbot and give real-time assistant 24/7. This intelligent marketing helps you to reduce cost, optimize the user experience on all your channels, give the right information at the right time, answer all the queries, and the most exciting is it generates profit and qualified leads. 
You can say "all in one".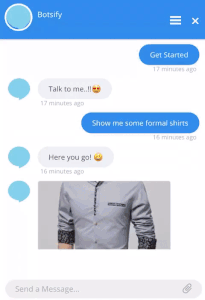 Source: Botsify
This tool of AI marketing tools really works for the thousand of leading companies and all are satisfied with this superpower tool. It predicted that in 2020, 80% of the industries will adopt this tool to automate conversation and fill the gap between customer-retailer relationships. 
Many chatbot platforms like botsify, running their services and offer multi purposefully managed chatbot. A perfect chatbot leads your organization's performance up to the mark and improves customer retention and loyalty.
AI Automates Your Email Marketing
Being personalized with your customers emphasizes letting them remember your brand. AI marketing tools allow you to customize the email that may include specific names, their specific style, and their preferences. (yes! We love it)
You don't need to write emails for every individual but you can automate your email with AI tools and bedew the personalized touch that makes an engaging impression on your customers. Thanks to the power of AI writing, businesses can now automate personalized email campaigns with ease, increasing their chances of customer engagement and open rates by up to 26%. Data from Experian shows emails are 26% more likely to be opened when they have personalized subject lines. 
You can add video content to enhance the chance of more clicks and increasing conversion rates. As per study, Including videos in email can increase your open rate by 19% and increase your click-through rate by 50%. AI helps you to get smarter in email marketing.
This intelligent marketing ensures that the email is relevant, on the time with actionable CTA, engaging content, and more likely to convert at one sight. You can customize email according to the events, launching new products or services, offer any discount or anything that you send to your folks. And surely, you can easily analyze your efforts and maximize your results.
Intelligence Marketing Content Generation
As there are many writers all over the world and they work viably to attract people. But an error-free content and discover what your audience wants to read, that is easily analyzed by AI technology. Thanks to this intelligent invention in the market that drives us to your targeted propositions.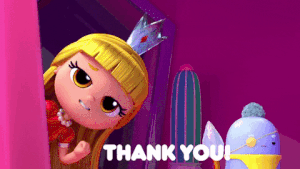 AI has the potential to generate and curate the content for the right audience and on the right channel. AI content generation has the ability to make the initial draft on a certain SEO level for the writers, many AI tools initiate this feature and It can be more comprehensive in the future.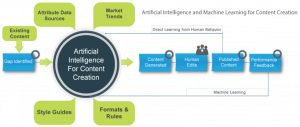 Source: Relevance
SEO is also a useful AI tool for content marketing. This is the most active tool when it comes to google ranking and making a top space in google search. Video content another big bang to add sprinkles in your content, as video content grabs the attention at first sight.
72% of businesses say that video has improved their conversion rate and 52% of consumers say that watching product videos makes them more confident in online purchase decisions. 
AI Marketing Creates Ad Campaign Easiest
Produce a typical style of marketing content to run ads and grab every touchpoint to accommodate your customers, still a big deal for you. But after reading this piece, you will find out more convenient ways to run ad campaigns. 
Let's see what's new in this!
Advertising is the most credible area where you actually see the positive result of using AI ad campaigns. Digital advertising relies on AI technology also called "programmatic advertising", it means AI using in placing and promoting ads, finds your target audience, and places ads in real-time. 
You can see AI ads on many platforms like Facebook, Instagram, and Google in order to provide the best possible experience. Even electronic billboards can be powered by AI-based delivery systems. These systems run through big data and algorithms that help in displaying the right ad to the right people.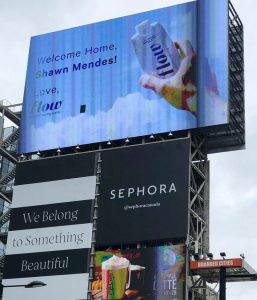 Source: Twitter
AI Helps In Voice Search & Speech Recognition
Throughout the way of AI marketing, the only motive is to give ease. Voice search is becoming the most common searching tool as numerous AI-powered tools get indulged in AI marketing. And people love it when they find what they command.
 As per the report, voice shopping is set to jump to $40 billion in 2022, up from $2 billion today.
This function works like you say something verbally and by recognizing your words, it writes in the search bar and the result comes out in a jiffy. Speech recognition is mainly used in apps like google maps, shazam, and other hands-free apps.
Even if you are familiar with and use it on a daily basis like google home, Siri, Alexa, we surely predicted that in the future, Voice Search & Speech Recognition would enhance the ability more than today in the AI market.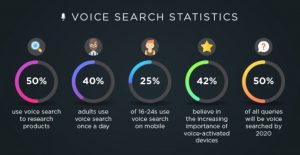 Source: Medium
Further, many leading brands adopt voice searching technology in their digital marketing to deliver value-based services, like PayPal users can engage Siri to send money to friends, family, or businesses.
AI Analyze Behavior and Predict Big Data
The fluctuation of data and analysis over time for creating marketing campaigns is a big deal for the marketing department. To cater to this situation, companies eventually hire data analytics specialists. They get to make manual reports of the operations to predict the behaviors of the propositions.
AI eliminates this tedious process and the business intelligence market brings a huge change that gives in-depth insight into your customer behaviors. Through the data collection, companies predict the upcoming style, customers' needs, as well as how and when they want it. It helps to determine your sales forecast and directly hit on your ROI. 
Many AI tools work to gather, interpret and analyze data, and right after you can imagine your future product according to your customer's needs in the future. A chatbot works to recommend products to the users, on the basis of previous sessions and preferences. 
AI taking Over Social Media Channels
The big ball of digital marketing is social media channels and AI is the master of taking over with its intelligence command. What's to say? 
As you know billions of people use social media channels and it gives the biggest platform to find your target audience. Almost all companies use these channels to sell out or market their product and huge traffic comes over the website.
AI marketing involves it to find your audience and gather information about their interest from Facebook, Whatsapp, Wechat, Instagram, and other social media platforms.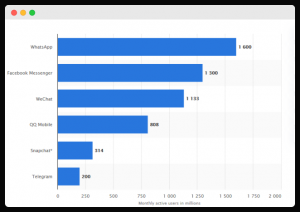 The best AI tool chatbot makes it easy to entertain all the queries coming from your customer side, even a single comment or to generate leads. Your virtual assistant always works for you on all your channels. 
Dynamic Pricing Structure
To engage your customers with products, you might use tactics of discount or giveaway offers. Yes! The best way to grab the attention of your prospect, offer some discount or giveaways and see how your profit reaches out at the top.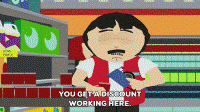 And it is more likely when they receive personalized messages with some exciting offers. Interchanging pricing structures vanishes this problem by sending personalized messages to those who actually want it with the help of machine learning.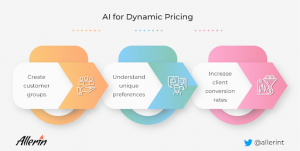 Source: Allerin
As Amazon uses a dynamic pricing structure. Like if you see the price in the morning and then after the day end you see the price of the same product, the difference you can see clearly. Either it may increase or decrease. 
AI-powered Chatbot solution: ALL In One
As we discussed many AI marketing tactics, now it's time to know the must-have tool for your business. But do you know, chatbots are functioning all in one, like to automate chat, generate leads, conversational talk, feedback purpose, or sending any exciting offers. So, what else do you want?
The role of chatbots in this trending business intelligence marketing changes the outlook of the marketing and sales process. Business intelligence marketing based on the implications of AI in digital marketing and chatbots is definitely super exciting.
Here comes AI marketing. One of the biggest challenges of business intelligence marketing is to manage data standards that helps in your digital marketing campaign.
All in one bundle
You can easily engage your customers, optimize customer experience, let them be aware of your initiatives, provide round the clock customer support with AI techniques, and less error. Let's discuss how Chatbots really work like all in one today or in the future.

Chatbots share the personalized experience by interacting with customers in their inbox. Customers feel special when they are treated personalized. It increases the chances of conversion from prospect to customer and then potential customers.

24/7 virtually assisted tools make sure that all the queries or FAQs respond well without skipping one. And also make it possible that no one can go without interacting with products and chatbot recommendation products. The ability of chatbot is to recommend products to the customers by analyzing past preferences or data.

The beauty of chatbot is instant replies and smart conversation that grabs everyone's attention in a second. It is said that Chatbots are best for customers who expect an instant response, typically less than 30 seconds.

In chatbots, many features are headway, and various are introduced. You can easily build your chatbot for any reason, like 

to generate leads or taking feedback-you can use conversation forms, 

to make your FAQ page easiest-you can convert it into an FAQ chatbot, 

want to include video chat-you can use video chat support, 

if want SMS auto-reply- you can add SMS feature as the chatbot,

you want multilingual chat-use multilingual Chabot

Use the different template- you can include according to the event

And the list goes on!

Voice recognition is the next big thing in the chatbot. It's not introduced yet but surely the upcoming mainstreams are voice chatbots in AI marketing tools. In this peak time, businesses should not miss any chance to convert leads into potential customers. 
Partying Words
As a business insider, it is time to investigate where you are lacking in your marketing campaign. Identify problems regarding any of your digital marketing strategies. Don't let the opportunity, AI can do all just identify your need. 
From optimizing communication with your customers to create automated ads, utilize the finest AI marketing concept to modernize your marketing campaign. It will provide you an organized framework to make highly personalized and successful marketing strategies.
AI marketing has a vast space to digest maximum hurdles and provide ease to your business. So, what's your plan? Have you implemented any AI tools? Or which one of these AI marketing tools you are going to use? 
Let me tell you one thing, Chabot is the most used AI tool for a few years. It really worked successfully for the small to large business growth. By providing real-time assistant, product recommendation, remember past experiences, 24/7 assistant, cost-effective, assist queries in bulk, and much more just with chatbots. 
Try Botsify for managing these operations and automate chat to satisfy your customers. Because only communication can strengthen the bond between you and your customers.