Chatbots started gaining acceptance among businesses after Facebook launched APIs for its Messenger platform. Thanks to artificial intelligence and automation, website chat widgets are no longer the same. They can now convert leads using the right context–and with fast response times at that.
As chatbots hold a significant market share, you can easily find the type you want. They're not just great for lead generation. They can be useful in process management and other things, too. 
Here are five chatbot campaigns you can try this year. But first, let's answer the question. What exactly are chatbot campaigns and why are they important?.
What are Chatbot Campaigns and Why Are They Important?
Chatbot campaigns are effective digital marketing strategies that help automate customer management until customers are directed to a person for assistance. 
When you implement a chatbot marketing strategy, chatbots answer customer requests based on their programmed responses and the customer's choices. Many mobile apps, for example, have launched chatbots to give immediate support in the registration process.
In the process of doing all this, chatbots promote your products and services. 
Take a look at why businesses love chatbots, and by extension, chatbot campaigns:
Chatbots save businesses money and time:

With a chatbot, you can address problems with the least amount of effort and resources. A chatbot that functions 24/7 doesn't receive a salary. 

Chatbots segment traffic:

Chatbots segment your audience through their conversations. For instance, if a person shows interest in pricing, that person is a possible customer. The chatbot might suggest placing an order immediately. If customers ask for more information, the

chatbot

gives the required details about the product or service.

Chatbots provide an instant response:

A chatbot gives immediate replies to visitors. That helps them fix their problems immediately, resulting in a great experience. So, you enhance your brand recognition and build trust among customers. 

Chatbots ensure prompt payments:

You can choose a chatbot to complete orders and payment processing without making customers visit your website. Integrate PayPal or other money transfer mechanisms with your chatbot for successful transactions. 

Chatbots can be used almost anywhere:

It doesn't matter what your business is. You can always use a chatbot.

Chatbots ensure customer engagement:

Chatbots even allow you to interact with your customers on the other side of the world. 

Chatbots don't make spelling and grammar mistakes:

With a human, there may be times where they need to run a

grammar check

. This isn't the case with chatbots since they're programmed to do exactly what you tell them.

Chatbots allow data analysis:

When you gather data via chatbot, you understand your customers' needs and preferences. The data helps you, in turn, improve your chatbot and entire marketing strategy. 
In other words, with chatbot campaigns, your business can reap all sorts of benefits.
5 Types of Chatbot Campaigns to Conduct This Year
There are many ways you can use a chatbot to promote your products and services. Here are five types of chatbot campaigns you can launch this year. The order in which you conduct them will depend on the marketing goals you prioritize.
1. Lead Generation
Chatbot marketing helps you generate leads easily and quickly. That's because chatbots are always at the right place at the right time. When a visitor goes to your website, your chatbot can entertain them and offer assistance. It can ask them for an email address and, like Facebook, store the user information. You'll need to give your website visitors the option to input their data. 
Once you have your website visitor's information, all you'd need to do is send a follow-up email to keep your visitors engaged and move them down the sales funnel. 
If you are new in chatbot marketing, start with a 1-minute lead generation bot. It is perfect for client-centric businesses. 
2. To Power Your Sales Funnel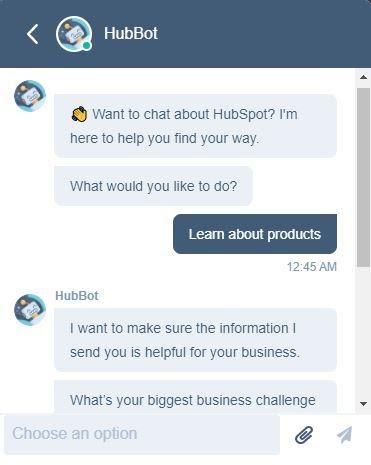 Source: Hubspot
With a chatbot, you can qualify leads, too. That way, you don't waste time and resources on leads who will never convert.
According to Nutshell, here are five questions you can ask through your chatbot to qualify serious leads:
Tell me more.

What brought you here today?

What do you know about X products?

Do you want some help with that?
A chatbot-driven campaign is a great option since some customers don't like taking phone calls. 
Once you have your chatbot sequence, the chat flow will go smoothly. Your sales team comes in only when the chatbot is sure the leads are not bad ones.
3. For Contests
Contests are a highly effective marketing strategy. You can increase their effectiveness by using chatbots. 
Chatbots can run your contest from beginning to end, so you literally don't need to do much. Another good thing is, chatbots can notify you and the participants of the contest results immediately. Once the contest is done, you can also still use the chatbot for something else after tweaking it a bit. Maybe for brand awareness or for answering FAQs.
You can run contests with a QR code, organize quizzes, or even a photo or video contest. On Facebook, you can run a comment contest. 
For example, allow people who comment on your organic Facebook post to enter a contest where they can win prizes. With this type of contest, you don't just engage your audience. You increase your visibility on social media, too. That's because people will have the incentive to interact with your post, which increases the post's chances of becoming viral. 
Or you can run a giveaway contest and let people register for the contest with their personal details. This allows you to build engagement and your contact list at the same time.
4. Customer Service and FAQs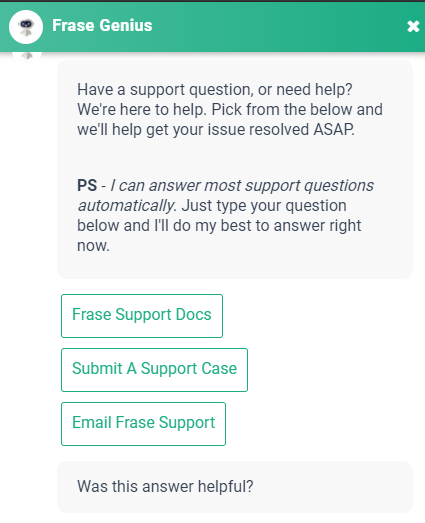 Source: Frase
Does your business get many customer service requests via Facebook Messenger? A chatbot can be a great tool to engage with these customers. 
The chatbot asks customers what their problem is. It then helps narrow down the issue with questions. Once the chatbot determines the issue, it directs the customers to a customer service representative who can give them the necessary assistance.
 In other words, the chatbot streamlines the workflow. That's a good thing because it ensures the quality of the company's response. Chatbots will only direct a specific query to a customer service representative who has the competence to answer it. So, the person who asked can always expect a good answer.
Chatbots can answer customers' questions anytime, too. Instead of hiring for customer support to address the problems of your customers on the other side of the world, while your colleagues are sleeping, you let the chatbot do the work. 
5. Shopping Assistance
Chatbots can offer customers a shopping experience they will never forget. 
Program your chatbot so customers can easily browse products and buy products directly there. Even if visitors end up not making a purchase, the chatbot will have been able to gather data on them. The next time they visit the website, the chatbot can offer a personalized shopping experience.
For customers, that's important. According to Super Office, a whopping 86% will pay more for a better customer experience! 
Tips for Running Chatbot-Driven Campaigns
There are a few tips you should follow when running chatbot-driven campaigns. These tips hold regardless of the campaign you run. Follow them to ensure your campaign is successful, and you achieve your marketing goals: 
Don't Give Full Control to Chatbot
Make sure your chatbot does not fully take over your marketing campaign. Your team should also exert some effort. An automated campaign is great, but it still needs a human touch to be effective. Use the chatbot only to streamline your workflow. Your team should handle the more complicated aspects of the workflow. 
Undertake Chatbot Maintenance
A chatbot is not something you create and then leave to rot. It also requires review, maintenance, and optimization. If you don't give your chatbot a regular check-up, it can be your liability. A chatbot is a representative of your brand. So, if suddenly it stops working or gives the most bizarre answers, customers will take it against you.
Don't Overuse Chatbot
Don't get carried away and program your chatbot to ask too many questions. People don't want anyone (or anything) giving them the runaround. They want companies to be as honest and straight-to-the-point as possible. Ask only the relevant questions.
Also, don't ask intrusive questions. People are already hesitant to give you their personal information. Don't expect them to tell you their exact address or their car plate number. When programming your chatbot, remember that people value their privacy. Come up with questions that won't throw them off. 
Wrapping Up
Chatbots can help you generate leads and conversions. They can also qualify leads. You can use chatbots in customer service and in running contests. If you want shopping assistance, chatbots are great at providing that, too! 
In short, chatbot-driven campaigns can help your business in many ways. If you're still not conducting those, you're missing out on a lot.
In this article, I gave you five chatbot-driven campaigns you can try this year. Outline your marketing goals. Choose the chatbot campaign you'd like to run first. Then create your chatbot and a strategy.
Once you execute and see the results, you won't be able to get enough of chatbot marketing.