Whether it's for support, sales, or marketing, the way brands communicate with their users is changing rapidly.
One of the most advanced forms of communication comes from the increasingly popular and ever-growing market for the chatbot. Estimates suggested that 80% of the companies will be leveraging a chatbot in 2020. 
With AI advancements, chatbots can efficiently handle mundane tasks such as customer service. State of Chatbots Report by Salesforce (2018) stated that 69% of the customers prefer communicating via chatbots.
And the top reasons for their preference were getting quick solutions to their queries and round-the-clock service. Also, customers said that it is relatively more convenient to register complaints via chatbots.
From a business's standpoint, chatbots can serve various purposes to a brand. Moreover, it saves on the company's overhead costs and provides an effective solution for your customers after sifting through an all-inclusive pool of responses based on frequently asked questions. 
Chatbots can help companies save $11 billion by 2023. So, if you still think you don't need one, it is time to reconsider your decision.
But it is imperative to choose a chatbot program that is user-friendly and interacts with your customers seamlessly. We have rounded up a listicle of some of the best chatbot examples and tools to help you make an informed decision.
10 Best Chatbot Examples
Chatbots, also known as virtual assistants, provide the infinite capacity that helps you focus on your customers more effectively and scale your business's efforts. You can assign them specialized tasks of any type, and you won't get disappointed by the results.
Chatbots' artificial intelligence guarantees that you communicate with the most customers possible and respond to their questions immediately.
The best chatbots connect and interact with people faster. And in many cases, you will find that bots are essentially a more easy-going way for visitors to navigate your website.
Here are some of the best-use cases of companies that deployed chatbots successfully:
TechCrunch Innovative Content Subscription  
TechCrunch, a digital publisher, uses chatbots that provide users with timely and relevant content as and when they want it. Their chatbot enables the readers to choose the number of times they would like to get fresh content, as well as their preference for that, i.e., type of content, such as specific authors, hot stories, etc.
What makes TechCrunch chatbots stand out is that you get personalized news. The bot keeps track of and monitors the kind of articles you read and then delivers you the relevant content you would like. 
Furthermore, you can also communicate with the chatbot about the specific content that interests you and subscribes to that particular type of content.
With such curated online feeds today, content customization allows you to dictate different topics and suggest your users their preferred content choice. That way, you only send your readers the content, create a positive image of your brand, and ultimately drive engaging traffic to your site.
Source: TechCrunch
MongoDB Chatbot Increased Leads By 70% 
MongoDB deployed a messaging tool on its site with the name "Drift" to enhance its lead generation efforts and qualify more leads efficiently. Essentially, Drift serves many purposes. This chatbot answers the prospective clients' questions and drives prepared leads to a sales call.
The bot initiates the call by asking the website visitors if they have any sales or pricing queries. If a visitor engages with the bot, it is programmed to respond and determine if the specific user qualifies as a lead on the basis of their questions and replies.
Qualified leads are then asked to reserve a sales call session with a representative. 
Moreover, it supports a calendaring integration that makes it easy for users to book a spot and integration with CRM, which means the system automatically routes qualified leads to the right sales rep.
This bot, in turn, primarily helped MongoDB to increase its conversion rates because of its effectiveness. Besides taking a more strategic approach for sales workload, leads, or prospects are incredibly time-sensitive. The chatbot instantly responds to them 24/7.  
The research found that 35% – 50% of sales leads prefer the vendor that responds immediately. Moreover, automatic qualification and instant response time increased MongoDB's leads by 70% and potential opportunities by 170% within three months.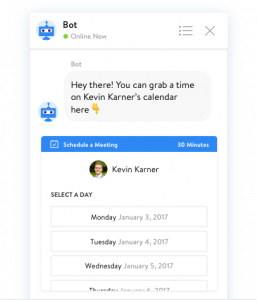 Source: Drift
ConnectWise 500% Increase In Conversions
The chatbot by ConnectWise helps to provide direct customers with the content they are interested in seamlessly – with less to no searching and tapping on their end. 
Their homepage chatbot also offers the visitors direct links to appropriate resources such as podcasts, guides, blogs, etc. Finally, website visitors also have the choice to connect with the sales team. ConnectWise bot's flexibility makes it easier to timely update the homepage to reflect the present times. 
For instance, due to the pandemic's adverse effects, it became more prevalent for businesses to implement scalable solutions. To cater to that, the company edited its homepage chatbot's opening question to ask the visitor if they are specifically looking for remote work solutions. 
During phase 1 of the chatbot, 73% of the visitors who had an interaction with the chatbot exactly did it for a similar reason. This helped the company increase its conversion numbers significantly by 500%. 
Therefore, it is imperative to know the context of each user's visit as it helps you approach and connect to them with the relevant information, which is beneficial for the customers.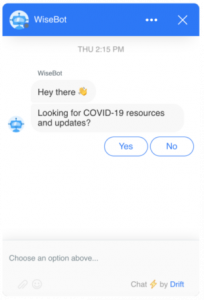 Source: Drift
Amtrak's Ask Julie An Intelligent Virtual Assistant 
Amtrak has implemented a world-class smart virtual assistant to interact and serve their buyers in a scalable way. Ask Julie, an intelligent virtual assistant deployed on Amtrak's website, is specifically designed to operate like the best customer support representative – digitally, of course.
With "Ask Julie," leaving your customers on hold for customer service has become a thing of the past. The chatbot is capable of serving the needs and queries of every visitor on Amtrak's website simultaneously. 
Travelers can use scheduling software to reserve rail travel merely by providing their preferred location and timing. Julie provides full assistance to them by prefilling their forms through Amtrak's scheduling tool and walking them through the details of the entire booking process.
Also Read: Hotel Chatbots
And, of course, Julie can quickly provide the information on the items that you can carry along on trains and help them make rental car or hotel reservations.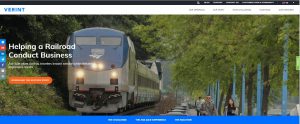 Source: Verint
Centage Shortening Sales Cycle With A Chatbot 
Centage chatbot strategy leverages various marketing channels and everywhere on their website. This includes their landing pages, blog, referral sites, and homepage. This chatbot enables you to adjust the mode of engagement and the conversation based on the context. 
That way, Centage can pay attention to visitors to their website. It becomes easier for them to discover where they come from, what information they want, and have a productive conversation.
Centage creates an entirely exceptional customer experience and streamlines its entire process to capture its prospects' data effectively. Moreover, it helps their business to focus on a customer-centric approach.
This approach focuses explicitly on the customer as chatbots deliver according to prospects' needs instead of a generic sales pitch. This, in turn, helps them to change the interaction dynamics with their leads.
Furthermore, it also leveled up their customer success game. As a result, chatbots consistently helped them shorten the sales cycle with their leads and streamline the customer journey.
Chatbots can significantly help you transform the customer experience across the board, which enables you to close deals faster and deliver a positive outcome for your business.

Source: Drift
AnyMail Finder Chatbot Generates 60% Of Monthly Revenue 
AnyMail finder, an email marketing business, helps companies with email verification. They invested in an Intercom chat application that helped them with various things, primarily their revenue. 
It's an AI-powered chatbot that allows AnyMail finder to assist their customers and deal with their routine queries and receive instant feedback. The Intercom chat app has an automated system for messages that trigger conversations with prospective customers.
It automates the conversations with customers through its auto-messages functionality. It facilitated AnyMail finder to streamline their customer support process and ultimately increased their sales and revenue by conceivably more than 60%.
All in all, intercom and AI-powered chatbot solutions can effectively enhance customer experience, increasing customer loyalty, and retention for the long run. It provides superior customer service and increases their satisfaction level.
Email already has the benefit of being incredibly cost-effective due to its low startup costs and the high potential return on investment.  The Digital Marketing Association, for instance, estimates that email marketing can create up to 4300 % ROI for businesses on average.
Integrating chatbots with email can ultimately make your marketing efforts even more effective due to their ability to create interactive content for users, making the onboarding process simpler for new signups, and offering instant multi-channel customer support.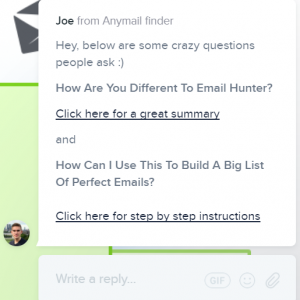 Source: AnyMail Finder
Conversation Practice With Duolingo Chatbot 
Duolingo, a language learning app platform, introduced bots to its application that enable users to have AI-powered discussions and conversations. These chatbots function for users who aim to learn different languages. This currently includes Spanish, German, and French. 
That being said, the company aims to add other languages too. The chatbot's intelligence resides in a cloud-based system, so one needs Internet access to leverage this feature. Moreover, Duolingo made its chatbots more compelling by giving its bots different personalities.
For example, there is Renée the Driver, Office Ada, and Chef Robert. All of them will respond differently to a user's answers and correct you if needed. The primary idea is to impersonate a real conversation. These bots offer flexibility that helps users with solutions and language learning.
Furthermore, Duolingo chatbots are designed to respond to real-life situations and answer users in a sophisticated manner.
Source: TechCrunch
84% Read Rate On BabyCenter Chatbot 
BabyCenter, an international parenting network platform, found a new way to connect with its target audience. They collaborated with ubisend and worked closely with them to develop a Facebook Messenger bot for them, which gave fruitful results.
BabyCenter's primary communication channel was email messages. But they found a way to adapt their email content into a bot-delivered messaging campaign that is effective for soon-to-be-parents.
Ultimately, their new chatbot app successfully reached many expecting parents worldwide and showed an 84% average read rate and 53% chatbot click rate on the website. Additionally, the engagement rate was increased by 1428% compared to using email as a communication channel.
On the whole, it proved to be quite a practical option for BabyCenter and the new parents who were better able to resolve their queries and efficiently connect with the brand.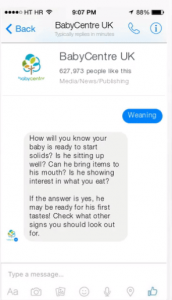 Source: ubisend
Whole Foods Chatbot Hooks Customers With Personalized Recipes 
Whole Foods launched a Messenger chatbot that helps customers with customized recipes with emoji. The new chatbot by Whole Foods lets customers browse through the online store search for products. With a few clicks in the Facebook Messenger bot, they can find relevant recipes for their upcoming meal. 
However, it is more than merely an AI-powered agent for a chat who knows how to prepare food. Customers can pick an emoji, such as a banana or a jalapeno, and then check recipes that have those products. 
The chatbot enables the users to mix and match by adding a word, selecting a cuisine, and including a relevant emoji to the chat. They can also choose specific keywords and find recipes for special diets.
It's fun and exploratory and lets customers leverage artificial intelligence and converse with a robotic chef with just a few taps.
Overall, these kinds of chatbots demonstrate how these simple things add value to your customers' shopping experience and lead to remarkable results.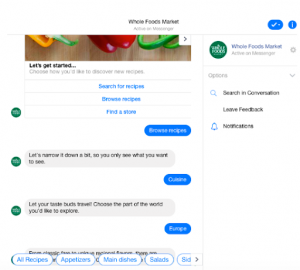 Source: Whole Foods
Hipmunk AI Travel Chatbot
Hipmunk, a search engine for travel planning, embraces the revolution of bots with an AI travel assistant that delivers automated advice to those planning to travel with the entire searching process. 
Their AI-powered travel chatbot automatically filters the responses to only show related travel information they might be interested in.
Hipmunk launched its customer service chatbots to ensure seamless conversation with travelers. It can process several different pieces of information, such as flight pricing, room availability, etc. AI bots negate the necessity to have humans and streamlines customer support.
This AI-powered travel search tool is robust because it considers customers' needs. It does all the work and shows the most relevant results, searching across popular sites instantly.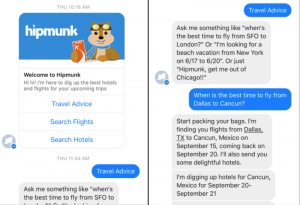 Source: Venture Beat
Best Tools To Build A Chatbot 
To help you find the best tools to build a chatbot, here is a list of some of the robust chatbot builders you can leverage to create an efficient bot for your business.
Botsify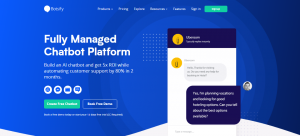 Source: Botsify
Botsify is an excellent chatbot building platform that lets you develop AI chatbots seamlessly on your Facebook Messenger or website without any prior coding knowledge. Botsify supports integration with several services, such as WordPress, Slack, Shopify, Alexa, RSS Feed, Google Sheets, Zendesk, JSON API, etc.
Furthermore, the tool provides a user-friendly interface and easy-to-use drag/drop features that enable you to experiment with your chatbot's template design. Many big names use Botsify to develop their chatbots according to specific requirements, including Shazam and Apple.
Botsify radically transformed the chatbots from merely a tool for marketing purposes to an educational tool by enabling students to converse with the bot on specific subjects like maths, first aid, coding, and more.
With Botsify, you can have multilingual chatbots that cater to a broader audience across the globe. One of the tool's appealing features is its "Human Handover and Takeover," which essentially directs the customer to a real agent if the bot fails to assist the customer. It's a powerful feature that provides valuable service to your customers and drives conversion rates. 
Chatfuel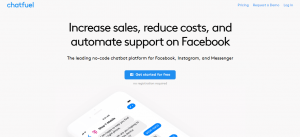 Source: Chatfuel
Chatfuel is a chatbot-building tool that allows you to create bots on Facebook Messenger with no coding experience.  It's easy to use the platform which is mainly designed for Facebook Messenger. Additionally, it provides you with numerous templates, including general-purpose and industry-specific templates. 
MobileMonkey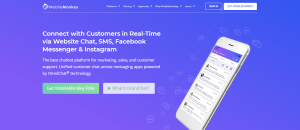 Source: MobileMonkey
MobileMonkey is a chatbot builder that offers various lead generation features like list building, chat blasts and drip campaigns. This platform serves explicitly to help you create a chatbot for Facebook Messenger. With MobileMonkey, you can build a chatbot without any coding experience.
ChatterOn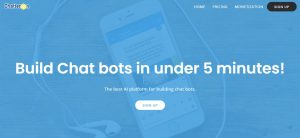 Source: ChatterOn
ChatterOn is another chatbot builder that offers the most convenient platform to help you create the best chatbot. It provides more than 20 pre-designed templates for chatbots that you can install, leverage, and customize accordingly with this simple builder.
You can create engaging, visually appealing, and different chatbots using various content types and providing a better end-user experience. Besides, ChatterOn enables you to monetize your chatbot with relevant and contextual advertisements from its "Radbots." 
Messagely
Source: Messagely
Messagely is a powerful chatbot tool for customer communications. With it, you have access to a convenient live chat that is easy to download and supports integration with various tools such as Slack, Shopify, Zapier, etc. This, in turn, streamlines the entire customer communication process and is more effective.
Messagely allows you to receive robust chatbots that can be quickly set up and provide your customers 24/7 attention, irrespective of your office hours. It's a multi-functional platform for communication that helps you create automated chatbots and digitalize the customer service functions.
Tidio

Source: Tidio
Tidio is a cloud-based solution that lets you use live and chatbots to instantly help your customers with their queries. With it, you can make a chatbot through automation and ensure to direct your customers to the right sales representative.
Furthermore, the platform allows you to monitor your customers and their journeys and program the chatbots with their templates.
In Conclusion
The bottom line is that chatbots can be incredibly useful when it comes to providing exceptional customer support as well as marketing your new products/services. 
The key here is to comprehend your audience's behavior, determine their pain points, and program your bot to resolve and address their concerns. The most enticing bit is that you can be as creative as you wish with your chatbot marketing and make it creative for your customers.
This, in turn, also dramatically optimizes your sales funnel and drive conversions. You can also leverage some of the best live chat practices to enhance your overall customer service efforts along with a chatbot.
Will Cannon is the founder of Signaturely. He is a successful entrepreneur who delivers valuable insights about lead generation, customer profiling, marketing automation, customer acquisition, and lead management. Will strongly believes that these factors can drive a positive ROI for a business and that's why you'll often find him writing about these.