As a business, providing an excellent customer experience (CX) should be on the top of your priority pile. By giving your customers a pleasing experience, you can rest assured that they'll return to you for your services. These happy customers might even tell their friends about how convenient your business is.
An adequate SEO strategy can do much more than just snowballing the rank of your website on the Search Engine Result Page (SERP). For instance, did you know you could use SEO to enhance the customer experience?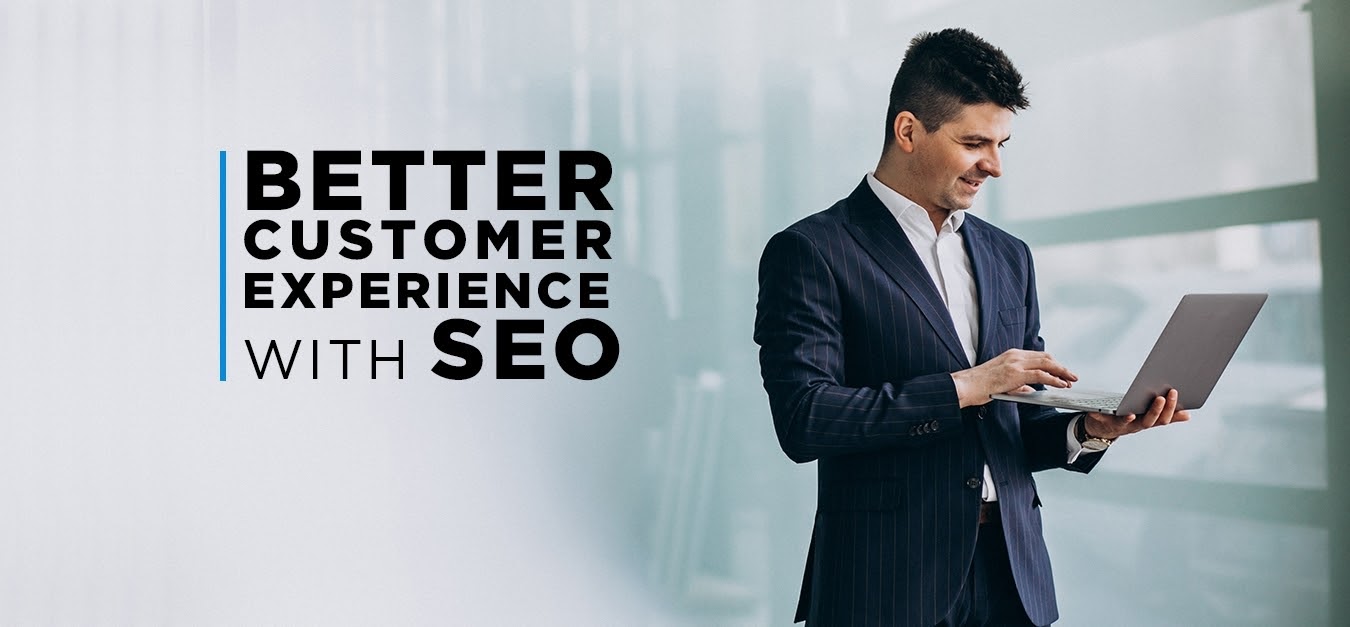 How Is SEO Relevant In Customer Experience?
As the name suggests, the primary function of Search Engine Optimization (SEO) is to optimize a website for the search engine. When your site is optimised for ranking on high volume keywords, then you would have good chances of getting leads. And according to Google's algorithm, a good CX strategy is a must to make your SEO strategies work out.
Here's the thing, search engine spiders, apart from high-quality content, rely heavily on the user experience (UX) of a website to rank it. From creating easily accessible and meaningful content to making the website faster, everything helps in improving the customer experience. This basically means that website optimization and CX are co-dependent.
4 SEO Tactics That Can Add To CX
Any modern website has a lot of moving parts, with so many informational pages and dynamic elements. And everyone knows how essential it is to appear at the top of the result page. For those who don't know, it's important because it brings more brand awareness, traffic, trust, and sales.
Here are four most popular ways to improve both customer experience and the ranking of a website in no time:
Know The Intent Of A Search
A few years back, SEO was mainly about flooding the website content with all the relevant keywords to rank higher on the search engine result pages (SERPs). This does not seem to work anymore. Now, it is essential to have a clear picture of why a customer will use a particular keyword in their search query. In simple words, it is crucial to know the intent behind every keyword used in the search query.
Let's say that you run a blog on food items and want to target the keyword "chocolate ice cream." People who enter this keyword might want one of these things:
To know in detail about chocolate ice cream.

To know which is the nearest place to get the best chocolate ice cream

To know the nutritional aspect of the chocolate ice cream.
It totally depends on you to interpret what might be the possible reasons for the keyword to be used in a search query. This will make your content actually resolve the query. When the question is solved, the overall customer experience will get a boost, which in turn, will increase the ranking too.
Leverage Interlinking & Backlinking
When you talk about traffic, be sure your web pages are linked well. Backlinking not only makes your website and services more accessible, it builds your SEO ranking as well.
An optimized website today adds more value which has both external and internal links. While it makes sense to have multiple internal links per page, the question arises why to have external links? If you're trying to retain traffic, doesn't sending users away hurt your cause? Not exactly.
The best way to retain traffic while allowing users to access external links is by having those links open in a new tab/window. By doing this, users can see the external site while staying on yours. Also, when you add external links with domains – .edu or .gov, you give users a more authentic source to have the solution to their query and allow you to borrow search authority from the destination website. By linking to sites with higher authority, you're telling your users (and search engine algorithms) that your information is high-quality. On the flip side, you'll want to ensure that your internal links don't open in new tabs.
Therefore, it is very important to keep your users in mind and make it easy for them to access information even if some information takes visitors to a new tab.
Having the ability to measure and report on the real-world performance of your user experience is critical. Hence, there are specific factors that Google considers to determine the quality of user experience. These factors are known as Core Web Vitals.
There are numerous tools in the market that can help you generate the core web vitals report, but none comes closer to SE Ranking in terms of popularity. The website auditing feature of this tool provides you all the crucial metrics in a simple dashboard which in turn can help to fix your website's poor UX and skyrocket the rankings.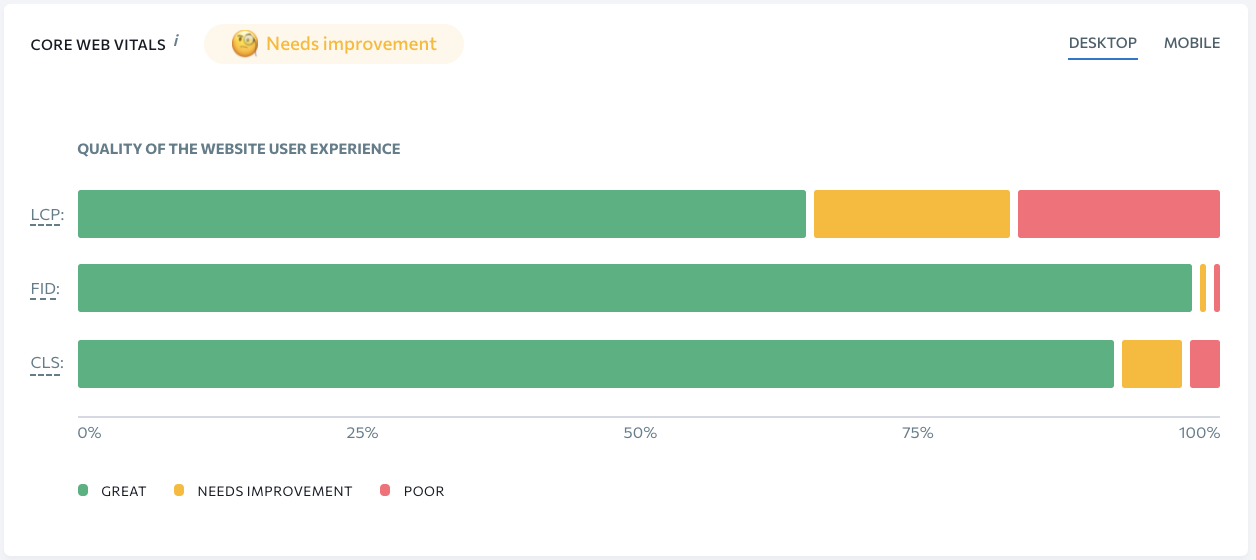 Source: SE Ranking
Make The Webpage Load Lightening Fast
One of the most critical factors that can make or break your page's customer experience is its load time. It is essential for you to know that your visitors have a paucity of time and If a page takes more time than it should, then most probably the users will be triggered to opt for something else – your competitor maybe.
A statistics report by Trinity shows that if your site takes more than five seconds to load, as much as 37% of the users will bounce off. Here is a collation that shows how for each extra second, the bounce rate increases.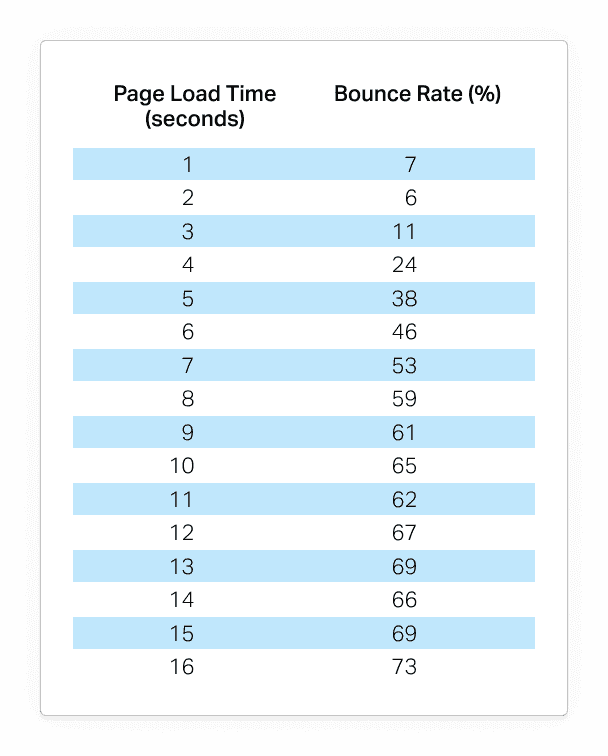 Source: Pingdom
Since 2010, the site load speed has been one of the most prominent Google ranking factors. Thus, you should optimize your site for the CX and its ranking on the SERPs as fast websites rank better and attract more users. 
Mobile Experience Matters
The migration from personal computers to mobile phones is happening at a record rate. In 2016, nearly 60% of the questions asked on Google came from mobile phones. This shift of medium has completely changed the way people interact with the Internet.
Google values its mobile user base which was clearly visible when it added mobile-friendliness as a factor to rank a website. In 2015, there was an update in Google's algorithm named 'mobilegeddon.' This update mainly targeted websites that did not load properly on the mobile screens.
With the majority using mobile phones to search for a query, the customer experience can only be good if there's a dedicated mobile view for the websites. A mobile-friendly site will always load faster, need minimal scrolling, and will avoid irrelevant elements. When all these things are amalgamated, it has a positive impact on the CX. On the other hand, if these points are not met, your users will keep scrolling to find information, and there will be a point when they leave the site after getting fed up.
One of the easiest ways to make a site mobile-friendly is by using a responsive design. It automatically makes adjustments depending on the screen size.
Wrapping Up
SEO is not limited to helping a website rank higher on the SERPs. It can also be used for improving customer experiences. But using SEO for improving CX is clearly not a cakewalk. Neither is it a daunting or an impossible task. When you plan and execute proper strategies, you'll see great results in the CX aspect. You need to understand and look at things from a customer's perspective and then react accordingly. That is, never take users' time for granted. Optimizing the speed and responsiveness also does wonders in the long run. Implement the points mentioned above, and very soon, you should see high traffic and great overall results.