Surely, your company maintains a Facebook page to keep the public informed. Bravo! Now, would you like to take it a step further and maintain your customers' loyalty by providing online customer assistance 24 hours a day, seven days a week? For this, you will need a Facebook chatbot! Here in this piece of writing, you will learn all about Facebook chatbots, their usage, and multiple use cases for building up the right Facebook chatbot. 
Do you know? 200,000 developers have used the Messenger platform (Source)
Before digging into the depth, let's have a quick look at the basics. Don't worry I won't take much of your time. 
What Is A Facebook Chatbot?
I know this sounds pretty basic, but don't worry it's just a warm-up!
Chatbots, at their most basic level, allow businesses to automate a variety of low-level customer care jobs.
Customers can talk with a bot to answer basic pre-purchase questions or complete the early phases of an RMA returns request instead of waiting on hold to speak with a service agent.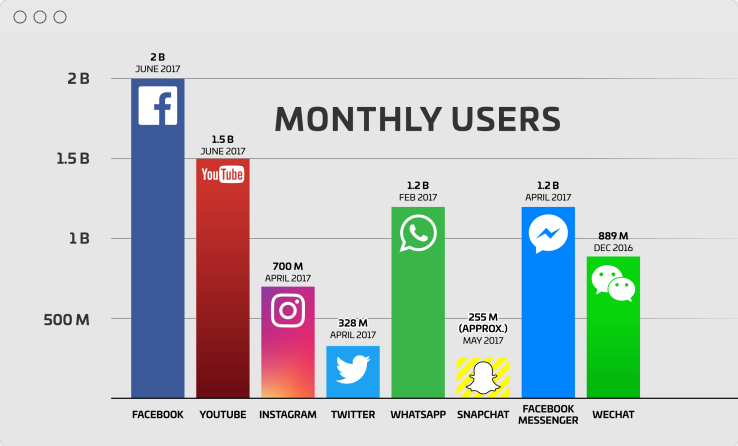 However, the straight answer to the question is:
A Facebook chatbot is an app that mimics a human conversation by analyzing the user's requests and providing immediate responses in Messenger. Facebook bots have a short response time, making them ideal for customer care. There's a reason why Facebook chatbots are often referred to as "Facebook Messenger bots". Businesses may use Facebook Messenger chatbots to automate routine customer support queries and raise awareness of their offerings.
Can you believe it? Messenger marketing leads to a 70% better open rate than email marketing. 
There are a lot more like these to know… also, learn how you can build your very own Facebook Messenger chatbot in the easiest way!
What Are The Uses Of Chatbots For Facebook?
The best thing about chatbots for Facebook is that its resources are not limited. You do not have to worry about whether or not your industry lies under the category of Facebook chatbots. However, there are multiple uses of it and real-life examples are present too. 
Before starting with the examples, do you know why you should use Facebook chatbots?
1. It's The Master At Improving Customer Service:
Around 37% of customers use social media to contact brands for help (Source).
However, one issue with social media customer support is that firms aren't always available to reply. As a result, potential consumers leave without receiving responses.
But, you know what? This issue is no longer an issue and kudos to Facebook chatbots! It started solving everything that could possibly create a minor bug.
2. It Generates Beyond Imagination Sales:
According to Sprout Social, roughly 57% of buyers follow firms on social media to "learn about new products and services." This indicates that people are inquiring because they are considering purchasing. You can also convert those chats into sales with Facebook Messenger bots for business.
3. It Drives Craziest Leads:
By setting up a Lead Generation campaign in Ads Manager and using an automated chat template, businesses can generate and qualify leads through an automated question and answer flow in Messenger.
Manifest Building Of Your Facebook Chatbot:
Building up a seamless Facebook chatbot can be listed among the hard chatbot building types, however, this is not the case. 
If you are building your Facebook chatbot with us then there is no need to frown about, because the steps are simple and enough to create your top-notch chatbots for Facebook.
So, let's start building?
Step 01: Sign Up
Let's build a free Botsify account to make a Facebook chatbot. Start creating personalized chatbots or utilize a ready-made template once you have logged in.
Simply register with Botsify and provide your payment details in the dashboard.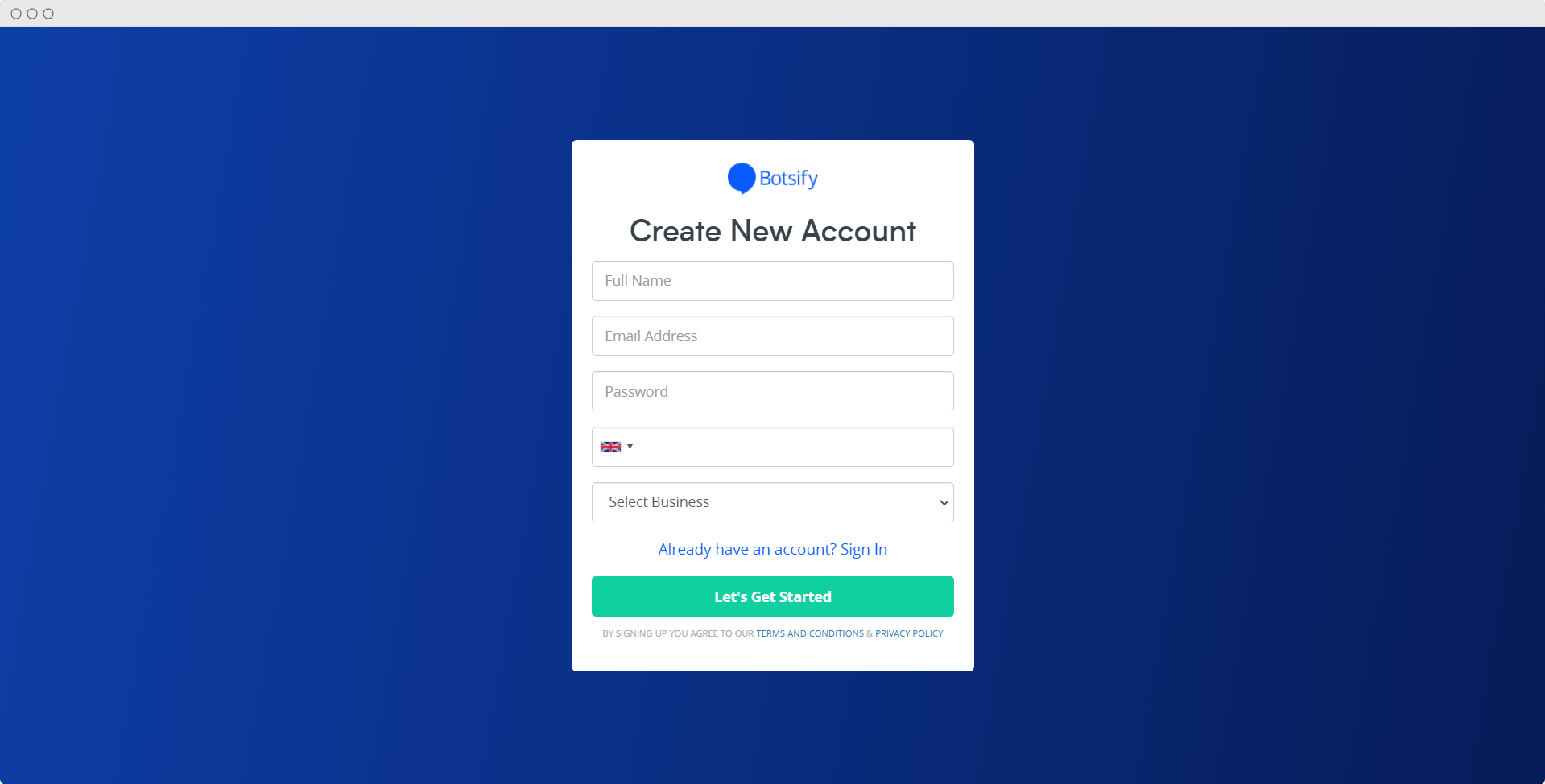 Step 02: Create Your Facebook Messenger First Ever Story
After you sign up, go to AI chatbot and click on "create a story" to see a story-based UI on your screen that makes it simple to fill up your customers' frequently asked questions, and the bot replies in the following action.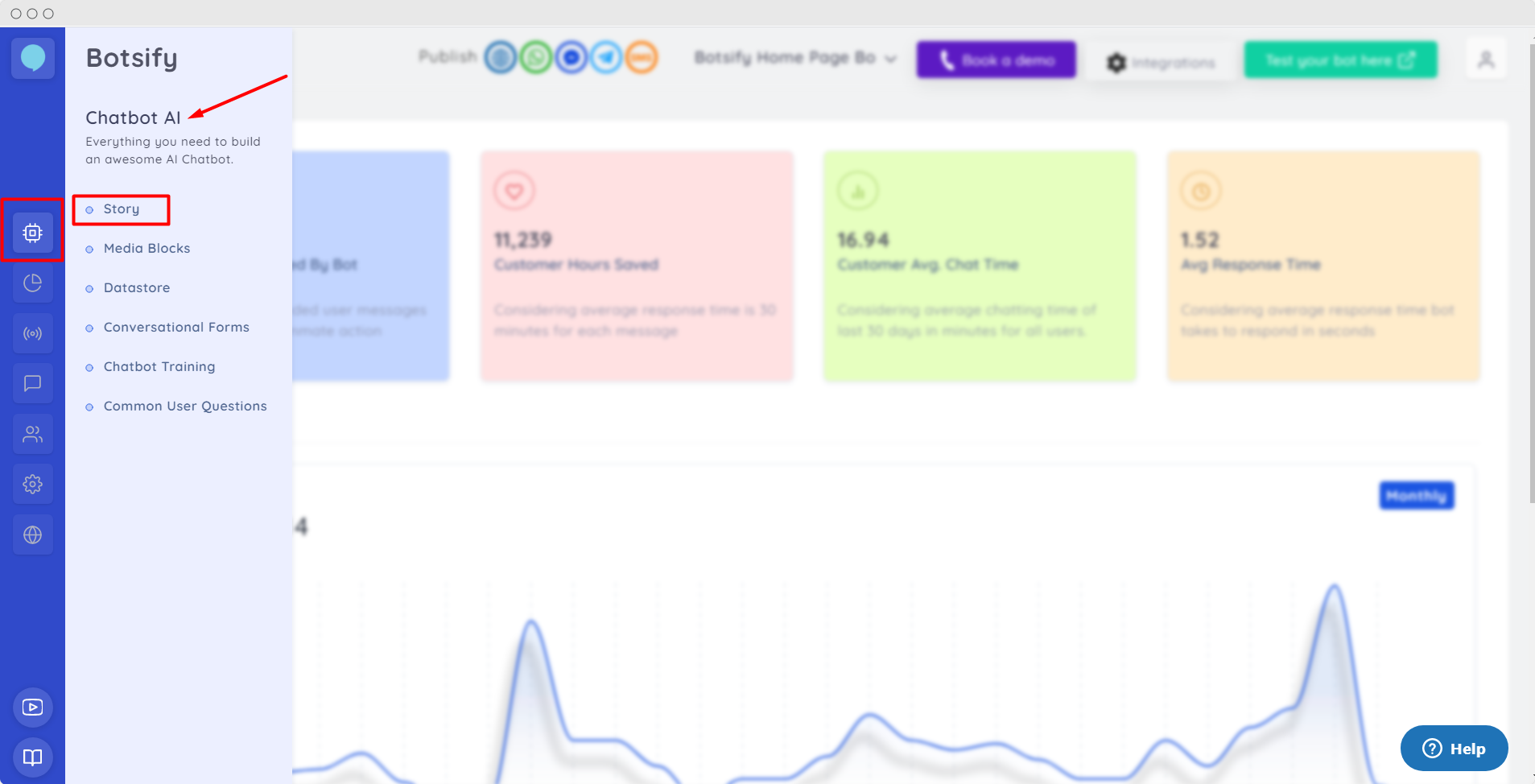 Step 03: Test Your Bot
Simply save your story and test your bot in the next window by pressing the save button.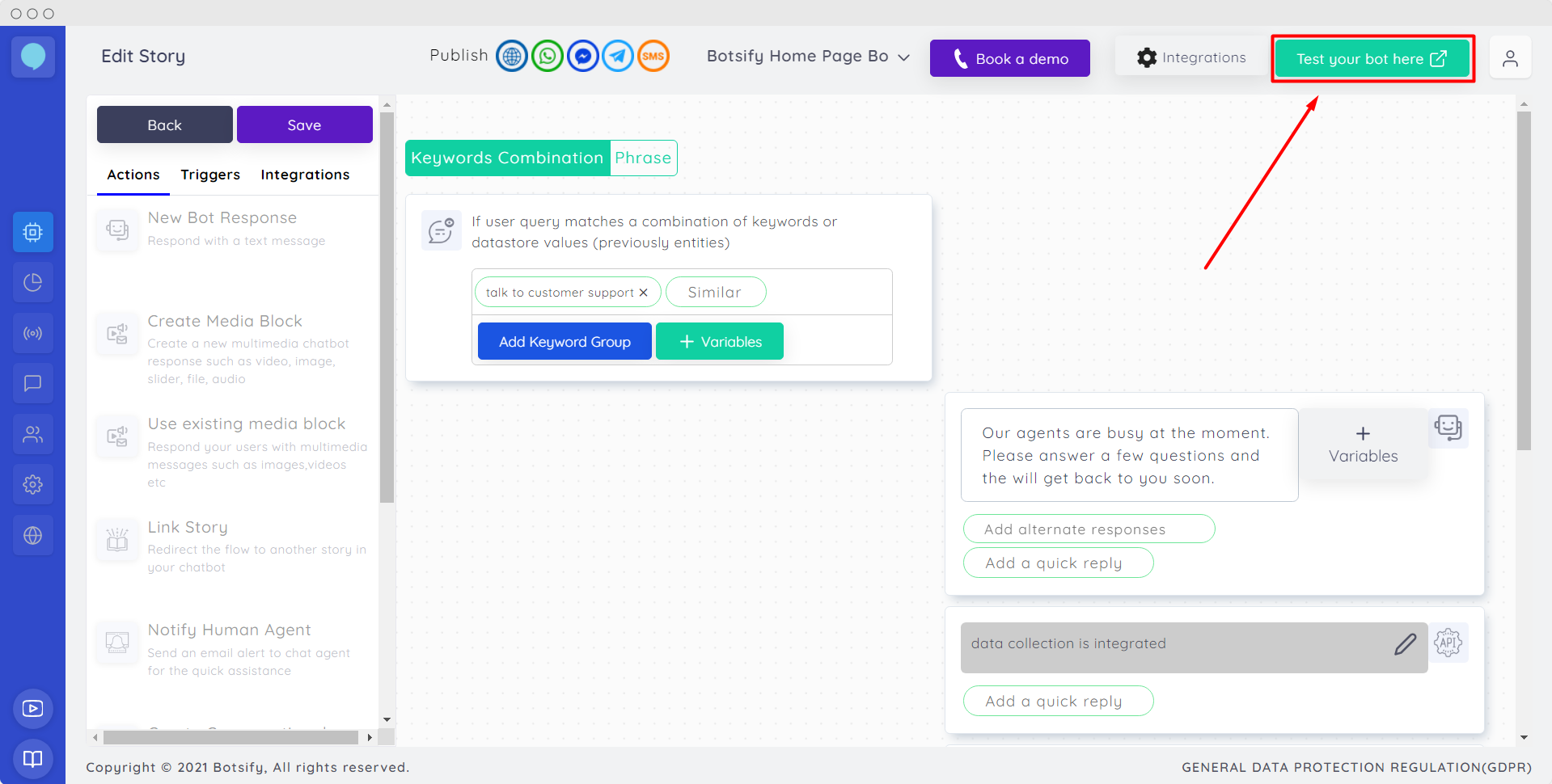 Step 04: Connect Your Bot
To connect your bot, go to settings, then to publish bot, and at last, connect with Facebook messenger.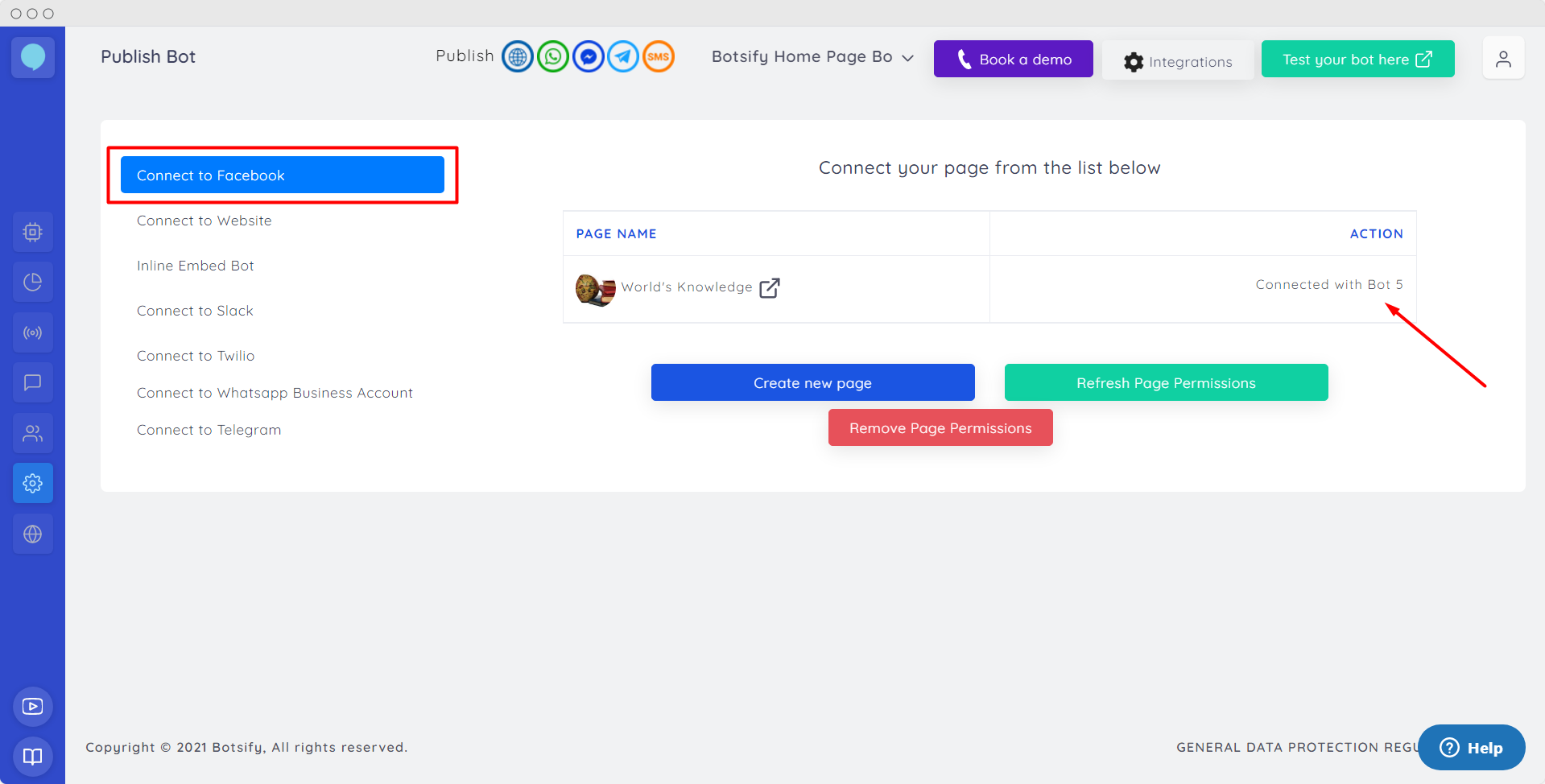 Generate More Leads With Facebook Chatbot
Gather quality leads on autopilot and 10x your ROI with automated chats
Why Use Facebook Bots For Business?
Using a Facebook Messenger bot has two key advantages.
For starters, both you and your target audience have a low entry barrier. Facebook Messenger is the world's third most popular program, with 68% of people using it.
It's not just for friends and family to have group conversations. According to a recent Nielsen poll, respondents believe messaging is the second-best way to communicate with a company. Every month, people send 2 billion messages to businesses using Facebook Messenger.
When compared to the rest of the mobile app market, where 71% of users delete an app within 90 days, this is a significant difference.
So there you have it. Let's take a look at what a Messenger chatbot can accomplish for you:
1. It Makes Direct Contact With Your Target Audience:
People are 3.5 times more likely to open a Facebook Message than a marketing email, according to Headliner Labs. Customers are more likely to proceed farther down your marketing funnel if they can respond (typically by touching a CTA button — they don't even have to type). 
Furthermore, Facebook Messenger features sponsored advertising that may be sent to anyone who has interacted with your page previously. Yes, this indicates that you already have a mailing list of subscribers. You can use this advertising in conjunction with your chatbot to target clients with high intent.
2. It Spends Less Time And Money On Customer Service:
Customers demand availability 24 hours a day, seven days a week, yet they despise waiting on hold. They also keep asking the same questions over and over (and over).
A little automation will go a long way if you spend a lot of time helping people monitor deliveries, check your return policy, or schedule appointments. Allow your attention to be diverted to tasks that a messenger chatbot cannot complete.

3. It Identifies Potential Leads:
When your bot contacts potential clients, it may determine their needs, ask basic questions e.g., "What are you looking for? and provide high-quality leads to your human sales staff right away.
4. Organize And Manage E-Commerce Transactions:
Bots can also sell if they have the correct script. Drop-off rates are lower than in a traditional ad-to-webpage pipeline since everything happens within the confines of Facebook Messenger.
5. It Reconnects With Your Customers:
Bots can remember information, and you can use that information to go above and beyond. A Facebook Messenger bot can reach out individually, giving relevant content at the correct time, rather than paying for a bombardment of ads. Remind a consumer that she still has those cycling shorts in her cart, or that she gave her mother-in-law birthday flowers last year at this time.
Which Businesses Are Using Facebook Chatbot?
Each bot is as distinct as the company it serves. They can assist with common customer service issues such as tracking deliveries and scheduling appointments. They can, however, inspire exploration by recommending the right pair of pants, booking a direct flight to the USA, or placing an order for supper.
They can propose a t-shirt to go with those trousers or a bottle of kombucha to go with that dragon bowl to upsell.
1. Real Estate:
The real estate market is expanding in size and shape, from downtown Los Angeles to the suburbs of South India. Low borrowing rates around the world, better job markets, increased consumer confidence, and growing interest from international purchasers have all contributed to this optimism.
In real estate, the average cost of losing a customer is far higher than in e-commerce, so every lead you lose represents a significant amount of revenue.
Every week, hundreds, if not thousands, of these potential leads visit your website to browse your offers. They're bombarded with information on how great you are in your field and how many customers you have.
2. Banking Industry:
Customers can now participate in fiscal behavior that would have been inconceivable 10 years ago because of the growing complexity and sophistication of technology. Customers may transfer dollars, exchange information, authenticate, and conduct transactions with one hand while holding a cup of coffee with the other.
It almost seems like the only reason you'd have to go to your bank in person these days is to speak with a teller. More institutions appear to be gaining that conversational edge, thanks to the rise of chatbots.
With a banking facebook chatbot, financial organizations can be available whenever their consumers need them, regardless of time or place. There's no need to work banker's hours anymore because a chatbot is available 24/7 and has a 99% uptime.
3. Hospitality:
Hospitality, like the travel and tourist business, has experienced significant growth in recent decades. Low unemployment rates around the world have enabled people with discretionary means to enjoy the joys of travel and leisure time. They have been spending that time away from home thanks to low-cost, better-connected flights and lower-cost lodging.
As an example, consider the success of hospitality industry employees: According to the WVR, full-time workers in the hospitality business saw a 4.7% wage increase in the fourth quarter of 2017. Additionally, full-time employees who shifted positions in the hotel business enjoyed a 6.3% income boost, the highest of any industry for people who switched occupations.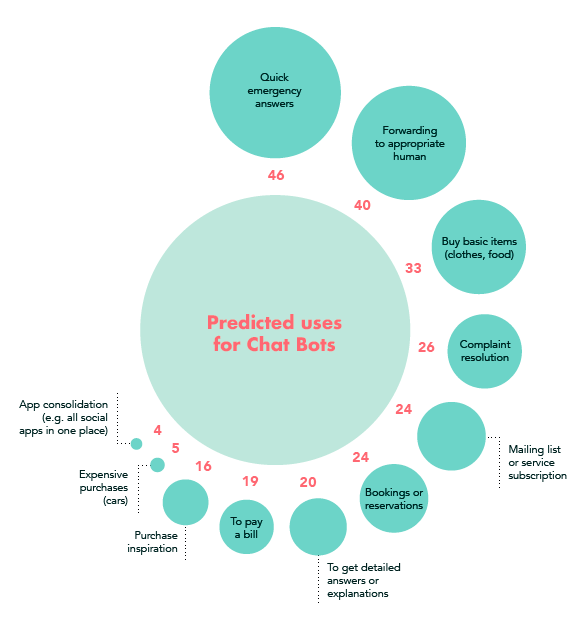 4. Foodtech Industries:
Food technology is one of the most difficult areas to work in. The industry requires technologies that can help it scale as one of the fastest-moving SKUs with incredibly short shelf lives and high stakes support.
There has been a significant increase in the number of internet users in the Food Tech ecosystem. Last year, we saw a significant surge in demand for food delivery services as a result of the lockdown.
5. Human Resource:
One of the most important internal aspects of a company's long-term performance is the Human Resources industry. While hiring takes centre stage, your HR department is also in charge of a slew of other tasks that have a direct impact on your bottom line but aren't as visible. 
Legal compliance systems, audits, conflict resolution, policy design, streamlining, and training are examples of such obligations.
Best Chatbots For Facebook Examples:
The following are the top inspired facebook chatbot examples:
1. Beauty Industry ft.
Belo Beauty
The goal of the technology is to increase customer engagement and heighten the user experience, while also being able to collect data and insights for brands.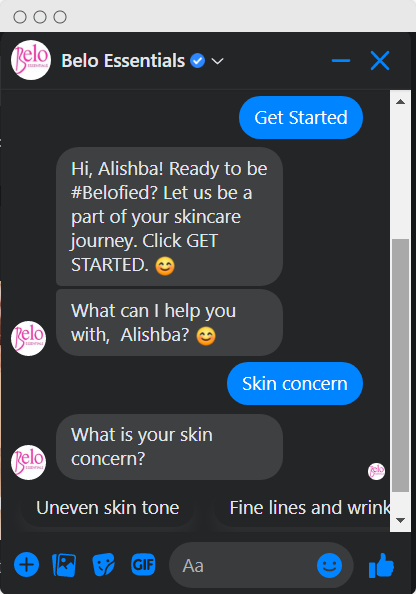 2. Automotive Industry ft.
Jeep
Automotive industry's main objective for a Facebook chatbot is never to sell a car, but rather to provide an entire experience that will encourage others to help. 
While dealers are swamped with orders and repair bays are overflowing, chatbots for the automotive industry can help automate scheduling and decipher problems while connecting customers with the correct dealer.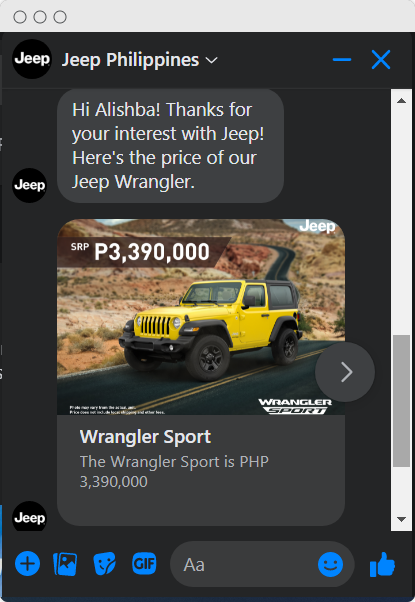 3. Internet Marketing Service ft.
EQTrading, Inc.
Chatbots are great for managing the initial steps of the marketing process, whether that's gathering contact details and information for a sales call, therefore, to cut off the load for internet marketing service the industries are using chatbots.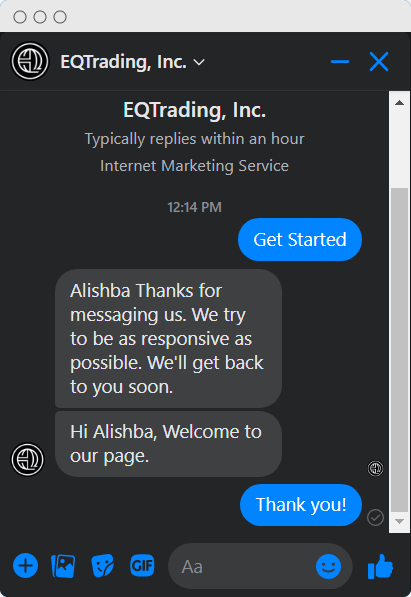 Basic Approach For Using Chatbots For Facebook:
Facebook Messenger bots are available to all users globally, allowing businesses to reach a large audience. The use of the Facebook Messenger program as a conversational platform for customised messages to reach a large number of users is known as Facebook Messenger Marketing.
1. Answer Repetitive Questions:
The goal of a chatbot for Facebook Messenger is to reduce workload by answering repetitive queries without causing frustration. By providing pre-sales qualifications, you can quickly set the customer's mind.
2. Qualified Leads:
The Messenger bot's job is to generate genuine leads based on the users' basic information. Data collecting that is simple and painless aids in the conversion of prospects into potential clients.
3. Less Human Efforts:
Facebook Messenger chatbots work for you 24 hours a day, seven days a week, without taking a break, and provide assistance to thousands of clients at the same time.
4. Higher Engagements:
Bots can keep records, and you can utilize that information to go the extra mile. Messenger chatbot helps you engage and re-engage customers with your product/brand visibility by driving engagements at a glance.
Generate More Leads With Facebook Chatbot
Gather quality leads on autopilot and 10x your ROI with automated chats