Repeat customers are the lifeblood of all businesses—they're loyal customers who will not only shop with you but can also be your biggest cheerleaders online.
There are many ways to generate repeat customers and keep them loyal. One method that's growing in popularity is chatbots. At the most basic level, a chatbot is a computer program that automatically mimics human conversation. They chat to the end-user one-on-one, solve problems and push them closer towards a conversion.
And when done right, they can build such strong relationships with customers that they're able to generate repeat buyers all by themselves. In fact, 1 in 5 consumers would potentially buy goods and services from chatbots—and the usage of chatbots as a brand communication channel has increased by a whopping 92% since 2019.
In this article, we'll be taking a look at exactly how you can use a chatbot to create repeat customers for your online business.
Why Are Repeat Customers Important?
So many businesses are so focused on the hunt for new customers that they fail to see what's right in front of them: Existing customers who, when treated just right, will become repeat customers.
But why do repeat buyers matter so much?
By definition, a repeat customer is more likely to come back and make more purchases than a new one, which already makes them more valuable. In fact, research has shown there's a 27% chance that a first-time customer will return to your store again. When they've made a second or a third purchase, however, that percentage rockets.
Repeat customers are also easier to sell to. Average conversion rates are generallybetween 0.99% and 3.79% across numerous industries, but they rise for repeat buyers to 60%-70%, according to Paul Farris' book Marketing Metrics.
And because repeat customers are easier to sell to, you spend less resources marketing your business to them. Indeed, 82% of companies agree that retention is cheaper than acquisition.
Moreover, it's worth mentioning that repeat buyers are more likely to give you brand feedback, and they will cheerlead you on social media via user generated content, as well as positive online reviews (which are great for attracting more customers and boosting your SEO efforts).
Instagram Chatbot
Instagram is one of the best places online to build a loyal band of customers. A survey by Facebook revealed that people perceive brands who are on Instagram as popular (78%), creative (77%), entertaining (76%) and relevant (74%). Not only that, Instagram plays a key role at every step of the purchase process, 83% of people discover new products or services and 83% decide whether to buy a product or service. This means that your brand should be there, available to answer questions and engage with your users.
But this can be super time-consuming if you do it yourself, which is why chatbots prove invaluable when delivering an excellent customer experience on Instagram.
In this section, we're going to take a look at how to automate your conversations and capture user information in order to generate more repeat buyers.
Automate Conversations When Answering FAQs
It's easy to believe that most people use Instagram socially. True, a lot of people do use Instagram as a social tool to connect with their friends. But as many as 81% of people also say they use the platform to learn about new products and services.
Providing customer support on Instagram, then, is essential. But if you did it all by yourself, you'd be exhausted—and you'd also be leaving many customers waiting for a response.
If you have a large IG following, it's highly recommended that you use an Instagram chatbot to automate your conversations when answering FAQs.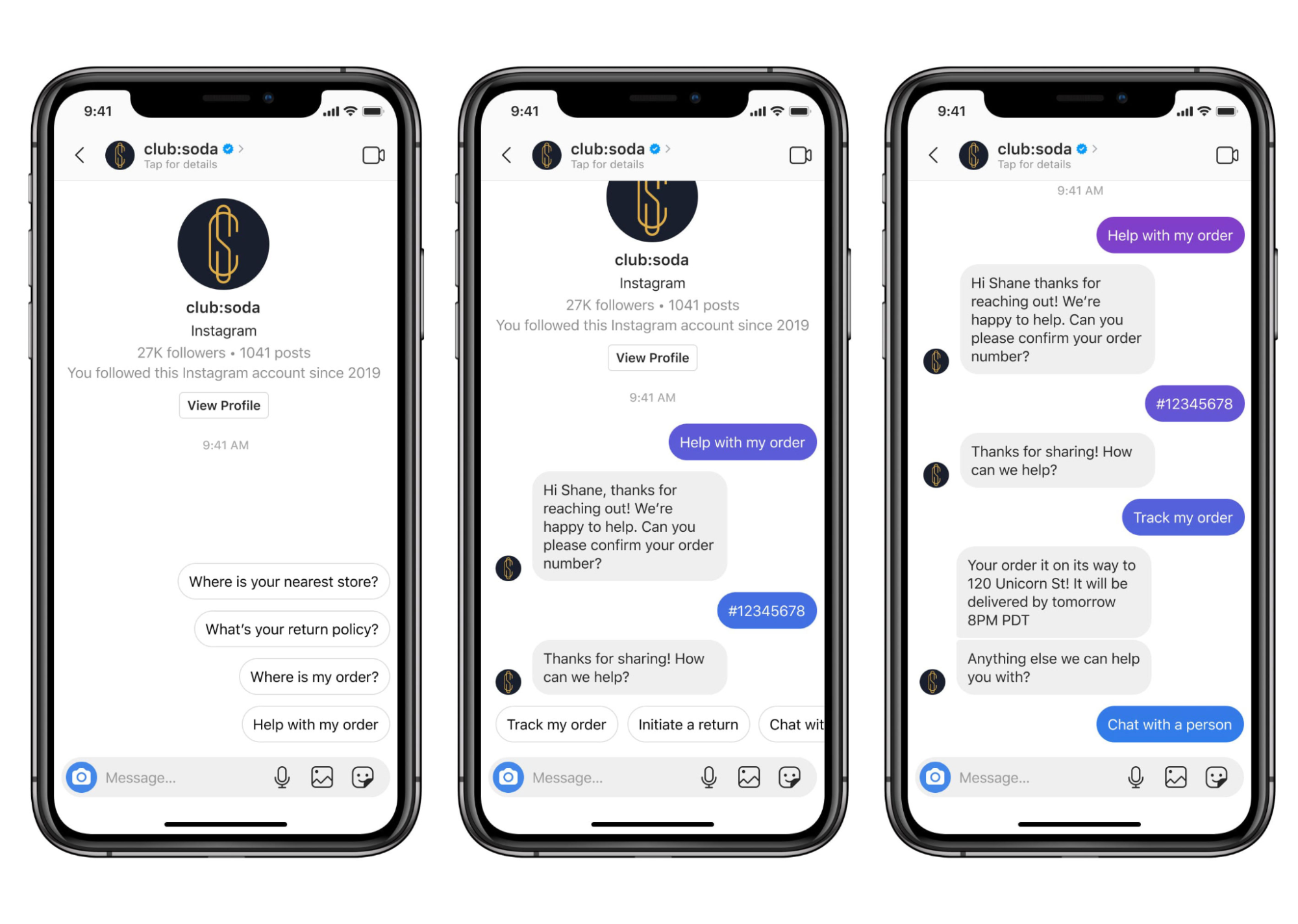 You'll need to prepare your questions and answers first, which is why it's essential that you learn what type of information your customers are requesting on Instagram. Questions might include:
Do you have this in stock?
When will this item be available next?
Do you open on weekends?
Do you offer free shipping?
In 2021, customers now expect instant responses from businesses, which only chatbots can provide.
Story Mentions Trigger
Instagram Stories are an undervalued marketing tactic for businesses, but they could be your new favorite weapon when it comes to creating repeat buyers via chatbots.
How so?
When your brand is active on Instagram and a happy customer follows you, there is every chance they might make an Instagram Story about a purchase they just made from you.
Within the Story, they may even tag you. Like this: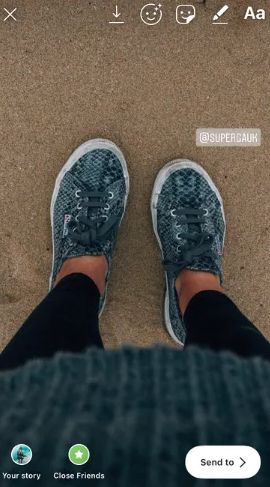 This in itself is a fantastic piece of user-generated content because it's helping to raise awareness of your brand. Their followers will see their Story, and maybe they'll be curious enough to check you out. But this itself won't turn the customer into a repeat customer.
So what can you do next?
Using a feature called Story Mentions Trigger you can get involved with the conversation. It works like this: Each time someone tags your brand in an Instagram Story, a chatbot will send them an automated reply. This reply could be anything ranging from a quick "thank you!" message to a conversation starter. It could even offer them a discount on their next purchase, or free shipping.

Respond to Questions in the DMs With Comment Automation
Comment automation gives you the chance to instantly respond to customer questions so that you can build customer loyalty and turn them into repeat buyers.
How does this work on Instagram?
Let's say a customer is trying to place an order but is getting an error message, and then they go to your Instagram page and comment on a post about their problem.
This is an opportunity to leverage an Instagram chatbot to automatically respond to the comment in your customer's DMs.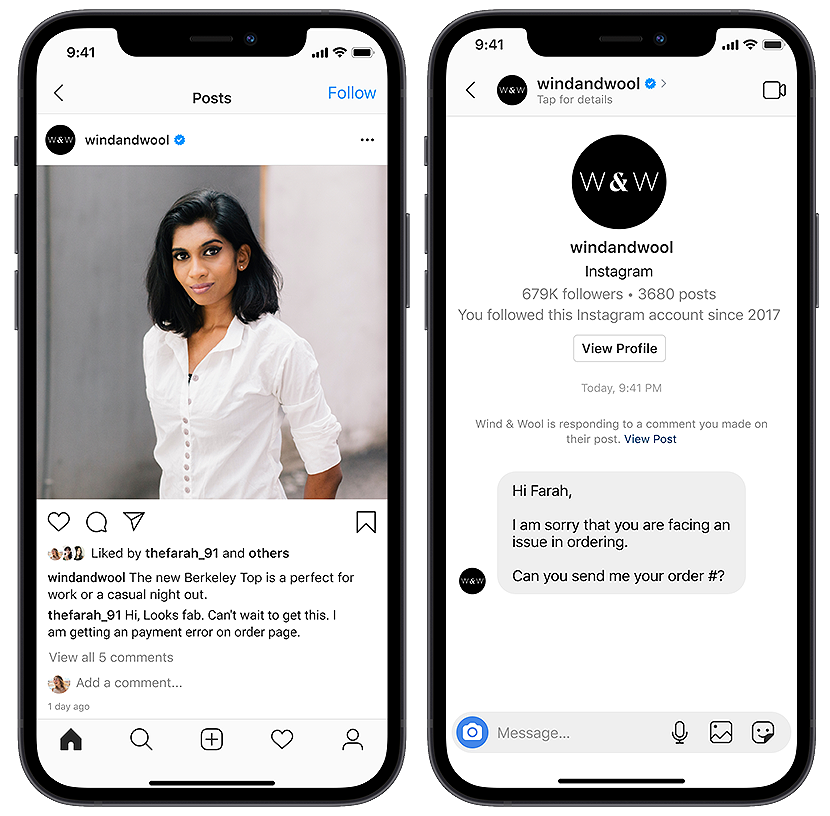 Then the chatbot will ask for more information regarding the comment they made on your post. In this case, it will be their order number to take a step towards fixing the issue.
Instead of only fixing the problem, you're increasing your customer's loyalty towards your brand, which is an excellent place to build relationships with customers and turn more of them into repeat ones.
SMS Chatbot Marketing
Research has shown that 85% of customers prefer brands to contact them via text message instead of email or a phone call. This means that you absolutely need to use SMS chatbot marketing to create more repeat buyers.
Collect Reviews and Feedback
Collecting user reviews and feedback is important for a few reasons. First, customer feedback gives you important insights into how they feel about your business, therefore allowing you to make improvements. Second, reviews help other potential customers make up their mind about whether to shop with you or not.
Third, by asking for reviews and feedback (via a chatbot) you're showing your customers that you're listening. This is super important for building relationships and can lead to more repeat customers.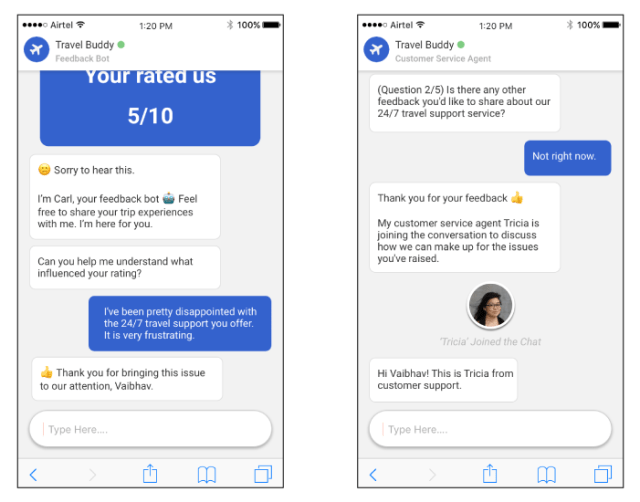 Create Awesome SMS Drip Campaigns
SMS open rates are consistently high, which means it's well worth taking advantage of SMS drip campaigns.
With chatbot automation, you can create drip campaigns that let you welcome your customers, increase communications and boost engagement by sending messages at specific intervals whenever someone takes certain actions.
Ultimately, you can create more repeat customers.
Naturally, drip campaigns by themselves are nothing new, and many businesses have been creating email drip campaigns for years. But SMS drip campaigns have changed the game because communication with customers is so much more instant—whether that's monthly newsletters or reaching out to potential customers.
Send Sales, Coupons, and Content to Contacts
Did you know that text messages are opened and read way faster than emails? This is because most individuals have their mobile devices close to hand and, whenever they get a new message, they simply have to pick up their phone.
As such, it's a smart idea to utilize chatbots to let your customers know via SMS whenever you have got a sale on, or other types of discounts and promos.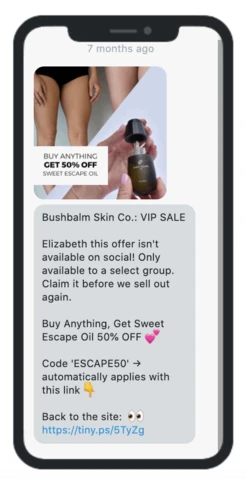 Website Chatbot
It's important to not forget about your website—it must also have a chatbot available for your website visitors to use to consistently turn them into repeat buyers:
Omnichannel Abandoned Cart Messages
Cart abandonment is a bit of an issue for many online businesses. But it becomes a huge issue if you don't do anything about it.
Statistics show that around 7 out of 10 online shoppers routinely abandon their carts. That's a very high figure. The good news is that you can do positive things if you employ chatbots here—by using them to encourage customers to return to their carts and finish the checkout process.
But how?
Chatbots can target cart abandoners with quick messages, such as a reminder that they've got items waiting in their cart, as well as incentives to complete the checkout process—free shipping, discounts and so on.
Naturally, you can't offer free shipping and discounts every single time someone abandons their cart. But when you do it the first time, you're going some way to building a relationship with your customers, which can lead to repeat sales in the future.
Help Customers Find What They Need on Your Website
Lastly, it makes sense that, if you want to nurture customer relationships and turn one-time buyers into repeat buyers, you need to help them find what they need on your website. In fact, a survey reported that 65% of consumers thought all brands should use live chat on their websites and over 50% of consumers expect that their digital assistants will help them make purchase decisions.
You can use a chat API to build a customized chat solution for your website that pop-ups as your customers are browsing and asks them if they would like to find a specific product or service. This provides exceptional customer support and helps them find what they're looking for ASAP.
Wrapping Up
Repeat customers are the key to lower costs on marketing and more revenue. And while in the past tried and trusted methods at generating repeat customers have worked, chatbots are an advanced form of digital marketing that needs to be leveraged so that you keep staying one step ahead of your rivals.
When employing chatbots, make sure to cover all the bases – social media, your website, your app, and more. Use them to chat to your customers and solve their problems, as well as uncover pain points, tease them with offers and collect data that allow you to keep growing as a business while at the same time strengthening the bonds with your consumers.