There are 300,000 active Messenger bots about effective customer support, and people and brands exchange over eight billion messages each month. Today there are only a few social media platforms that provide customer support through chatbots, and one of them is Facebook. 
Before we dive into the details of how top brands use Facebook Messenger chatbots to deliver top-notch support to their customers, let us look at the brief overview of Facebook as a social media platform.
A Brief Overview About Facebook
Facebook is one of the most distinguished social media networks that help you increase your organization's brand visibility quickly. Through the likes on the social media platform, you can gauge the popularity of the brand. 
Nowadays, we see companies buying Facebook likes to get popular amongst their target audience. Hence, if you wish to become an expert user on Facebook, you need to get mastery over the topics like how to increase your Facebook likes and the art of scheduling Facebook posts. 
Once you do that, it will make your task easier to use chatbots with Facebook messenger to provide excellent customer support. 
If you are into eCommerce, you can utilize different eCommerce tools in conjunction with Facebook messenger to get the most out of your business.
Now that you have a basic understanding of making the most of Facebook as a social media marketing tool let's dive right into the different ways brands use chatbots with Facebook messenger for their customer support.
Connect with users via conversational messaging 
Let's face it; people don't like to engage with messenger bots who lack personality and sound too robot-like and inconsistent. It is all about the way bots present themselves. This is where it becomes crucial for the bots to try out different types of presentations that they should have at their disposal.
For example, Prana, a sustainable clothing brand, realized this and launched a Facebook Messenger bot with a friendly and personable tone. Instead of sending boring messages like "Hello" or "Welcome," it greets visitors with an informal "Hi, friend!". Plus, it uses emojis to grab attention and gives shoppers the sense that they're talking to a human rather than a bot.
This type of language helps you build meaningful relationships with customers and make them feel welcome. As a result, they stay on your website for longer and potentially make a purchase. 
prAna's Messenger bot offers clickable tabs that allow shoppers to browse through and shop for what they want without leaving Messenger. Plus, it provides helpful tips to take you to specific menus or information you want to know about. 
For example, if you want to return to the main shopping menu, type "Shop Collections." However, you always have the option to send out a quick message in case you're stranded.  Indeed, it is one of the best customer journey mapping tools we have come across for a long time.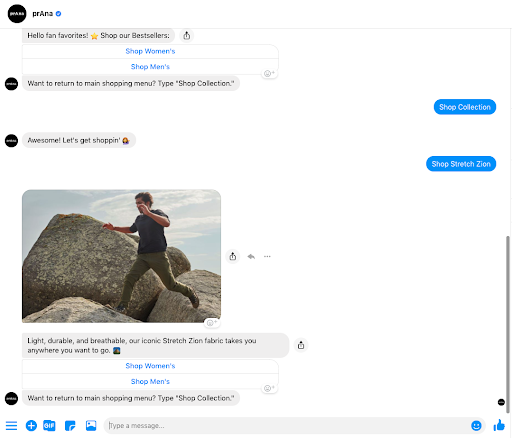 Make smooth purchases 
Chatbots assist shoppers throughout their buying journey and help them make quick decisions. However, lengthy bot interactions can discourage impatient customers, resulting in lost sales. This is where you need to take into consideration the sales objective for 2021.
Domino's Facebook Messenger chatbot makes it easier for customers to place an order in a few steps to ensure frictionless purchases. There's no hassle downloading an app, visiting a website, or dialing a number — all the customer needs to do is join a conversation with the bot in Messenger. 
Domino's chatbot provides customers with three options to start: Order, Track Order, or Customer Support. They can also repeat their previous order, ask questions, and make payments in cash upon delivery, making it easy for Dominos and the customer.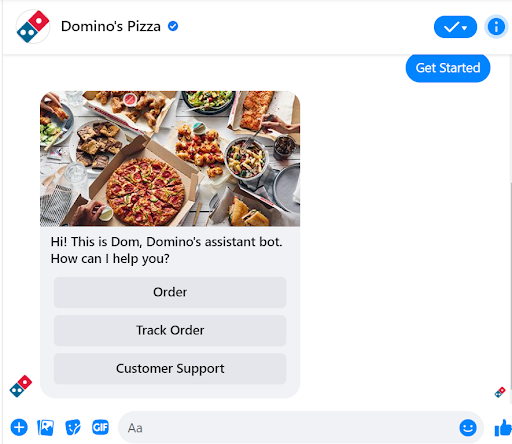 Get product recommendations quickly
Some brands go beyond customer expectations by using chatbots to offer personalized product recommendations based on customers' preferences. This draws the shopper's attention to products and offers relevant to their interest, leading to sales. 
Kayak's Messenger bot does this. 
Kayak is a travel tool that uses a Facebook chatbot to provide flight and hotel recommendations based on the customers' interests, previous conversations, and even Kayak's search history.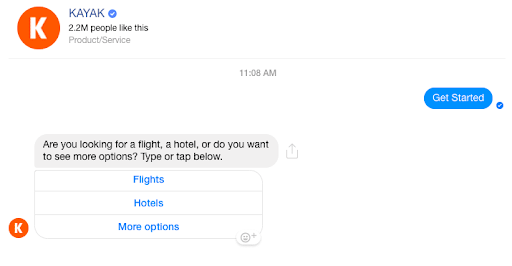 Once you click "Get Started," you'll see three options: Flight, Hotels, and More Options. By clicking "More Options," you can ask the chatbot, and it will pull thousands of search results to answer your question immediately. Ask questions like, "Can you suggest a hotel in Paris for Christmas?" or simply state, "I would like to book a flight from London to Germany on September 4, in the evening."
There's nothing better than making it simple for customers to find all the information they need in one place. Not only it builds trust in your brand, but it also fosters better relationships, driving more sales.  
Make scheduling easy 
If your business offers appointments that need to be scheduled, using a Facebook messenger chatbot can be your best bet. 
Think about it this way: Customers don't always have the time to visit the parlor to make an appointment in a salon. Booking through bots makes it convenient for them to schedule appointments anytime, anywhere, without the help of any customer service representative. 
It helps customer reps manage the appointments efficiently to focus on accomplishing more significant tasks — solving complex customer queries. 
For example, Sephora's Messenger bot lets customers book in-store service appointments, such as facials, makeovers, and so on. It has seen an 11% increase in booking rates after introducing the scheduling bot.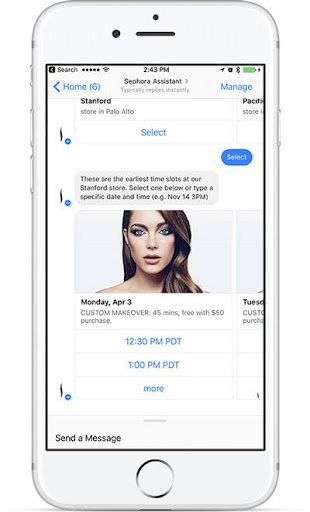 The best part? Customers don't have to call or visit the store to schedule an appointment — chatbots can do it in a matter of minutes. All they need to do is: 
Choose the "Book a Service" option. 

Type the city in which they wish to book the makeover.

Select a store at a convenient location. 

Select a time and date available at the desired store. 
Easy and smooth transactions 
Chatbot Magazine found that 67% of US millennials prefer to purchase from brands using a chatbot. Further, 47% of shoppers are more likely to purchase items through a bot. The reason for that being, the bot sends thank you emails post purchases along with a gift offer and coupons to make you feel special and keep you loyal as a customer. 
So, if you haven't considered implementing messenger chatbots to make transactions within the context of a conversation, there's no better time than now. 
Take Mastercard, for example. 
Mastercard's Facebook Messenger bot, known as Mastercard KAI, allows customers to know their account balance, recent transactions, due payment dates, purchase history, rewards, and so on — by sending a simple text. 
For example, type "How much did I spend on Gyms in August?" and it will show you the exact amount spent during that specified period. 
What's more, the bot enables Masterpass within the chat. Plus, customers can chat with merchants and make payments to them without leaving Messenger.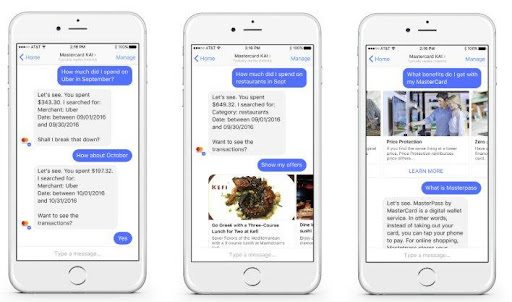 Book a memorable stay 
Gone are the days when people had to visit local travel agents to book flights and hotels. With messenger chatbots, you can do all this anytime, right from the comfort of your house — be it offering travel recommendations, booking a hotel, receiving route tips, or being a virtual guide. 
Let's take the example of Marriott Hotels.
Marriott International, a leader in the hospitality industry, focuses on providing a stellar customer experience to its guests. After acquiring Starwood Hotels and Resorts, Marriott created its first Facebook Messenger bot in 2016 to help guests link their Marriott and Starwood reward accounts.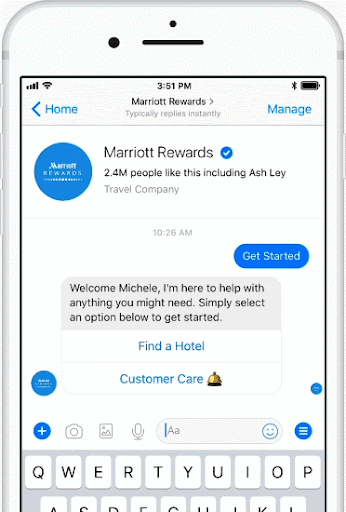 Later, this chatbot was transitioned into a booking bot and allowed customers to: 
Enter their city and dates, and get hotel recommendations. 

Book travel at more than 4700 hotels. 

Check out useful content from Marriott's magazine – Traveller. 

Change reservations

Get their queries resolved more quickly. 
Guests can also use this chatbot to ask for toiletries delivered to their rooms, give them a wake-up call in the morning, and even answer questions about the hotel's amenities. 
In a nut hell, Marriott's chatbot automates travel-related tasks and provides exceptional service to the guests throughout their stay.
Provide accurate information
We live in a modern, highly connected, and information-dense world. Yet, distributing reliable, up-to-date information is still a challenge. 
Traditional media, such as TV and newspapers, require subscriptions for access and are losing their status as a primary information source. The younger population prefers social media over traditional channels, but many platforms are full of fake news and privacy breaches.
Enter Messenger chatbots. 
Messenger chatbots have a huge potential in disseminating critical information to a vast population. From providing highly customized information based on the needs and location of the user to responding to specific questions interactively — chatbots can do it all. The best part? They're available 24/7. 
For example, during the coronavirus pandemic, many companies and organizations have implemented Facebook bots to provide validated, up-to-date information to billions on the spread of the disease, its symptoms, preventive measures, and regular cases. 
One such organization is the World Health Organization (WHO). 
WHO launched the Facebook Messenger version of its WHO Health Alert Platform to enable users to access accurate and instant information — with a simple Facebook search. This is critical to combat Covid-19 misinformation and avoid unnecessary fear and panic in such sensitive times. 
The WHO's bot can reach 4.2 billion people in various languages, including English, French, Spanish, and Arabic.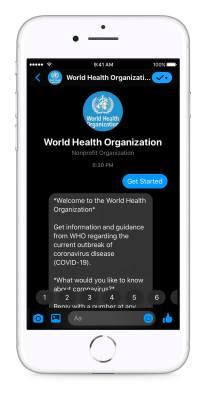 Source
Answer complex questions
Most chatbot conversations start with a simple "Hello" and often take a complex and challenging tone later. From how to get started with the software to how to make a purchase — users shoot all kinds of tricky questions towards a chatbot, making it confused. 
The goal is to make messenger chatbots a knowledge base where customers can ask simple or complex questions and troubleshoot common errors. Based on specific queries, the bot then guides users towards a solution. 
This is exactly how Adobe Photoshop's messenger chatbot works.  
After clicking "Get Started," the bot asks you to select a tab that describes your question or issue. For example, if you want to learn how to do something on Photoshop, choose the "Learn How To" tab, and it will ask you to pick a more specific topic, such as edit or fix photos, sync presets, keyboard shortcuts, export layers, sky replacement, and so on. 
Based on the user's issues, the bot presents two options — first, to check a more detailed article on-site, and second, to speak with the staff, experts, or community.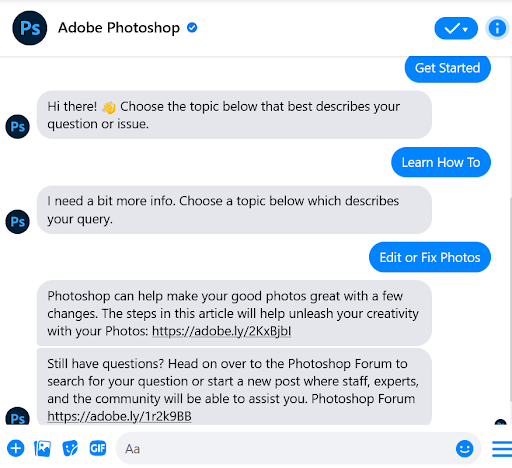 Include augmented reality 
Picture this: a beauty consultant in a cosmetics store asks you questions about your preferences, provides makeup recommendations, and finally suggests the products that will go well with your skin type. Further, she is holding the mirror for you while you're applying makeup and complimenting your looks. 
Now imagine all of this happening with you at your home. 
Sounds impossible? 
It's not anymore with AR-enabled Messenger chatbots. 
Customers today have become habitual to conversing with chatbots for queries and purchases. And combining it with augmented reality (AR) can lead to a whole new world of exceptional shopping experiences. 
Including augmented reality allows brands the unlimited power to interact three-dimensionally with customers, making their overall buying journey a personalized and immersive experience. 
Skincare brand POND's launched an AI-enabled skin-diagnostic messenger chatbot called SAL. When a customer uploads their picture, SAL uses augmented reality to provide personalized skincare recommendations in four areas — pimples, wrinkles, spots, and uneven skin tone.
Once the diagnosis is complete, the bot provides in-depth insights about the user's skin condition and recommends the beauty products suitable for the user. 
SAL generated 15 times higher purchase intent. Plus, 98% of users cited positive experiences with the bot.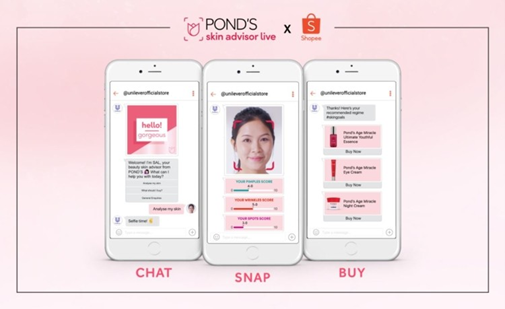 Easy access to medical advice 
Nowadays, patients need quick access to health information and medical facilities. Further, they don't always have the time to visit the clinics to book an appointment. This is where using Messenger chatbots in the healthcare sector can help. 
From booking medical appointments and detecting symptoms to assisting patients throughout their recovery — Facebook chatbots can work wonders in empowering your healthcare service to run seamlessly. 
While chatbots handle lower-level tasks, doctors have more time to dedicate enough attention to each patient. Plus, they allow doctors to access the patient's previous medical records quickly in case of an emergency, such as heart attack, allergies, check-ups, and so on.
Sites like HealthTap, have launched a Messenger bot to help people access trustworthy information, determine their medical condition, and consult with live doctors. Based on the symptoms, they can find what might be wrong with them and find a doctor in their area for treatment. 
What's more, the bot enables users to submit questions to more than 100,000 doctors in the US. Plus, contact them via video or text messaging. 
What's more, the bot ensures the identity of the user is kept anonymous and confidential. Neither the app nor the doctor will know who the user is.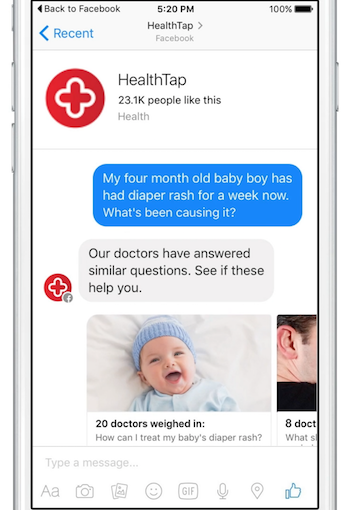 Summing Up 
As you can see, there are heaps of ways to use Messenger bots to engage with your customers and provide exceptional support. 
So, what are you waiting for? Create your Facebook Messenger bot with Botsify today and open a new world of immersive customer experiences using personalization on your online store.