Did you know? A wide range of jobs can be delegated to chatbots, resulting in significant cost and time savings. Before you start celebrating, keep in mind that a generic solution might not be the answer to your concerns. You would certainly need something extraordinary and that can be your chatbot marketing agency. 
[PRO TIP]: Selecting the Most Appropriate
Chatbot Marketing Agency
for Your Needs
Before starting off with your bot marketing agency you must know how to choose the right chatbot for your business needs…
Chatbots powered by AI are extremely adaptable and may fill a range of tasks. Because each organization has its own branding profile and operational requirements, selecting the appropriate chatbot necessitates a thorough examination of a variety of criteria. 
Simple conversational bots can be quite effective at maintaining high levels of engagement and generating leads from interested persons in many circumstances. Other businesses may require bots to offer targeted online adverts at predetermined intervals, while live event organizers can use bots in an event software or event registration software to manage guest applications and send reminders ahead of time.
By, Ryan Dearlove, Chit Chat Agency founder;
"We have been fortunate enough to work with a varied selection of clients from all over the world as one of the leading chatbot creation and chat marketing services. Despite the fact that many brands' marketing budget allocations do not reflect this trend shift, we have lately observed a turning point in which social messaging usage now outstrips social media usage on a daily basis, chat marketing can often be disregarded.

Smart marketers, on the other hand, are starting to see the potential of messaging applications like Facebook Messenger, Instagram, and WhatsApp to influence consumers' decisions and experiences"
[03 Main Purpose] Of Opting For A Bot Marketing Agency:
The chatbot in digital marketing is rapidly changing. With each new advancement, you have the opportunity to provide your clients with even greater outcomes. If you do not keep up with the latest trends, whether it's a new social platform, a different ad kind, cutting-edge approach, or technology, you will lose clients to your competitors.
However, here are the 3 main purposes of a bot marketing agency:
#01: Marketing
Chatbot for marketing is used in customer service and sales departments as virtual assistants. They are a company that creates and maintains client awareness. In essence, they are a more straightforward alternative to online contests, lotteries, and customer loyalty programs, which all require direct human engagement, which chatbots do not.
#02: Sales
Chatbots are available 24 hours a day, one of the primary goals of adopting the chatbot marketing agency is to sell your company's products and/or services online.
#03: Customer Service
Chatbots allow you to be available to your customers at all times, regardless of their location or time zone. Chatbots can answer frequently asked questions, display deals, and even receive complaints, therefore, opting for the right chatbot marketing agency can help you increase your business customer service.
[03 Platforms] Where Chatbot Marketing Agency Can Integrate Chatbot?
The following are the main platforms where the chatbots can be integrated; 
#01: Facebook Messenger
Facebook Messenger's large user base helps you to reach a larger audience. The platform can be turned into a chatbot that interacts with customers on your behalf. The Facebook Messenger chatbot can benefit your business in a variety of ways. 
#02: Websites
The establishment of a chatbot for your company's website goes a long way toward improving the User Experience (UX). The implementation of a chatbot on a website can be incredibly beneficial in terms of engaging and pleasing users by responding to their demands on the spot.
#03: WhatsApp
WhatsApp Business has enabled businesses all around the world to deliver real-time support by answering queries and resolving product and service concerns. "You should communicate with a business the same way you should message a friend," says Mark Zuckerberg, the founder of Facebook and CEO of WhatsApp.
Which Chatbot Marketing Agency Should I Go For? 4 Things To Look At
By the end of the topic you will get to know which company you should opt for but before that check out what you must look before planning to start your bot marketing agency;
#01: Is Chatbot Easy To Build?
People are typically intimidated when they first hear about chatbot technology, which is why I say "surprise." To many, it appears to be a complex and highly technical field that necessitates years of specialized knowledge. As I say 'surprise" so surprisingly that's not the case. Because Botsify offers you the easiest solution for your chatbot agency — that is no code chatbot builder!
You do not need development skills or tech experience to use a no-code platform like ours. Indeed, the most recent iteration of our UI makes bot creation even simpler than before. It's a drag-and-drop platform that allows chatbot marketing agencies to easily design content elements and understand how they should go together.
Building a chatbot doesn't get any easier than this, so everybody from business owners to marketers and social media managers can benefit.
Ready To Start Your Chatbot Marketing Agency
We create smart chatbots that engage with your visits and help convert leads to clients
#02: Is Chatbot Flexible For All Industries?
Our chatbots can be a help to any industry, from real estate and beauty to sports and banking. So, regardless of your clients' industries, you can create a Facebook Messenger chatbot, WhatsApp chatbot, Instagram chatbot, or website chatbot to assist them with customer service, lead generation, sales, and more.
Even better if your clients are concentrated in one or two core sectors. You can create a couple of chatbot frameworks that you can quickly adapt for each new client. 
Here is an example of our client "moonshot", which has elevated its business with us by opting for a WhatsApp business.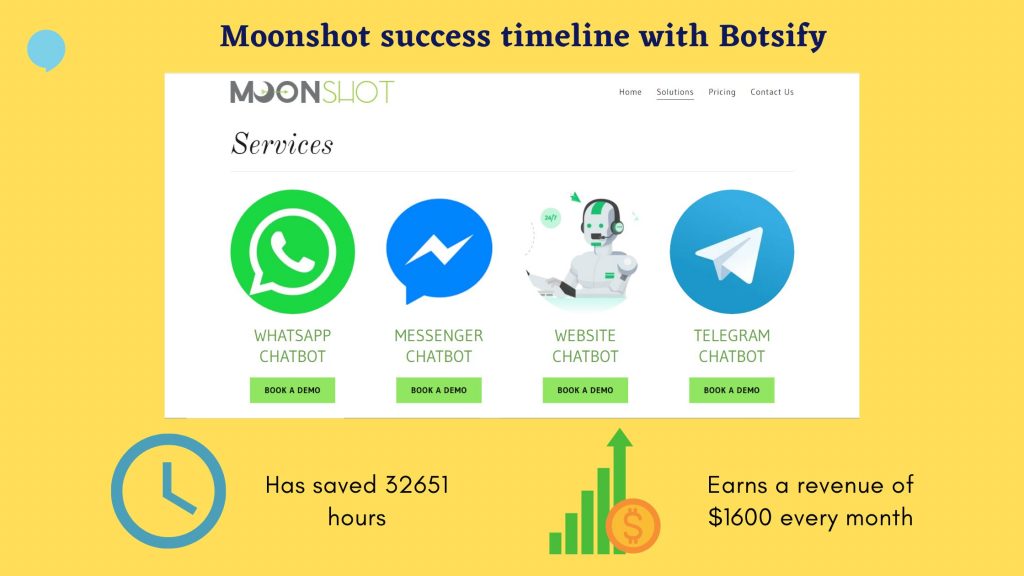 #03: Checkout For Recurring Revenue:
Chatbots on Facebook Messenger are not a one-and-done solution. It's critical for you, the builder, to keep track of their progress and make adjustments as needed over time. That's one approach to earn recurring cash from clients using bots (while also delighting them with fantastic outcomes!). Set up a package that includes check-ins and updates every two weeks or once a month.
Offering AI as an add-on is another option for a chatbot marketing agency to generate recurring money. It's not as difficult as it appears to create an artificial intelligence chatbot. However, it does require the AI to be trained over time, which necessitates ongoing maintenance. (This is another reason why concentrating on clients in a single niche is advantageous.) 
As a result, you will be able to train a single AI for that industry and utilize it for several customers.) As a result, you can include that ongoing price in your AI chatbot packages for your clients.
#04: Integrations Availability To Other Systems
You will need your existing CRM system, email, and social media platforms to interact smoothly with your chatbot in order to automate your processes and collect real-time data.
You will be able to contact your customers through their preferred channel and gather leads directly into your CRM, marketing automation system, or email in this manner. Integrations also keep your sales team productive.
One of the advantages of integrating your CRM is that you can use the existing data on a firm or contact to help you qualify and make further decisions in your automation cycle.
Right Choice For You — Botsify!
Ready To Start Your Chatbot Marketing Agency
We create smart chatbots that engage with your visits and help convert leads to clients
[Top 5] Which Chatbot Type To Go For Your Right Chatbot In Marketing Solution:
There are many different types of chatbots, but the classification you choose is based on the problem you're trying to address and the features you want to include. There are a variety of sorts based on that:
#01: Skills Chatbots
This is a one-function chatbot that does not necessitate a lot of context information. It can just do an action by obeying an instruction. This type necessitates the use of a strong Natural Processing Language. Alexa, from Amazon, is an excellent example of this type of chatbot.
#02: Transactional Bots
Transactional bots conduct duties on behalf of humans, such as placing orders, making payments, and so on. Because they can interface with external systems to execute transactions, these bots increase productivity.
#03: Support Chatbots
All industries employ support chatbots, but retail, human resources, digital marketing, and healthcare utilize them the most. Chatbots of this type have become indispensable since they save time and money for businesses while also improving customer satisfaction. They can give customer support, act as a recommendation engine, place orders for meals, or answer commonly asked inquiries (FAQ). For example, a Kansas City marketing agency may employ chatbot services to better serve their customers.
#04: Assistant Bots
Conversations and question-answering are skills that assistant bots excel at. They are also amusing in order to maintain the user's interest. Apple's Siri is an example of an assistant bot that not only assists the user in setting an alarm or making a phone call but also answers queries in a fun way when it doesn't comprehend the request.
#05: Information-Gathering Bots
They can serve as research assistants because they can collect and distribute data. They can, for example, use AI and text categorization technologies to provide push notifications based on messages. These bots are particularly useful in education and corporate training.
Do's & Don'ts in Chatbot Marketing Agency:
If chatbots appear to be a good fit for your agency right now, it's critical that you get it right and avoid some of the pitfalls. If chatbots appear to be a sensible investment for your product right now, it's critical that you get it right and avoid some of the most common pitfalls.
When it comes to deploying a chatbot solution for your agency, here are some best practices and things to avoid;
[Best 06] Do's:
?Make it apparent that your chatbot isn't a human
?Create a discussion flowchart to define the chatbot's goal, tone, and responses to various clients' questions
?For best outcomes, avoid using a complex dialogue flowchart with several phases to get to the audience's desired action.
?Give the client exactly what they are looking for, no more and no less
?Personalization is important, which is why some AI systems can collect data about your audience and tailor your content to their specific needs. This is just as crucial as using dynamic creativity in paid advertising or email marketing
?Create a chatbot that is tailored to each user's individual persona and stage in the marketing funnel
[Best 5] Don'ts:
?Choose a major aim for your bot and design all of its activities around it
?Sending mass messages, especially on platforms designed for more intimate communication, should be avoided
?Do not bombard a client with a succession of inquiries that do not lead to the main purpose
?Use chatbots sparingly on pages where you want to capture clients' attention
?Never assume that everyone wants to talk or that all clients are alike
Ready To Start Your Chatbot Marketing Agency
We create smart chatbots that engage with your visits and help convert leads to clients
Bottom Line:
A new generation of AI-powered bots has proven to be remarkably adept at a variety of business tasks. You will need to choose a chatbot marketing agency that knows what it's doing to get the most out of this practical invention.
Take a step back and examine your company's difficulties that could be handled with automation before you start interviewing prospects. It would not be difficult to discover a service that can produce a custom-made chatbot that lives up to the hype from there.