Thinking of installing a chatbot on your website? Or the potential cons of using a chatbot service?
What are Chatbots?
A chatbot is a kind of artificial intelligence (AI) software that is used to initiate a conversation with a user in natural language through applications, telephone-like chats or customer service websites, mobile apps, and social media.

Why are Chatbots important?
Chabot applications explore interactions between people and services, which are essential for customer experience. Chatbots expose companies to new opportunities so that they can improve the customer's engagement process efficiency by reducing the cost of customer service. The operational efficiency is also improved by chatbots. These tactics are increasingly being used by social media management tools. 
Configuration by humans of the chatbots is important so that the chatbots can configure, train and optimize the Chabot system. In order for the chatbot to work, the initial software development and outsourcing & configuration have to be done by humans themselves. Yes, the world has technologically advanced a lot, however, the place of a human can not be filled by automatic softwares or robots. 
Examples of ChatBots :
A fully integrated chatbot system that has a live-chat service just on the tips of your fingers. It is well equipped to handle queries of millions of users on apps like Facebook messenger and WhatsApp. You can integrate Botsify AI Chatbot to your website, Telegram and SMS too.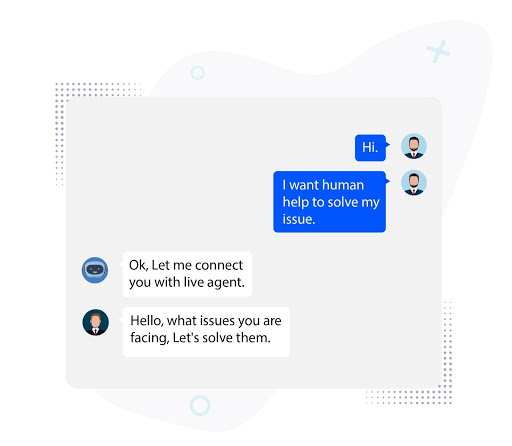 World Health Organisation
World Health Organisation has launched a chatbot to facilitate people during the Covid-19 pandemic.. It helps in countering disinformation and passing the right kind of information about the virus and the vaccination process. 
You don't need to worry about making decisions, as Swelly is constructed to guide you to better decision making ,whether it is the best photo or the best food you want to want to decide. You can also watch a tutorial here. 
The app allows you to browse anything under the sun and even browse through photos. It is accessible as you can get personalized recommendations from your past purchases. 
Virtual assistants are provided by Emirates in an easy way through their website.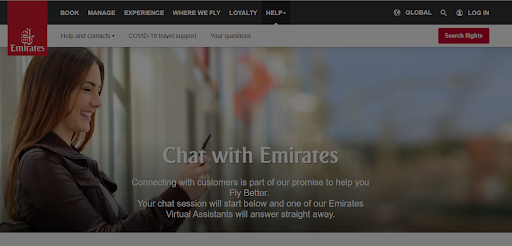 Use of a Chatbot :
There are multiple uses of a chatbot, from catering to the needs of the buyer or the customer of any business or organisation to an assistant agent to assist through something. A chatbot is also used to conduct an online chat conversation via text or text to speech, which means that voice can be converted into text and text into voice, in order to provide direct contact with a live human agent. 
We will be looking at the many pros and cons of chatbots, this will not only help you in adding a chatbot to your website but as a visitor of the website or customer, enable you to better assess chatbots.  
Pros of Chatbots :
Conversational chatbots enabled by Artificial Intelligence/ Machine Learning technology are a way to move forward and a pathway to lift the burden of humans of constant interaction, however, chatbots can surely be tricky. So watch your way! If done in the right way, Chatbots can be very beneficial to converse with people and can help companies grow and build rapport with people. 
Benefits of Bots: 
Chatbots are available 24/7, which brings the business or organization a huge advantage, as not only do companies need someone who can cater to their needs 24/7, but also that their request is recorded. Hence, waiting and being frustrated is a long-gone thing, now you can get an instant reply no matter where you are and no matter what time. As a result, the people visiting your website will be satisfied and, depending on your email marketing platform, you may be able to convert prospects from chatbot prospects to email subscribers. This will also create long-term customers.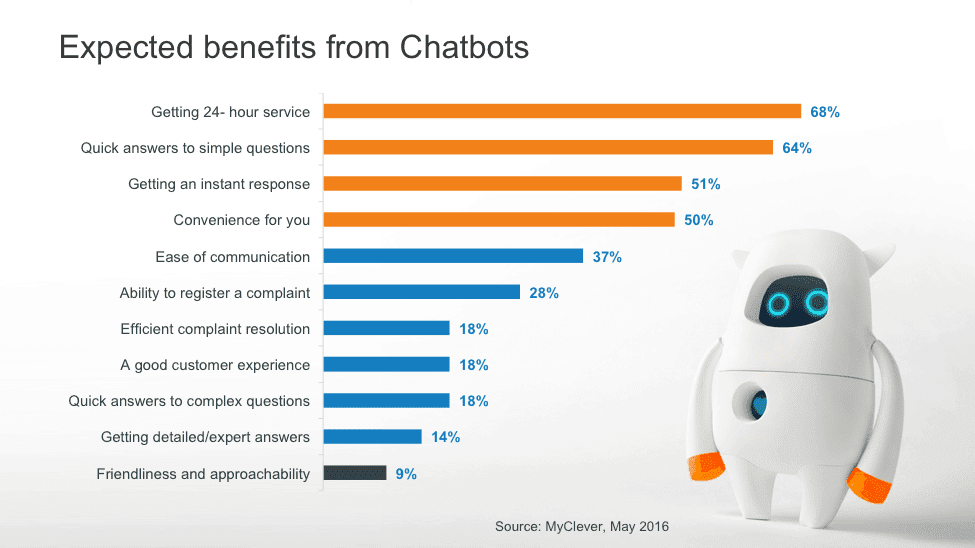 Hiring humans and then training them for customer service can be a tough and costly job. Hence, creating/installing a chatbot and then launching it on your website is a lot cheaper and viable. 
However, if you install artificial intelligence(AI) software alongside the Chatbot then that might prove to be expensive for your  business. In addition, not every person can integrate artificial intelligence into the chatbot software, very few experienced people in the field can do that.
Increased Customer Interaction :
Increased sales and  an interactive experience is provided by bots. As it is much easier and quicker to interact and receive a response from Chatbot, hence the experience of the customer is satisfactory they do not need to go rumbling for other websites. A case study conducted indicates that  the chatbot Zara (Zurich Automated Response Agent) recorded 765 customer interactions (which is recorded as a 20 percent increase) within 6 weeks.  People visiting websites do not have to wait in long queues. 
Customers' activities, messages in the chat box and activity on the app might be recorded to bring a more user-friendly experience. Not only does this make it easier for future reference for the company but the next time a customer visits the page or social media site, the chatbot already knows their requirements. This data is also used to solve problems mentioned by the customers and update data. 
New Customers can be reached easily through chatbots like KIK and Facebook Messenger. In a survey , 38% of  the youth gives feedback through social media channels every week. 
In addition, you can also check our Content Studio's social media statistics to see how and why Generation Z likes such apps.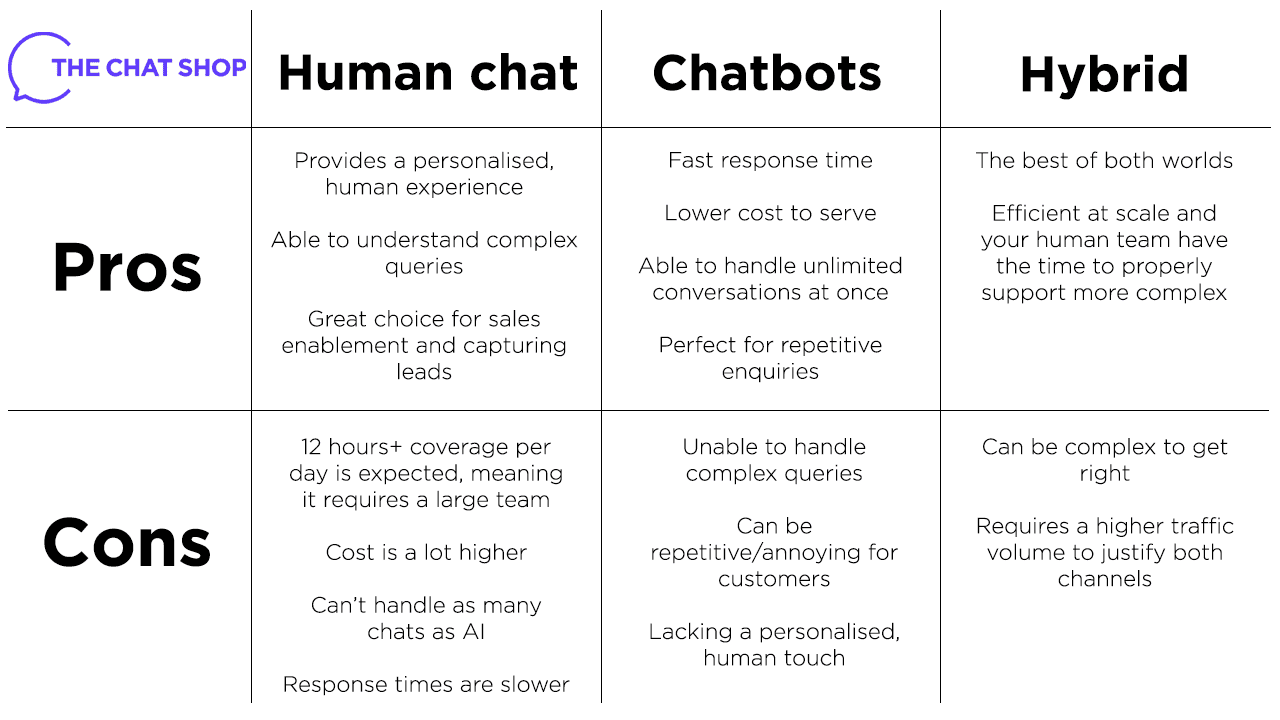 A bot can have various uses in areas such as customer sales, advertising, marketing, in human resource and technically helping the employees as an IT helpdesk does. It answers basic to complex questions, collects survey results, runs a marketing campaign, and fixes any routine technical issues. Chatbots can be used to schedule appointments and meetings with certain clients and customers.
The major downside of an operator is that it can concentrate on one customer and answer one question at a time. On the other hand, a chatbot can answer many questions at the one time. The speedy cloud mechanism has significantly added to a better, faster user experience.
Chatbots Eliminate the Need for an App
Companies prefer to use chatbots over operators and apps for communicating with their customers. Why is that so? Apps, even the latest ones require constant updating and maintenance e.g Facebook. They also require advertisements and promotion since this market is overcrowded with multiple applications already, hence chatbots are a great substitution for apps. 
Cons of Chatbots :
Some of the cons of Chatbots are listed below which can be beneficial for anyone who is thinking of including a chatbox in their organizational page or any social media management for the business.                            
Not all Users Trust Chatbots Yet:
Chatbots are still a relatively new thing. There are many customers who don't feel comfortable communicating with chatbots. Human interaction is preferred more, and they feel that the answer or solution given by the chatbot might not be that viable or might not hold that value. 
A  great disadvantage of most conversational artificial intelligence technology is that it can only handle first-level questions. Second-hand queries are very difficult to handle for a chatbot.. For systems like Siri, it would be a game-changer if it can hold conversations in depth and detail. However, in order to do this, the chatbot will need unfiltered access to the user algorithm and interact with its other applications.
Chatbots can not think on their own or suggest a solution  instantaneously because they do not function like humans. When unable to handle, they direct the request to a human for further processing, which causes further delay and frustration. Chatbot's questions are repeated by humans if the queries are not handed over duly. 
A bot is only a designed software, hence the limitation to the information makes it lose  a conversation or a problem inquiry  with the customers when the situation goes beyond its level of scope. Codes can't decipher the slang or jargon from the customers' messages. Resultantly, a mechanical feeling is created. There is a limited scope of chatbot in emotional as well language barriers. . 
Deep artificially designed software is required to handle critical situations and to maintain databases. The technically designed program can cost a lot to the businesses. This deep database then requires experts to handle the bots at the backend from time to time to make them more compatible with the needs.If IT or software experts bid a cost higher than the business can afford then it might not be affordable for businesses. 
Data privacy has now become a basic human right. One needs to seek consent before tracking the data of users. It requires a CMP to implement a compliant cookie banner. Seers Consent Management Platform makes sure you get the right start. However, it is entirely the websites' responsibility to use their visitors and customer's data effectively.
A computer program integration of a chatbot can be done by only an expert. The coding of the software in the chatbot needs to be updated once in a while according to the latest trends or dark theme or mode. This software update needs skilled personnel and requires time and money. If you run a 2000 chatbot, in the era of 2021, most likely users would not come back to the website. A slight glitch in the software, that needs immediate fix repair, might cost the company and also delay their customer service. This will result in losing customers. Big businesses might afford this but it would be a problem for small businesses. The negative feedback can affect the business's rating.
Higher Capacity for Misunderstanding
When a customer's question isn't clear, a bot may have a hard time helping or solving the problem, which is one of the biggest disadvantages of chatbots. The chatbot might mean something else, while the person understands something else. So, there might be chances that the chatbot has given the right solution but due to language barriers and different understanding capacity of the customers, there might be misunderstanding.
Bots Don't Fit Every Business Model
The question that was mainly catered during this entire article was whether you should use a chatbot or not and what things you need to consider beforehand.Always assess your business model first and then the kind of chatbot that suits it. Keep your audience, budget and business model in mind before creating or employing a chatbot.  
Now it is entirely your decision, keeping the pros and cons in mind, whether you really want to go for a chatbot or not.