Want to enhance your social media Campaigns? Here you can get to know perfectly about the tactics you can use for enhancing and managing your campaigns. But before discussing the techniques take a short look at why you need a perfect campaign, the effect of your campaigns on your leads, and some little examples… So let's get started!
Social media is rapidly becoming one of the most important aspects of digital marketing and delivering incredible benefits by supporting millions of customers around the world. And if you don't use this lucrative source, you can easily spread rumors about your product and mission, so you'll miss out on great marketing opportunities.
Social media is an important part of your marketing strategy. This allows consumers to create hype about products and brands as they share content. However, social media is blamed and motivated indiscriminately. With so many events happening, how can you get users to find your content in this chaos? With quick audience analysis and a few simple tips and tools, you can customize your post to make it easier for users to find.
What are Social Media Campaigns?
A social media campaign is a coordinated marketing activity aimed at improving or promoting the achievement of business goals with the help of one or more social media platforms. Campaigns are different from everyday tasks using social media in that they are more focused, targeted, and measurable.
Importance Of Social Media Campaigns To Increase Visibility
It is estimated that by 2021, the number of social media users will reach 3.02 billion. Yes, you heard that sigh. Creativity is at its peak and social media platforms are getting a little cramped every day. However, some brands shine and you might be wondering how they are doing the right thing and how you can do the same for your brand. There is the word insurance. If you're having trouble getting into a brand, you're not alone.
To reach a wider consumer base, it's important to build brand awareness normally called brand visibility, first when potential customers know your brand well.
And that's only possible by creating visually engaging and highly creative content that grabs the attention of all potential customers and forces them to know the brand's existence. And that's not all you need to build brand visibility. You need to remind your target audience that you exist again and again. This can be done with the right social media marketing strategies and content marketing campaigns that will impress your brand with everyone who uses the social media sites you choose to use. 
When you introduce your brand to people and create a good image, you know your target audience is referring to your brand or the content you create more often. This will not only increase your engagement with your social media profile but will also create more opportunities for your audience to become buyers.
Here you can see in this image you can increase your visibility by up to 80% because brand awareness consumes 80% of the focus of the whole Social media Campaign.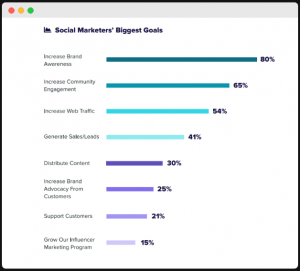 How Social Media Marketing Increasing Brand Visibility
There are many ways to use social media to increase brand awareness. And best of all, you can explore them all if you want. Here are some of the ways social media can increase your brand awareness.
Provide interaction
Social websites are platforms for communicating with each other. This allows you to communicate with your customers at every stage. It doesn't matter whether it's a potential customer, a current customer, or someone who wants to get back. There are many ways to get increase interaction with your customer, like Chat, tweet, advertisement, and more.
Content promotion
You've probably seen your favorite brands share content on social platforms. Many brands use this space to post blogs, videos, and other content on social platforms like facebook, tiktok, instagram. People like to read relatable content but don't like to search it for long, Social media can help you in reaching out to those people. Content sharing makes viewing, searching, and publishing easier. In other words, you can share content to build brand awareness.
Social sharing
This is an obvious question. But social sharing is taking place on these platforms. And social sharing can make a big difference to your brand. By creating something to share, your brand can expand its presence. Think Wendy's return to Twitter. It caused a storm of fanfare because people thought it was fun and generated thousands of retweets. It's easy to share when you create something that people think is fun, believes in, or feels emotionally connected.
Grow Your Business With Social Media Tool
Retain your Loyal Customers by using AI technology and enhance your acquisition rate now
Social Media Campaigns can Increase Lead Generation
Nearly 55% of Internet users today use social media. They use it every day and pass large amounts of data to the platform. This information is useful for building leadership on social media. Marketers can use it to target their customers directly.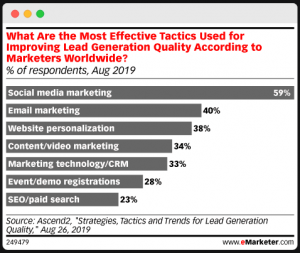 How to get more leads on social media
This is how you get more leads on social media and how to see results.
Profile Optimization
Before planning your next social media generation campaign, make sure you have what you need to organically collect leads. Your profile should allow your customers to contact you, subscribe to newsletters, shop, and more.
Please enter your contact information
You can use your contact information in your profile. But before adding, make sure you can support customer inquiries by phone, email, messenger, etc.
Depending on your goals, different platforms offer unique profile features. For example, if you need more newsletter subscribers, add a signup button on your Facebook page.
To schedule an appointment, restaurant, or consultation, add a "Cancel", "Reserve" or "Get Ticket" action button to your Instagram or Facebook profile.
If more specific equipment is not available, please add a link to the cinema. This space is often used on Instagram but is also available on Twitter, LinkedIn, and Pinterest. If you can add a call to action so people know why they should click and what to expect.
Create interactive content.
Without compelling content, it won't collect leads. It's so simple. Remember, everyone on social media is competing for attention. And the coverage is shorter than ever. Images should be copied clear and sharper. If your goal is to attract leads, make sure your creativity supports it.
When you create clickable content, you want people to have a clickable space. Whenever possible, make sure every mail has clear contacts and attractive calls.
Here are a few interactive options available on different platforms.
Check out products in the Facebook store

Swipe up on Instagram Stories

Shopping posts and Instagram stories

Buy look pins on Pinterest

YouTube tips and end screens

The paid screen on the Pinterest website
Create easy-to-use landing pages
If someone is convinced to go to your link, don't create a disappointment with the messy landing page. So, First of all, the landing page must be relevant. If you are expecting to find a specific product or specific information when someone clicks on your link, it is best to be there.
A good landing page is constantly visual and easy to scan. You should try to give consumers a clear path and try to be as personal as possible. If your landing page contains a form, make it easy. Any questions you add will reduce the likelihood of someone else going through it. The more sensitive it is, the less likely you are to get it. For example, studies show that the age form is more often ignored.
Use social media ads for Lead Generation.
If you are exhausted or want to take advantage of your normal efforts, there are lead generation ads that help you in acquiring customers.
Facebook offers marketers a personalized ad format for its audience. Facebook lead ads are mostly ad formats. Leads collected from these ads can be synced or uploaded directly to your customer management system so your sales team can follow up as needed. Facebook's click tool is particularly useful when generating leads. Make sure you have Facebook Pixel installed on your site. This makes it easier to track and value leads.
Like Facebook, Instagram offers key ads to help marketers gather information. Like Facebook, Instagram offers partial form fills. These ads may be populated with a mail address, full name, phone number, and gender sections.
Successful Social Media Campaigns Examples
We've done some research for you, and we've shown you successful campaigns that have made waves on various social media platforms, including Facebook, Twitter, and Instagram. So, whether you are a beginner in the social media marketing or an experienced veteran, these five campaigns can provide insight into the campaigns your consumers are responsive to.
Facebook's always-on lead generation program generates a significant proportion of our test-drive leads. – Antoine Hery, Digital Communications Manager, Renault
DACIA
With the help of Facebook advertising, Dacia presented Sandero, Logan, and Stepway models. It is intended for both desktop and mobile users. The company has consolidated historical data to provide a variety of advertising tests, greatly optimizing advertising effectiveness based on where customers are in the buying cycle.
Results they Got
Reduced lead costs by 45% compared to standard display ads.

Increase ad memory by 27 points

6 points increase in brand popularity

6 point increase in purchase intention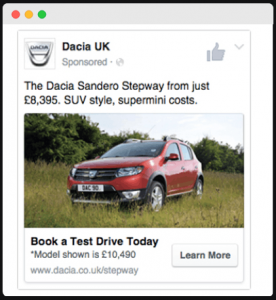 REDBULL
With a focus on simplicity and brand building, Red Bull set the stage for real advertising themed campaigns just before summer. To let the public know the new look of the can, they write a post that says: we've included a yellow filter in a series of photos and videos showing a typical summer day. This brand was twice as likely to get involved with the #thissummer hashtag trend than its closest competitor.
Results They Got
10 point lift of the magnifying glass

9 points rise

7 points drop in a convincing market

1.2 million users arrived.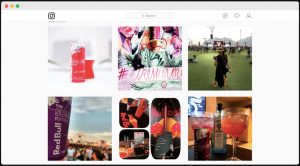 TVibes
Uri and Gilad, the founders of TVibes, knew intuitively that they would incorporate social sites like Facebook into their social apps. This allows subscribers to easily create an account on Facebook's website, log in, and browse the feeds they create. To create a login based on a group of audiences, the founders used mobile app install ads. You will have a great strategy to optimize your campaigns by segmenting your audience based on your video ad's response and skillfully targeting similar audiences.
Results They Got
50% of new app installs happen through Facebook.

Loyalty & 10% more apps installed via Facebook

20% increase in the Facebook participation rate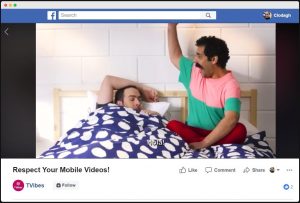 How Automation is Providing Ease in Social Media Campaigns
If you are skeptical or disagree with automation, I understand. But don't be afraid to transfer your business to robots. You can control the schedule through automation.
Here is the ease or benefits you can get if you add automation to your social media marketing strategy.
Effective time
Of course, using social media analytics tools for your social media campaigns means you spend less time and effort on some sections and content that only attracts visitors to your website. With a centralized content planning scheme, you can not only plan your posts ahead of time, but you can log in individually and then publish the same content over and over again, reducing the hassle of multiple accounts.
This will give you more time to figure out what comments, mentions, inboxes, and topics you might cover in the future. Don't post content as these domains are not fully automated and may require more attention. Because your social media marketing goals should always serve your audience. Prioritize delivery of quality content while saving time and hassle through automation.
Expand your social media reach
This is a proven reality of getting more social media when you book a post on social media. You may have heard most people complain about the irrelevant traffic of social media platforms. To solve this problem, you can automate your content to fill the gap. This may not give you the same results you saw in 2012-2013, but you can still make a lot of changes. It's also true that we often forget to share content on Facebook, Twitter, LinkedIn, and Pinterest.
If you post once a week or twice a day, let's say you have trouble catching up with social media. You need a system that prevents your phone or laptop from crashing three times a day. If you start automating your content, you will not only publish more often but will also increase your reach to social media. The reason is simple. The more content is displayed, the more attention it will receive.
Have a look at the right social media marketing strategies. Worth-reading to increase the brand image!
You can take the time to explore
When you know that the content is posted on autopilot and the post posted on social media is already scheduled. For example, you can explore the following topics: Who doesn't like browsing Instagram and Facebook feeds? We strongly recommend that you use your time productively to provide great ideas for your content. While browsing, bookmark websites, and blog posts using the Pocket tool. You can even use Instagram automation to get a few of your tasks done so you are more productive.
Lack of work is not a problem
If you are having some personal or professional other works and facing a lack of social media posts. For example, sometimes it happens that we will be sharing this content the next day. This means we didn't share any content that day or didn't appear on social media at all. But lacking can cause huge damage to like loss of regular audience. So,  If you have a place in the content automation system, it doesn't matter if you're away from work or home because you've already organized the content.
You can analyze the performance of your content
Creating and publishing your content at scale allows you to analyze the results of your content on social media and elsewhere. There are social media analytics tools like ContentStudio and Buzzsumo to help you analyze your content performance and social media statistics. You also need to check your blog post's page views, several comments, and total social media. These parameters also describe the content performance. Review web analytics through your Google Analytics account to see which content works well. Or you can try StatCounter or ExtremeTracking tool for this.
Grow Your Business With Social Media Automation
Automate your social media platforms and boost up your business strategy right now…
Real-Time Examples of Social Media Automation
Here learn how you can automate your Social Media. Here are some simples tactics we searched for you and also a wonderful AI tool you can use to perfectly automate it.
Save time and increase engagement by scheduling social media posts.
Scheduling is probably the most common form of social media automation. It can also save you the most time. Proactive message management eliminates the need to send messages in real-time. Additionally, companies often publish multiple times a day on multiple platforms, depending on when it's best to post on social media.
Automation tools for social media such as Botsify Comment Automation can help you do the hard work. Comment automation can help you automatically reply to your post comments.
Have a look at how  Botsify Automate Commenting works: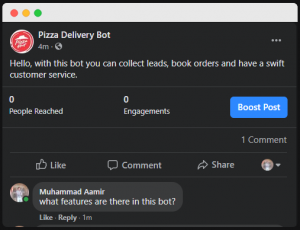 Use chatbots to provide 24/7 customer support.
Chatbots are everywhere. From Facebook Messenger bots to website management bot on your favorite e-commerce websites, customer service bots are used more often than you think. As stated in our social media chatbot guide, most of our customers say they prefer to manage their chatbots to get immediate responses from their businesses.
The reason bots have soared in popularity is that automation tools for social media have become more sophisticated to better serve customers.
And here you can use Botsify's Chatbot to automate your messenger section completely. Messenger chatbots are wonderful you can manage your campaign replies from anywhere anytime without having any human employees.
Look how Chatbot is working…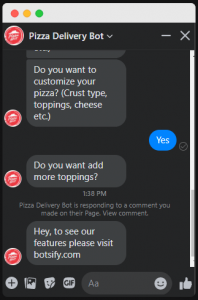 Automate reports to share with colleagues and customers
Social marketers need to store their data. More marketers are expected to discuss social ROI with management. For example, does your presence on social media drive sales? Increased customer engagement? More audience?
Sharing a report of engagement you get a report of messages you get is quite necessary
Detailed reports like the Botsify Chatbot Engagement report can provide quick answers to your questions. Easy to read and understand, Botsify reports are perfect for sharing with your team.
Here is an example of Stats you can get easily from Botsify and Checkout your success.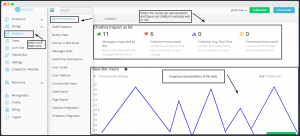 Wrapping Up
Social Media Campaign is beneficial but automating it can provide you extreme and quick results as well as many benefits. Like Lower employee cost, time-saving, don't need to be online 24/7, increased lead generating, Increased customer acquisition, and so on…
And For automation, we have already discussed many methods to automate it hopefully they will help you out in automating your social media campaign. And In my suggestion the automation platform for perfect automation is Botsify. 
At Botsify you can easily automate your comment section that automates your posts section, also its automated chatbot can automate your messenger and reply section. Moreover that you can get a perfect report about the engagement you get on your automated posts and chatbot.
So, What are your thoughts about social media campaigns and social media automation?
Is Social Media automation increasing lead generation and increasing your customer acquisition? Don't forget to share your experience with us…
And If you want to try Botsify as your Automation Platform book a demo meeting with us now:
Book a Free Demo Meeting with us
Gather eCommerce quality leads on autopilot and 10x your ROI with automated chats