According to the latest research from the Content Marketing Institute (CMI), 63% of the businesses do not have a properly documented content marketing strategy. However, it is seen that the companies that do not have the proper documentation are more likely to grow at a slower pace. And;
In this modern era, there is no room for slowers! So level up your business with these 9 elite content marketing strategies!
Have a look and leverage up!
What Is Content Marketing?
Content marketing is a strategic marketing strategy designed to develop and deliver useful, appropriate, and trustworthy content to attract and maintain an established audience — and ultimately to drive successful consumer behavior.
Also read: Content Marketing Category and Marketing Ideas
Content marketing can easily be understood with these 3 keynotes;
Increased Sales

Cost Saving

Loyal Customers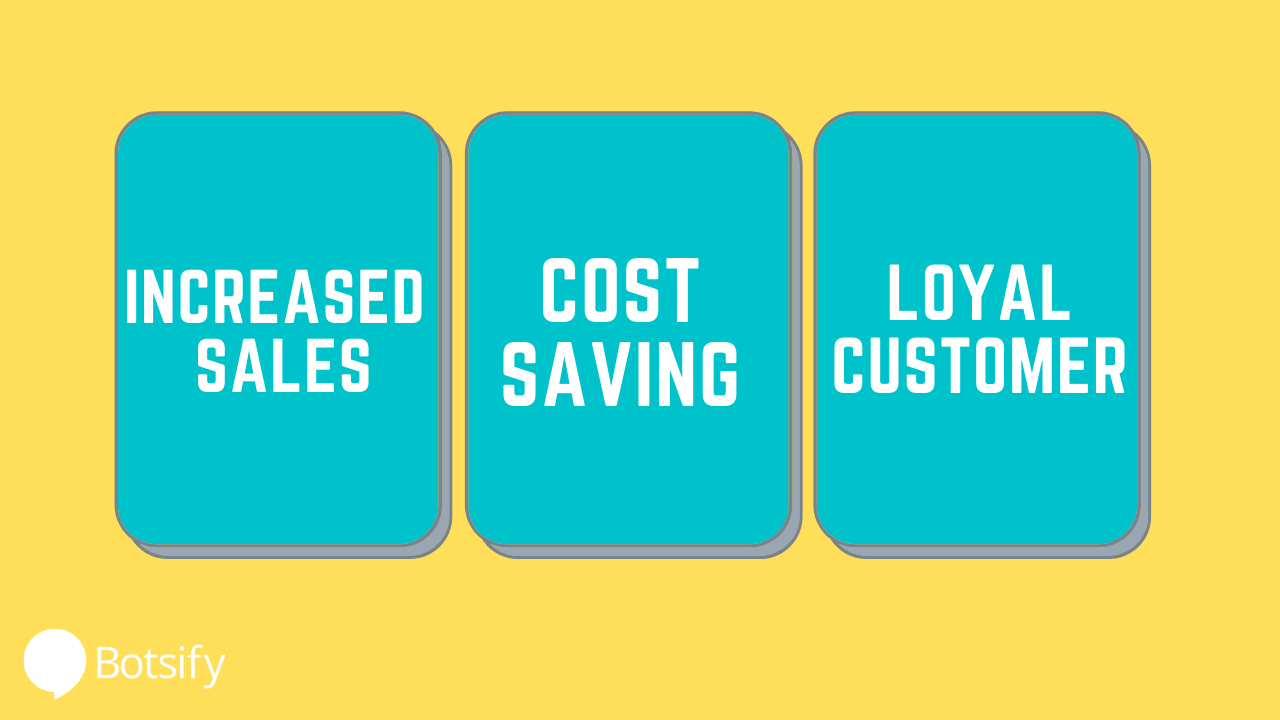 SaaS Content Marketing:
SaaS content marketing is one of the most powerful tools that service-as-a-company do use to attract, educate, or convert customers. Whether it is used for audience building or sales SaaS content marketing strategy is the best. 
Moreover, this strategy helps in understanding certain products and provides a better sketch of the products. Also, with SaaS content marketing you can effectively educate your customers about the products, help them in the products, and educate all about the products. 
Create Elite Content Marketing Strategy With These 9 Steps:
In these simple 9 steps, you can now grow your business at a faster pace. What are these 9 steps?
Step 01: Set Your KPIs
Step 02: Search Your Audience
Step 03: Assess Your Current Position
Step 04: Search Out For The Best Content Channel
Step 05: Decide On Content Types
Step 06: Identify Resources
Step 07: Create Content Calendar And Content
Step 08: Plan Marketing Strategies And Distribute Them On The Platforms
Step 09: Analyze Your Results
Create Content Marketing For Your Company
Gain the advantage by creating a sublime-level content marketing strategy
Step 01: Set Your KPIs
Nothing can be more iconic than planning first and setting up the goals. Therefore, setting KPIs is a must. But before that set your missions and goals that will ease you to set the KPIs. 
However, your goal should be like;
Improving sales through your marketing plan for content

Creating more sales and having better quality leads that will help you reach your revenue goals

Sending more people on the site, because there are more people, moreover, the greater the chances of reaching the other goals

Improving your market knowledge so you gain power and authority and become seen as a pioneer in thought

Progress in SEO, which contributes to greater traffic

Cost of marketing that, as the content is more successful

Engagement in social media, which can boost traffic and authority alike
Moreover, when it is done, next is to build the KPIs. How should they be?
Plan, hit, and then meet any target revenue within a month, quarter, or year.

See more sign-ups for your lead magnet as a sign you are getting better leads

Get any number of new email subscribers

See an increase in web traffic and your on-site content engagement

Upgrade some of your main pages to help boost traffic

Get a range of mentions, likes, and comments about your material on the pillar

Be invited to take part in some key sector events
Step 02: Search Your Audience
Without a doubt, you write content for the audience so, searching for the right audience is a must. Because without that how would be able to achieve your KPIs. Also, your vision of the audience must be clear there must not be any loopholes or double thoughts about the audience. 
For better results, 3 actions have to be taken;
Collect Demographic Data

Get Customers' Feedback

Create Buyer Personas
Let me give you a snippet of each action.
Collect Demographic Data:
For a better content marketing strategy, it is smart to collect the demographic data first. For that, web analytics, social media analytics, and email subscriber analytics are the best ways for this type of data. This way you will get age, gender, education, income, etc., or all such useful information. 
For example; when you talk to Botsify's chatbot it first asks for the email/name. However, this way we can get the most possible data that we require to grow our business.
Get Customers' Feedback:
To learn more about the audience it is ideal to get in touch with them and get to know about their interests and values. However, this insight will help you in;
How they feel about your content

What the most urgent needs are

How can you cope with the problems
Once you have both of the data, now you can easily build the persona of the buyer. Moreover, the buyer persona must have all challenges, sources of information, and pointers of the betterment of the business.
Step 03: Assess Your Current Position
Once you have access to your KPIs and audience, next is to assess the current position and to see if the position is doing well or not. To know the real current position of the company, know where your content stands. And whether it is helping to meet the KPIs.
So, audit your content thoroughly like;
Log all content pieces such as; blogs, emails, guest blogs, newsletters, snippets, etc.

Assessing the usefulness or success

Identify the gaps, and fix them wherever necessary
Step 04: Search Out For The Best Content Channel
As when you have assessed the content position out of the content marketing strategy, next is to search out for the best content channel for your business. Through the search, you will get to know where the audience is lagging and exactly where the change in content is necessary.
Therefore, check out for web analytics for your blog ranking. For this, go to Google Analytics; then Acquisition » Social » Overview to see if the content is doing well or not. And which of the activities is engaging more traffic.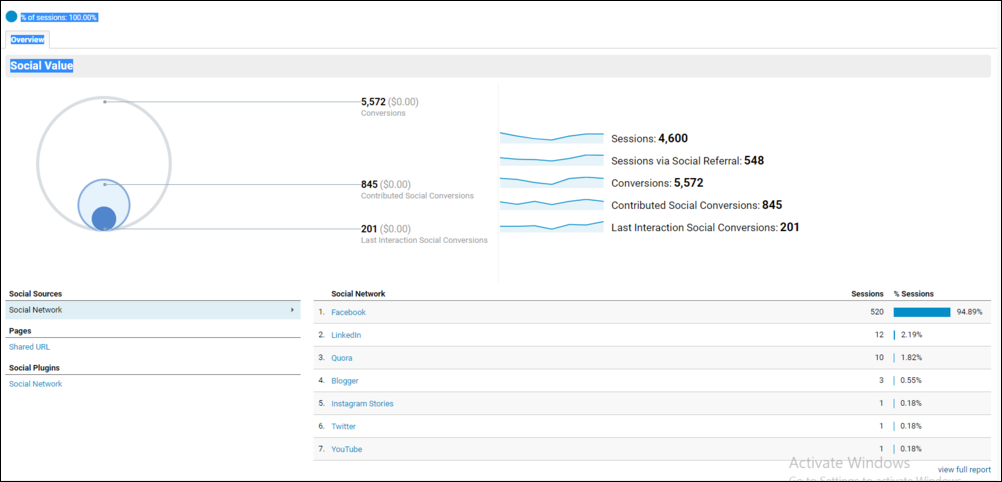 Step 05: Decide On Content Types
Next is to see what and how the contents should be like, whether it is to be like the trendy or must simply be like the regular content. However, there should be a change in the content that will certainly create an impact. 
Also, like said that planning is the key, therefore, decide on your content first that will create an impact on it. Figure out of the following types of content and see which your content should be. 
Blogging

Longform Content

Case Studies

Ebooks

Infographics

Template & Checklist Downloads

Video
Step 06: Identify Resources
Now that you know what kind of content you are planning to create, who it's for, and where you are planning to share it, it's important to make sure you have everything you need to deliver on your marketing strategy for content. Moreover, it creates an impact that is significant.
Moreover, the questions may like:
Who is in charge of the material creation and maintenance?

What human, physical, or digital resources and tools do you need to create the content?

What's your workflow for publishing, including content scheduling?
Step 07: Create Content Calendar And Content
However, lack of planning can lead to mismanagement and is a sign of poor content marketing strategy. Also, planning a content, when it should be, how many contents in a week, review day, and so on can increase the performance of your website.

As far as content is concerned, when you have planned on the content it becomes easier to publish the content. Moreover, it makes the website productive and gathers more audience.
Step 08: Plan Marketing Strategies And Distribute Them On The Platforms
Without a doubt, marketing strategies cannot be taken for granted. Also, the more the strategies, the more there are chances of visibility. However, the aforementioned content marketing strategy is restricted to/for content. 
Moreover, here are a few of the marketing strategies which can certainly help you in boosting the content.
Bump Your Handles

Use Hashtag Properly

Don't Underestimate The Power Of Images

Killer Content For Your Audience

Add Visuals

Use Infographics

Do Not Miss Bullets

Higher Flesch Reading Score

Caption Contest
However, to know more, read: 18 Killer Marketing Ideas 
Step 09: Analyze Your Results
However, there is no use of such amazing content or content marketing strategy if you do not track or analyze the results. 
Check Google Analytics as described above to see how your content is performing

Use Botsify dashboard for analysis
Moreover, by monitoring your progress, you will be able to tweak your content marketing strategy at regular intervals, so it's always up to date. Also, you can keep a track of KPIs through this. Also, do monitor your content theft. The problem is real, occurs more often than you think, and may affect your content marketing performance as well. Therefore it's essential to have a plan in place to deal with content theft effectively. This MentorDial case study should prepare you to make countermoves when someone copies your content.
Generate More Leads With Website & Messenger Chatbots
Gather quality leads on autopilot and 10x your ROI with automated chats
What Measure Does Botsify Take For Elite Content Marketing Strategy?
Botsify is one of the biggest platforms for a chatbot, along with that it takes all possible measures that are important for content building. 
However, Botsify uses all platforms such as; LinkedIn, Facebook, Twitter, and Instagram to give the content valuable notice.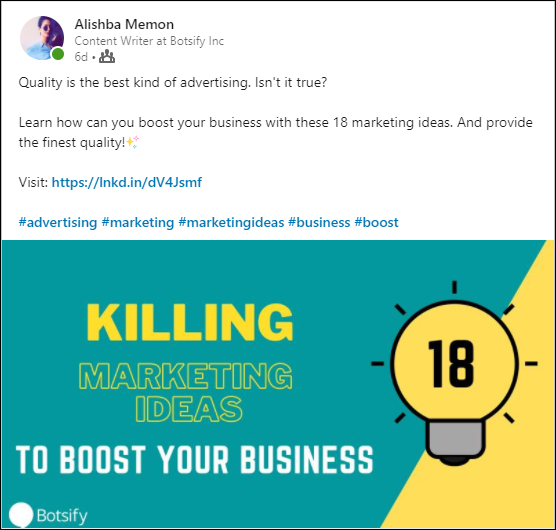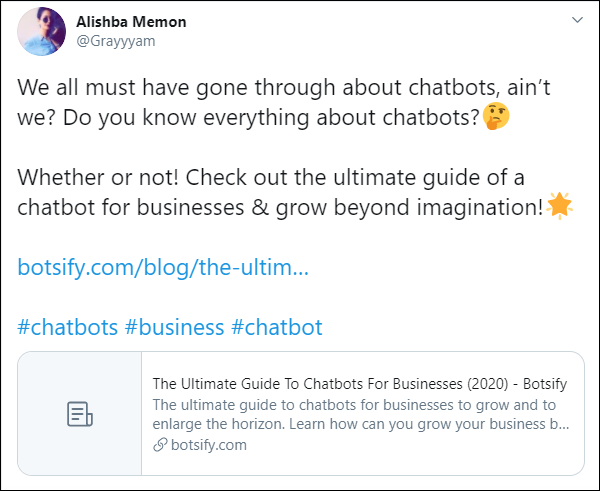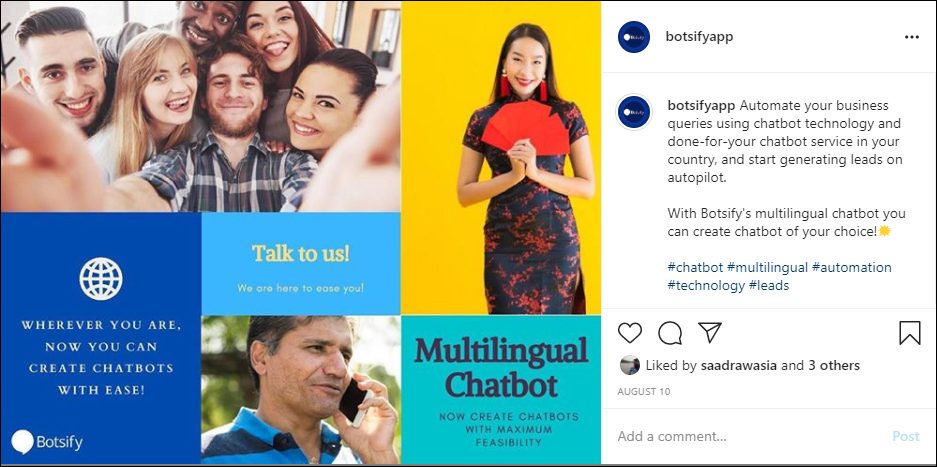 Summary:
To summarize, these are the pointers that will help you in creating an elite content marketing strategy
Set Your KPIs

Search Your Audience

Assess Your Current Position

Search Out For The Best Content Channel

Decide On Content Types

Identify Resources

Create Content Calendar And Content

Plan Marketing Strategies And Distribute Them On The Platforms

Analyze Your Results