When you hire a customer support agent, the entire assessment is based on how your customer experience will look like with this person. Mainly because this person will be responsible for your customer's judgment of you as a brand. Did you know? A chatbot icon can give a big impression on your customer service, and when it comes to choosing an icon for your chatbot, there are plenty of options available on Flaticons' website, and Icons8.
Moreover, when you go to Starbucks, does your experience base on their cool online marketing campaigns or does it rely on how their staff treats you?
It is very important for you to deliver the right tone of voice through each of your employees, your product/service and advertisement.
While choosing a chatbot, don't you think it's just as important to create one that fits your brand image?
Let's have a look…
Why You Should Brand Your Chatbot
Chatbot may just be a program for you but at the user end, the experience matters. At the end of the day, the person interacting with your chatbot wouldn't want a simple robotic QnA with your bot.
As a matter of fact, only 11 out of 37 percent of the consumers, who interacted with a messaging chatbot in the US purchased or tried to purchase through an e-commerce chatbot.
source: statista.com
Wait, I am not saying all 26 percent of the potential buyers left because the chatbot was not interactive, life-like and branded enough. But according to Chatbot UX expert Oscar Ibars,
"Without a heart or personality, it will be difficult for your audience to connect with your chatbot and build a strong, emotional tie with your brand."
The fact that most people today prefer text communication over phone calls or a face-to-face human interaction while purchasing online shows the level of comfort business has gained.
Online businesses are the new cool!
Because no physical store needed, no staffing, and no utilities. I can give you hundreds of successfully running online businesses that are using AI and earning customer trust with just two things that is "Delivering Quality and Brand."
So, if you invest rightly into your automation process, give personalized end-to-end assistance to customers, your audience will grow rapidly and your conversion rate will increase. And you will be saving plenty of your customer service every day.
How To Design A Chatbot Icon For Your Brand?
Before you go to google and search for "Chatbot Icon design ideas" and choose the coolest one you see and hand it over to your UX Design Agency to make something similar, ask yourself this question; is it telling your story? Is this what you want your customers to see you as? The "brand with a cool chatbot" or do you want to deliver your brand identity through it.
The first step to designing a chatbot icon should always be thinking of a character that says who you are. For example, if you are Mcdonald, your chatbot icon can be a clown, a burger, or maybe just a yellow and red character with M on its t-shirt. Icons that align with your brand align with behavioral design best practices.
Just think about it, it will not only be more relevant but provide a fun experience to the human on the other side of the conversation. You can use any online character designing application or hire a UX expert to create you a masterpiece.
How Does It Help Your Brand?
While interacting with your customers, your chatbot is, in fact, your brand representative.
Apart from making your chatbot content hygienic (punctuated, grammar accurate, active sentences, etc.), your chatbot icon must be appealing to customers too. More importantly, the way your Chatbot delivers the tone of your brand is equally important to the Message it delivers to your customers.
A fun looking character adds life to basic human-bot interaction and can potentially increase your chances of generating qualified leads.
Siri, Cortana, Alexa all have a personality, don't they? That's what makes it easier to identify and differentiate from one another. As Chris Messina explains it;
"Over an increasing period of time, computer-driven bots will become more human-feeling, to the point where the user can't detect the difference and will interact with either human agent or computer bot in roughly the same interaction paradigm."
However, creating an awesome Chatbot Icon is not enough to brand you, there are many other things that cumulate customer experience.
You will need to have an interactive, smart, well-taught & Graphically pleasing Chatbot to stand out from your competition.
Let's find out how to achieve that.
How To Personalize Your Chatbot Using Botsify
Botsify is a Chatbot Building platform where you can create a human-like, engaging chatbot for your brand. The platform offers several pre-designed tools that help speed up repetitive processes for you.
Ways Botsify Provides Personalization to Your Chatbot
1. You can create a brand image of your website chatbot according to the nature of your brand.
2. A warm welcome message will give an instant positive image of yours!
3. You can give your chatbot a name, you can control how your chatbot responds to emojis, slangs, and emotions.
4. You can integrate several apps with your Chabot like Shopify, so you can collect payments from your customers within the chat window.
5. You can Generate Leads, Book appointments and take order using Conversational Forms
6. You can add images, videos, buttons, slideshows, and other media to your chatbot's script
7. You can send out broadcast messages to your audience whenever you want.
8. You can send reminders to users who leave without providing complete information to your chatbot
9. You can Generate your own Facebook Messenger Code using Botsify and convert your offline customers to your Messenger Audience List
10. You can create a Multilingual chatbot that responds to as many languages as you want! Botsify caters to every region & every language in the world!
Here's a step-by-step Guide to Brand Your Chatbot
Log into Botsify account
On the side menu, click on "Chatbot for Website" and when the drop-down expands, select "Branding"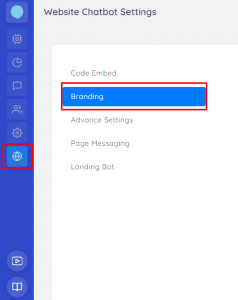 You will see several options to customize the appearance of your chatbot at the customer end.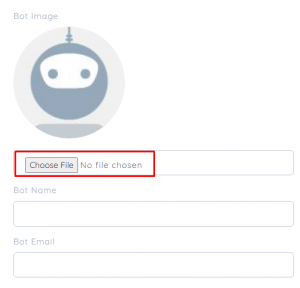 Choose your chatbot icon

Enter the name of your bot representative

Add an email address you would want to receive complaints and queries on

Then add a customized Home Message that appears before your user sends you a message

Select the Primary color that you want your chat window to be in. You can choose your brand color or as per your wish

Lastly, select the color of your icon that will appear at the bottom of your chatbot.
Tips & Examples to Brand your Chatbot Better
There are tons of businesses today, leading social media marketing with the right tools and techniques.
Not only you can use a chatbot to improve customer service, but it also make your customer experience as comprehensive and interesting as you could ever imagine. 
Here are a few tips to help you begin with…
1. Make your Chatbot Brand Consistent
However, customizing your chatbot, consider it one of the channels your brand connects with its audience.
According to Jane Price, the Senior VP of Marketing Interactions;
"Effective virtual assistants help companies deliver productive, positive and personal customer experiences. However, many companies find this a struggle, because keeping up with emerging channels and consumer demand has forced companies to cobble together various solutions, losing consistency and even brand voice in the process."
2. Chatbot should Represent Customer Diversity
We have come a long way from basic, too robotic, chatbots can deliver a much more personalized experience to our audiences today.
Make sure your chatbot understands and responds to all languages your brand caters to. It doesn't reflect gender biases and provides a tailored experience to each one of your customers.
3. Always Provide Value
Remember one thing when you are investing in chatbots, always provide value to your users in order to build a brand image.
You cannot expect your audience to give you something in return every time. Considering the fact that not all of them are your potential customers, but valuable as an audience.
For example, the CNN Bot sends news updated to each and every user that subscribers to their Messenger Chatbot, without asking for any contact info or subscription form.
I understand the fact that every brand differs in the service they provide. But the point I am trying to make here is the valuable content they provide me might be so interesting that I would want to go on and subscribe to their newsletters on my email.
4. Make it Interactive
One of the most interesting Facebook Messenger Bots is Whole Foods.
Their chatbot provides product info, recipes & cooking inspirational content.
They use optimized button-like-options to categorize types of recipes, foods and more until the user has enough items to make a dish. Then the chatbot redirects them to a recipe on the website.
Other than that, Whole Food's chatbot can respond to Food Emojis with a recipe and the company aims to bring more cool features too like searching recipes, products and deals – specific to diet plans. Like keto diet for example.
Read: How Messenger can be your Lead Generation tool with some cool tips and use cases of Messenger Code Optimization
5. Make it Emotionally Relevant
I was ordering food via some online food service over the weekend and the delivery estimated time kept fluctuating. So I went looking for their Live Chat Support to report and get the status of my order.
Long story short, I ended up interacting with one of their Chatbot that seemed a little confused. Provided wrong information, took a lot of time and in the end, failed to help me with the real issue I was facing and left me hanging in there.
Here's what it looks like:
The Point?
Make sure your chatbot understands the context of the queries and responds accordingly.

Timing matters a lot.

Unless the user is satisfied your work isn't done.

Choose your keywords carefully (or you will end up telling someone their order has been canceled when the parcel is 2 steps away from their door).
6. Make Your Customer Journey through Chatbot
Showcase your brand through your chatbot by customizing it and at the same time make sure the experience your customer has is equally good.
Teach your chatbot to remember the choices a user makes, and provide relevant information to them the next time.
Surprise them by providing quality and timely support so that they remain loyal to not just your service but your brand as a whole.
7. Train Your Chatbot
It's completely okay when your chatbot fails, it shows that your bot is unable to understand a customer. In other words, the user is telling you exactly what you want and add to your bot's vocabulary.
This helps you understand your customers better and give them the experience they want.
In a way, your Bot is conducting a mass survey every day by learning and storing your customers' information.
Botsify provides a machine learning feature for your chatbot. This feature will help you teach your chatbot new queries from the users asked questions over time. Each time your user asks a question which the bot fails to answer, the query starts appearing in the "Chatbot Training" section.
Each and every query will be stored here for you to teach your chatbot and help it provide better support the next time!
8. Build your Chatbot to match with Customer Data
Consider each and every interaction your bot has with your customer as an opportunity to conversational marketing. The data user provides about who they are and what they want is essential to building your chatbot right. Customize your chatbot according to the most common aspects of customer information so that customer enjoy to talk with you.
For example, if 7/10 users are from Houston, you can probably give a local touch to your chatbot. Maybe customize chatbot name (XYZ – Houston, Texas).
Similarly, pick out the tone and conversation flow your customers mostly prefer and build your chatbot around it. Check out this article from Drift to learn more ways to improve your conversational marketing
To Sum Up
Chatbots are beyond just a program. It is a brand representative at the user end. Just like any employee associated with your company, your chatbot must be presentable in each and every way.
Make your chatbot as humane as possible with the language and more importantly. Make it visually eye-catching by adding colors and your brand identity and a chatbot Icon is an excellent way to do that!
Create a customized character that is fun to talk to while delivers your brand tone and ideology to the users.
Moreover, a chatbot is capable of providing powerful value in terms of engagement that include emojis, Gifs (you can easily find them on GIFY), and images to your conversation to make them rich and happy.
And for all this to happen, choosing the right platform to create a chatbot will be the stepping stone. So, here we go with Botsify!!
What are your thoughts about chatbot let us know in the comment section below…