Custom chatbots are created by chatbot agencies for businesses. Simpler bots can be created quickly using an intuitive chatbot builder, but more complex bots that are expected to handle a large number of queries will require more development time.
Chatbots are the present and future of marketing, providing significant value to customers while providing agencies with a high return on investment. Because of the nature of bots, agencies can save a lot of time while also providing value 24 hours a day, seven days a week with chatbot message automation technologies.
How To Start Launching A Chatbot Agency?
Chatbots are the most significant marketing trend to have emerged in the last 10 years. The marketing agencies that are now having the most success and have the most client retention are those that are utilizing chatbots to their full potential.
If you work for a marketing firm, it's critical that you take advantage of this big marketing opportunity. Selling chatbot services is a certain way to build a massive lead pipeline, a sizable cash stream, and an unbeatable competitive advantage.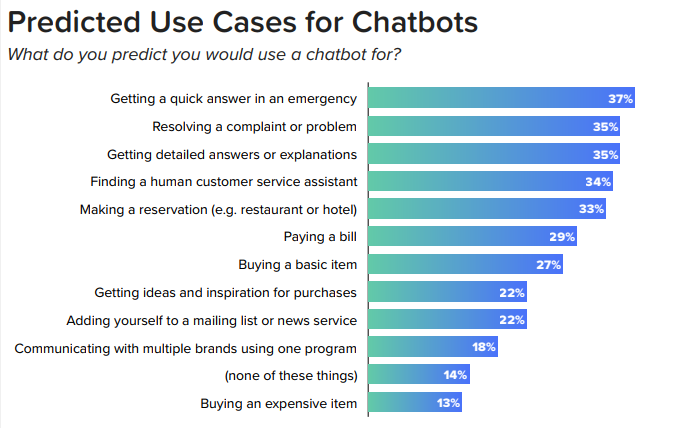 Source: revechat
Step 1: Estimate How Much The Chatbots Can Fit In Your Agency
This is a no-brainer if you want to create a chatbot marketing agency. You have already decided to sell chatbots. This section is for you if you are on the fence about offering chatbot services. The following pointers are a few that can help in knowing that the chatbot agency is the right for you.
It's something that your current customers are looking forward to
Chatbots have the potential to produce tremendous outcomes for your clients
Other digital marketing services, such as Facebook ads and social media management, are nicely complemented by chatbot marketing
With attractive retainer contracts, chatbots can provide an ongoing revenue stream
It's simple to market chatbots
Chatbots distinguish your firm as forward-thinking and unstoppable
Chatbots are an excellent approach to avoid seasonal lulls and becoming obsolete
Scalability is a feature of chatbots
Chatbots are simple to use
The cost of creating a chatbot is low
If the chatbot agency has the aforementioned rubrics then this is the right fit for your website. However, there are a few of the points that might not be in the chatbot agency you must have to opt for. But there shall be at least priority points that the chatbot agency must have.
Generate More Leads With Agency Chatbot
Gather quality leads on autopilot and 10x your ROI with automated chats
Step 2: Choose The Right Chatbot Platform
Of course, there are other chatbot builders, so here are some tips for finding a decent one. Also, the one that fits the best for your
Select a chatbot creator that is simple to use
Choose a chatbot builder with a lot of features
Choose a chatbot that has been endorsed by well-known marketers
Choose a chatbot provider that will not go out of business in the near future
That fourth point is quite important. Because chatbots are still in their infancy, firms rise and fall all the time. Look for someone who has been in business for more than a few months, has a strong support network, and is socially active.
Step 3: Don't Overlook Pricing
It's time to bring up the subject of money. In a positive way. Chatbots are a vital marketing tool, and it's critical to figure out a pricing structure that emphasizes the value of your product without making it too expensive for potential customers.
A basic cost for chatbot design + a retainer fee for continuous service is one of the ideal pricing models, especially if you are just starting a chatbot firm. You can provide a range of chatbot-related services to your customers. These can be priced separately, upsold, given away for free, or any combination you think would perform best in your niche.
Step 4: Make Your Launch A Big Hit
It's time to start your chatbot agency. And, if you already have a marketing agency, you can cross-sell or upsell your chatbot services to the clients you already have. Pull out the stops to your marketing. You are offering a valuable service — one that is almost certain to blow up your clients' business.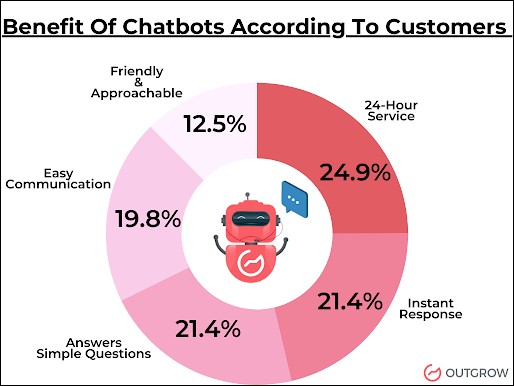 Source: outgrow
Why Start A Chatbot Agency: Frequently Asked Questions (FAQ)?
The following are the FAQs that must be going through before starting with a chatbot agency:
How Can You Promote Your Agency?
The most common ways to promote marketing agencies consist of the following:
Client testimonials
Advertising
Case studies
Thought leadership
Conference sponsorships
Industry awards
There are many additional ways to promote your agency, and when you're ready, there are marketing agency growth tips to explore. The ideal strategy to advertise a marketing agency, on the other hand, is to include something new and unique in your services portfolio.
It does not have to be anything completely unique; simply something that no other agency provides and that you can accomplish as well as, if not better than, the competitors. In recent years, selling chatbot services has become one of the more popular and profitable agency services.
How Do I Write Marketing Proposal For Chatbot Agency?
Only the proposal that works for your individual agency, in your specific situation, and with your specific clientele qualifies as flawless. That's a lot of variables to think about. However, you can use a proposal template to help expedite the process.
When developing a marketing proposal, the client's motivations are the most crucial factor to consider. So concentrate on how you can assist the client in solving their difficulties, as well as what you can put in your proposal to elicit good emotions and excitement from the client.
What Are Some Marketing Chatbot Agency Client Retention Strategies?
Client retention is one of the most effective ways to increase and maintain your agency's revenue. For marketing agencies, here are five incredibly efficient client retention strategies:
Remove month-to-month sales contracts from the equation. Yes, you'll have fewer clients, but those you do have will stick with you longer, offering long-term value and consistent revenue.
Manage client expectations correctly. If you over-promise and under-deliver, your churn will rise. It's not a good idea.
Request referrals from clients with a high NPS (net promoter score). This may appear to be a clumsy idea, but it's actually incredibly valuable for digital agencies. The reason being, NPS averages in the marketing agency business are poor. As a result, high NPS agency clients are significantly more likely to refer you. Find clients with a high NPS and ask for references. You'll be pleasantly surprised.
If you use performance marketing, you can attract clients who are willing to spend a lot of money. To put it another way, stay away from clients with small advertising budgets. Clients with a low ad spend churn at a high rate. If at all possible, stay away from them.
Make a stronger effort to qualify your clients. Using marketing automation solutions for agencies, such as adding live chat to your agency's website, is one way to do this.
Generate More Leads With Agency Chatbot
Gather quality leads on autopilot and 10x your ROI with automated chats