Have you ever thought of starting your chatbot agency? Umm, maybe like once, if not then this is the time to think! Are you wondering why? Because in less than 2 months we are going to hit 2022 and this era is all about automation and AI. So why stay behind? Gear up and build your own bot agency with me!
What will you be gaining from this article? I'll be covering HOW? WHERE? & WHY? Learn with me…
Did you know? 67% of global consumers had an interaction with a chatbot over the last 12 months
So, shall we begin with creating your chatbot agency?
Learn How To Kick Start The Chatbot Development Agency For Your Business In Minimal Time?
To start with the chatbot agency you first need to ace the chatbot field but do not worry it's not so complicated. You would not want to have any coding or high-tech knowledge in fact a layman can also build the chatbot for its use. Are you wondering how? Here is how it can be done, follow these 3 steps:
?Step 01: Sign up for botsify
?Step 02: Create a story
?Step 03: Test your bot
Also, for the ease of the user, you can check the help documentation and video tutorials.
Now heading to the point where I left… how to kick start the chatbot agency for your business in minimal time
How to start your chatbot agency?
In easiest steps check out how can you start your chatbot agency
#1 Choose Your Niche:
At least at the start, I recommend concentrating on clients in one or two distinct industries. Choose a niche that you are familiar with, or at the very least curious about. That way, you can devote all of your attention to the problems that businesses in this industry face. You may establish yourself as an expert in that field, making it simpler to obtain new clients in the future. Furthermore, focusing on a single area can help you expand your bot agency more quickly.
#2 Research Properly:
When launching any type of business, market research is essential. You will need to become fully acquainted with the major issues that businesses in your chosen industry face. Before you begin constructing a chatbot, you must first identify an issue that it will address.
Protip: Join Facebook communities for your target industry to learn about the issues that are being discussed. Conduct informational interviews with industry business owners. Consider the issues that keep cropping up and consider which of them could be fixed or enhanced with the help of a chatbot. Which of your time-consuming duties could be automated? What processes would a bot be able to automate? How could a bot help customer have a better experience?
Did you know how can Facebook help you in building your chatbot agency startup? If no, then here is how?
a. Increasing Marketing ROI:
The majority of businesses have already begun to spend on digital marketing and promotion. With a chatbot, you can stretch those dollars even further — for example, by tying it to Facebook advertisements for a higher return on investment.
b. Personalized Service:
Every brand, regardless of niche, strives to impress its clients. A chatbot may accomplish this on its own in a variety of ways, from providing 24/7 customer service to making product recommendations based on individual needs and preferences.
c. Generating Traffic & Leads:
Almost every company might benefit from an automated, low-cost method of attracting new clients or customers. You could, for example, add a chatbot window to the customer's website and configure it to qualify those leads.
#3 Add A Template Or Draft A Demo Chatbot:
You will want to demonstrate to clients in your niche a chatbot you have already built that can solve the difficulties they are having. Create a demo chatbot for your chosen industry so that others can see an example of what you are talking about. If you need some assistance or inspiration, look at our templates, which are complete bots tailored for a certain use case, such as beauty salons, health, IT, finance, or restaurants.
#4 Don't Forget To Set The Pricing:
Setting your white label chatbot agency's cost may be daunting, but it's actually simply a matter of deciding on two amounts to get started. It is certain that pricing may affect a few of the users but from a business point of view, you must set your pricing. Because for a chatbot agency startup the pricing is the most adaptable tool in the marketing mix is price. You should also add this to your pitch deck when presenting your company to potential investors.
By raising or lowering the price, a marketer can control the demand for a product. Consumer purchasing decisions are heavily influenced by price. At the time of purchase, most consumers place more emphasis on the product's price than on its worth. As a result, a change in pricing has an impact on demand, sales volume, and market share.
An example for pricing;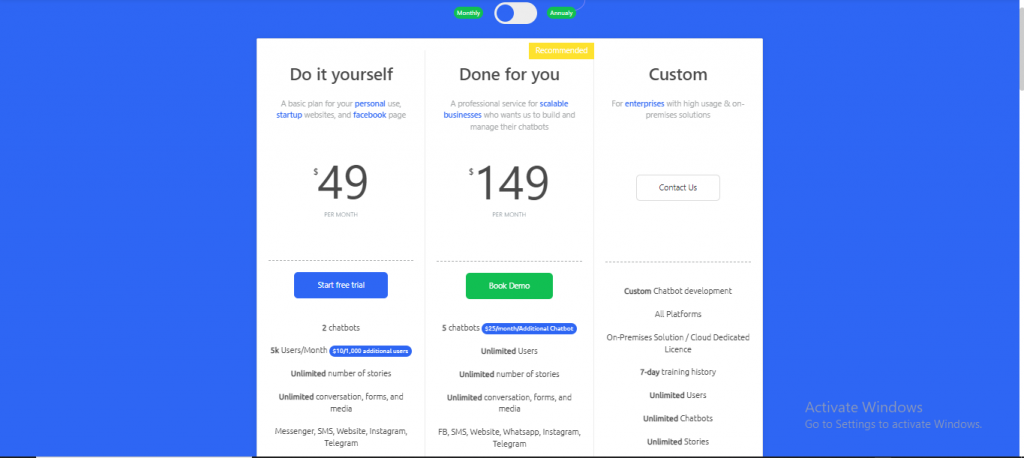 #5 Pitch. Pitch. Pitch:
You now have chatbot-building experience, a demo bot that solves an industry pain point(s), and a portfolio of chatbots for real enterprises. You have also set your pricing, so it's time to start pitching new clients and start generating revenue. Look for firms on LinkedIn and Facebook, or approach local businesses. 
You may also generate leads with your own chatbot by embedding it on your website or running advertisements that direct consumers to it. Remember to have your demo chatbot ready to demonstrate to prospects what your service looks like in operation and how it can help them!
Protip: When you are pitching please keep the following things in your mind
Explain all about chatbots: For some of your clients, chatbots will be a novel (and potentially terrifying) technology. Prepare to explain what a chatbot is and how it may help in simple words.

Focus on results, not features: Yes, you will want to construct your bots with the most cutting-edge chatbot technology available. But explaining the inner workings of the Facebook bot you want to construct won't persuade the average client. Instead of communicating in terms of features, concentrate on the outcomes the bot can achieve for them. Use real statistics and figures from previous clients. Demonstrate the specific, measurable benefits a Messenger chatbot can provide.
#6 Offer Additional Services:
Here's one last piece of advice for expanding your content marketing agency once it's up and running: Increase money by providing add-ons and supplementary services to your customers.
Brands can provide seamless customer care by combining AI technology with a human touch. Similarly, combining a chatbot and live chat software allows users to self-serve while also connecting with a human agent as necessary. Your firm can provide real-time help, quickly respond to inquiries, and increase customer satisfaction by adopting AI-enabled chatbots as the primary channel – says Milosz Krasinski, Managing Director at Chilli Fruit Web Consulting
How to start your chatbot agency?
In easiest steps check out how can you build a chatbot agency startup
Best Platform For Your Chatbot Agency:
Botsify — one of the finest platforms for chatbot agencies. Botsify allows you to develop AI chatbots for your website or Facebook Messenger without needing to know how to code. WordPress, Shopify, Slack, Alexa, Google Sheets, RSS Feed, JSON API, and ZenDesk are among the services that Botsify integrates with.
The simple drag-and-drop interface makes creating templates for your chatbot a breeze. Apple and Shazam are two big corporations that use Botsify to design their chatbots.
Why Do You Need To Set Up A Chatbot Agency?
When it comes to building strong client relationships, chatbots may be a very beneficial tool. By engaging and communicating with website visitors, your company may use it to develop strong ties. You may achieve marketing goals as well as increase sales and improve customer service by incorporating chatbots. The following are some of the top reasons why a business must opt for a chatbot agency and why to opt for a chatbot:
1. Increase Customer Engagement:
Chatbots can assist agencies in taking client engagement to new heights. Engagement can be driven by user data and made more engaging by deploying conversational AI chatbots. Furthermore, bots may provide consistent responses, which helps you avoid providing customers with useless information. Customers will stay longer on your website and continue the conversation if you provide meaningful and timely responses.
2. Improve Lead Generation:
Bots have grown to the point where they can engage clients with customized messaging throughout their experience. In fact, your company can employ chatbots to generate leads by assisting clients in making quick decisions. AI bots can employ a pre-programmed quiz to entice users to fill out a form and generate leads, resulting in higher conversion rates.
3. Harmonize Automation And Human Interaction:
Brands can provide seamless customer care by combining AI technology with a human touch. Similarly, combining a chatbot and live chat software allows users to self-serve while also connecting with a human agent as necessary. Your firm can provide real-time help, quickly respond to inquiries, and increase customer satisfaction by adopting AI-enabled chatbots as the primary channel.
To Summarize:
Chatbots are rapidly changing the way people communicate with each other. They are bringing a new level of customer service, sales, marketing, and engagement to various parts of the industry. So, in order to get the most out of bots in terms of lead generation, customer insights, onboarding, and customer service scalability, your company requires a strategy.
It is, however, equally important to identify the areas of concern before using chatbots to obtain the desired business benefits. With so many advantages for organizations, defying the trend and not integrating a bot sooner rather than later would be a mistake.