Did you know? "In 2020, more than 60% of people relied on WhatsApp chatbot for their business" Also, it's been stated that in 2023 more than 80% will rely on it.
A WhatsApp bot is an automated piece of software that utilizes artificial intelligence (AI). Through the chat interface, users may communicate with the WhatsApp chatbot just like they would with a real person. It's a series of automated WhatsApp responses that mimic human conversation.
Today, any organization can access a New Cloud-based API by immediately signing up or getting started through one of the business solution providers. Why not use WhatsApp Business to improve customer communication today? The process only takes minutes as opposed to months. The following are the top 3 use cases for chatbot on WhatsApp for your business.
#1 WhatsApp Chatbot For Real Estate:
WhatsApp is the most widely used messaging program in the world, with 1.6 billion monthly users. It comes as no surprise that it has evolved into a vital tool for companies offering outstanding customer service and increasing lead conversion. Here are some of the most crucial use cases for real estate WhatsApp bot, you need to be aware of if you work in the real estate industry and are curious about how chatbot technology might help you generate more revenue.
a. Lead Generation:
Given the fierce competition in the real estate industry, generating quality leads may be rather laborious. Additionally, losing a potential lead because of poor communication results in the loss of a business opportunity. The WhatsApp chatbot for real estate handles everything, from welcoming visitors to providing information on several property listings based on price, location, and amenities to responding to consumers' questions.
An excellent method to interact with customers on a platform they are already familiar with is by using a WhatsApp Chatbot. It enables real estate brokers and businesses to gather lead information including name, contact information (phone and email), budget, number of rooms, and location. To increase their chances of turning the lead into a sale once they've created it, they can simply carry on the conversation on the same WhatsApp thread.
b. Virtual Property Tour:
To give potential leads a virtual tour of the property, real estate agents can use WhatsApp chatbots. This is especially useful for allowing international customers or long-distance leads to viewing the properties from any location in the world. Additionally, WhatsApp bots assist real estate agencies to save time by promoting unfinished homes to encourage pre-booking of properties that are still under construction. Customers can quickly request information based on city, zip code, or neighborhood.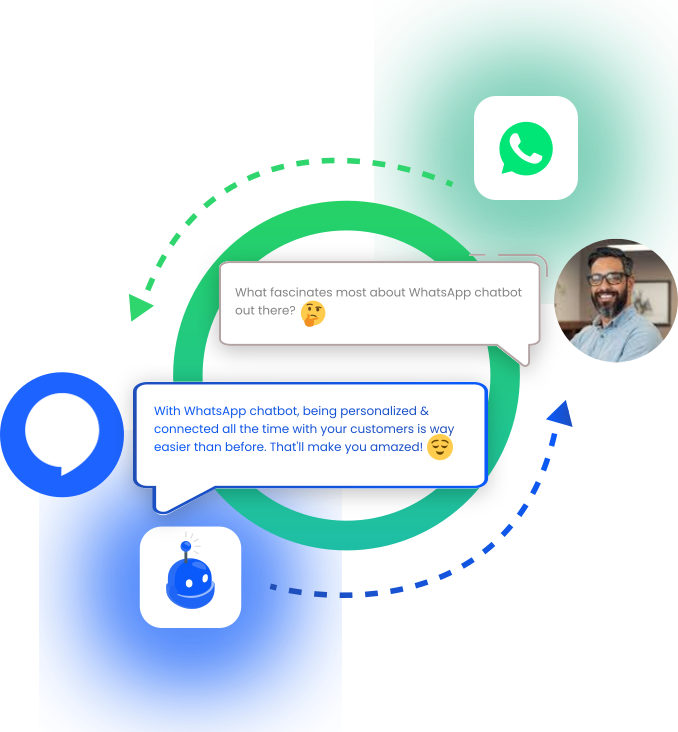 c. After-Sale Support:
A WhatsApp chatbot for real estate is a powerful tool for providing first-rate post-sale support at a low cost. Even after the transaction is finalized, the new owners or tenants could have a number of questions and concerns, ranging from assistance in locating nearby amenities to recommendations for a plumbing service.
Such problems and inquiries can be easily addressed by a real estate WhatsApp chatbot in a cordial way. Either completely automate the procedure, or let the bot transfer more difficult inquiries to be handled by people. The WhatsApp chatbot for real estate unquestionably raises customer pleasure.
Resolve queries in real-time with WhatsApp bot
Gather quality leads on autopilot and 10x your ROI with automated chats
#2 WhatsApp Chatbot For Ecommerce:
The eCommerce industry has advanced significantly thanks to technological improvements. It is one of the fastest-growing worldwide consumer segments, with billions of people purchasing online every day. It has been amazing to observe how the market is strategically utilizing WhatsApp in its plan to foster competition.
a. You Can Place An Order:
A WhatsApp chatbot for eCommerce is a fantastic method to give customers a seamless experience from purchase to repurchase. Customers may explore and place orders right from the WhatsApp chatbot, reducing the need to transfer them to another platform and boosting the likelihood that the sale will occur.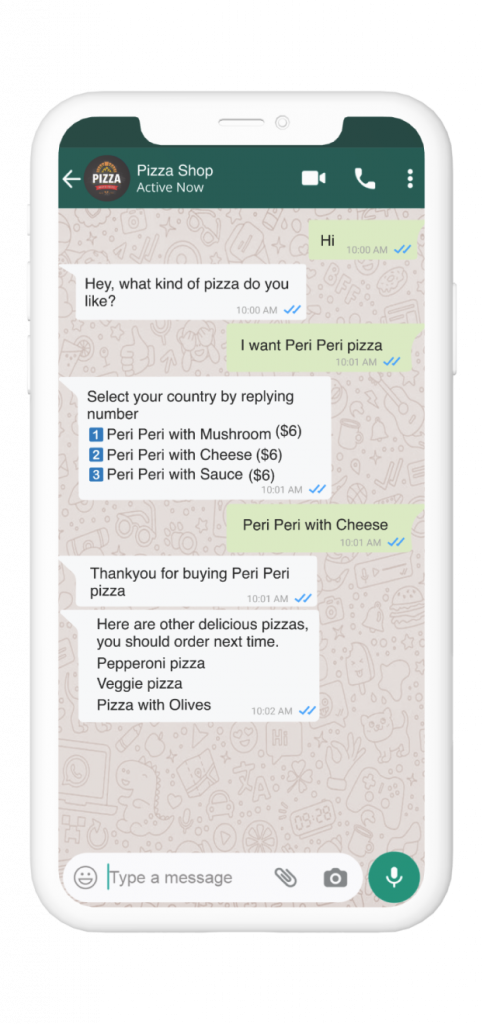 Customers will be able to place orders from the comfort of their phones thanks to eCommerce companies' usage of WhatsApp chatbots to push data directly to their CRM or database.
b. Seamless Post-Sale Support:
A short post-purchase check-in can be performed using the WhatsApp chatbot for eCommerce once the consumer has received their product. In the event that the product needs installation or how-to instructions, this can be quite helpful.
Even though designing these product-specific WhatsApp template messages to test can take time, if done effectively, it can help you gain clients' trust and earn those additional brownie points to develop a loyal customer base.
c. Product Recommendations:
The possibility of using a WhatsApp bot to recommend products and purchases has not yet been fully realized. In actuality, a WhatsApp chatbot is a better option for personalized recommendations than an individual conversation.
All you have to do is take advantage of the moment when the customer is already speaking with you and use interactive images, gifs, and videos of the products to offer purchase recommendations and provide a personalized user interaction to the customer by strategically fusing the previously gathered data with new product demands.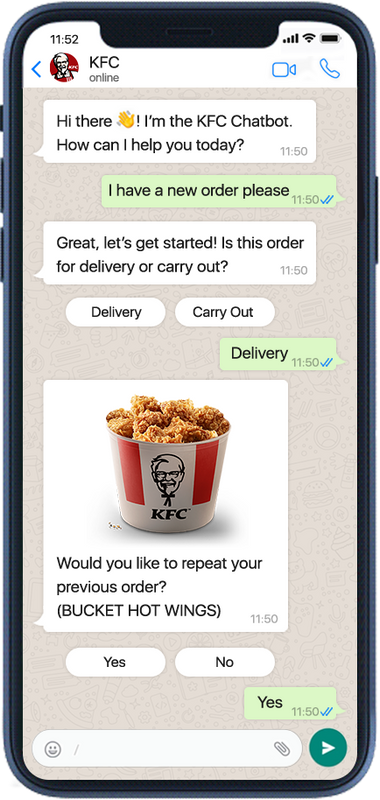 #3 WhatsApp Chatbot For Healthcare Chatbot:
In the past, healthcare professionals have been able to provide their patients with the finest care possible because of the integration of AI-powered chatbots and medical infrastructure.
a. Query Resolution:
Most consumer inquiries that come into a healthcare facility are urgent in nature and call for prompt treatment. NLP-powered chatbot WhatsApp is trained, able to comprehend user inquiries, and capable of providing precise responses in real time. Further integration with internal datasets enables WhatsApp chatbots to train, learn, and ultimately improve answer accuracy.
b. Scheduling Appointments:
In the healthcare industry, WhatsApp bot API can help patients schedule and confirm appointments based on the doctor's availability. The bot is so sophisticated that it can use third-party APIs with API monitoring to ensure correct functionality to track follow-ups on its own.
Additionally, these chatbots can be connected with numerous back-end medical systems to retrieve data about top doctors, open appointments, consulting fees, pharmacy hours, etc. Patients can use WhatsApp chatbots to reschedule or cancel appointments and find the closest hospital or testing facility.
c. Testing and Results:
There is no need for anyone to pick up test results in person because a chatbot on WhatsApp sends and receives test results from doctors to patients and vice versa. In addition to keeping track of their upcoming medical reports and providing information about various tests and their costs, users may also use WhatsApp chatbots to help them.
To Summarize:
Businesses now have countless options for connecting with and engaging with WhatsApp's enormous audience because of the platform's daily connections of billions of users. Using WhatsApp chatbots, businesses can now swiftly and efficiently engage with customers on the platform they prefer thanks to WhatsApp for Business.
You can construct the WhatsApp bot using a variety of chatbot building platforms, but you should be careful when selecting your vendor because some of these platforms won't assist you in getting your WhatsApp company clearance. Additionally, you won't be able to start your chatbot without WhatsApp's consent.
Resolve queries in real-time with WhatsApp bot
Gather quality leads on autopilot and 10x your ROI with automated chats