Healthcare chatbot is conversationalists that follow the principles of artificial intelligence or machine learning. Along with engaging in interactions, they also carry out routine jobs including giving advice, sending emails, marketing, generating leads, and analyzing results. 
Chatbots are helpful in the healthcare industry by automating all the lower-level, repetitive operations that a representative would perform. Healthcare workers are empowered to concentrate on complex activities and handle them more successfully when you let a chatbot perform simple, boring jobs.
Here in this article, you will witness all possible use cases of a medical chatbot, along with its advantages for b2b industries:
7 Use Cases Of Chatbot Healthcare:
Healthcare is certainly the most significant industry in 2022. Additionally, patients want easy access to medical resources and facilities. Intelligent chatbot technology in healthcare industry makes it quick and simple to guarantee that your clients have access to all the information they require in the event of an emergency. 
Artificial intelligence (AI) in healthcare comprises machine learning interfaces that can be used to reduce the amount of human work required to quickly access, analyze, and give healthcare providers a list of potential diagnoses, also it helps with other niches, like in health insurance app development.
The following are the top 8 use cases of an ai chatbot healthcare, have a look:
#1 Schedule Appointments:
You can simply solve the appointment management issue with a healthcare chatbot. In order to make an appointment with the appropriate doctor at your institution, it serves as a conversational agent for your patients.
With their interactive and user-friendly interfaces, a medical chatbot makes it easier to engage patients in discussion and obtain information from one detail at a time. Conversely, chatbots can make sure that only confirmed users book appointments in your facility by using an OTP verification mechanism.
A medical chatbot can be very helpful for scheduling appointments, according to 78% of doctors. On the other hand, integrating a chatbot with your CRM system will help you keep track of follow-ups and planned appointments with ease.
#2 Responsive To FAQs:
Your patients may easily get medical information by using an interactive medical chatbot that is integrated into your website. Common questions can be handled by the healthcare chatbot easily. Some of the basic questions are as follows:
What are the surgeon Usman's timings?
Do I need to bring my vaccination card?
What are the hospital timings?
How much medical cost will be covered by the insurance?
Do you have a semi-private room?
What are the charges for OPD?
Healthcare ai bots employ AI to quickly determine the best solution for your patient based on the structure of frequent inquiries and responses. An FAQ-based chatbot can be used primarily on your website to provide your patients with a quick and clear response.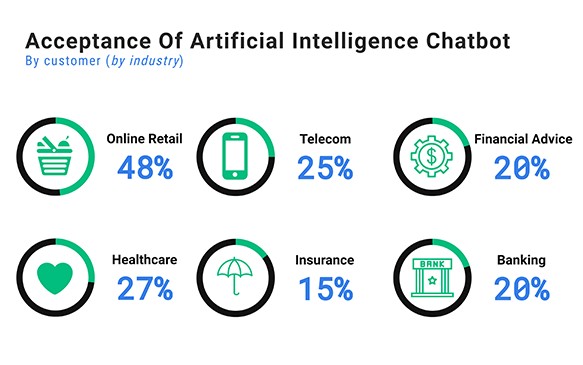 #3 Collecting Data And Feedback
Data collection about patients is a crucial function of the hospital. By implementing conversational AI chatbot healthcare, you may save and extract patient data including name, address, symptoms, current doctor and treatment, insurance info, and signs and symptoms. 
The lifeblood that will pump change in your organization is understanding what your patients think about the medical staff, therapies, and other services provided by your hospital. You may better analyze how patients interact with your services by using a basic conversational chatbot to solicit their input.
#4 Assist Patients With Medical Information:
Massive amounts of healthcare data, including disease symptoms, diagnoses, indicators, and therapies, are used to train chatbots. Healthcare chatbot is regularly trained using public datasets, such as Wisconsin Breast Cancer Diagnosis and COVIDx for COVID-19 diagnosis (WBCD). Differently intelligent conversational chatbots may comprehend user questions and respond depending on pre-defined labels in the training data.
#5 Handle Insurance Inquiries:
Patients can access insurance services and healthcare resources using chatbots. Additionally, using chatbots in conjunction with RPA or other automation systems enables the automation of medical billing, life insurance quotes, and insurance claim processing. RPA and AI tools like chatbots are combined in intelligent automation systems.
#6 Mental Health Assistance:
For patients with depression, PTSD, and anxiety, chatbots that offer mental health support are taught to deliver cognitive behavioral therapy (CBT). They can also teach autistic persons how to become more social and how to do well in job interviews. Chatbots allow users to communicate with them using text, audio, and video.
Check out the healthcare chatbot we have for you
Test bot for FREE!!
#7 Scalable Service Hours:
The first thing any firm, particularly those in the healthcare sector, can demand is the ability to scale the assistance. How would you manage the rush hour with the same support system in place when traffic unexpectedly increases?
Challenges like hiring more medical professionals and holding training sessions will be the result. You may address the issues and provide the scalability to handle discussions in real time by integrating a healthcare chatbot into your customer support.
Healthcare chatbot can increase corporate productivity without adding any additional costs or staff.
Top 4 Advantages Of Having A Healthcare Chatbot:
Patients and the healthcare system can connect continuously and tirelessly using chatbots. Patients providing personal information are more comfortable doing so because of the conversations' anonymity, particularly when it comes to mental healthcare.
#1 Reduce Costs:
Chatbots can conduct the initial interaction with patients, asking and responding to the inevitable basic queries. The screening for the coronavirus disease 2019 (COVID-19) pandemic in particular could save thousands of manual tests by asking specific questions in a specific preset order and determining the risk of COVID-19.
This would effectively complete screening while saving money, time, labor, and physical resources. Once the users have entered their symptoms, the chatbots can suggest several types of medical treatment. Healthcare chatbot are predicted to save $3.6 billion worldwide by 2022.
#2 Patient Monitoring:
A Healthcare chatbot can assist in monitoring a patient's progress during follow-up visits and setting up a doctor's appointment when more care is needed, in addition to responding to inquiries about sickness, drugs, and common events that occur during the course of a chronic condition.
#3 Higher Efficiency:
Chatbot builders claim that the time and effort saved for medical staff, the more accurate data collection and handling, the lower risk of errors, and the capability to use historical and current data to predict outcomes will inevitably lead to an improvement in the effectiveness of healthcare in public hospitals.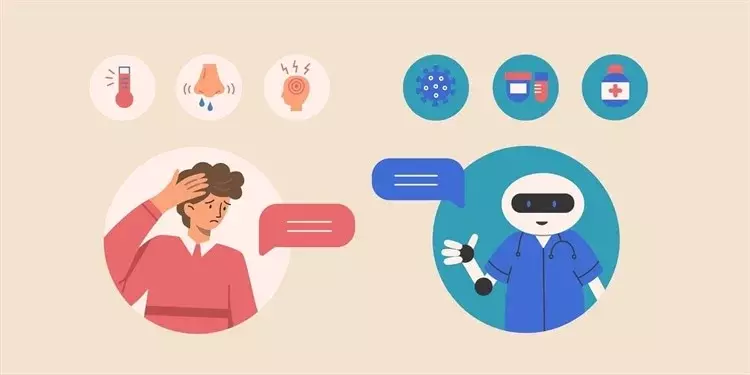 By creating protocols based on data analysis, chatbots can be used to automate some clinical decision-making processes. Healthcare chatbot can do routine diagnostic tasks, online consultations, and other forms of virtual support, but they may overlook other elements that are necessary for a reliable result.
#4 All-Time Availability:
Doctors play a crucial role in society, and they strive to provide constant availability and give each patient the time and attention they need. However, the issue is that doctors frequently have a busy schedule, making it difficult to always be present for every patient.
Healthcare chatbots are available around-the-clock and are personally committed to helping you as you heal. While doctors save many lives every day, this chatbot may assist you by reminding you to take your medications, giving you medical information, giving you advice, and keeping track of your general health.
Key Takeaways:
The use of chatbots in healthcare has never been more promising because they keep patients engaged around the clock and significantly save costs (estimated to be $3.6 billion by 2022 globally)
The best health chatbot is unique AI/ML technology, supports natural language intent-based conversations, safeguards PHI, and generally gives the sense of being sentient beings
The easiest way to use conversational AI in healthcare without a major financial commitment is a chatbot for scheduling doctor appointments
To Summarize:
Attempts must be made to approach this issue ethically and professionally rather than from a business perspective, despite the many challenges in understanding the complexity of chatbot use in healthcare. By collaborating with medical professionals to lower costs, enhance workflow efficiencies, and enhance patient outcomes, chatbots have the potential to be integrated into clinical practice.
Generate More Leads With Healthcare chatbot
Gather quality leads on autopilot and 10x your ROI with automated chats