There are pros and cons to offering multiple services as a marketing agency. On the one hand, more services require a larger team with broader expertise, potentially different software & tools, and it could dilute your positioning too.
On the flip side, adding new services is also one of the fastest ways to grow a marketing agency.
Doing so means that you very quickly have:

A bunch of upselling & cross-selling opportunities from your existing clientbase

Opportunities to increase average client value

A bigger pool of prospective clients for a range of services
If you're considering going down this route, then you're in the right place. In this article, you'll find 6 service offerings that any marketing agency could add (depending on your existing services, of course!).
They are:
Design, build, and manage chatbots for clients

SEO management services

Managed email marketing

Content writing & content optimization
Let's get started!
1. Design, build, and manage chatbots for clients
Chatbots are increasingly popular, and it's no wonder why. They have much higher open & engagement rates compared to email, and with software like Botsify, they're easier than ever to build.
Here's some typical chatbot use cases you could cater for:
Answering common questions & delivering support docs for a website

Generating leads and sales through Messenger or Instagram

Broadcast news & updates to a list of users (with a higher open rate vs. email)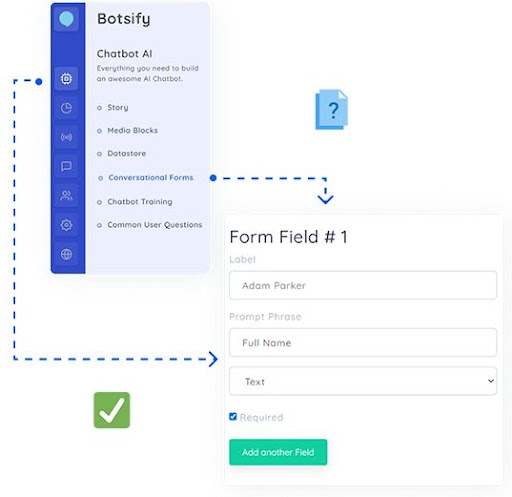 If you don't have a chatbot expert in your team currently, that's okay. You can use Botsify's platform which helps you to build chatbots with a user-friendly drag-and-drop builder.
You can even become an Agency Partner, and earn commissions when you introduce Botsify chatbot services to your clients, introducing a new revenue stream for your agency.
2. SEO management
SEO is an increasingly important channel for growth. If you're currently offering PPC, social media, or similar SEO services, SEO is a worthwhile addition to consider. As a B2B SEO agency, there are a few tools that you'll need in order to adequately deliver the service.
In comparison to PPC, SEO has a much longer-term impact. SEO efforts take a while to show real impact, and they compound over time. PPC is the opposite, in that it can start driving impact immediately, but it's unlikely you can improve results by much over time. In fact, it's more likely that your costs will slowly increase over time.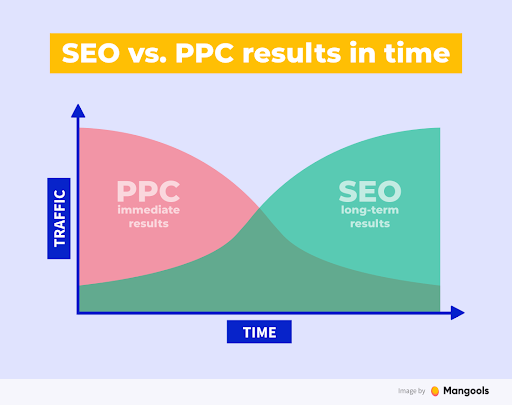 Therefore as an agency, offering both services will give you the optimal short & long-term impact, plus a higher client value.
You can choose to specialize in a specific industry (for example travel, fitness, finance, roofing), and/or a specific business model (e-commerce, SaaS development, local services) if you choose.
As an SEO agency, there are a few tools that you'll need in order to adequately deliver the service. The best place to start is with an all-in-one SEO platform like Ahrefs, because it covers almost all of the primary needs:
Backlink monitoring & analysis

Competitor analysis

Keyword research & content planning

Keyword difficulty

SERP tracking

Technical site auditing
There are also a few Ahrefs alternatives in the market like Mangools or SE Ranking which can perform similar functions.
In addition, I'd consider buying an agency rank tracker like Nightwatch. The reason for that is because Ahrefs' rank tracking can be a little limited (it doesn't update daily), and white label reports are not available. Nightwatch offers great agency features for automated reports and white-labeling.
Start your chatbot agency with us
Fuel up your sales & drive crazy revenue by starting your own bot agency
3. Link building services
Building backlinks is an integral part of offering an SEO management service, but it's also something that is regularly offered as a standalone service, and it can be very lucrative.
Brands & websites simply can't rank for the highest difficulty & highest volume keywords without building backlinks. It's also a pretty difficult thing to get done, so people (even full-time SEO managers in-house) turn to agencies to outsource this aspect of their strategy. Depending on the industry, link building agencies may try different strategies. If it is a SaaS business, agencies should build solid SaaS link building tactics to boost the visibility and authority of the SaaS brand in the online landscape.
As a link building agency, you'd typically agree on criteria (such as type of sites, minimum traffic, domain authority etc.). You can bill either per project, per hour, or per live link.
There's a few common techniques that you could employ on behalf of your clients.
Broken link building. The process of identifying broken links on the internet, and proposing that the webmaster replace the dead link by linking to your content

Guest posting. An effective and mutually beneficial way to get new links by writing content for other websites in your industry. "If you don't want to spend time finding sites and writing content for the guest post, choose a reliable guest posting service provider who can take care of it."

Data-driven studies. If you can publish original research & data-driven studies, other websites are likely to cite your statistics as a resource.
To offer link building services, you don't need much to get started. Ahrefs is once again a useful tool to analyze competitor backlink profiles, and to monitor your own link building activity (and impact). In addition, a tool like Pitchbox can be very helpful, but it's possible to get started simply with Gmail.
4. Influencer marketing management
Influencer marketing is a rapidly growing channel for businesses, yet still massively underutilized.
While your clients probably get pitches on a weekly basis for SEO, PPC and social media, it's quite likely that you'll be bringing something new to the table with influencer marketing.
Here's a simplified explanation of what your job might be as an influencer marketing agency:
Identify influencers and hire brand ambassadors that have a relevant audience in your client's target market

Vet any prospective partners (for example,

checking for fake followers

)

Reach out & negotiate deals on behalf of your client

Analyze & report on the return on investment
There's a little more to it than that, but this is the fundamental process. If you find success, you can scale it up by recruiting more and more influencers each month to work with your clients.
This can be done manually, but it's a lot easier when using an influencer marketing platform. Modash is one tool which manages this process end-to-end, and has additional features like influencer lookalikes for scaling up.
5. Managed email marketing
Email marketing is commonly cited as one of the highest ROI marketing channels. There's no ad spend like in PPC, and no link building cost like in SEO. Just your software & people.
An advantage of offering email marketing management as a service is that it's very likely to be an ongoing thing, compared to a website design which could be a one-off.
Here's some of the deliverables you might consider offering:
Setup: you could charge a one-off setup fee to build sign up forms, integrate them into your website and with a CRM, and design some initial email templates to use

Funnel building: build various

email sequences

for welcoming new subscribers, upsells, abandoned cart sequences and more to maximize client sales.

Newsletter management: you can plan, manage, and write a regular newsletter on behalf of your client. 
You'll likely bill a fixed monthly retainer, perhaps with a software cost on top, and a setup fee.
For this, you'll need an email marketing platform. ActiveCampaign is a popular choice which could do everything mentioned above, but there's plenty of ActiveCampaign alternatives on the market like GetResponse or ConstantContact which are great too.
6. Content writing
In 2022 and beyond, most brands are very well aware of how important content is. Investment in content writing & distribution is growing, and demand for writing services is higher than ever.
Just take a look at this data from KWFinder. Searches for content writing agencies have doubled in the last two years:

It's a trend that shows no signs of stopping, and it's a relatively easy service to get into.
If you offer SEO, social media, or email marketing services, this is a very natural add-on. All of those channels require high volumes of content for sharing and/or ranking, and it makes sense that one agency can be in charge of a holistic cross-channel strategy.
You could write content for:
Regular blog posts

SEO-driven content

Landing pages

Social media posts

Email marketing

Whitepapers

Case studies

… and more
Combining this with SEO service to write search-friendly content is likely to increase your retainer even more.
To get started, you could simply hire freelance writers from a marketplace like Upwork to test out your new service. Later, once you have enough sales, you could bring in full-time in-house writers.
Start your chatbot agency with us
Fuel up your sales & drive crazy revenue by starting your own bot agency