Ten years ago, Instagram was once a photo-sharing app. Now, it's an ideal platform for everyone who wants to express themselves, build connections and community, and even promote their business.
With more than 2 billion monthly active users, Instagram has become a chock-a-clock platform with content, many of which are business-related content and videos. 
Shoppable posts, Instagram Shop, Reels, IGTV, and IG Live, are some of the features that show us that the platform is pivoting its focus to shopping and video. Well, as you can see when you're scrolling through your feeds or explore page, there must be a video from a brand or a sponsored post waiting to be clicked.
Now, the burning question is, "Is Instagram really powerful for your video marketing strategy? Or people just want to jump in the hype?"
Let's break down the answer!
Instagram Videos: Why Your Business Should Care?
In this digital world, one platform to drive your sales strategy is Instagram. More than 72% of users say they've decided to purchase products after they discovered them on Instagram. 
The platform seems like it can't afford to get left behind by the biggest competitor, TikTok. That's why Instagram is heavily focusing on videos. And now, Instagram and video marketing go hand in hand, just like peanut butter and jelly.
While it should be common knowledge that video marketing has become an essential strategy for every savvy marketer, why does it have to be Instagram for the channel?
These staggering numbers below should shed some light:
What we can conclude from the data is that Instagram users love watching videos, short videos more specifically. So, it doesn't come as a surprise if this type of content gets a higher engagement on the platform– compared to other content.
(source)
As a marketer yourself, this means one thing: publishing more videos on the platform will help you stand out in the feed. You can even have a higher chance of going viral. 
Popular Types of Instagram Videos
You can upload a variety of videos on Instagram. There's always an ideal, convenient format for each of them. 
Let's take a look at some popular types of Instagram videos– so you can find the right ones for promoting your business.
1) In-Feed Instagram Videos
In-feed Instagram videos are those videos that show up on your main feed. More specifically on the "Video" tab.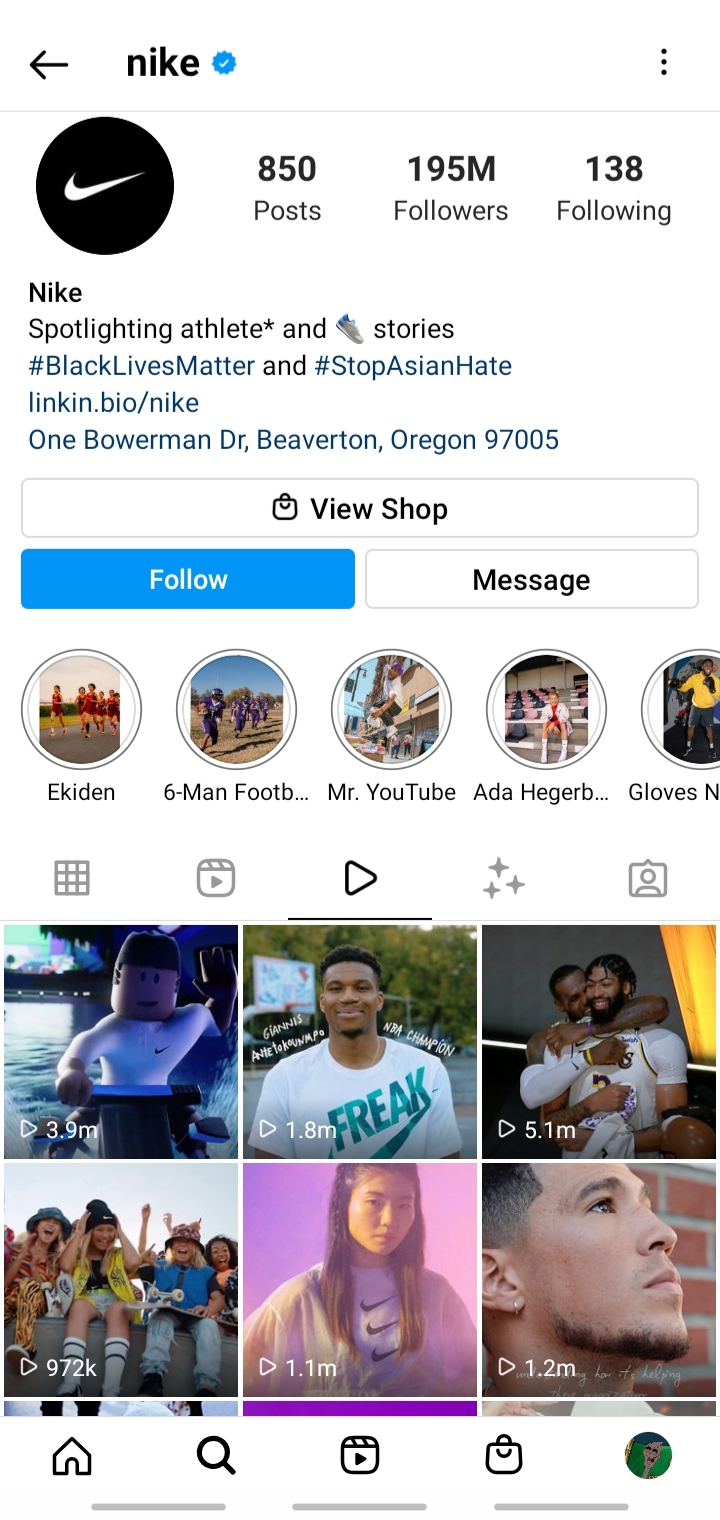 This type of video is a great way to introduce your brand or product. You can upload a video up to 60 seconds long.
Therefore, the key here is to make sure it catches people's attention quickly and makes them want to learn more about what you have to offer.
You might also consider adding captions or subtitles as in-feed videos default to autoplay without sound.
Since it will be displayed on your main feed, it's always best to create a high-quality video. You can consider working with a professional explainer video company (if you want to go with an explainer video) or any video agency in general.
2) Instagram Video Ads
If you want a quicker result, you can rely on Instagram Video Ads. Basically, this type of ad is a video that will be played before the user sees other posts in their feed.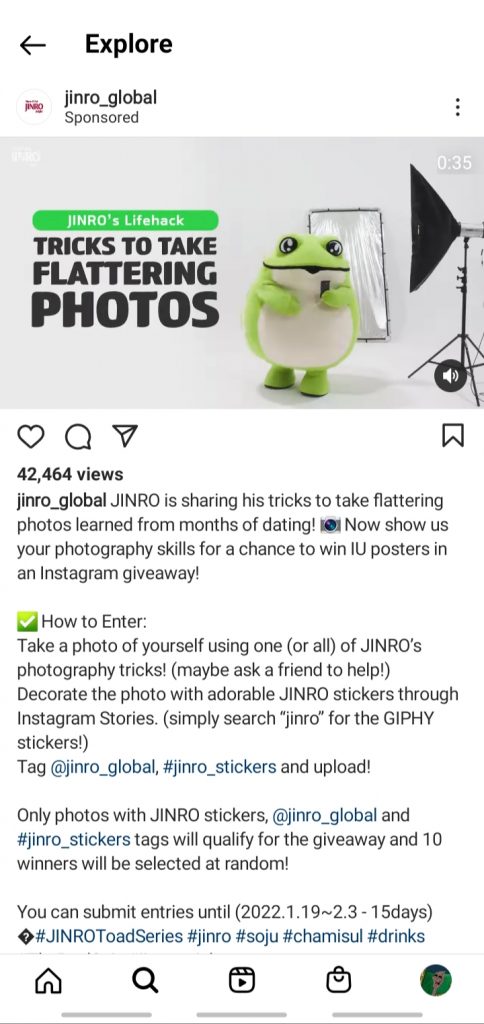 You can get a faster visible result because it provides you with targeting options, so you can reach the right people. It also gives you detailed analytics to help you check the performance of your ads.
Since it's an ad, you have to make sure your video catches attention within the first three seconds. Like using manipulation in advertising, otherwise, people will just scroll past it and you'll lose money. 
Instagram Video Ads are also a great way to drive traffic to your website or landing page. You have the chance to include a CTA (call-to-action) in your video and even add a link.
You can also create an Instagram Carousel Ad, which is a type of ad that lets you include up to five photos or videos in one ad. This is great if you want to show off more about your product or brand.
3) Instagram Video Stories
With Instagram Stories, you can post videos that are up to 15 seconds long. Since they disappear after 24 hours, it's a great way to keep people coming back for more.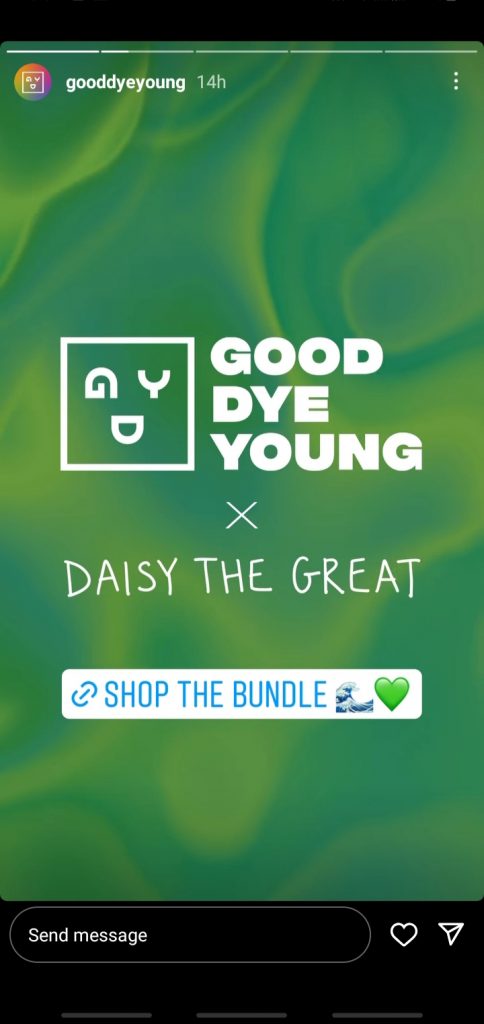 This is an ideal format if you don't have enough time or budget for creating professional-looking videos. Even with a scrappy production, you can still create interesting and engaging demo or teaser videos and put them in your Stories.
You can also use creative tools like stickers, filters, polls, and text to make your videos more fun and eye-catching. 
4) Instagram Live
With Instagram Live, you can go live and share what's happening in real-time. No type of Instagram video engages users better than Instagram Live.
This is a great way to connect with your followers and give them a behind-the-scenes look at your brand or product. You can also do interviews, Q&As, live video shopping, and product demonstrations.
Since this communication platform is a live stream, you don't have to worry about editing or post-production. Just go live and have fun with it.
5) Instagram Reels
Instagram Reels are a newer type of video on Instagram. 
They're similar to Stories videos, but they can be up to 60 seconds long and you can add more than one clip. You also have the option to add music, filters, and text.
This is a great format for promoting your brand or product in a more in-depth way without taking too much time for your Instagram viewers.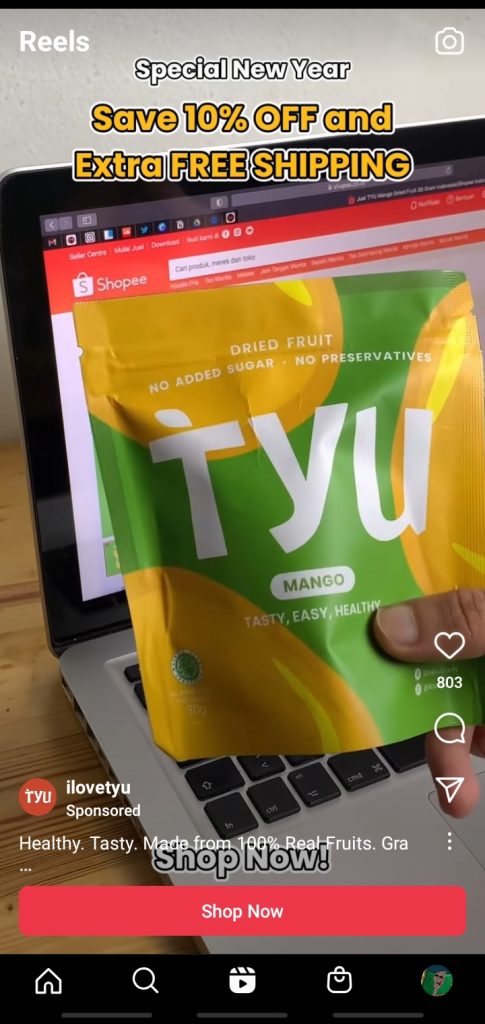 Best Practices for Promoting Your Business with Instagram Videos
Now that you know about the different types of videos you can post on Instagram, let's go over some tips for promoting your business with them.
Make the first seconds count 
There's no such thing as, "save the best for the last". When it comes to Instagram videos, you have to make sure the first few seconds are captivating and interesting. 
It's way too easy for an Instagram user to scroll through and move on to the next video if one isn't appealing enough.
We can all agree that all Instagram users never have enough time to wait just to get the juicy bits of the video.
To create a strong intro, you can start with a question or a shocking statement to reel in your viewers. 
Creativity is key
There are tons of Instagram videos out there, but not all of them are interesting or eye-catching. 
After all, Instagram is a visual platform, so it's important that your videos stand out from the rest. Use creative tools like filters, stickers, and text to make your videos more eye-catching.
You may also want to jump into the latest trend. Find out what recent Instagram users are talking about. Then, create a video around that topic.
Wendy's is well known for its witty, creative, and quite sarcastic brand messages. On their Instagram page, they mostly come up with out-of-the-box ideas like this one: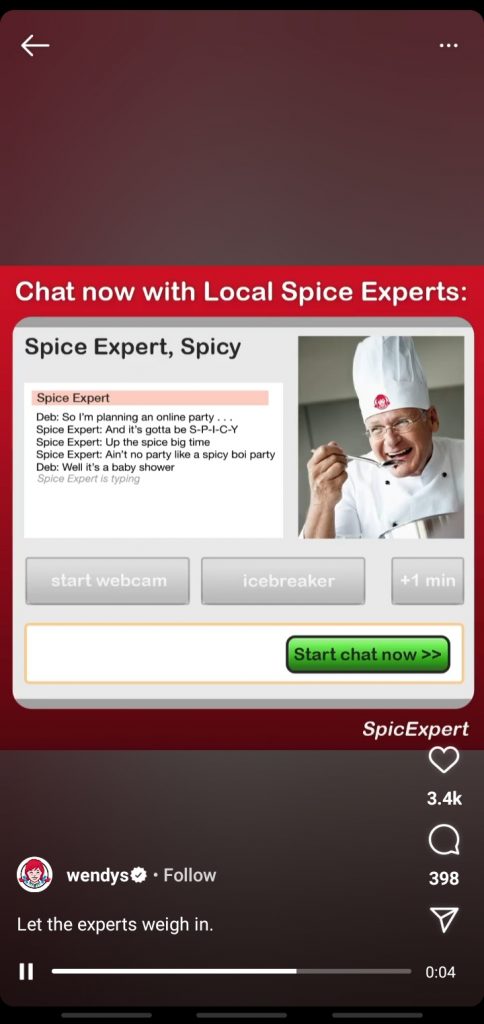 Stop being hard-selling
Now that Instagram users have become much pickier than ever, it's not the time to be hard-selling in your videos. 
No one wants to watch a video about a brand bragging about how great they are. Instead, try to be more subtle and focus on providing value to your viewers.
Create videos that:
Provide some helpful information (you can include intriguing stats by creating brief

videographics

).

Help Instagram users to solve problems.

Demonstrate the use of your product or services.

Showcase your brand's personality.
Here's an example of a valuable video post from Bliss. Instead of breaking down their products' benefits or ingredients, they give their followers a tutorial for preparing their skin for the New Year's Eve makeup.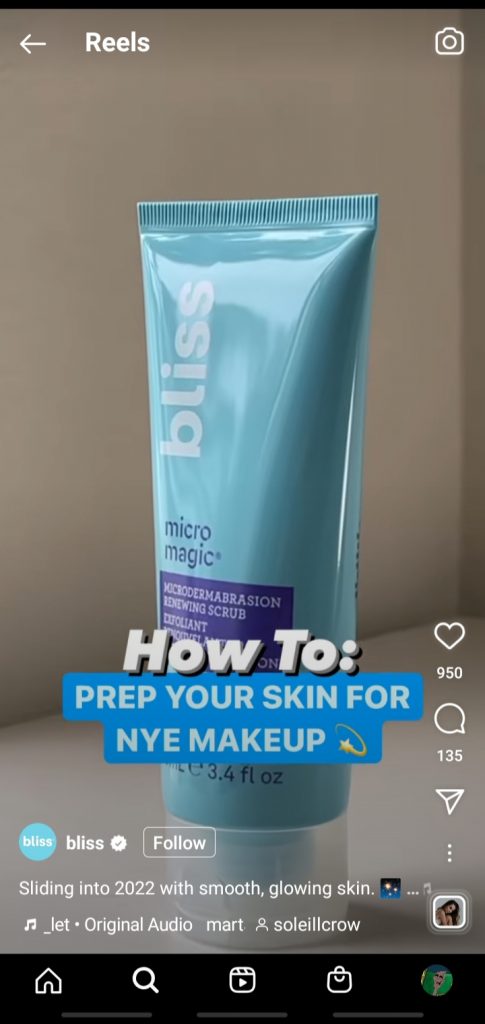 Include a CTA 
Imagine having so many views but you still get no sales. That's what usually happens without a CTA.
A CTA can be anything from asking viewers to visit your website, sign up for your email list, or buy your product.
Instagram video ads usually provide you with a CTA button, but if you're using in-feed videos, you can end your videos with a strong CTA to make sure viewers take the next step.
Also, if you use Instagram Stories, you can put a link sticker to make your CTA more visible.
Just make sure your CTA is clear and easy to follow. You may also want to test out different CTAs to see which one works best.
Work with influencers
Instagram is a home for influencers. Those users with massive followings and a solid fan base often share sponsored content on their accounts.
If you're looking to promote your best selling products, working with influencers can be a great way to do so. 
Not only will they help to reach a larger audience, but they can also provide creative input and help make the video more interesting.
We're not talking about working with 10-million-followers, influencers, or celebs here. Even micro-influencers (those with around 1000-5000 followers) can be great for promoting your business.
Not only are they more affordable, but micro-influencers can also work more effectively.
Micro-influencers can boast up to a 60% increased engagement rate compared to macro-influencers.
The reason? That's because they're more relatable for their followers and have smaller, more targeted audiences.
You can send them your product or give them your service, then ask them to create a short video about it.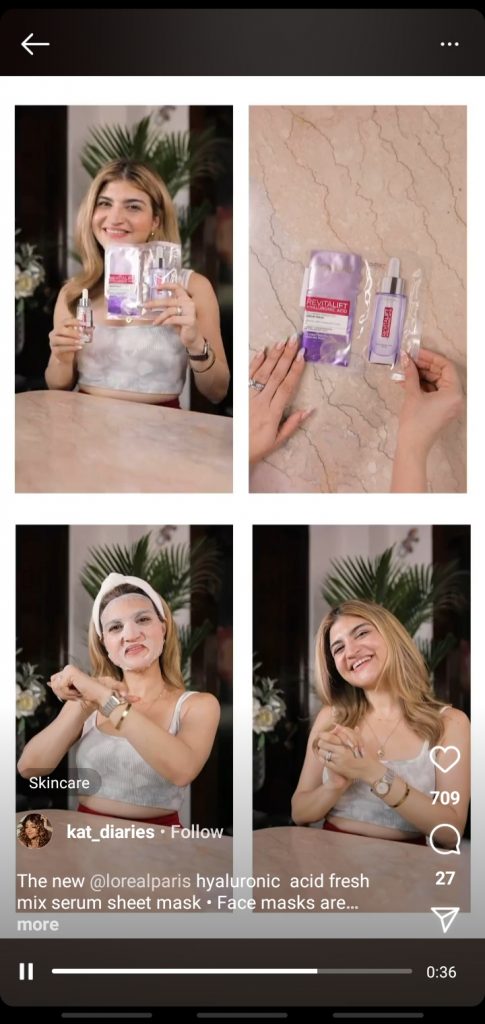 Use visual consistency
Remember that the aesthetic, eye-pleasing have now become a trend on Instagram.  So, when you're creating videos for Instagram, it's important to use visual consistency. 
This means that your videos should have the same style, colors, style of video, and music involved in the video ad.
This will help to create a more unified brand identity across all of your platforms. Plus, it'll make it easier for viewers to recognize your brand when they see one of your videos.
Add text
I guess we can all agree that many of us use Instagram on our mobile devices. And because many mobile users are often in public, standing near people, or even at school or work when they watch Instagram video content, relying on audio or sound might not be effective.
According to the statistics, more than 85% of Instagram users watch videos without sound. This means that if you want to get your message across, it's important to use text in your videos.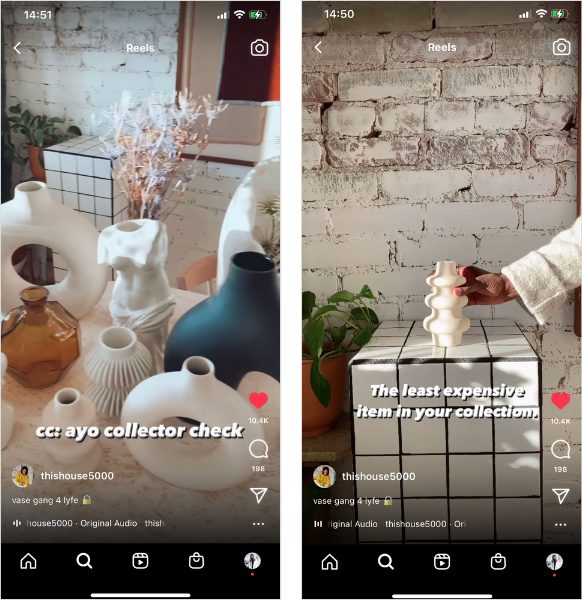 You can add text by using the app Hyperlapse or by using Instagram's built-in tools. Or, you can create dynamic text effects using apps like Apple Clips to highlight main points that you wouldn't want any viewer to miss.
Catchy fonts will pique your audience's interest so that they watch the entire video and even end up playing the sound later on.
Just make sure that the text is easy to read and doesn't take up too much of the screen as it can overwhelm the viewer.
Wrapping Up: Start Your Instagram Video Marketing Today
There you have it! A few tips on how to create better Instagram videos for your business.
To start your Instagram content strategy, start by creating videos that solve a problem or show how your product or service can be used. Be sure to showcase your brand's personality and include a CTA so viewers know what to do next. 
If you're looking to reach a larger audience, work with influencers, use visual consistency, and add text to help get your message across. 
One thing to keep in mind is that consistency is key when it comes to Instagram video marketing. You can't expect one first video you've uploaded to the platform to go viral overnight.
Just like any other marketing strategy, it takes consistent effort and patience if you aim for long-term results.