During this pandemic, the use of WhatsApp has increased up to 40%. In the earlier days of the pandemic use of WhatsApp was 27% but it got bumped in the mid-range. However, for many countries in later days the usage hit 51%.
But what is this to do with you or your business?
If you give it a deeper thought you would understand how helpful this can be for your business. Wondering how? With a WhatsApp Chatbot.
The most amazing thing about WhatsApp is that "if you get a text, you'd open it — there is no other folder where your message lands. Therefore, there are more than 90% chances that the receiver will open up the message" So, why not use this feature for ultimate and instant business growth.
Before indulging in the building of a WhatsApp chatbot, take a short tour of the basics of a WhatsApp chatbot.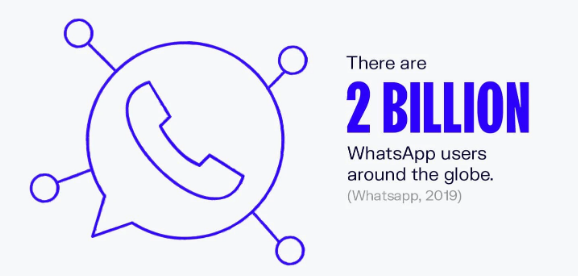 What Is WhatsApp API?
Application Programming Interface (API) is a software middleman that allows two apps to communicate with one another. You use APIs every time you go to get information from a website, send an instant message on Facebook, or check the weather forecast. With this, having an API manager can help with common problems when it comes down to your favorite app's functionality and ease of use.
What Is A WhatsApp Business?
WhatsApp Business is a free-to-download smartphone application for small businesses that was launched by WhatsApp. The app allows you to communicate with your consumers, highlight your products, and respond to client inquiries. 
You may establish a catalog to exhibit your products and use unique capabilities to automate, sort, and respond to consumer communications using WhatsApp Business.
WhatsApp is for everyone, including small, medium, and large businesses. As a result, the platform made WhatsApp API available to medium and large organizations. Companies can use the API to provide customer assistance and send notifications to customers.
What Is A WhatsApp Chatbot?
A WhatsApp chatbot is an automated software that runs on the WhatsApp network and is powered by rules or artificial intelligence (AI). People converse with the WhatsApp chatbot through the chat interface, as if they were conversing with a real person. It's a set of automated WhatsApp responses that mimics a human conversation.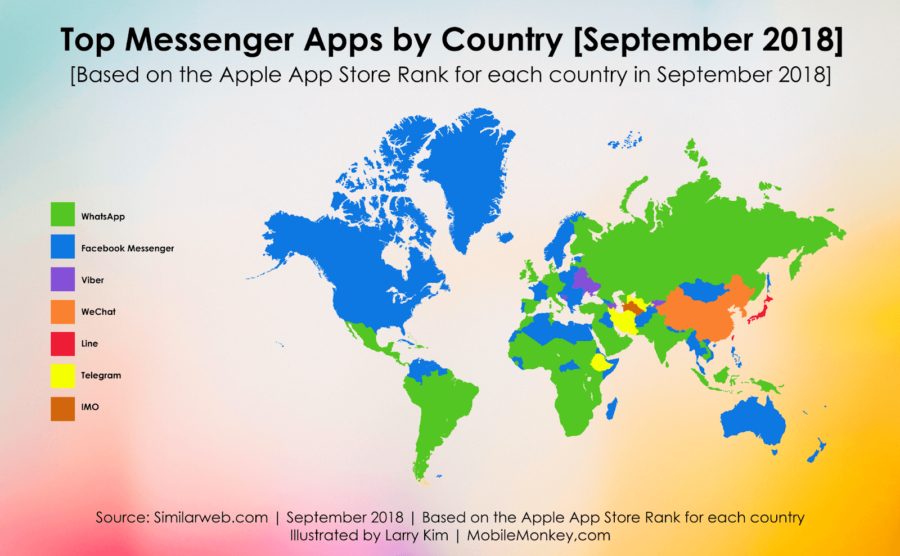 How To Start Building WhatsApp Chatbot At Ease?
The creating process might seem very tricky and troublesome but here in this guide, you will learn to create a WhatsApp chatbot with ease in 5 simple steps.
Step 01: Sign Up
The first and foremost important step is to sign up by entering the basic details. Once the signup process is completed then sign in with the information you entered.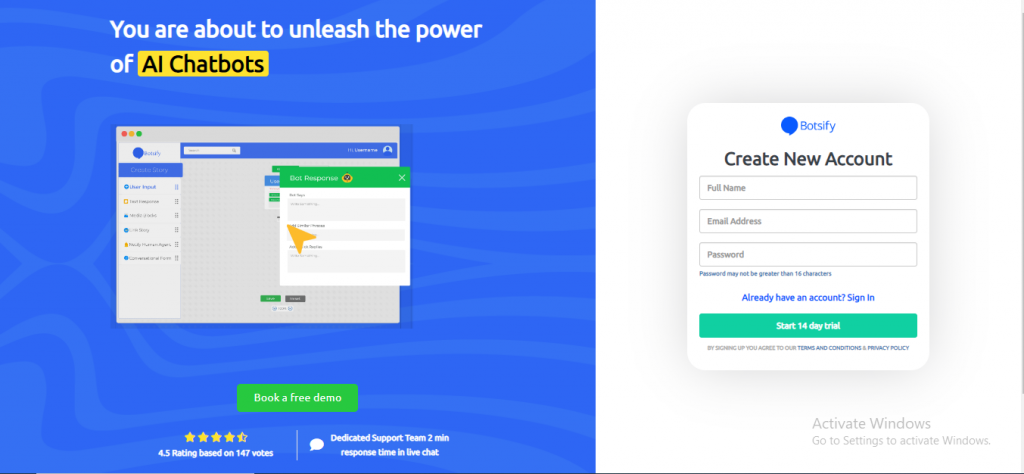 After a successful sign-in, you will be landed on the dashboard where you can start creating your very first bot.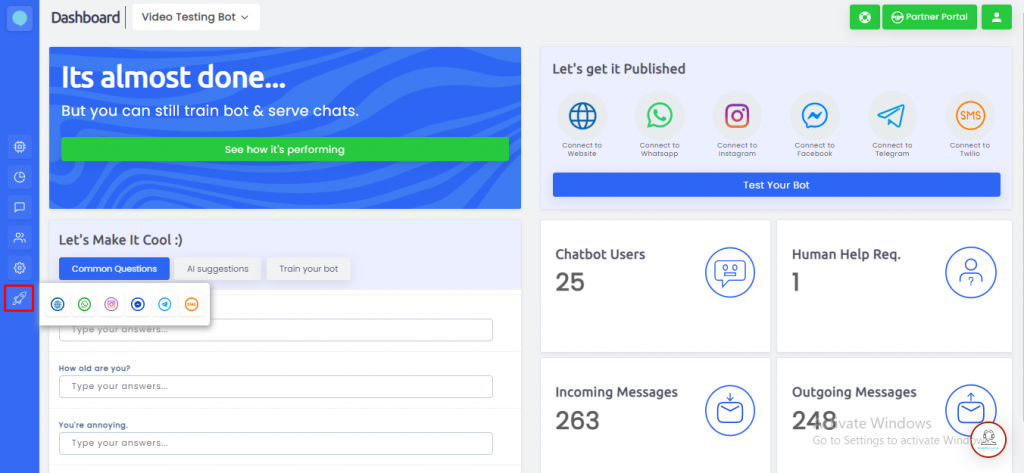 Step 02: Create Your Very First Story
The story can be created by tapping on "create a story", selecting from the chatbot AI. Here you can add user and bot responses, add media blocks, and then save the story.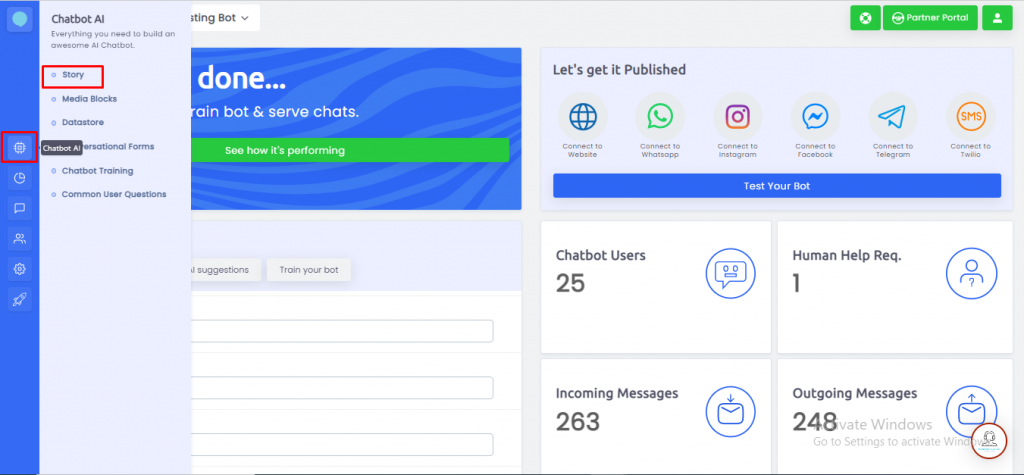 However, the media block includes; text, image, image slider, audio, video, and underneath every section there are numerous plugins to create your story appealing to the user.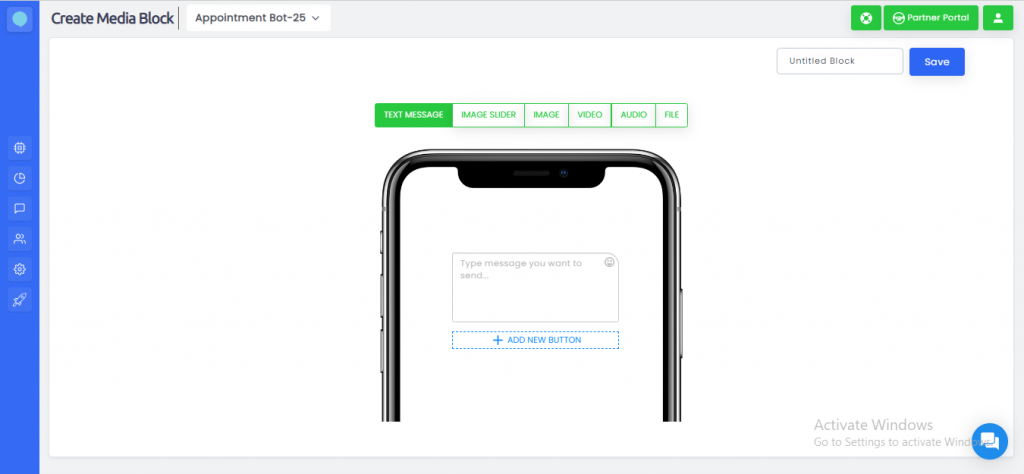 Step 03: Test Your Bot
The next is to test your bot and see how your bot looks. Find the icon "test your bot" at the very right top, and start testing your bot.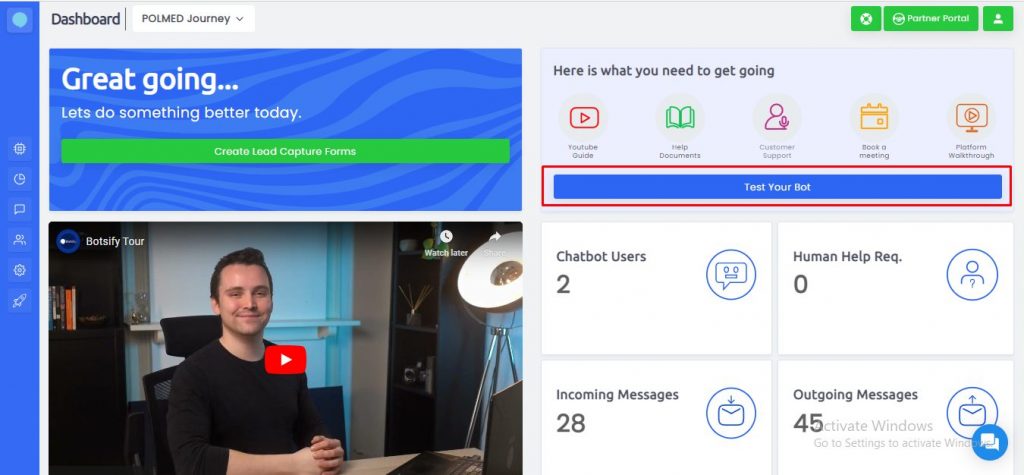 Step 04: Connect To Whatsapp Business Account
Go to settings and tap "Publish bot" connect your bot with Whatsapp Business Account. In order to use the service for WhatsApp, you need to fill in your form.
After approval of your request, you will be granted a connection to use your bot with WhatsApp.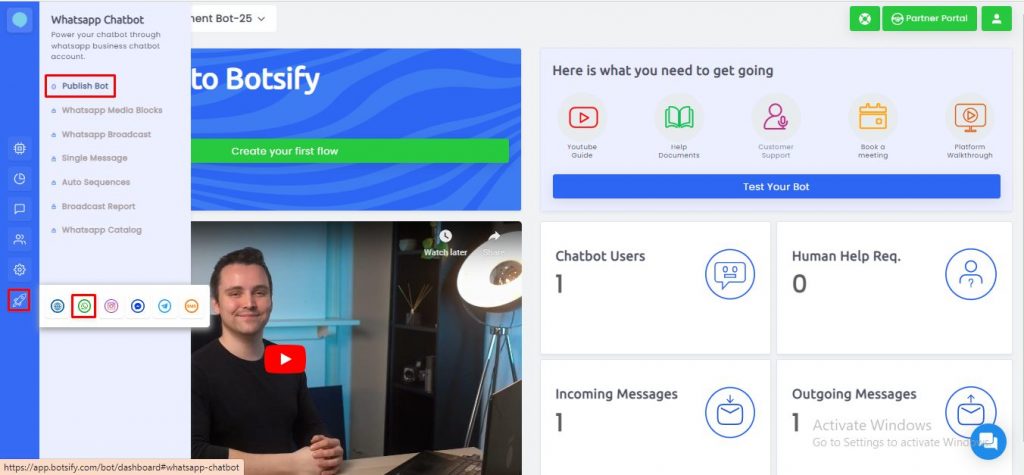 However, before applying for a WhatsApp business account, you can test out your bot on WhatsApp.
Test Your WhatsApp Chatbot
Upon messaging you will be asked to enter the ID of your bot. After entering the bot id your test mode will start.
Step 05: Confirmation
After sending the request. The management will look upon it and forward it to WhatsApp's respected department.
The complete procedure may take 02 to 03 days, and after that, you can start your WhatsApp chatbot usage.
Video Explanation:
For ease in onboarding with the WhatsApp chatbot, here is a detailed video about it:
Why Have A WhatsApp Chatbot?
The WhatsApp chatbot platform empowers businesses to deliver customized recommendations to clients by evaluating their historical data and prior transactions. By employing WhatsApp chatbot integration, a business may automate repetitive marketing processes, helping the sales and marketing team to focus more on generating leads.
Enhanced Customer Support:
The WhatsApp chatbot platform is designed to integrate with CRM, ERP, and other business systems, allowing for seamless communication between businesses and their consumers. 
Creating a WhatsApp chatbot can assist businesses with a range of activities, including:
Reminders, alerts, and notifications are sent out

Real-time responses to client complaints and inquiries

Assisting clients in browsing the product catalog

Sending status and resolution updates on tickets

Getting feedback from customers
Customers may now contact customer service without having to queue or listen to unpleasant interactive voice answers. Furthermore, because WhatsApp chatbots are available 24 hours a day, businesses do not need to ensure those customer support agents are available at all times.
2. Improves Marketing Opportunities:
For a lot of events such as;  events, new arrivals, new services, new offers/discounts many businesses use WhatsApp chatbots to promote their products and services. Not only domestically but globally too! Also, the WhatsApp chatbot helps the entire business to offer personalized recommendations to customers only by analyzing their data and purchases.
Also, organizations can send monthly newsletters and promotional notifications to the customers who have signed up for it. By employing WhatsApp chatbot integration, a business may automate repetitive marketing processes, helping the sales and marketing team to focus more on generating leads.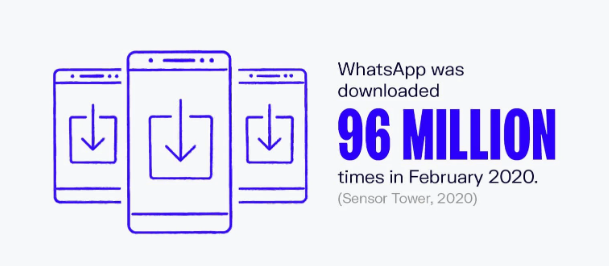 3. Provide Customers With The Most Convenient Access Possible:
Customers no longer need to download a separate application or visit a company's official website to contact them via a WhatsApp chatbot. Customers just communicate with a WhatsApp chatbot in the same way they would with any other contact on the platform. If the chatbot is unable to assist a customer, the customer will be directed to a human agent.
4. Creating A Distinct Brand Identity:
Giving your WhatsApp chatbot a brand personality (a generic human persona) can help users connect with the brand and increase their loyalty. The organization's consumer engagement and revenues can considerably enhance with a well-established brand identity.
Your Competitors Are Using WhatsApp Chatbot
E-Commerce Industry:
E-commerce would be the most suitable industry for an AI chatbot on WhatsApp. All consumer buying steps take place online in the e-commerce business. Hundreds of millions of people use their smartphones to shop for products online. These people are unconcerned about platforms that aren't responsive, such as blogs, emails, or static landing sites. Businesses can offer data, answer questions, collect orders, solicit feedback, handle refunds/returns, and more with a single AI chatbot on WhatsApp.
Here is an example of an eCommerce store: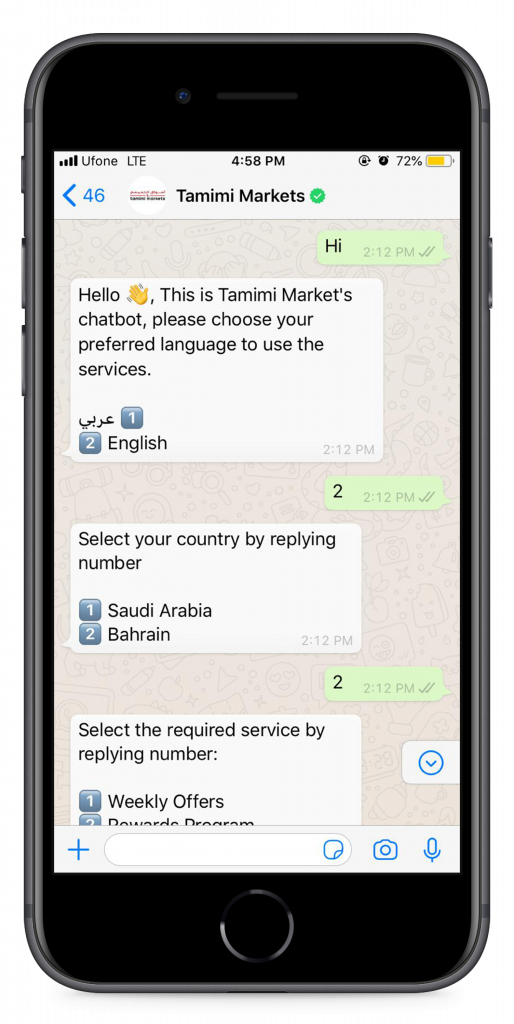 Real Estate:
The stakes of acquiring or losing a potential client in the real estate market are extremely high. Any lost lead makes a considerable effect on the expected revenue. With a WhatsApp chatbot for the organization, a real estate agent would catch and qualify valuable leads 24 hours a day, seven days a week. That's before the leads become qualified without the need for human intervention. An AI chatbot can use its conversational abilities to collect names, location preferences, budget, contact details, and other information to assess a lead's efficiency. Then it may swiftly pass all of the high-quality results to realtors over the same chat site.
Travel Industry:
In the travel and hotel industries, businesses must deal with traffic 24 hours a day, seven days a week. Customers can visit the site whenever they want, click on an advertisement, or contact customer care. It appears to be difficult to answer queries, create leads, and provide assistance without being available 24 hours a day, seven days a week. Travel and hospitality companies can use a WhatsApp chatbot to direct such requests to their AI-powered chatbot.
Here is an example of the travel industry: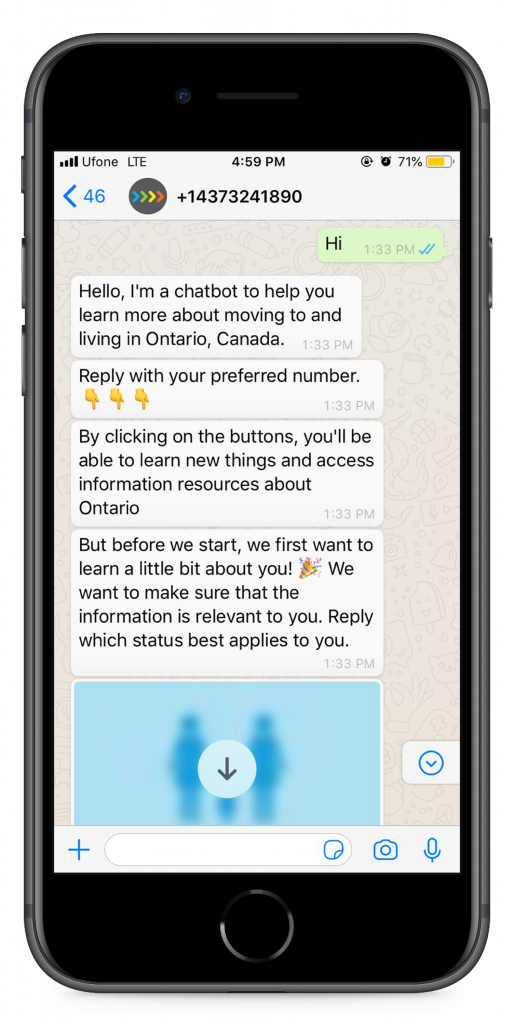 Health Industry:
Chatbots provide instant conversational responses and make connecting simple for patients. And when implemented properly, they can help care providers to surpass patient expectations and improve patient outcomes. Therefore, the health industry has been using chatbots for so long and it certainly has shown results. From tracking the records of the clients to informing users about the hospital and availability of the doctors, chatbots can do it.
Here is an example of the health industry: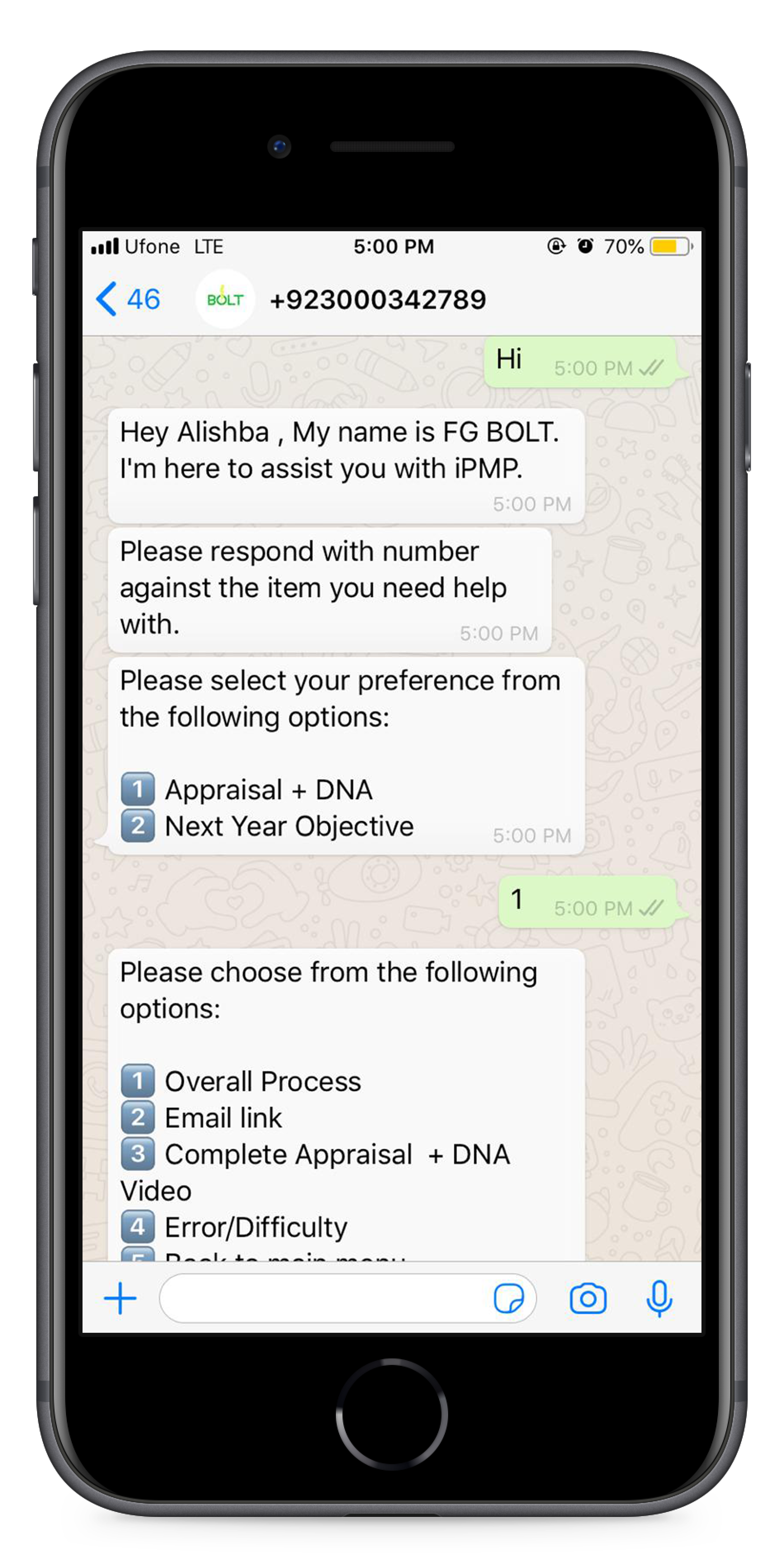 Try Building Your Own WhatsApp Chatbot
Gather quality leads and respond to your customers in real time!