Switching to new tools is never easy, especially if you have an already established workflow. If you are used to certain tools, you probably implement workarounds to mask their flaws without even paying attention. While that works, it is not ideal, which is why it makes sense to shake things up from time to time and see if there's something new on the market that can do a better job.
This article will give you 3 Hotjar alternatives to push your user behavior analytics game to another level for your marketing portfolio. We will first tell you what makes Hotjar a good choice but also give you a few of its most significant flaws and reasons why people like you look for other options in the first place.
We will then provide you with some Hotjar alternatives to choose from, all of which do a better job than Hotjar in certain areas you might find necessary.
Hotjar In A Nutshell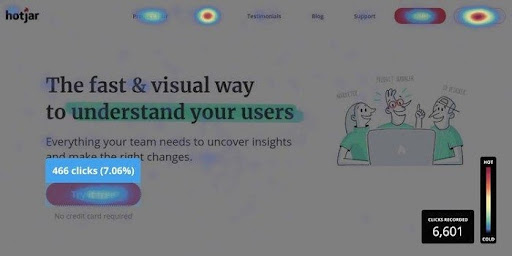 What is Hotjar?
Hotjar is an intuitive heat mapping tool that gives you excellent user behavior visualizations you can use to improve how your site looks and works, resulting in better UX, which will translate to improved conversions.
There are a few distinct Hotjar features:
Heatmaps:

Hotjar gives you an excellent visual representation of user behavior on each of the pages on your site. Heatmaps color code the whole page, and you can easily see where users spend the most time, but also which areas are "cold" and need improvement. 

Recordings:

Hotjar records user behavior on your site. You can press play and see precisely how a visitor interacted with pages—how they moved their mouse, where they stopped, clicked, and more. You will also see if something wasn't going according to plan, helping you fix bugs.

User feedback

: Hotjar prompts users to leave feedback on your site in just a click, which will give you super valuable user-experience information directly from people who visit your site.

Surveys:

if you

want in-depth feedback

, Hotjar gives you an option to create surveys for your visitors. This will help you with

testing

and insights into things you can immediately improve on your pages.
Hotjar Pros:
Delivers on its promises
Hotjar works well, and delivers on its promises. Heatmaps, recordings, surveys, feedback, all the features are well-polished and will give you valuable insights into the visitor's minds, helping you improve your site significantly. If you only need its core features, you will like what you get from this tool.
Easy to use
Hotjar has been around for a while now, and it has a loyal base of satisfied users. It's intuitive and has many integrations with other tools you are already using, so you will have an easy time implementing it in your workflow. 
Offers a free plan for small sites
Hotjar has a decent plan for smaller websites that are just starting out. It's pretty limiting if you only focus on 1000 pageviews, but it's a good start. Getting some user feedback, in the beginning, will give you some idea of what might be missing on your site.
Hotjar Cons
No mobile app analysis
Hotjar is only compatible with websites and web-based applications, but not mobile apps. This is a big deal breaker if you plan to launch an Android or iOS app project, as knowing how users behave in your apps is vital for your business.
Limited analytics
While Hotjar does give you an excellent visual representation of user behavior, that's pretty much it. You will not get any in-depth stats, no predictive analysis, or customer segmentation. Plus, Hotjar no longer has forms and funnels, which means you will need to get other tools if you want a complete sales funnels solution.
Pricing, considering that you need other tools as well
While the free plan is decent, you will need to get one of Hotjar's premium plans if you have a bigger site. But, most bigger sites will find even the Plus plan lacking, which will mean you will need the more expensive, Business/Scale plans.
This becomes an even bigger problem when you think that Hotjar only offers UX visualizations. You'll need to get other tools for some closely intertwined features that should accompany what Hotjar offers.
Now that we covered what makes Hotjar one of the most popular user behavior analysis tools, but also some of its flaws, let's move on to our favorite Hotjar alternatives.
FullStory – Analytics-driven Powerhorse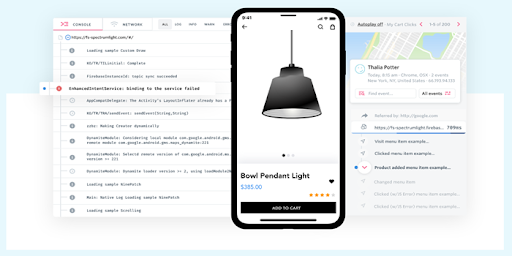 (Image Source: Screenshot from FullStory)
FullStory does many things well but has two significant advantages over Hotjar—it analyzes mobile app user behavior and gives you more detailed UX information, although it's more inclined to power users. 
FullStory Pros:
In-depth UX analytics
FullStory delivers where Hotjar lacks the most – analytics. Their Digital Experience Intelligence platform gives you everything you need to understand user behavior, both from a qualitative and quantitative standpoint. 
With FullStory, you really get the full story and detailed insights about the whole journey a visitor has on your site. But, this is not just raw, hard-to-understand data. You will get the performance analysis, but not without the context, which will allow you to quickly analyze user behavior and improve where your customer journey is lacking. 
FullStory DEI is easy to search through, and the data it collects is useful for your whole team – product managers, CX, marketers. All your team members can analyze data even if they don't have technical knowledge, as the information is easy to digest.
User session replays
Session replays allow you to see exactly how visitors behave on your site. This will give you better insights if your web design is doing what you intended when building the site. It will also uncover bugs you don't know about and help you improve conversations by moving important CTAs and buttons to the areas where users spend most of their time. 
You can also fast-forward sessions, only focusing on the most important sections. FullStory will automatically skip inactivity, cutting the unnecessary time, allowing you to go through more sessions. Plus, all user session replays are fully GDPR and CCPA-ready, which means you won't break any privacy laws. That's because these are re-creations and not recordings, meaning you don't actually see the user's screen.
An abundance of integrations
FullStory works with dozens of popular tools, which means the integration into your workflow will be seamless. Also, because you get to build your custom stack (instead of using suites and packs), you will only install the extensions you absolutely need, improving performance and lowering expenses. This also allows you to expand the features list, catering it to your needs.
Mobile app insights
FullStory works not only with your website but mobile apps too. That automatically makes it stand out from the competition, as mobile app analytics support is not that common. Whether you have an iOS or Android phone, you can use FullStory to understand user behavior, zero in on freezes and crashes, and improve the app performance. 
You will have access to instant replays (not recordings), which will uncover how users spend their time within their app. You will also be able to recreate crashes and errors, tackling issues directly. And, with tagless analytics, you'll understand the user behavior from a technical perspective without coding.
Because more people browse the web from their phones than computers, optimizing mobile UX is becoming increasingly important. FullStory lets you optimize the entire user journey both on mobile phones and computers, which makes it an exceptional ally in improving conversions.
So, when it comes to Hotjar vs. FullStory in terms of mobile app analytics – FullStory is the clear winner. In fact, it does a much better job than all other Hotjar alternatives from the list as well.
FullStory Cons
Less intuitive than Hotjar
FullStory does provide in-depth statistics that will let power users control their funnels much better than Hotjar. But, basic users that don't like to go through the details and only want visual representations will enjoy Hotjar more. FullStory also has visualizations, but they are not as appealing and self-explanatory as Hotjar's.
Prices not listed
FullStory offers a free plan that is a great place to start for anyone who has up to 1000 sessions per month. However, their premium plans don't state prices and require you to contact their team to get the information. It is natural to assume that the tool is not the cheapest on the market. However, considering how many features it gets you, it is worth it.
Plerdy
– Multi-purpose Marketing Tool
(Image Source: Screenshot from Plerdy)
Plerdy is an all-in-one solution that will help all of your digital marketing efforts, not just user behavior analysis. It does many things well and offers good value. However, if you need to go deep and analyze and improve specific site issues, you are likely to find Plerdy lacking in advanced options other tools on this list have.
Plerdy Pros:
Seven-in-one Solution
If you think that Hotjar doesn't give you enough tools, you will probably like Plerdy. Here, you have a suite of seven tools that will accompany your marketing efforts:
Heatmap

: visually see how users behave on your pages.

SEO checker

: monitor site performance on search engines.

Session replay

: go through each user session step by step.

Event tracking

: combine Plerdy with Google Analytics to fully understand events on your site.

PopUp forms

:

create forms that will enable you to

capture leads

and get user feedback.

Conversion funnel

: get more insights into the customer journey, which will help you understand where you need to improve. 

Sales performance

: get purchase information about all items across all of the pages on your site.
An all-rounder with good value
All of the Plerdy tools are decent, and the suite does give good value. Sure, individual features could be much better when you compare them to specialized tools, but if you want a tool that does many things well, you will like Plerdy.
Plerdy heatmaps are not better than Hotjar's but are still solid. You will get visualizations, aggregated data with only necessary clicks, visitor segmentation, recorded events.
SEO checker will give you some insights into site rankings and tips on improving it technically, both for computer and mobile viewers. 
Session replay will help you identify bugs and room for improvement and discover why and where you are losing visitors' interest. But, you will also be able to record sessions to provide better customer support or analyze behavior.
With NPS surveys, you'll get feedback from visitors and customers, and event tracking tools will tell you if the changes you make on the site have the desired impact.
With conversion funnel analysis and eCommerce sales performance tools, you'll be able to see details about the customer journey and whether or not your sales funnel is working as intended. You'll also get decent reports that will give you a better idea of the sales you are making and information about the buyers.
A generous free plan
Plerdy has a free plan with 2000 sessions per day, making it more generous than Hotjar and FullStory, which only allow 1000 sessions. Plus, because it has more tools, you actually get quite a lot for free. Even though it's not enough for most sites, it's a good place to start.
Plerdy cons
Spreading too thin
Plerdy does many things great, but if you are looking for specialization, you will find it lacking. Yes, it combines many of the features you will find in several other tools, but if you want to go in-depth and compare the best features some other tools have to their Plerdy alternatives, you will find the latter just not good enough. But, if you are looking for a tool that does many things decently well, you will like Plerdy.
Pricing structure
While Plerdy isn't expensive, you will find that the plans are limiting if you are looking for advanced features. For example, while you do get unlimited heatmap reports and 10,000 page views per day with the Start plan, you will need to upgrade to the Premium plan if you want to get the full use of its SEO feature.
That means that although you do get seven tools, you can only fully use them if you get the most expensive plans.
Mouseflow – Behavior Analysis Veteran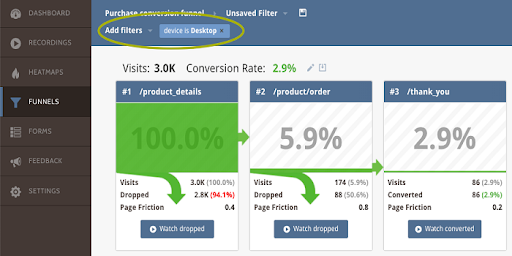 Mouseflow offers full conversion funnel optimization and analysis and has user forms, which are useful marketing tools Hotjar no longer supports. But, it also has a few flaws it shares with Hotjar, such as no mobile app support.
Mouseflow pros
Good history record
Mouseflow has been in the behavior analysis games for a long time, as the tool was introduced in 2010. This means it is around longer than Hotjar, which was established in 2014. But, it also means you can trust it, as it is here to stay, with a user base that's trusting them for more than a decade.
Quality visualizations
Mouseflow does many things very similarly to Hotjar, and if you are looking for visualizations, it won't disappoint.
It also supports heatmaps, and you can switch between different types, which is very cool. You can see how users move their mouse, where they click the most, but also where most of the clicks come from, as geographical heatmaps are also supported. Heatmaps are simple to understand and will give you valuable information at a glimpse of an aye.
100% recording rate
Mouseflow records all user sessions, which means you can analyze literally everything that happens during each visit, so no data sampling. 
But, Friction score insights and filters help you go through the recordings faster and only focus on the sessions worth your attention. Sessions tags, variables, cohorts, and filters to help you analyze the user behavior in-depth, which you can easily share with other parts of your team for improvements. Plus, you can use session recordings with funnel analysis, which we will discuss next.
Funnels, forms, feedback
Unlike Hotjar, Mouseflow supports funnel and forms analysis. With these tools, you will quickly analyze where your funnels leak and why that happens. You can monitor your funnels 12 months back, which will give you more and more information as time goes by. Everything is easy to filter through and navigate. You can also integrate Mouseflow with other sales tools you already use, which will let you optimize your funnels even better.
Mouseflow also makes collecting user feedback super easy. You can set up prompts to show when a user is about to leave or when they are fully engaged. The prompts look nice and aren't too intrusive, making it more likely for users to click on them. You will get notifications whenever they do, and you get a separate feedback analysis dashboard where you can go through the information in-depth.
Mouseflow cons 
Not a good option for mobile apps
Mouseflow does some things as good as Hotjar, if not better. But, Mouseflow also lacks where Hotjar lacks, and having no mobile app analysis is Achilles heel. If you have a mobile app or plan to build one, Mouseflow will not be enough.
It takes a bit to get used to the interface
Mouseflow works well, but only after you get used to its interface. This will take you some time, as the tool isn't as intuitive as we would like it to be, especially if you don't have experience working with UX analysis tools.
Limited free plan
Mouseflow does offer a free plan but only offers 500 recordings per month, with one funnel analysis, one form analysis, and one feedback survey per month, with one month of storage. This is suboptimal for anyone apart from those who just want to test the tool or have a small website. It's a bit annoying that you can't try premium plans for a limited time for free. You do get unlimited heatmap analysis, though, which is nice.
Bottom line
As you can see, Hotjar and each of the three alternatives we listed have their pros and cons. Ultimately, it all depends on your needs and preferences. It's a good idea to try free and trial versions and test the tools yourself before committing long-term, especially if you have never used any type of analytics software before.