Are you looking for ways to enhance your customer support, automate repetitive tasks, and engage with your audience effectively? Conversational platforms and AI chatbot platforms are the answer. In this article, we'll delve into the seven best options available to help you make an informed decision.
Introduction
In the digital age, businesses are constantly seeking innovative solutions to improve customer service, streamline operations, and stay ahead of the competition. Conversational platforms and AI chatbots are invaluable tools that offer a wide range of benefits. Let's explore the top choices in this ever-evolving field.
Understanding Conversational Platforms
Before we dive into the specifics, let's understand what conversational platforms are. These are software tools or services that facilitate real-time, text-based communication between businesses and their customers. They are designed to provide personalized, efficient, and interactive interactions, often leveraging artificial intelligence and natural language processing.
Generate More Leads With Website & Messenger Chatbots
Gather quality leads on autopilot and 10x your ROI with automated chats
The Top 7 Conversational Platforms and AI Chatbot Solutions
Here are the best conversational platforms and AI chatbot solutions available in the market: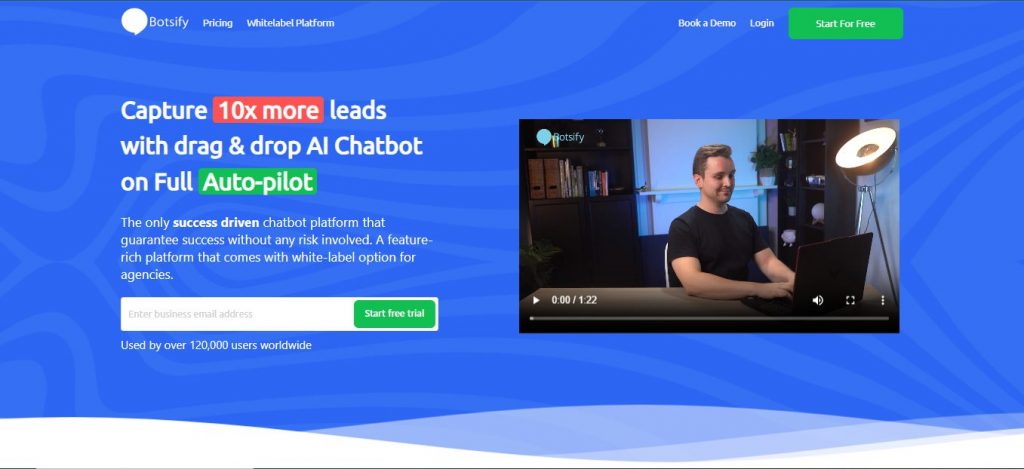 Botsify is an AI chatbot agency that enables businesses to easily build custom chatbots for their websites and different messaging platforms. It comes with two pricing options. Chatbots can be easily created on the platform thanks to its straightforward drag-and-drop interface.
Additionally, Botsify integrates with numerous well-liked messaging and communication platforms, including chatbot for Messenger, WhatsApp, and Instagram, enabling companies to connect with clients on the channels they prefer. All in all, Botsify is a great choice for companies seeking to quickly and easily add chatbots to their websites or messaging channels.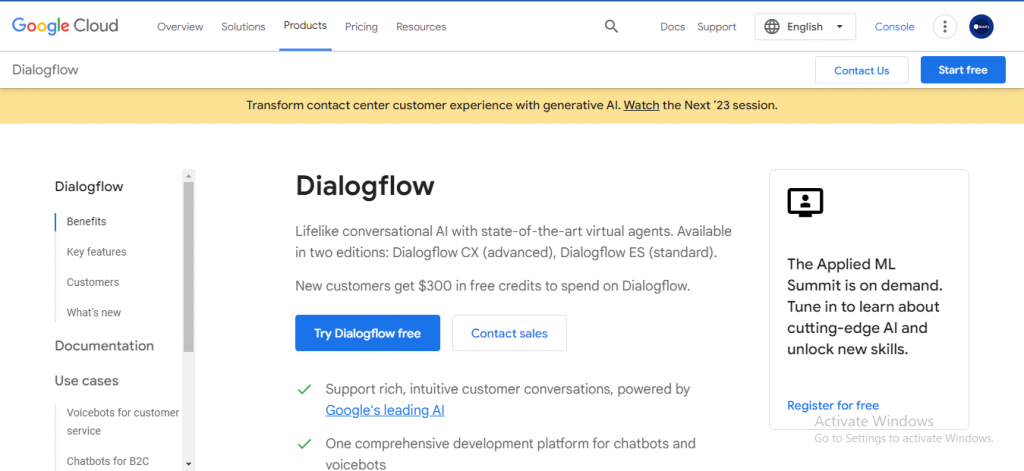 Dialogflow, by Google Cloud, is a powerful AI chatbot platform known for its natural language understanding capabilities. It's an excellent choice for building conversational applications, including chatbots and voice assistants. With extensive language support and integration options, Dialogflow can streamline customer interactions.
Dialogflow is a natural language understanding platform that makes it easy to design and integrate a conversational user interface into your mobile app, web application, device, bot, etc. Dialogflow can analyze multiple types of input from your customers, including text or audio inputs (like from a phone or voice recording). It can also respond to your customers either through text or with synthetic speech.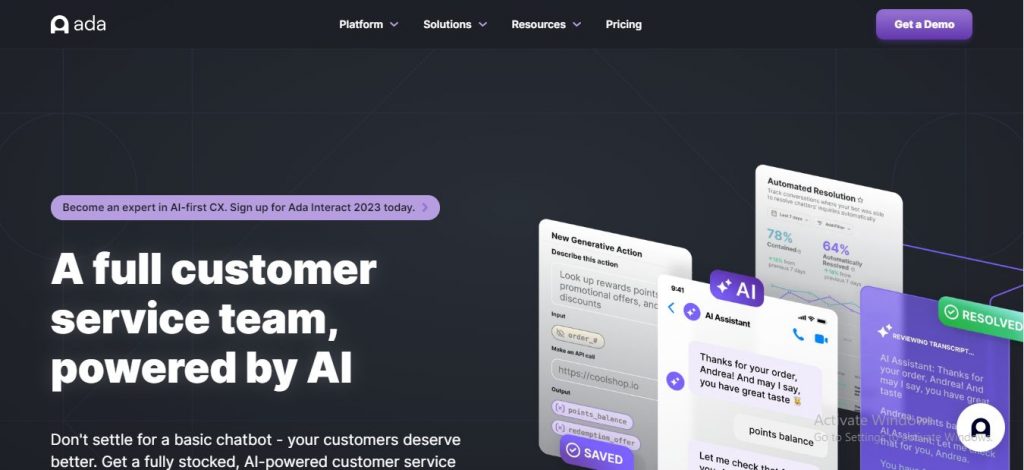 No-code automation builder: Empower your CX team to design, manage, and continuously improve automation — from FAQs to complex workflows and integrations.
Multimodal: Share content and training between digital and voice channels to deploy a consistent AI customer service experience without duplicating effort.
Generative content creation: Create conversational FAQs in a single click. Sync Ada with your knowledge base to automatically generate new intents based on existing content.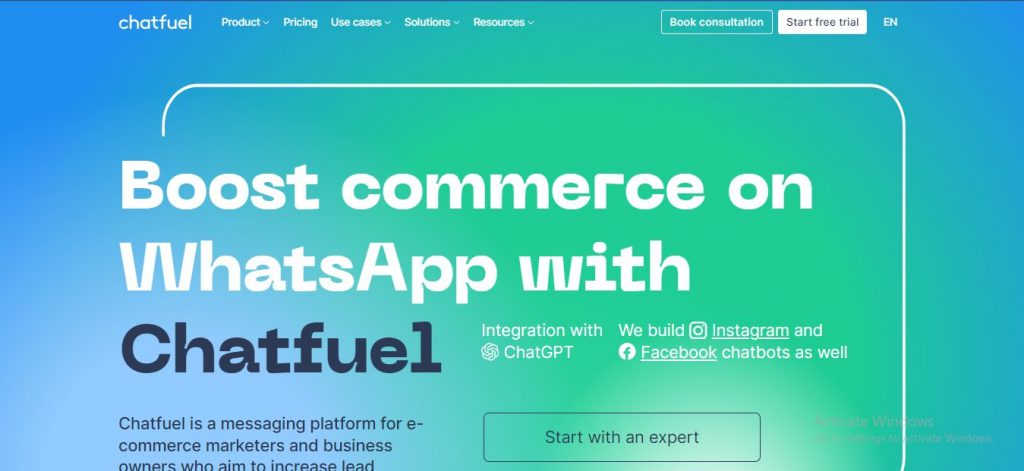 Chatfuel is a user-friendly chatbot platform designed for Facebook Messenger. It's an excellent choice for businesses looking to enhance their social media presence. With a drag-and-drop interface, Chatfuel allows you to create chatbots without any coding skills.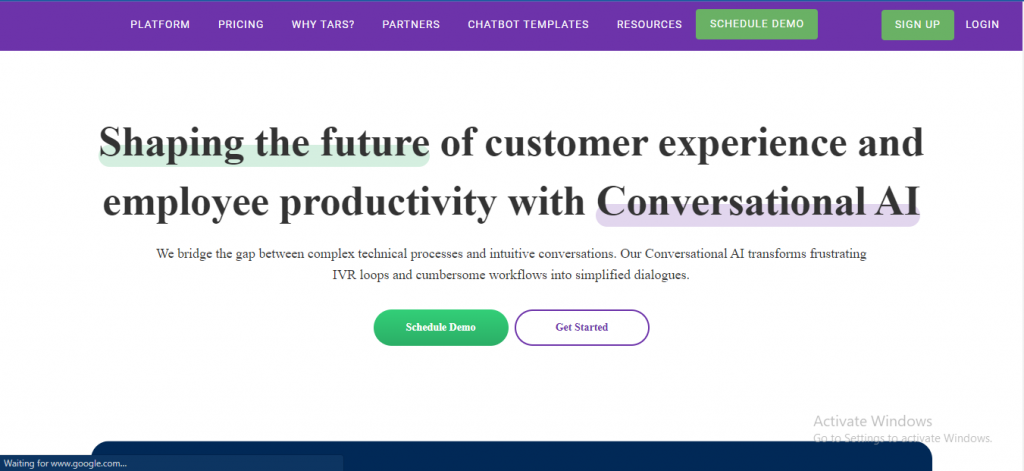 Tars is a conversational landing page builder that specializes in creating chatbots for websites. With a focus on lead generation and customer engagement, Tars enables businesses to design conversational flows that convert website visitors into leads.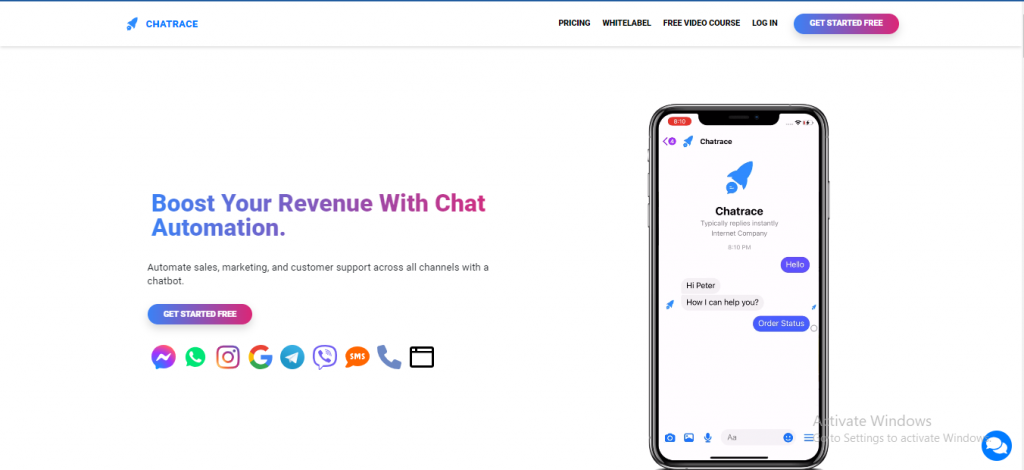 chatrace provides a platform for sales & marketing automation and support on Facebook. It also provides a messenger bot for Whatsapp, Telegram & SMS, built-in email marketing tools & templates, an inbox for live chat, Facebook ads automation, voice messages, etc.
SnatchBot is a free chatbot platform with a user-friendly interface. It offers a wide array of features, making it an attractive choice for startups and small businesses. SnatchBot can be integrated with websites and messaging platforms, enhancing user engagement.
How to Choose the Right Conversational Platform
Selecting the ideal conversational platform for your business depends on your specific needs and goals. Consider factors such as your target audience, integration capabilities, ease of use, and the complexity of chatbot design.
Conclusion
In conclusion, conversational platforms and AI chatbot solutions have revolutionized the way businesses interact with their customers. They offer efficiency, personalization, and automation that can boost your customer support and marketing efforts. Whether you choose Dialogflow, IBM Watson Assistant, Microsoft Bot Framework, or any of the other platforms mentioned, you're on your way to enhancing your online presence.
Are You Ready To SkyRocket Your Business With Our AI Chatbots
Click The Button Below And Gather Quality Leads With Botsify
FAQs
What is the primary purpose of conversational platforms and AI chatbots?
Conversational platforms and AI chatbots are designed to automate customer interactions, improve customer support, and enhance user engagement.
Are these platforms suitable for all types of businesses?
Yes, conversational platforms and AI chatbots can be customized to suit the needs of various industries, from e-commerce to healthcare.
Can I integrate chatbots with my website and social media channels?
Absolutely. Most conversational platforms offer integration options for websites and various messaging apps, including social media platforms.
How do I get started with creating a chatbot for my business?
You can start by choosing a platform that aligns with your needs, then follow their guidelines and tutorials to build and deploy your chatbot.
Are there any free options available for businesses with a limited budget?
Yes, platforms like SnatchBot offer free chatbot solutions, making it accessible to startups and small businesses.