More and more businesses are now turning to video content to boost their presence on social media.
Social media video marketing is getting highly competitive.
The ease of video production and an abundance of online video editing tools have ensured there are more videos on social media than ever before.
In this highly competitive scenario, marketers have very little time to experiment.
Social media platforms offer a wide variety of opportunities to use business videos to engage their target audience.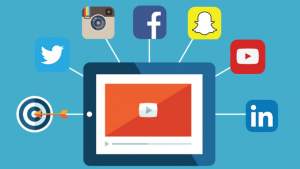 Where, how, and what type of video content to use will determine the impact of your marketing campaign.
Furthermore, if done right, the social media video marketing campaign can give your business a competitive edge over others.
Are you looking for ways to boost your social media efforts through the use of videos? You have come to the right place.
In this video marketing guide, you'll find 5 ways to use the moving image to create the maximum impact on social media.
Harness the Power of Live Video
Live video is an innovative strategy that's sure to play a crucial role in social media marketing in the future. In 2020 57% of marketers used lived videos to reach more clients.
Soon, customers would not want to be passive consumers of video content.
Live streaming promises a chance for conversation and makes videos more personal, engaging, and humane. 
Customers know they are special. They want to feel it too.
Live streaming allows the audience to be part of the conversation; giving them a sense of participation.
Unlike pre-recorded videos, live videos help businesses connect with their customers at a personal level.
In live streaming content, there is no scope for cuts and retakes.
The authenticity of the content builds trust. And, when this happens, a bond develops that leads to increased loyalty.
You don't have to create an app to live stream a webinar, event, discussion, etc. Several social media platforms have introduced this feature to their users. 
Businesses have successfully used live streaming to further their marketing goals in the past. Here are some of the best examples:
General Motors became one of the early pioneers to live stream the launch of the Chevy Volt EV on Facebook.

AWeber is using live videos to great effect by using the new medium for customer support and Q and A sessions.

 

The Tonight Show shared the 'behind the scene' happenings with its online audience using Facebook Live.
How to use live videos to improve social media marketing impact?
Prepare: Live streaming doesn't necessarily mean venturing into the unknown. Understandably, brands are afraid of making mistakes because their reputation is at stake. Hence, prepare an outline, shed shyness, and practice. You can rehearse and have dry runs before taking the session live.
Trust Storytellers: Friendly interaction and conversation with strangers isn't everyone's cup of tea. Doing it live and online is a special skill. To succeed, businesses need to empower their internal brand ambassadors who are skilled in customer communication.
Make Them Casual, Friendly, and Fun: The chance of customer engagement is high when the brand story is conveyed in a fun, entertaining, and casual way. The content will have a higher impact when you show the customers you care. You can do this by discussing issues that directly impact the customers.
Build a Successful Video Marketing Funnel
The marketing or sales funnel helps brands define the different stages customers pass through.
The journey from the time of the first contact with the brand till the sale and even beyond is mapped.
The role of the marketer is to use the best content to attract prospective customers and keep them moving down the funnel.
Video content and social media platforms offer immense opportunities to attract and engage the customers through the funnel.
You can create videos that serve the purpose of each stage of the funnel and promote them on social media platforms.
Marketers can achieve greater success on social media if appropriate videos are used at each stage of the funnel.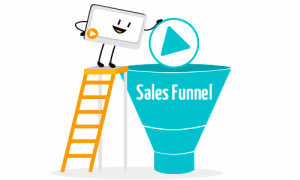 Moreover, not all social media video marketing metrics are the same.
Measuring and analyzing the right metrics at each stage will help you customize the content to create maximum impact.
Although there are different types of the sales funnel, you'll find the following stages across the board:
The Awareness Stage
The awareness stage appears right at the top of the funnel.
Videos created in this stage introduce the product and showcases how the product/service addresses the problem faced by the customers.
At this stage, introduce your brand to the audience. Explain to them 'who you are' and 'what you do.'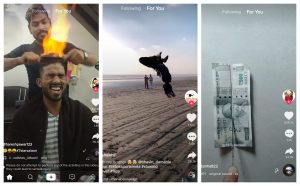 Normally, educational videos, explainer videos, product tour videos, etc. fall under this category.
For example, the Epic Split video rolled out by Volvo has actor Van Damme doing his famous leg split.
The 75-second advertisement was aimed at demonstrating the precision and stability of their trucks.
The Consideration Stage
The objective of this stage is to nurture the prospect with video content that presents social proof of the product/service.
At this stage, the prospect is already introduced to your brand and product/service.
They need to know more about the offering to reaffirm their initial decision.
Also, they are in search of relevant information that differentiates your product/service from others.
On social media, you can use comparison videos, culture videos, case study videos, testimonials, app demo videos, and product demo videos.
The Conversion Stage
The videos used in this stage must help remove the few inhibitions that are holding back the prospect from buying your product/service.
Post videos that highlight the benefits of purchasing your product/service.
Furthermore, businesses can use videos with promotional codes and discounts.
Use Curated Videos to Rule the Social Media
Producing a steady stream of engaging content to the video craving audience on social media is almost an impossible task.
The demand for quality content has given rise to video curation.
This tactic helps businesses gain exposure and drive engagement without sacrificing content quality.
In simple words, video curation means compiling the best videos of a niche topic.
Plus, at times adding something to augment its appeal, and sharing the video on social media platforms.
Many social media video marketers have taken up curation because of its many advantages.

Some of those benefits include:
Helps maintain a full content calendar.

Offers an innovative way to engage with the audience around a topic.

Provides an opportunity to connect with influencers and industry experts.

Presents you/your brand/service as a thought leader.

Reduces content creation cost.
Indeed content curation offers many benefits. But, how does it help your social media marketing?
An Innovative Way to Build Trust
Your audience might be put off if you constantly talk about your brand/service.
Sooner or later your audience will get bored by your constant sales pitch.
Mix different types of video content, so your audience is eager and willing to enjoy your video posts.
It's believed that 20-30% of all your videos must be curated content, industry expert videos, etc.
Gives Customers Access to Relevant Videos
Billions of hours of videos are uploaded on social media every day.
For customers, finding high-quality, relevant videos will be tougher than finding a needle in a haystack.
By collecting the best videos in one place, you're providing a valuable service.
Leads to Better Customer Engagement
Posting videos that are alike will result in diminishing returns.
Creating content that brings the best information together will encourage the customers to stay engaged with your brand.
This will lead to more visits, improved engagement, higher likes and shares, better conversion, and the development of a long term relationship.
Embed Videos from Social Media Platforms
You can make a social media video more appealing by embedding the same on your web page. In the case of marketing, the reverse is also true.
All social media platforms – Facebook, Twitter, Instagram, TikTok, YouTube, etc – allow its users to embed videos on web pages.
Embedding videos is known to drive traffic and boost branding. But, there is one benefit that is often overlooked.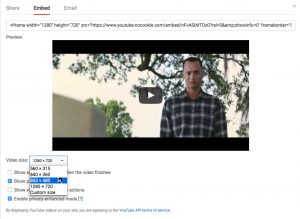 While it's possible to host videos on your website, most people don't do it.
That's because hosting too many videos on the website server is bound to slow down page loading.
In addition, you'll gain SEO benefits from embedding videos.
Having videos from social platforms on the web page is quite similar to a backlink.
With a specialized tool, tracking link of the video is also possible and advisable.
All marketers post social media videos on web pages to attract more traffic.
Moreover, videos on a web page will encourage the visitor to stay on the website longer.
Embedding videos will lead to more people watching the content outside the social media platform.
Quality video content can also trigger a chain reaction.
More people will press the social sharing icons on the web page, thereby popularizing both text and video content.
They may also embed the video on their website or share it with others.  
Higher view count, better engagement, increased share rate, and more traffic to the website will ensure the video appears at the top of SERP.
Also, embedding videos help businesses establish their brand as the leader in its industry.
Engage Instagram and TikTok Users with Short Videos
There is a huge demand for very short videos that are no more than 10-15 seconds long. You can use them in Instagram and TikTok marketing campaigns.  
It's easy to blame on a short attention span, but it won't benefit anyone.
Those wanting to succeed in social media marketing must adapt to this new trend.
Short videos demand better planning and higher creativity to make an impact.
If done right, you can stand out and gather a lot more attention than longer videos.
Even if you have a well-oiled production line for long-form videos, consider adding brevity to the mix.
At present, several content marketing tools are available for businesses to create and market text and video content (even micro-content).
Short-form content comes with its own set of benefits that can boost your social media efforts.
Short video clips help you reach a different audience.

They are easier to produce (consumes less time and resources) as you only need basic equipment such as a smartphone.

The small size of the file makes transfer and distribution easier.

Short clips have a wider reach because they are mobile-friendly.

People are more likely to share a short video than long-form content.

Short-form video content has better engagement potential.

Highlights only the most relevant points which make information storage and recall easy.
Final Thoughts
The fact that video content is accessible to all businesses makes social media video marketing all the more challenging.
Today, brands need to stand out to increase their engagement on social media platforms.
The 5 tactics we have shared have the potential to transform your social media marketing.
Implementing these ideas effectively can send engagement metrics through the roof.