Social media content is a key element of your overall content marketing strategy. It is at the forefront of building a brand image and reaching out to your target audience. This means everything that you put out on your social media pages has to be high-quality, accurate, and engaging. Creating and posting valuable content on social media consistently, however, is easier said than done. A strong social media content strategy demands diligent planning and management.
There is a lot that you need to plan when it comes to social media marketing. From deciding what kind of content to create to staying on top of trends to choosing the right times for posting, you need to put in a lot of thought. For instance, statistics say that the best days to post on Facebook are Thursday and Friday for maximum engagement, while on Instagram it's Wednesdays and Thursdays. Keeping track of all of this on your own, alongside other content marketing efforts, is no cakewalk. This is where content planning tools can make life easier for you.
For every content marketer, having the right tools in their arsenal makes their content strategy a hundred times stronger. As these tools take away the stress of most of the repetitive and rule-based tasks, you can focus on more strategic, result-oriented work. Here are seven must-have content planning tools that can power up your social media content strategy.
The most crucial and often challenging part of any social media content strategy is the content itself. There is an ocean of posts, ads, memes, and reels out there. Standing out amid such high competition isn't easy. Your social media content has to look good, read good and be consistent across all social channels. Content creation for social media often needs inputs/approval from your team or a client's team too, in which case the process becomes even more siloed.
Good collaborative content creation and workflow management platforms like Narrato can be the perfect solution here.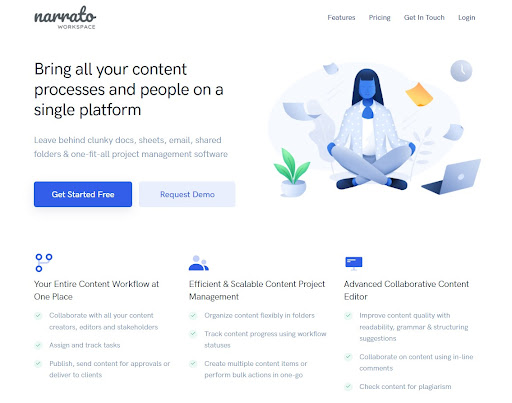 Narrato is a comprehensive content planning and creation platform that helps content teams with all kinds of content, be it a blog, website, or social media. Apart from having a powerful content editor that offers content optimization suggestions and plagiarism checks, Narrato also offers a very powerful AI writing assistant.
So whenever you feel stuck writing a social media post, you only need to type in a little bit of input text and let the AI tool do the rest. The AI writing assistant can be used for different use cases, like creating article outlines, intros, conclusions and even improving the content you've already written. There is a free image search and Canva integration as well to help you find relevant images/graphics to go with your social posts.
The platform has an AI topic generator and an SEO brief generator too. There are custom templates and style guides that you can create and save on the platform. The templates help writers structure the content for different formats like blog posts, social media posts, etc. The style guides can brief writers about project-specific guidelines, such as tone, language, brand voice, and so on.
For easy collaboration with your team and clients, Narrato lets you add them to custom user roles. Users can comment on content and also send messages on the platform itself. To keep track of all your social media content projects, you can use the content calendar or workflow boards on Narrato,and manage your workload. Better features are being added regularly, making this tool a promising addition to your social media content planning tool stack.
If your social media strategy involves getting content crafted by freelancers, you can also try out Narrato Marketplace – a content marketplace with hundreds of skilled, vetted freelance writers.
Your social media content strategy does not end with content creation for your posts alone. Content marketing is all about adding value to your customers' and prospects' lives at every step. So planning your content for one-to-one interaction with your users is also an integral part of the strategy. When you are chatting with your users/customers live, you can take control of the conversation. But what about the time when you can't be online?
You can't afford to keep a valuable prospect waiting until you're back and that's where a chatbot pitches in. AI-powered chatbots can help you nurture your customer relations without you having to attend to each message personally. A chatbot should be an inseparable part of your content plan for social media, as these one-to-one interactions are where you get to make the maximum impact.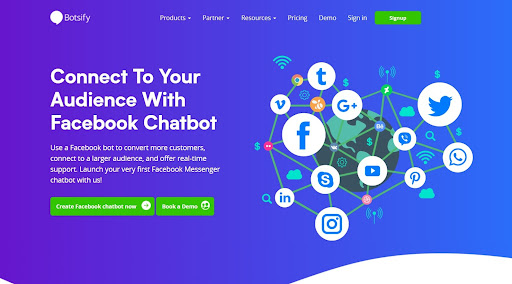 Botsify is a chatbot builder and conversational AI tool that helps you create flawless chatbots for social platforms like Facebook and WhatsApp, apart from websites and other channels. You can build your own Facebook chatbots to give your visitors a personalized chatting experience. Botsify lets you customize all your messages, be it a personalized welcome message or an automated customer support response. The chatbots created can handle FAQs and also redirect users to the right web pages to answer their queries.
Nurturing leads on social media with a smart chatbot built with Botsify can lead to better engagement and eventually more sales for your business.
Content planning for social media also includes planning for all the visual content that goes on your social media pages. Most channels like Instagram, Facebook, and Pinterest are visual-first platforms. Creating the right infographics, videos and other visual content for each channel plays a huge part in attracting your audience and keeping them on your pages. So having a visual content collaboration tool, where you can work on designs together with your team, is imperative.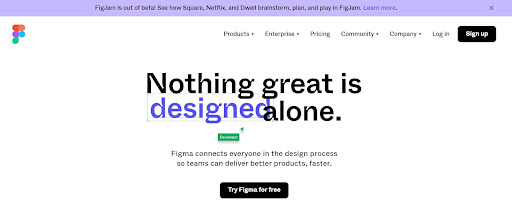 Figma is a visual content collaboration platform that is just right for this purpose. From brainstorming for ideas to designing and testing prototypes for your social media visuals, Figma gives your team several capabilities. The FigJam feature offers you a virtual whiteboard where you put up ideas on virtual sticky notes and diagrams to brainstorm with your team. The easy drag-and-drop editor also makes visual content creation very easy.
You can create design prototypes and get buy-in from the rest of your team before running a social media campaign. Figma is sure to speed up the visual content process for your social media channels.
If you're putting so much effort into creating and publishing content on social media, you would obviously want to know if the content is bringing you any returns. Not all your social media posts will perform equally well and that is okay. But you need to know which of your content is delivering outcomes and which isn't. Analysing this manually can be a pain, given the number of social handles a business usually has to manage. A content analysis tool can automate and simplify the process.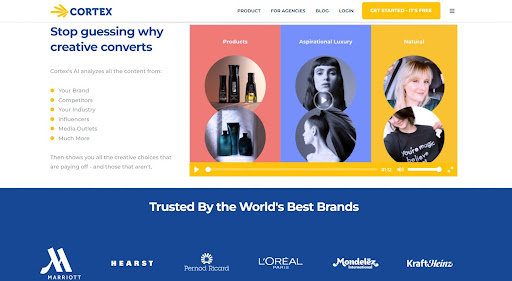 Cortex is an AI-powered content analysis and reporting tool that analyzes all the content posted by your brand, competitors, media outlets, industry giants, and others. Based on the analysis, the platform suggests what kind of posts are paying off and driving maximum engagement.
The tool helps analyze visual content as well and tells you which visual content trends are delivering the biggest impact. Cortex helps with building a data-driven content strategy for social media and planning your social media campaigns more efficiently with insights. It also offers channel-specific insights so that your content is relevant to the audience on each channel. You can create custom tags relevant to your brand for guiding the AI to track what matters most.
Along with planning what to create, it is also important to plan when to post your content on different social media channels. Getting your posts out there at the best time is essential for reaching the right audience and driving engagement. So a crucial part of your content planning for social media should be when to post and where to post. Having a scheduling tool to manage this can take a huge burden off your shoulders. So even if you have a busy week ahead, a social scheduling tool makes sure that your social media accounts don't run dry.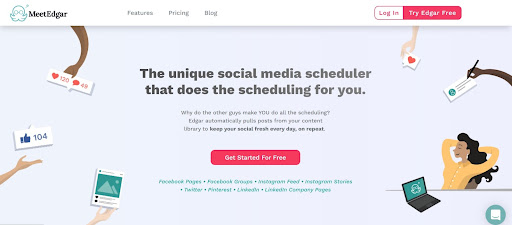 MeetEdgar does just that. On Edgar, you can build a huge library of evergreen content and the platform automatically picks content from there and posts it on your social pages according to your preferred schedule. If there are no new posts to share in your library, Edgar shuffles and re-shares older posts to make sure your social feed is not empty.
New content can also be automatically imported from different sources including spreadsheets, the web, your blog, or WordPress. The tool can scan the text from the linked source to find something quote-worthy for social media. MeetEdgar integrates with Facebook pages and groups, Instagram feeds and stories, Twitter, Pinterest, and LinkedIn, including LinkedIn company pages. The platform is specifically designed for entrepreneurs and small businesses.
When you're working with a team, the biggest challenge after content creation is getting approval from everyone. It is at this stage that most of the delay occurs, creating a bottleneck in your social media content strategy. Not having a common platform where your entire team can preview the social post and leave comments or give approval makes the process highly siloed and lengthy.
A tool like Planable can easily help avoid this loss in productivity.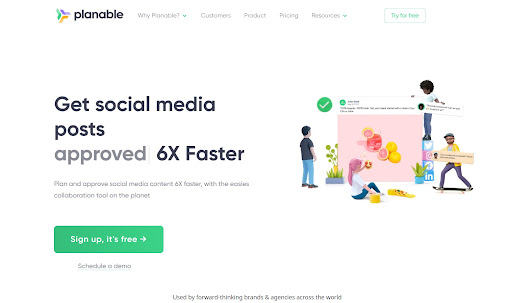 Planable is a social media tool for approval and collaboration where you can create engaging posts, organize and plan your social content for months ahead, and also get buy-in from stakeholders. Planable replaces all the spreadsheets and presentations that you'd normally use for collaboration or presenting a social post design idea to your team. Your team can preview posts exactly the way they would look on social platforms, leave feedback and give approval, for which you get real-time updates.
All the workflows on the platform are quite visual and easy to understand, so anyone on your team can use them without much technical expertise.
SocialBee is a first-class social media management tool that can help you maximize your online efforts and enhance your social media presence. 
This social media content planning tool allows you to add, organize, schedule, and share content across several social channels, including Facebook, Twitter, LinkedIn, Pinterest, Instagram, Google My Business, and TikTok.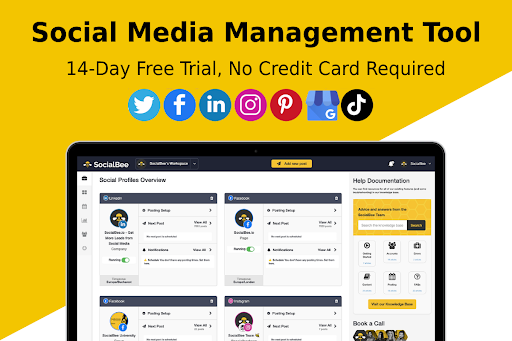 SocialBee allows the creation, customization, and scheduling of all your posts. You can create your own posting schedule according to best practices and you can personalize your posts depending on each platform's particularities. In addition, you can import content and edit it in various formats to suit your needs. They also have a Canva integration inside the post editor. 
On the whole, SocialBee is a budget-friendly social media automation platform that allows you to get more leads with less effort. 
Wrapping up
Give these tools a try and see how they give your social media content strategy a much-needed boost. Planning is the first step in any content campaign. Having these powerful tools in your arsenal will help you plan more confidently and swiftly, leaving you more time for the other critical tasks in marketing that need your attention.