No doubt, people are spending more time on online shopping and fortunately, they are used to doing it. If you belong to the business of an online apparel store, and want to be the one who provides the best stuff with the best customer-centric approach then you are the right place indeed. We are here to provide you the best solution in this era of digitalization. Many leading industries use technologies for the sake of growing their business in an effective manner. But do you know, the best use of technology is used in the online or e-commerce industry. So you are lucky to have your online apparel store to be the big bang in the near future.
As people change the way of shopping, the online business insiders rapidly make their space to promote their business. But what is the biggest challenge you all face in online business? Have you ever wondered about it? Certainly, the answer will be yes! Because as an online retailer you have to keep your eye on the surrounding. Some challenges have on finger tips and they are:
Communication with your customers
The effort of being a loyal brand for your customers
Build a relationship with your customers
Stick on the chair 24/7 
Queries of customers
Tracking and exchanging efforts
And the list goes on!!
With all these challenges, how does your online apparel business survive until you invent the solution? Don't worry, as marketing gets a new way, technology brings fabulous inventions called Artificial intelligence. The appropriate frame to overcome the online business challenges that give you a streamlined cycle of selling. It's not surprising that artificial intelligence is an integral part of the fashion industry. Approximately 40% of people prefer to use AI chatbots when shopping online.
How artificial intelligence will optimize in-store conversions promptly?
In-store conversion refers to the proportion of visitors who come to your store, making some purchase and becoming a customer. If 300 people visit your store and 75 of them make purchases from your retail store, then the conversion rate is 25% overall. You can also see below the store funnel representation where you clearly know how much visitors fulfill your desired action to become customers.
Artificial intelligence optimizes in-store conversion rates by providing a long-lasting customer experience. It promotes interpreting data that allow them other marketing or operational actions. As you are an online retailer, AI cuts down the cost of customer support agents, gives you 24/7 service, continuously works on improving customer relationships, and so on.
By developing an AI fashion bot, you can analyze the conversion rate every other day, week, or in months. AI chatbot has the ability to interpret data of your visitors by gathering information so it can help you out whether you are lacking. In point of fact, 57% of businesses agree chatbots deliver large ROI with minimal effort.
How Artificial Intelligence turns the way of the online apparel industry?
Every individual wishes to wear the best outfit on every occasion. Considering brand new clothes with an online service is the best option for all shopaholics. The journey of greeting your customers to the last step where the customer confirmed their order, all are the crucial moments. B
ut if you know how artificial intelligence works well for you then no need to make a fuss. Artificial intelligence handles all the selling stages and gives a streamlined way for your customers.
This is the biggest turn in the fashion industry where people prefer technology to buy their essentials over an oldish way. Your online store is now more tangible and rhetorical through AI tools. 
What actually is Artificial Intelligence?
The paradigm of Artificial Intelligence is concerned with building smart learning machines that requires the capability to perform tasks like human intelligence.  
A chatbot is the feature of artificial intelligence that allows us to conduct chats via text or voice notes to humans, and in return gets human-like interaction by talking to them. The innovation of artificial intelligence is often described as one of the most powerful and the most advanced interactions between humans and machines. Generate responses, smart convincing power and promising interaction make a chatbot a reliable virtual assistant. 
Online retailers are seeking for the best virtual assistant for their customers. The ability of a chatbot never disappoints you if you have an online store. Your core need is to get more customers in your online apparel store, generate profit, and emerge as a big brand in the clothing industry.
Have you planned something to act on these goals with fewer resources? If you are still not prepared, then come along with me. I will give you a long-run strategy to better boost your online store.
The best use of Automation tools around you!
Once you go inside the Alibaba fashion AI store, people find the mind-blowing activity happening around them. By entering the store, visitors have to check-in via mobile Taobao ID code or for a more personalized experience, visitors can also opt for a face scan technology.
This fashion AI store seems like a regular shop with hi-tech advancement, where you can see clothes hanging on, salesmen entertain customers.
But surprisingly, they can use a smart mirror where they see different sizes, colors by just standing in front of the mirror. People just go to the direction of the mirror by using any suggestions. Have a look at how it works for customer experience!
Better boost your online fashion store by keeping technology first 
So far, people search for their desired outfit, go to the offline market, and search here and there to acquire their desired stuff. But now, your customers just need to tell the fashion bot what they need for their big days, and the list of the great outfits has appeared.
But how do customers know your chatbot is basically your fashion bot? How they can be explored until unless you provide this instant service to them. And the big thing is how you can turn your online apparel store into a fashion bot store? Go ahead to know!!
Make your Apparel Store Alive 24/7
Online retailers have the opportunity to not close your shop. People come to you in the early morning till the late night shopping plans. Are you available every minute and every day? Unfortunately no!!
But if you embed the chatbot at your website or other different social media channels where your online store dominates, then 24/7 availability is for sure. Stats show that 64% of internet users say 24-hour service is the best feature of chatbots.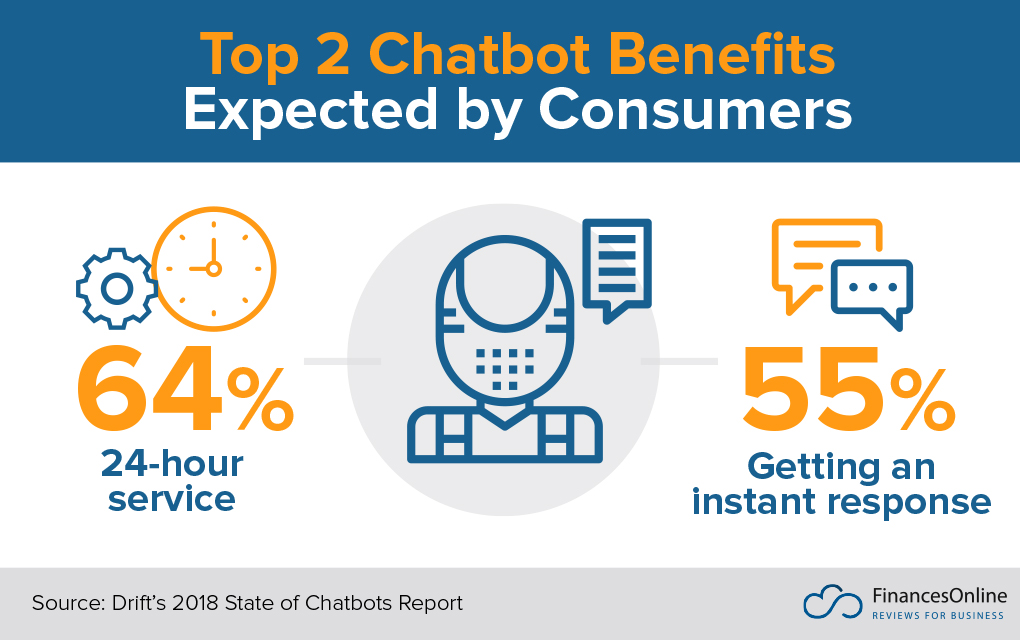 The chatbot provides long-lasting availability to entertain the customer at any time anywhere. Induce your 24 hours every day to grow your business by making a huge profit.
Handle your Customers' Queries with the Chatbot
In online business, you have to interact with thousands of people in every single minute. Your prospects have lots of queries and you need to satisfy them. The hectic work you have ever done but you can make this work perfect and smart by using a chatbot.
Your online apparel store must look organized and well-trained to communicate with your prospects. It is super exciting that you don't need to do anything, just build a chatbot and let the chatbot do their job. In a survey it is declared that 90% of businesses report faster complaint resolution with bots.
Give Appointment Slot to your Customers for the Famous Stylist
When it comes to a special day, people don't skip a single chance to not get the best outfit with favorable suggestions. One of the fascinating features is their ability to act as personal stylists.
For example H&M chatbot gives customers advice by analyzing the preferred choices of their looks. According to this, chatbot picks other matching stuff to describe their personality, favorite style, and so on.
Anyone who is willing to get an appointment with a stylist, your bot should be ready to offer timing slots of your best designer. Make a smooth connection with them, get their orders by connecting your famous designer, suggest what they choose to wear, and help out as much as you can via artificial Intelligence fashion bot. It helps to build a loyal relationship with your prospects and your potential customers, increase sales, and generate more expectations in your prospects' minds.
Generate More Customers by Using Artificial Intelligence
One of the biggest challenges is what your competitors do to attract more new customers. Insight all their activities to work your own strategy that they couldn't expect. Artificial intelligence comes from out of the box concepts, the one you can utilize to beat your opponents.
By optimizing your lead generation activities via chatbot you can easily grab the audience more than you expect. 
Whenever a visitor comes at your website, don't let them empty-handed. Just talk with them, ask his/her name, get an email address then thank them and let him/her go. Believe me you can convert your visitors into customers.
Now you are able to connect with them via email, and messaging apps. You remind them again and again. It doesn't mean to bother them with useless stuff but exciting offers, discounts, and much more!
Send Attachments of the Exciting Offers 
It's not fair if you have a clothing business and do not plan any discount offers or any freebies that make your customer excited. Either men or women, they show extreme eagerness when you call out a big sale with a discount, any gift vouchers, giveaways, trivial, or even seasoning clearance sale. Posts on social media might be missing to a few of them.
Be personalized, take advantage of artificial intelligence fashion bot by creating discount templates and personalized vouchers for your customer. This personalized touch makes your way easy to sell your products and build customer-centric ventures for your online apparel store. Botsify introduces you to many different templates so you can easily use it in your chatbot.
Integrate AI Fashion Bot at Different Social Media Channels
One of the best quotes I heard is "brands that ignore social media..will die. It's that simple". You can see how powerful a tool is in your hand that gets you uplifted in this competitive era. 
If you serve your customers at leading applications like Facebook, Instagram, WhatsApp, and other messaging apps, you must develop a chatbot on all these magical apps to interact with your customers. 63% of consumers think businesses should be on Messenger. A huge pool of people you can find on these messaging apps that makes it easy to target your valuable customers.
Your Best Online Store Tailor Recommendation
It is impressive when your customer gets all the accessories at your place because they find you flawless. In order to keep costs low, brands predict customer preferences by gathering data either they want to stitch and unstitched clothes. Give it a try to your customers who buy unstitched clothes by recommending them to your professional tailors so they can easily get back to you for the need of stitching their outfits. After successful completion of the selling process you can offer them for stitching their outfits via chatbot. So it is easy to attract and delight customers.
More Product Recommendation of your Apparel Store
It is the probability that your apparel store has many other products that you want to show your customers and recommend them to consider as an option. This is an easy way to engage your customers either in an online store or offline. But you know chatbots also do this for you when your customers are sitting in the room and wonder as they walk in the store. If you heard about 
 Tommy Hilfiger chatbot, you get amazed at how they deal with customers efficiently. Their simple chatbot is highly engaging and delighting the customers by giving advice and recommending customers to opt for more stuff.
Chatbot suggests multiple products by interpreting the customer's intentions. If someone buys a t-shirt, he/she will probably look for pants. Chatbot freely asks them to show what they need more or what looks best with that t-shirt your customer bought before. Perhaps some tailored pants for men would be a great choice to complete the stylish ensemble.
Easy to Transfer Shipping and Tracking Information
AI fashion bot reduces the steps of shipping and tracking information by getting smarter and active responses within less time. Just one message away, all the information and details regarding track the shipping will be presented in a chatbot. Don't need to take long calls from your customers to inform them about when you will get your special parcel. 
For example, one of the fashion store Sephora has an ideal chatbot that customers leave information such as contact number or tracking number, so they can easily get a quick reply.
Let's wrap up
These are the ways that the fashion industry turns out to be the largest business in the globe. Get indulged in your online apparel business to reach out to the in-store conversion. Virtual retailer assistants have been working for so long and many leading fashion stores get benefited by ultimately increasing sales and generating profit as well.
AI is ultimately a helper for customers in the stages of making purchasing decisions. It acts like a support agent, a stylist, a well-trained communicator, and much more. Experience fashion bot with Botsify to know more about the inside story. Botsify gives you 14 days free trial, consumes your time and let us know how much you are satisfied to build a chatbot on your social sites.