Introduction
Messengers are everywhere. We spend hours chatting and consuming content in numerous messaging apps. They dominate other apps in terms of sessions and user engagement.
Chatbots seem to be everywhere too. Yes, robots are taking over the world. And that's a start: the chatbot market size is expected to grow from $2.6 billion in 2019 to $9.4 billion by 2024. 
A chatbot is, in essence, a computer program designed to simulate conversations. They are perfect automated virtual assistants that are getting smarter over time. Nowadays they can understand users' inputs and requests and act accordingly. 
Why are businesses investing in chatbots? There's a reason for it: marketers use chatbots to acquire low-cost leads and boost engagement. Although chatbots are an example of marketing and sales automation, they scale authentic relationships with prospects and customers.  
The right mix of messengers and chatbots can turn into something more powerful and sophisticated—a conversion and revenue machine to grow in a scalable way and beat competitors. 
If you're still on the fence about the benefits of chatbots and messengers for your business, let's walk through the list of values they can bring to the table.
Everyone has a messenger
The best thing about chatbots is that they are frictionless: your prospects and customers don't need to download an app, create an account, or visit a website. Instead, they just open a messenger with a familiar, clean, and simple user interface, and start communicating with a bot.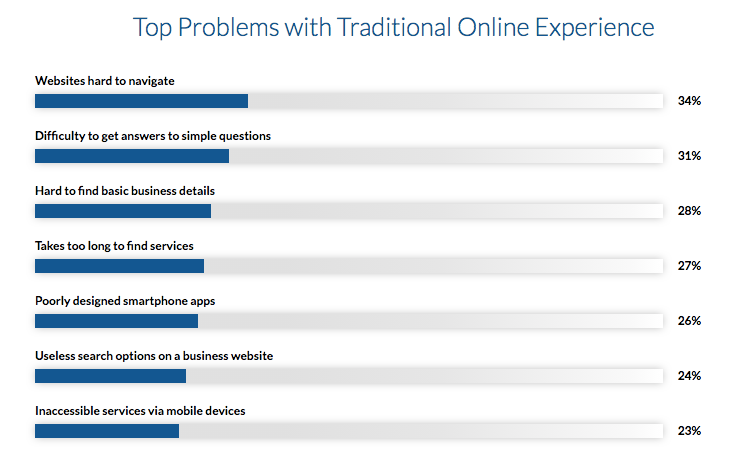 What's more, the text isn't the only way to communicate. Chatbots can send different media like audio, video, photos, and GIFs, as well as use carousel menus and web-views, to display information better.
Messengers are the future
Messengers are new social networks. The Messaging Apps Report illustrates that the world's top four messaging apps' number of monthly users (WhatsApp, Messenger, WeChat, and Viber) surpassed the top 4 social media networks — Facebook, Twitter, Instagram, and Google+. 
At the same time, Facebook forces users to send messages in the standalone Messenger app. Also, the company integrates its various messaging platforms, allowing users to seamlessly connect with friends and family across Instagram and Messenger. Apple reveals Business Chat that allows customers to engage with your business within messages. And so on. The best part is that most messengers include e-commerce functionality and various integrations suitable for marketing purposes, including chatbots. The best part is everyone can do a chatbot yourself with the help of Botsify. As the result of chatbot flexibility and effectiveness, the chatbot market size is poised to reach $1.34 billion by 2024.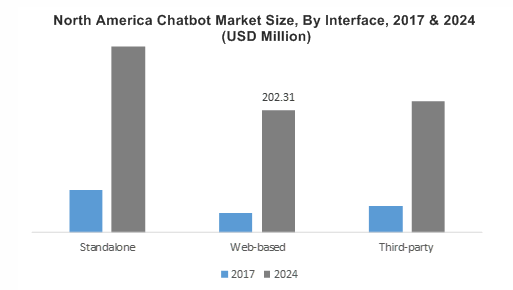 Instant customer support
Remember how annoying waiting is? Especially when you are ready to spend your money. Сustomer satisfaction depends on the speed of customer service. And there's no surprise that the first response time is one of the most crucial metrics. Luckily, with bots, your prospects can forget about waiting lines and receive an immediate response.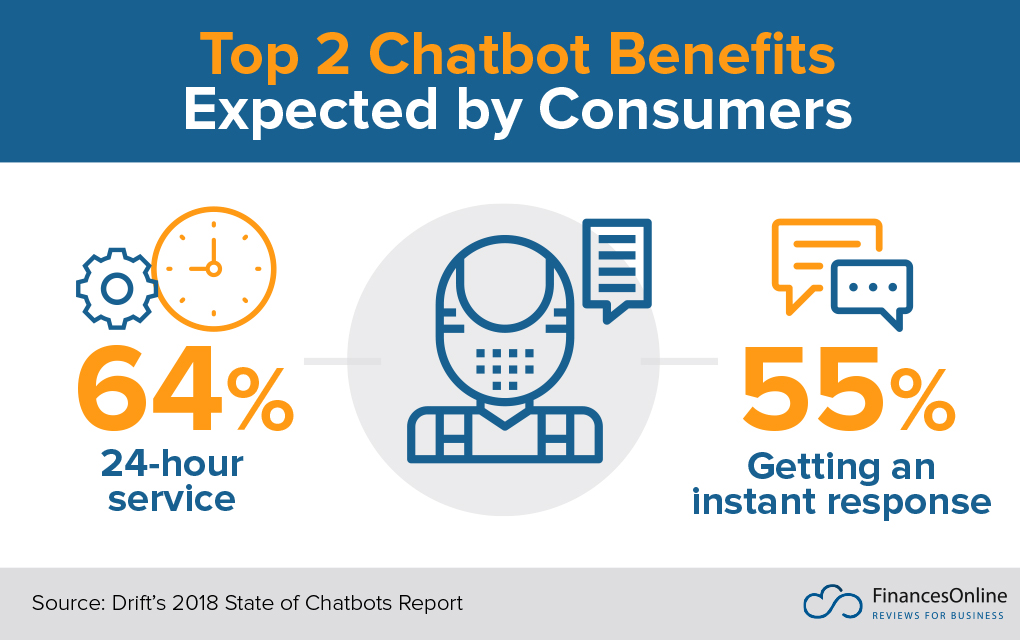 Seamless live communication and 24/7 availability
Nobody likes to wait. If you don't solve customers' challenges in a timely manner… you lose your customers. Your business should be ready for the way in which people expect to interact with you nowadays—they hate wasting time trying to get in touch. Alternatively, your prospects may switch to another brand.
Luckily, you can be available and helpful 24/7 with the help of messengers and chatbots. Chatbots are perfect coworkers who don't mind working night shifts and don't need any sleep (and salary). What's more, using chatbots, you don't need to increase your team to offer 24/7 support and always find solutions to customers' problems.
Automated frequently asked questions
How much does it cost? Do you offer a discount? Do you ship internationally? What are the costs and timeframes? Answering repetitive simple questions can be dull and draining for you. It'd be better to spend time on issues that really deserve your attention. Considering that, it's a great idea to 'outsource' these kinds of requests. Chatbots can take over a lot of repetitive tasks and eliminate time-consuming monkey work.  
Handling numerous chats are no longer a problem
How many chats can a support specialist handle at one time? Keeping in mind that multitasking is a myth, let's be honest: a few parallel live chats are almost impossible to deal with. What's more, the quality of these conversions will be low. You can forget about answering in a timely manner. On the other hand, a chatbot can deal with unlimited amounts of live chats and customers at the same time. The saving of time and money
A report from Juniper Research predicts that chatbots will save a combined total of $11 billion for banking, retail, and healthcare industries by 2023. Speaking of time-saving, the companies and consumers in these industries will save a combined total of over 2.5 billion hours by 2023. Impressive, isn't it? 
How can it save so much time and money? First, there are whopping 265 billion customer requests per year. Businesses all around the world spend nearly $1.3 trillion yearly to service these requests. The massive savings may come from adopting chatbots. Actually, chatbots can cut your expenses by 30 percent as well as dramatically cut interaction times on all customer support channels. The chatbot can answer all simple queries and, as a result, help customer service agents focus on more complex issues.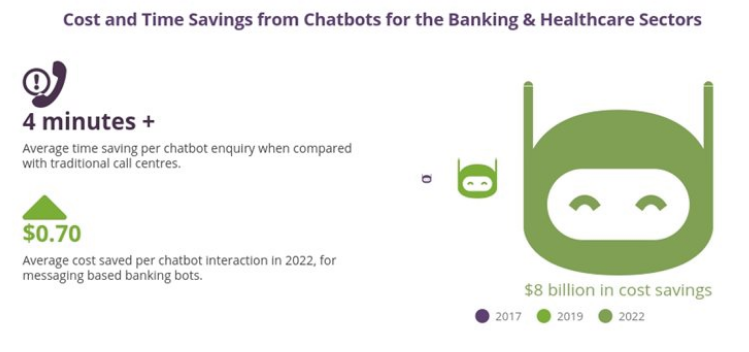 Smooth customer journey
It's quite painful to lose prospects halfway through a marketing funnel because of a confusing check-out system or return policy. The good news is, you can stop losing your prospects just now. It doesn't take much for chatbots to make the customer journey smoother. 
Simple tricks like offering additional information on products or giving prospects more insights from related video content streamline the buying process. As a result, chatbots in messengers can reduce churn rates and cart abandonment rates, which are a big problem for any business.
Stress less customer experience
The conversations with your business matter a lot for customers and shape their opinions about you. Sometimes customer service executives may respond differently based on their well-being, mood, weather, etc. 
In addition, you probably know all these frustrating IVR systems that route your call depending on your voice responses. That reflects on customers' preferences: nowadays most people prefer to live chat over other channels, and half of the consumers would choose to use chatbots if it was available. Chatbots are widely considered to be quicker, more flexible, and more efficient.
Brand humanization
The flexibility of chatbots has another advantage—you can program them to have a 'personality' that suits your company identity. Conversational chatbots can make a user feel that they are talking to a human being by offering information or services in a friendly and personal manner. 
And in this way, a chatbot is becoming a helpful and attentive assistant who is always ready to help with the product information, tracking the status of delivery, and much more. Chatbots can make all stages of the customer journey easy and enjoyable. That's a brilliant opportunity since personalization turns a prospect into a customer (and a customer to a loyal customer) and displays your brand voice. 
Sophisticated audience segmentation
Messengers are a perfect place for building brand awareness, which is a top priority for every business nowadays. Why? The reason is pretty simple: the audience of messengers is enormous. 
Looking for more customers here, don't forget about chatbots. They will help you broadcast your brand message and streamline customer communications much better than cold calls and email notifications. Using bots, it's easy to promote new products, as they can reach the right prospects, with the right offer, at the right time. 
It's called segmentation. By offering quick options for a prospect to choose from, bots can create segments based on your audience's preferences. That enables you to send highly personalized messages and offers according to prospects' preferences. As a result, you can provide your audience with something that really appeals to them and convert them much higher. 
Endless marketing improvements for maximum results 
Chatbots let you constantly evaluate and optimize your marketing and sales activities by tracking their performance in generating leads and sales. This will help you tweak the chatbot experience and settings accordingly to your business goals. For instance, you can change welcome messages, tweak prices, communicate more enticing offers, include additional information about your products, etc. 
Sky-high open rates
What are the open rates of your marketing emails? 10 percent? 20 percent? The average email open rate for all industries is 21.33 percent. Sounds great, doesn't it? But what about 88 percent open rates and 56 percent CTRs using chatbots and messengers? 
Yes, messengers mixed with bots declare the death of emails. Why are they so effective? To tell the truth, nowadays lots of companies are experimenting with chatbots (like lots of them were experimenting with mobile apps in the early years of the App Store). As a result, not every chatbot is a powerful marketing weapon and gives users a mixed experience. 
Nevertheless, now it's becoming clear what separates a good bot from a poor one. And good chatbots can turn messengers into your personal conversion machine.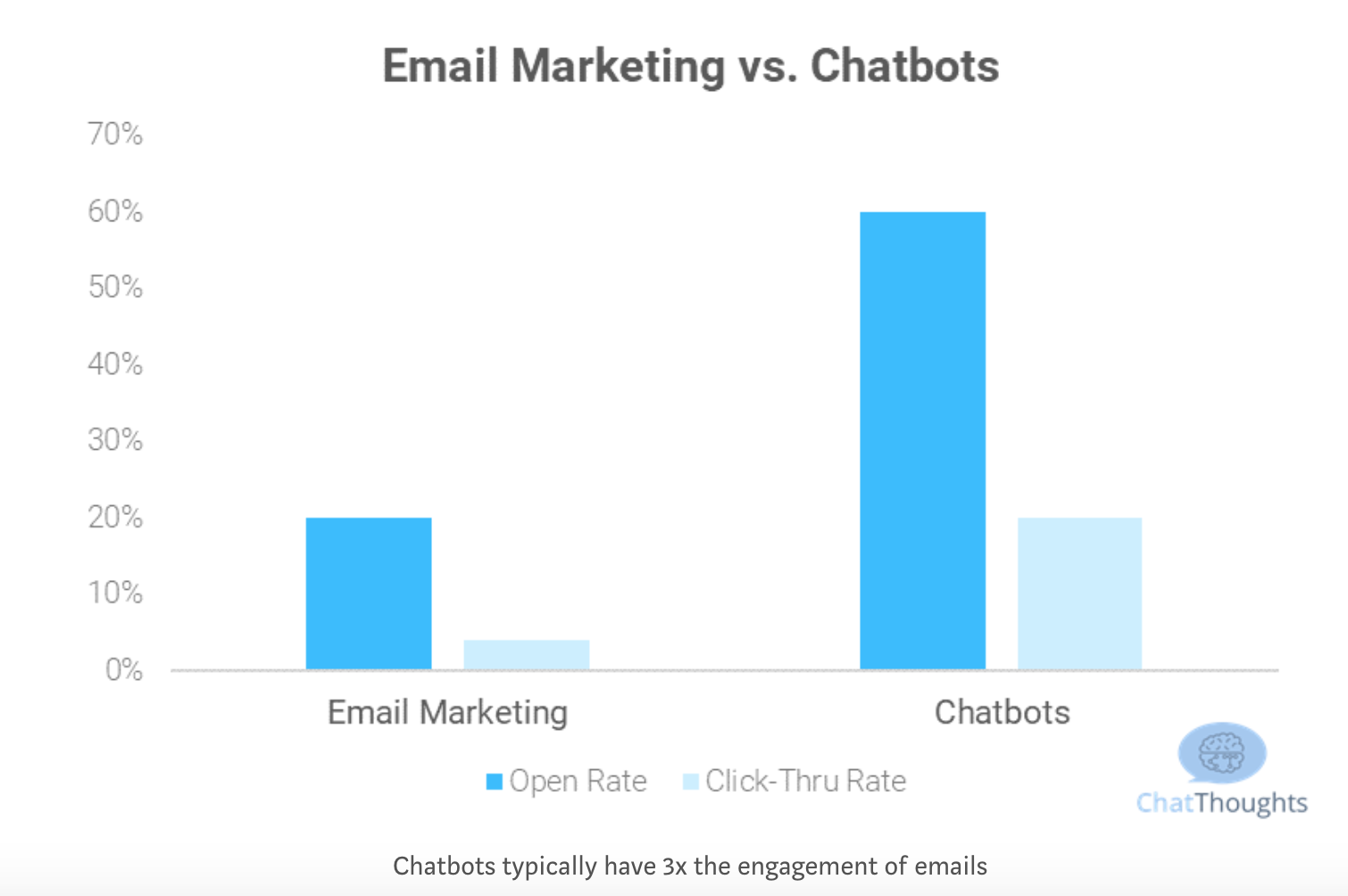 A gold mine of customer insights
Interacting with customers with the help of chatbots, you can gather insights about their activities, preferences, challenges, and more. Also, it's a good idea to sort customers' requests to find the most common queries and make that information available on your website or in your mobile app. 
In addition, by having insights on customers' most common problems, you can take steps to resolve their issues quickly in the future and improve and innovate your products or services. As a result, they'll be more likely to stick with your company and products. This is of paramount importance for any business. 
Also, chatbots help perform a survey on the customers' experience with a purchased product or service, their requirements, and expectations. The survey conducted in emails or on websites has a super low response rate and goes in vain. Chatbots make the survey engaging, brief, and successful.
More sales
If you resolve prospective customers' issues instantly with the help of a chatbot, there are more chances they will turn into your leads, which can translate into more sales. Also, it's a good idea to market your latest products, cross-sell and up-sell, run promotional campaigns, and send out updates to your customers via messengers. 
For instance, let's imagine that your prospective customer has abandoned their shopping cart. To convince them to proceed to the checkout is a major challenge for every e-commerce business. Chatbots can handle this by making the personalized offer immediately. What's more, having integrated the API of a payment system (PayPal, Stripe, etc.) with a chatbot, you help prospects seamlessly complete the checkout process.
Takeaways
As the business world evolves, so do the tools we adopt to market our businesses. Empowered by chatbots, messengers offer an advanced level of promoting products and services among a potential audience of millions. The best part is that nowadays chatbots don't require some significant investment in terms of money and time: you can outsource chatbot development or even do it yourself. 
From marketing to sales to customer services, the potential benefits of chatbots integrated into messengers are significant for businesses of all sizes. Chatbots improve customer engagement, push your prospects further down the marketing funnel, predict customer behavior, broaden your reach, etc.
Have you ever experienced the value of chatbots for your business? Share your findings in the comments below!