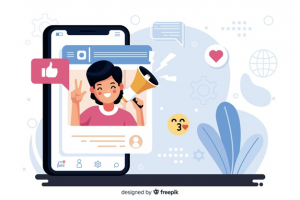 What's influencer marketing and why should you leverage it for your business?
Marketing can drive the most seasoned entrepreneur nuts. Branding, choosing the right platforms for product promotions, speaking your audience's voice, and deciding on the most effective strategies for your target market is challenging.
But you don't have to do it all on your own.
Influencer marketing is an excellent way to access a loyal audience to increase brand awareness, boost your marketing ROI,  reach fresh audiences, and skyrocket your bottom line.
Research shows that 49% of consumers rely on influencer recommendations and on average brands gain $5.20 for every $1 spent in influencer marketing.
So in the amazing guide, we've covered everything you'd want to know about influencer marketing.
What is Influencer Marketing?
Influencer marketing is a strategy that brands use to promote their services or products by connecting with popular bloggers or social media users. Usually, influencers have massive, engaged audiences that businesses can tap into, to grow credibility, trust, and even garner sales.
The results from this marketing medium are stellar, so much so that 89% of marketers state that ROI from influencer marketing is equal to or greater than other marketing mediums.
Take Beats by Dre,  for example, which Apple owns. You may wonder why it got so popular. It's because of countless celebrities from the Kardashian's to LeBron James, showing up on social media saying :
That's influencer marketing in all its glory.
Partnering with influencers is the leading marketing strategy for many businesses. And the reason is the following benefits:
Get your product or service before a bigger audience
Build your brand's credibility and trust with your target audience
Increase in your business's social following
Lead acquisition
Boost in website traffic  
More sales
When people see celebrities and individuals they look up to endorse a product or service by using it, they're much more likely to follow suit.
Influencers have hundreds of thousands of followers to over a million followers on social media platforms like Snapchat, YouTube, or Instagram. These people have grown their audiences over the years and can easily influence their following hence the term influencers.
How to Make Influencer Marketing Work for You
The simplest way to make influencer marketing work for you is to pay influencers to post content about your product or service.
On Instagram for instance, there are many models promoting energy drinks or protein products or similar items. Such models get paid per post.  
You don't have to be a huge brand to see value out influencer marketing. Let's imagine you're an online retail store pushing products. You don't really require influencers on the level of David Beckham or Kendall Jenner to boost your offer. An influencer with 500,000 followers would do the trick if you pick them out the right way.
If your online store is paying such an influencer up to say $900 per post with an average order value of $60, you can already see how the numbers stack up in your favor. Imagine if one of the influencer's posts gets you $6000 worth of orders, that's a deal you'd want to rinse and repeat.
The brilliant aspect of it is the assurance of loyalty from the audience when you pick the right influencer. Data from YouTube shows that 70%  of teenage subscribers on the social media platform trust influencer opinions more than that of traditional celebrities.
Which Influencers Should You Partner With?
Newbies with this marketing strategy make the mistake of looking only for influencers with massive follower counts but users can inflate those numbers artificially. Rather, use audience loyalty as the decision metric.
When you find people on Instagram with millions of followers but they're only getting a few thousand likes per post, that should raise a red flag.  Their audience isn't loyal. And without a loyal following, they have no ability to compel people to buy a product or use a service.
That's why so many businesses use loyalty solutions like CandyBar.co for a smart and automatic way to incentivize customers to make further purchases. 
Using CandyBar customers can get rewards via digital loyalty stamps after making purchases, which eliminates any chance of losing rewards. And brands can then clear these loyalty stamps during the next purchase and track business data to know who their best customers are and the number of returning regulars weekly. 
The outcome is so outstanding that The Daily Cut experienced a 20 to 30% boost in revenue after starting to use CandyBar to induce and reward loyalty. Such results are due to an intentional approach towards loyalty creation. 
Now, imagine how powerful the effect of an influencer with a loyal audience would be, when they recommend your product or service.With a loyal following, they'll have more engagements, comments, and likes per post. A high engagement ratio is nearly impossible to fraud, and it's a clear sign that the influencer took their time to create an organic and loyal audience.
How to Leverage a Mutually Beneficial Influencer Strategy
Referrals have always been one of the most powerful marketing strategies. People trust their friends and family member's opinion about a product or service, and will mostly buy it on their recommendation. In fact,  word of mouth is the major factor behind 20 to 50% of all buying decisions.
Influencer marketing generates the same reactions to a product or service. When an influencer tells their followers or audience about how outstanding your offer is, there's a greater chance that their followers will convert. Because the audience trusts the influencer and needs your product as a solution.
Typically, you can give unique discount codes to the influencer's followers, to track how valuable the campaign is.
What Do the Numbers Say About Influencer Marketing?
When smartphone brand Motorola launched the Moto Z family and Moto Mods, they used influencers on YouTube for promotion. They decided on YouTube because they were already running promotions of the new smartphones to a young demographic and found out their target audience hung out on the platform.
Motorola chose 13 influencers,  who had to make their own videos marketing the product. The most successful video resulted in some phenomenal numbers:
38.1 million social impressions
11.6 million views
80,000 first time clicks to their website for
122,000 total clicks  
Such results reveal why experts predict the influencer marketing niche to hit $15 billion in 2022.
With paid ads costs on the rise in various social media platforms like Instagram and YouTube, companies have to stay afloat.  This is where influencer marketing comes in.
Partnering with influencers can be more affordable than paid advertising and a lot more effective as you can buy into influencers (often huge) and loyal audiences.
Data even shows that 65% of influencer marketing budgets will rise in 2020. The influencer space still has a lot of time before it gets saturated but you can expect it to get more costly real soon.  
If you still aren't certain about whether influencer marketing is an excellent fit for your brand, look at other companies in your niche. You'll most likely find out that several businesses are already running paid posts with influencers. And if they've been doing so for a while, it's a significant sign that the strategy is working for them.
Why Should My Brand Rely on Influencer Marketing?
Influencer marketing remains a viable solution for brands willing to look for innovative ways to build trust with their target market.
Asides that, here are some reasons why your brand should rely on influencer marketing:
Influencers Are Powerful
Research reveals that 86% of consumers believe word-of-mouth is the most trustworthy form of advertising. And 60% of teenagers follow the advice of influencers.
These numbers show how we place recommendations over paid advertising, which makes it almost impossible to neglect the influence of these individuals.
Influencers Boost Social Awareness
Everyone is on social media, including your grandparents, a study from Oberlo states. 
And with a powerful social following, you can interact with customers who come on social media platforms to research products and services. Yes, 54% of social browsers use social networks to research brands and products.  
With the right influencer, you can grow your brand's social awareness overnight by directing a sizable number of targeted consumers to your social media touch-points.  And even if they don't convert initially, you can always retarget them using ad solutions like Facebook Ads.
Influencers Improve Your SEO
While it isn't a confirmed ranking factor, a powerful social media presence is a quality signal to search engines as search engines equate a substantial following to your brand's quality. And this boosts your optimization efforts.
Choosing the Best Influencer for Your Promotion
Before you reach out to an influencer, you need to set your campaign goals. Only after a clear aim for your promotion should you start your campaign.  You can then use qualitative research methods as we'll soon see, to choose an influencer.
But after the above steps are all checked, keep in mind that the creative process needs to be collaborative. So you need to offer relevant information and continuously communicate with the influencer.
Let's see some examples of influencer marketing partnerships done the right way:
Herbalife Nutrition and Cristiano Ronaldo
A brilliant example of an influencer marketing partnership is the one between Herbalife Nutrition and Cristiano Ronaldo, a soccer legend. The collaboration began in 2013 and recently got extended to 2021.
The partnership was to promote its launch of the Herbalife24 CR7. A sports drink specifically designed to satisfy the nutritional needs of the soccer superstar Cristiano Ronaldo and all athletes.
This is where the magic of influencer marketing comes in. That in the eyes of consumers they automatically associate a product with an influential personality.
But it doesn't have to be a superstar you partner with and we'll see that in the next example.
Bigelow Tea and Cherished Bliss
Ever heard of Cherished Bliss's lifestyle blogger, Ashley?  Most likely not. However, Bigelow tea, one of the biggest names in the tea industry partnered with her to promote their product.
Ashley then crafted an amazing recipe for the Bigelow Tea using Lemonade Ice Cube, which resulted in Bigelow on the first page of the SERPs for a competitive search term "iced tea ice cube".
The campaign also garnered over 32,000 blog engagements, increased tea sales by 18.5%, and 44 million impressions.
Now you know what an amazing influencer partnership should look like let's go over the steps needed to choose the best influencer for your campaign:
Step 1: Set Out Your Main Objectives For the Campaign
Before going head to plan amazing campaign ideas or searching for the right influencer to leverage their audience, you need to map out your objectives.
In order not to waste resources all decisions need to have an end goal. Take our Cristiano Ronaldo example again. Say you're a big nutritional supplement brand with an impressive portfolio, but still haven't become a reference point in your niche and seek to do so. However, the nutritional space is highly competitive so you need to partner with someone who can make your brand stand out.
Your first step would be to write out your campaigns objectives like this:
Target Market (location, gender, incomes, age, etc)
Influencer's prime task
Influencer's job during the campaign
The influencer for this campaign needs to be below 40, popular in the sports industry with a young audience. Since you want to give your brand a huge boost, you'll need an influencer with an 8 figure or more followership.  Cristiano Ronaldo has over 200 million followers on social media,  so he's the best candidate for the job.
The fundamental goal of this campaign is to boost sales by 20% in the first 2 months. It will involve 4 social media posts by the influencer during those 2 months.  
So there are 2 things here:
The goal is specific: 20% boost in sales and an increase in brand awareness
The goal is time-bound: A 2 month trial season.
Step 2: Find the Right Influencer (Research)
Unlike when you're trying to find the right place to sell your product and you look out for stores that sell similar items and reach out to them. With influencer marketing, it's different as there aren't marketplaces where you can place an ad for influencers.  
So here are a few ways to go about it:
Conduct a Manual Search
First, you need to figure out the influencer type you want and then promotional channels to use.
To figure this out:
Interact with Your Target Audience: Interact with your customers and find out what social media channels they prefer and what influencers they follow on those channels. Talk to your audience in real-time using a live chat or chatbots to learn more about them. You can also achieve this with your email list using a survey. If they follow any of the individuals you intend to reach out to, then that influencer is most likely the right person.
Carryout Competitor Research: You probably are doing this already, but check out who your competitors are partnering with and reach out to the competitors of those influencers, not your competitor's partners.
When you find an influencer you're interested in, here are the aspects you should research on:
Fan base size
Strengths
Weaknesses
Social media channels
Contact info
Niche
Fan Loyalty
Use Influencer Platforms 
There are many platforms you can find the right influencers for your campaign on. Regardless of your niche, whether beauty, fashion, gaming, influencer marketing platforms such as Famebit, Upfluence, AspireIQ, and others can really help.
These platforms allow you to sort through the influencers you want to reach out to by the number of followers, cost per impressions, age, cost per engagement, etc. So it's easy to find the best fit.
Here's how you should target influencers:
If you're pushing a cosmetic product, pick a beauty influencer
If you want to promote water bottles, choose a sports influencer
If you're pushing an enterprise software, influencer marketing may not work.
Finding influencers the right way is all about targeting.
Step 3: Start a Conversation
Influencers get swarmed with various kinds of messages,  from spam to admiration to meaningless offers. So they often ignore most messages without giving them a second thought. This means to get their attention you've got to stand out. Here are a few ways to achieve this:
1. Use Interviews
Everyone loves sharing their passion and experiences. So all you'd need to do is reach out to a major publication first before contacting them about the interview.
After acceptance by the publication, you can then reach out to the influencer about an interview on the publication. Ensure that the publication goes live as this is a way to build a relationship and a failed interview with no publishing won't help that.
Once the interview goes live, it'll be a lot easier to ask them for a collaboration.  
2. Ask for Advice
Like I previously stated,  people love sharing out of their wealth of knowledge,  however, most influencers are way too busy to respond to every question they get on social media.  But if your question is meaningful, some will respond and you can strike up a conversation and possibly get a chance for partnership.
What to Keep in Mind During Active Campaigns
With that said, there are some aspects you need to keep in mind while in partnership with an influencer:
Unrestricted Creativity: A recent survey of 59 influencers, revealed that 77%  of influencers state that the reason they work with a brand more than once is creative freedom.
Have a Budget and Monitor your ROI
For every dollar spent on an influencer campaign, businesses generate 5× more impressions and engagements than paid advertising. While all this may look so appealing if this is your first influencer marketing campaign, you'll want to start with a small budget first. So you can see what works, and what doesn't.
Plus, when you're running an influencer marketing campaign say on Instagram,  to maximize profit you want to make sure you get your engagement ratio right:
Make sure the influencer's engagement ratio per post is above 5% for smaller followings between 10,000 to 20,000 followers.
For bigger audiences of over 20,000 followers, you'd want to ensure that the engagement ratio is a minimum of 3%.
Once you certify the above, try to purchase as many posts as possible and you can reduce costs by buying in bulk packages. Avoid one-off promotions. Do it consistently for your product, or service to stick in the minds of the target market.
Like the Beats by Dre example, they didn't pay Kendell Jenner to wear it only once. Rather, they pay tons of influencers to promote it year in and year out, which created a movement. Keep at it for at least 6 months.
With that said, here's what brands are spending on influencer campaigns:
It's easy to overspend with influencer marketing, but you need to stick to your budget and only spend money with the assurance of profit. To achieve this, keep tracking your ROI, and tweak your strategy where necessary. With a proven strategy, you can then increase your budget.
Influencer Remuneration
Like we've already seen, influencer marketing is mutually beneficial. So you need to have unique ways to make your partnership appealing to the influencer. Here are a few:
Discounts or Free Product: You can offer an influencer a discount or free product for a shout out. This won't be the only arrangement but it's a superb way to build a relationship. With time you can phase this out and offer alternative payment models.
Money:  Most influencers opt for this remuneration method. The only challenge with this method is that the individual may not be truly into your brand, which means they won't put in their all into your project. Regardless, if you have the resources, this is one of the best options.
Commissions:  This method is a win-win for both parties, as everyone has a stake in the project. You reward the person an agreed percentage for any sale generated via their promotion. This is a brilliant system, as long as your commission structure remains fair.
Conclusion
That's a wrap! While influencer marketing is so broad and growing every day, these tips and strategies will help you create a successful framework for your influencer marketing strategy.