Brands try a hundred different ways to keep their content lively and exciting throughout the year. From physical marketing to digital marketing, they must have done it all. But there are a few content dimensions that only user-generated content can add to the brand.
I'll tell you why.
Brands talking about their real customers and real customers talking about the brand have a totally different impact on people. When a customer speaks for a brand, it is likely to get more trust than other brand attempts.
Moreover, research shows that customers who have viewed user-generated content before making a purchasing decision have a conversion rate of 5.6%, compared to just 2.1% for those who didn't see it.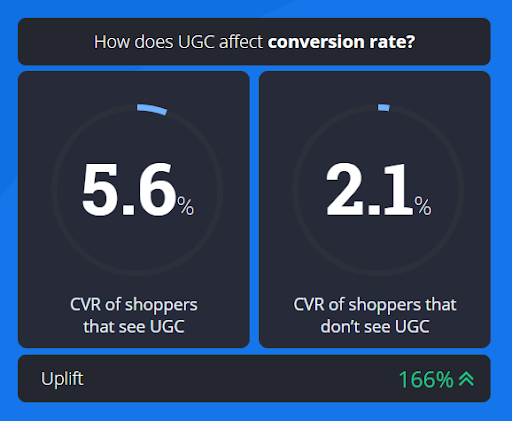 This is something huge, right?
Let's give this a thought. Email marketing is still booming in the market and while user-generated content works wonders on social media, imagine what a personalized email with user generated content can do to your campaigns!
Let's dive right into the benefits of using user-generated content in email campaigns.
Benefits of using User-generated Content in Email Campaigns
1. Awesome email content without in-house efforts
"User-generated content" – the word says it all!
Content that is generated by users will always be different from the content businesses create and use in any marketing campaigns. However, the content posted by them definitely brings more trust, transparency, and certainty to the users.
This way, businesses can access unique email content without investing any content efforts from your team. Moreover, a user's approach might be totally different than your brand's and this can also help you get more possible ideas to market your brand. 
For example, let's see how Fabletics used the hashtag-and-imagery-driven approach to integrate UGC videos with their email marketing campaign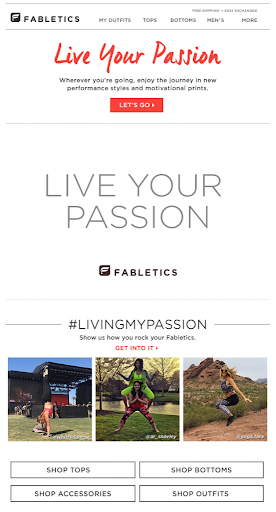 2. Gain more trust from customers
Your audience will definitely trust other customers more than they trust your brand. According to a report, 92% of consumers trust UGC more than branded content. Hence, user-generated content has more potential than branded content, hands down!
We all have experienced word-of-mouth marketing as consumers, right?
In today's digital world, user-generated content is a form of word-of-mouth. In fact, when you integrate that in emails, you showcase and flaunt your brand's social proof with confidence. That is what it takes to gain a user's trust. This will get the users to make confident purchasing decisions from your brand.
3. Get more social followers
Social media is the favorite of millennials and 54% of millennials used their phones to wake up, compared to 28% of baby boomers. It has been reiterated multiple times about how email marketing can be used to get more social followers and vice versa. Sending user-generated content is just one more way to get your email subscribers to your social media.
I'll tell you how.
You can create a unique hashtag on social media and get users to post UGC with that hashtag. Now you can promote the live UGC feed in your emails with that hashtag and encourage more users to click on it and follow your brand on social media.
Let's look at how Dunkin Donuts did it exactly right.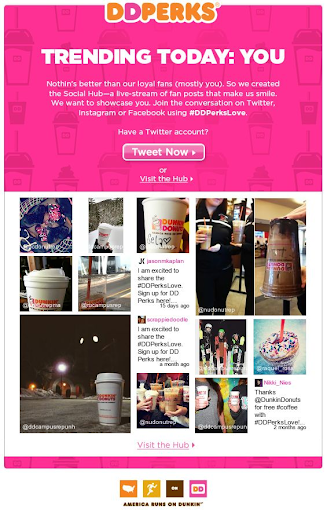 Depending on the type of your brand, there are multiple possible ways to increase your social followers. 
So, get right to it!
4. Send exclusive content
When you post user-generated content on social media, it's open to everyone to view. This is an efficient technique but it makes the content extremely non-exclusive and not dedicated to any specific user. On social media, user-generated content plays the role of setting a public image of trust but on emails, it can be used with a different approach. 
The fact that their content is being used on emails by a brand can make the users feel important. Rather than just spreading the good words, you can also make the audience feel special with it. You can also work with an email marketing agency to do this. Email marketing agency pricing is typically transparent and you can choose how much exclusive content you want to create.
5 Ways to Incorporate User-Generated Content in Email Campaigns
1. You can target trustworthy testimonials
We all agree that emails are a more personalized marketing approach than social media. A user gets a personal message with an email which can contribute a lot more to a business than you can think. With personalized emails, and user-generated content such as testimonials can be used to target the users' pain points.
Customized testimonials can do the work just right! 
Wear your research glasses and figure out your audience's pain points. Depending on those, differentiate and target customer testimonials to get maximum leads. This way you will directly eliminate the user's worry with a simple testimonial. 
Let's look at how Outer used testimonials as email content and targeted email users by leveraging user-generated content.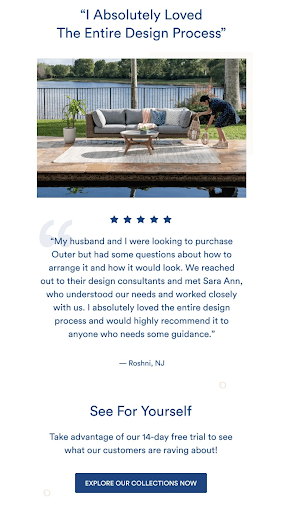 2. Create exclusive content communities
Once user-generated content starts working out for you, you can start by sending thank you emails to the users who posted about you. Moving further, you can create an exclusive community of users who post UGC for your brand, stick to a hashtag and run contests and giveaways for them.
Let's agree that UGC saves businesses both marketing cost & effort.
You can simply leverage that profit into building this content community. When you post about this community on social media, it creates FOMO (fear of missing out) amongst the other users. Furthermore, you can make contest announcements, winner announcements, etc, on social media and subtly show that posting about the brand can help them become a part of this community.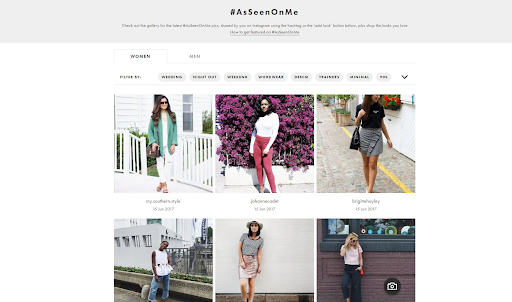 3. Show off your products
This must be the simplest way to incorporate user-generated content in email campaigns!
Utilizing user-generated content for pure advertising campaigns can be the most effortless yet output-giving technique. You can also use email marketing tools for best results in sending out email campaigns.
Make your customers your ad models.
This gesture will make them feel special, especially the ones who are aspiring influencers. It doesn't just encourage users to post more UGC but also portrays your brand as the one who acknowledges and appreciates their audience. And, that's a good brand image to have! Therefore implementing user-generated content in your announcement email and other types of content will highlight the value of your products
For example, look at how Black Milk Clothing advertises their product in their email campaigns by using user-generated images of that product.
So simple, right?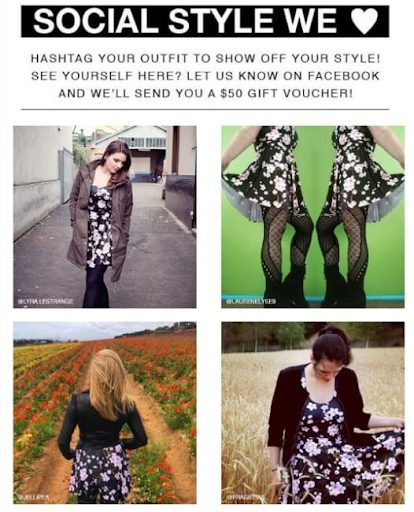 4. Deep dive into your social and email content
All brands know that content creation is a matter of dedicated thought, effort and cost. Moreover, it requires extra efforts such as editing, proofreading, etc. You can save this cost and effort with the help of user-generated content.
Wondering how?
For example, if you have an amazing user submitted picture, why spend the time and effort of getting a model, a photographer and then editing it?
Check those images, choose the ones that align with your brand and start promoting.
Let's look at how Coastal utilized their user-submitted photographs on social media and incorporated the same in their email marketing campaigns.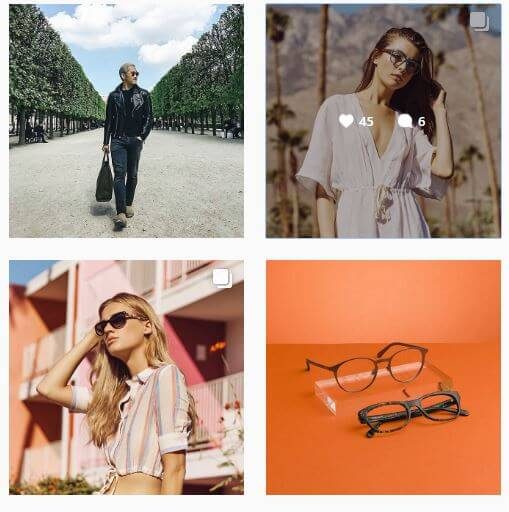 This way, you can easily get more content for email campaigns and can also make sure that no user photo goes unnoticed. This will end up getting you more customers and also make your social media users feel appreciated.
5. Retarget reviews with products
You must have been in a place where you receive ads of the products you were spotting earlier. These are retargeting ads and we have all been there. Retargeting ads play the role of reminding you of the product/service with an aim to get you to make a purchasing decision.
Imagine if I reshow the products and tell the user how good the product is through customer reviews?
It nearly doubles the chances of a user making a purchasing decision.
Look for great reviews on the products that users were eyeing at and send a personalized email to them and outline it with 'We are confident with your choice and so are our customers'.
Moreover, in the same email, you can suggest similar options to buy with start ratings. If you need to see exactly how it's done, look at this example from Madewell. They have creatively retargeted the product with their four best customer reviews on it and shared product suggestions as well. 
Their final smart move is how they promoted their hashtag in the end and asked users to share images in order to get featured.

Conclusion
User-generated content is a powerful tool in many different ways for all kinds of brands!
It's the easiest way to create authentic and trustworthy content in any marketing campaign. And it's given that a user will definitely trust people more than a brand which will translate into more sales. UGC is already booming and as soon as all brands start leveraging it, there will be a dozen other techniques to do it better.
Hopefully, this helped you for now.
Go ahead and design your own campaign to leverage UGC in email campaigns. Try out at least 4 out of 5 ways from the ones mentioned above and if you know any more of them, please write them down in the comments section below.
Wishing you a powerful next email marketing campaign!