Ecommerce is a competitive industry, and the road to success can often feel like a tightrope walk. But it doesn't have to be that way. 
Automation tools can help you level up your ecommerce marketing, eliminating the need for time-consuming tasks, so you have more time to focus on growth opportunities. However, email marketing automation is not just about sending out mass emails either. 
There are many different ways to set up and use email to help your ecommerce business grow and thrive. In this blog, we'll discuss five email automation ideas for your Ecommerce business.
What Is Email Automation?
Email automation is a marketing strategy that allows an Ecommerce store to communicate with customers across multiple channels. Moreover, it lets online businesses create, manage and track customized customer experiences using a single point of contact for all communication.
A successful email automation system can help increase your conversion rates, decrease churn and boost loyalty. 
Why Use Email Automation For Your Ecommerce Store?
Email marketing is one of the essential components of your Ecommerce business. It's an effective way to establish contact with customers, provide them with valuable information, and build a long-lasting relationship.
However, it can be challenging to keep up with all the tasks involved in email marketing. What's more, not everyone wants to receive emails from you! That's why automation is so helpful.
Here are eight reasons you should use automation for your online store:
It's automatic and does not require human interaction. 

Nurture leads. 

Help your sales team.

Bump up brand awareness. 

Reduce the risk of errors and costs. 

Save time to focus on essential tasks. 

Increase your profits. 

Sustain existing customer interest.
 5 Email Automation Ideas For Your Ecommerce Business
Email automation is the key to making sure you're building relationships with your customers, nurturing them along their buying journey, and creating a healthy customer base.
But it can be daunting to come up with automated emails for everyone in your business—you may not even know where to start! That's why we put together this list of 5 email automation ideas for Ecommerce businesses and how to use them (along with handy examples!).
1. Welcome Email Automation For New Customers
Welcome email automation is a big part of marketing and sales automation to get your new subscribers and customers engaged with your business right from day one.
A welcome email has been proven to be very effective for converting new subscribers into customers. According to a study from Invespcro, Welcome emails have a conversion rate of 0.94% compared to 0.10% for standard emails and produce up to 320% more profit per email than other promotional emails.
As said, welcome emails often provide a significant increase in conversions, and they're pretty easy to set up. Welcome emails typically contain an offer for something free or valuable or some promotion that will generate revenue for your business.
Here's an example of a welcome email that covers everything without looking overly formal.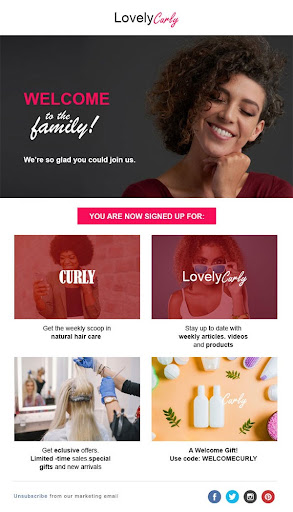 Here are some tips to get you started with welcome email automation:
Include a discount or an incentive to sign up, which can increase instant conversions and increase the likelihood of opening the rest of your emails.

Make sure to send a welcome email as soon as a new user signs up. This will make them remember your brand for a while.

Add CTAs and redirect them to social channels. This will increase visibility and channel engagement.

Avoid spam trigger words like free, get it now, etc., in your email since most email service providers can flag this.
2. Abandoned Cart Email Automation To Recoup Lost Sales
Abandoned cart email automation is an excellent way of helping your customers to reconsider their purchases. 
The email can offer them a discount on the product or remind them that they forgot something in their shopping basket.
The benefits of these emails are twofold: you have the chance to capture sales that would otherwise have been lost, and you also stand more chance of selling additional products once your customer has placed their order.
Here's an example of an abandoned cart email: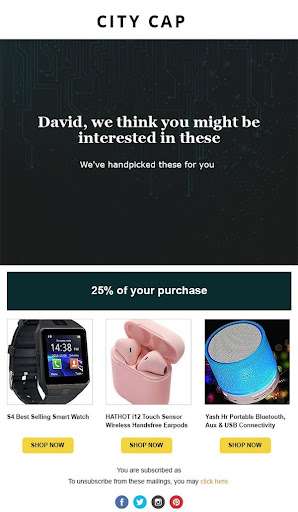 Many Ecommerce merchants, however, are unsure about what to do when a visitor leaves their website. 
Here are some pointers you can use in shopping cart reminders to increase conversions:
Include discounts and offers. This will entice customers to come back to complete their purchases.

Pique the customers' interest with compelling subject lines. For example, "Did you forget something?", "Take 15% off on your first purchase", so get creative and use compelling subject lines

Notify users that they are running out of time to stock your goods. This will create FOMO and encourage them to complete their cart.

Include reviews and testimonials. This will make purchase decisions quickly.
Furthermore, abandoned cart software is a great way to ensure that abandoned cart emails are sent at the optimal time. These apps will have a built-in feature to send emails for abandoned carts.
3. Order Confirmation Emails To Inform Your Customer
Order confirmation emails are critical to the success of your Ecommerce business. It is an essential part of customer service for any company that sells products online. 
So, it is necessary to capture customer information, inform them about their order status, thank them for purchasing from you and ask for feedback.
It is crucial because many people see your company name for the first time in their inbox when they receive an order confirmation email. Any information you present to them here can build trust and help convert customers into loyal fans. 
Most importantly, confirmations should be sent as soon as the order is placed.
Here's an order confirmation email example: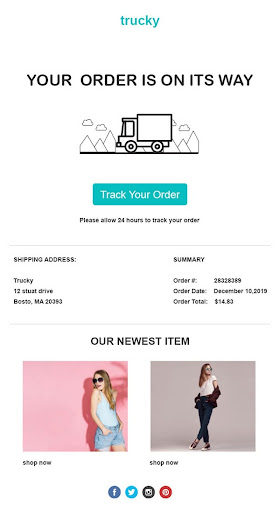 An excellent order confirmation email should include:
Relevant links, images, or text content relay any relevant information about how to use or install your product and product frequently asked questions – This will boost your brand's identity.

Personalized product recommendations – This will provide an opportunity to engage with your brand again.

Thank you note – This will generate excitement as your email is opened.

Order summary and shipping details – This will create a sense of assurance on their purchase.
4. Re-engagement Prompts For Inactive Customers
Engagement is a term used in marketing to describe the relationship between you and your audience. The more engagement you have with your audience, the more traffic you'll get from them.
Your goal is to increase traffic while maintaining engagement. One way to do this is through re-engagement email automation. 
Re-engagement email automation allows you to reach out to people who haven't opened or clicked on any of your emails for some time. It also allows you to remove these people from your list once they engage again by opening an email.
Here's an example of a re-engagement email to notify customers that they haven't interacted with you in a little while.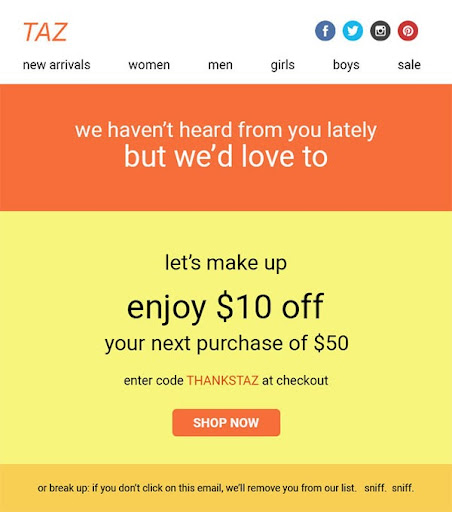 Here are some more tips for creating an excellent re-engagement email:
Use simple incentives that even inactive users can take advantage of with little effort – offers such as "Come back and claim a 10% discount on your next purchase!" They can be strong stimuli.

A/B tests different offers to find the best incentive that customers respond to.

Best of all, personalize the offers based on recipients' personal purchase history.
5. Relevant Updates And Information Automation
Relevant updates and information email automation is used to send out information related to your business or products. You can send out information such as new blog posts, special offers, and promotions, etc.
This is a great way to keep your company top of mind. Moreover, send an email newsletter with relevant updates and information to your customers, and you can increase brand awareness, engagement, conversion rates, and more.
The key is to create a schedule for sending these emails. Start by deciding how often you want to send them, then choose a day of the week that works best for your audience so they know the days when they'll be receiving an update from you.
Next, come up with a simple structure for each weekly email to avoid overwhelming or to confuse your audience.
Here's an example of an email providing updates and information:

Here are the best strategies for providing updates and critical information to your customers:
Use attention-grabbing subject lines like "New Product!", "Product Updates."

Make your preview text convincing to let subscribers know why they should read the email as soon as they see it.

Place your CTA in a prominent place, for example, "Learn more" or "Buy now" to improve click-through rates.
In addition, you can also use AI-based chatbots to send automated email notifications in response to certain conditions. You can choose which conditions to use and which message to send when the chatbot is active.
For instance, suppose a new user joins your email list and provides the chatbot with their contact information. The chatbot can use this condition to send an automatic greeting to the user or a piece of relevant information for subscribing to the email list.
Moreover, Chatbots are a great addition to email automation strategy and help you create more targeted and personalized email campaigns.
To Wrap Up This!
Email automation is a crucial part of an Ecommerce business. It helps you stay top of mind and builds relationships with your customers. 
However, To ensure customers receive the most relevant information, you need to create a plan for your email automation. 
By implementing these five ideas, you'll be able to automate your email marketing efforts and create more effective campaigns that will help increase sales for your store.