Chatbots are awesome. Just ask any marketer who's been exposed to one. But they could be even better! With a little more intelligence, they can do things your team would never have the time or bandwidth to do on their own.
There's no denying the fact that the adoption of chatbots is at an all-time high. So it's no surprise that businesses are clamouring to step up their chatbot game.
These days, chatbots aren't just limited to being a conversational interface. Chatbots are now being integrated with marketing automation software to automate tedious tasks, in addition to interacting with customers. 
Their combination is unbeatable: Chatbots can smoothly answer customer inquiries in real-time, while automation programs handle the behind-the-scenes work without needing constant supervision. 
Keep on reading to find out how integrating your chatbot with marketing automation software can boost your marketing strategy..
What is a chatbot? 
At its core, a chatbot is an automated system designed to simulate human conversation. By mimicking human speech, chatbots provide efficient and personalized web experiences for digital shoppers.
Chatbots may be programmed to respond to specific questions and statements, or they might be designed to mimic human conversation based on several inputs, such as a user's click history and past purchases.
These chatbots can keep working round the clock, day after day, without sleep or coffee breaks. What's more, they can deal with repetitive tasks easily and engage in many conversations at once. Basically, chatbots are your virtual salespeople who stand 24/7 by your customer service reps' side.
Still, deploying a chatbot is just one piece of the puzzle. A chatbot, by itself, may not be able to convert a visitor into a customer. However, when paired with the correct processes and tools, it can become a formidable marketing asset.
Why should you pair chatbots with marketing automation software?
The explosion of software development in recent years has led to the creation of countless apps, services and led to innovations that change the game of marketing and even how we conduct business altogether. 
As a whole, chatbots and automation software aren't much different from each other. Both are pieces of technology developed to increase your company's business efficiency. 
A chatbot communicates with your customers, while automation software takes care of the administrative functions behind the scenes. By using the two simultaneously, your business can address the needs of customers and expedite the process of getting things done. It's like having the best of both worlds. 
In the same way that a dashboard provides an overview of a car's performance, a chatbot gives you a comprehensive view of your shopper engagement. It lets you see everything from individual inquiries to common trends. However, you'll still need a smooth-running engine to make sure the rest of your marketing strategy is being executed without any hiccups. 
Marketing Automation tools to use with Chatbots 
Integrating marketing automation tools with chatbots is the perfect way to make your omnichannel marketing strategy more seamless than ever before. But with so much innovation and change — and so many programs to choose from — it can be difficult to know where to start. Here are five marketing automation tools that you can use to prepare yourself for the future of marketing.
Zapier
Zapier is a robust platform that lets you connect apps that otherwise wouldn't interact. It's a web-based automation tool that acts as a conduit between over a thousand apps. This allows users to sync their favorite web apps and automate tasks across platforms. In other words, Zapier lets you move information between apps for faster work and easier automation. This integration uses pre-built triggers that automatically kick off the next steps in your workflow.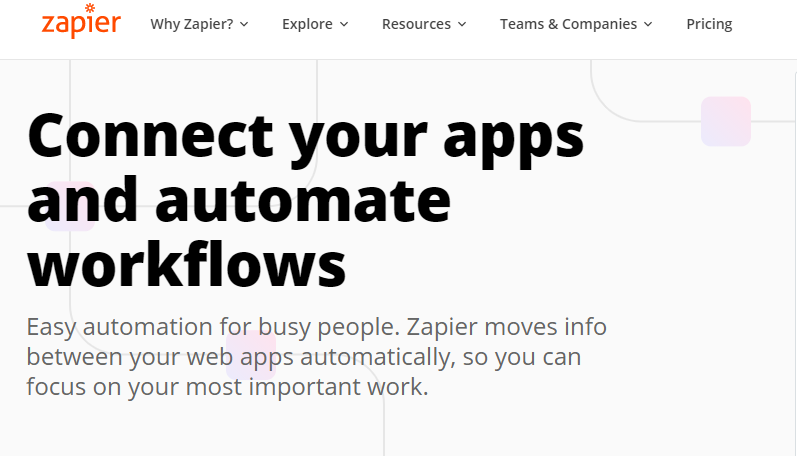 With Zapier, you can practically run any task on autopilot. With its workflow tool, Zapier helps you create strategies to execute multiple tasks at once. The platform enables brands to integrate data and build processes faster. 
Winning Features
Zapier's range of third-party apps is quite impressive. At present, it has a selection of over 3,000 apps. 

Zapier has integrations with MailChimp, HubSpot CRM, Google Sheets, and other CRMs. So when people contact you via chatbot, you can add them to a mailing list or update their information automatically.

Not only can you export data from your chatbot to other platforms, but you can also use Zapier to import data to your chatbot from other services. It's a two-way street!
Pricing
Zapier offers several paid plans to fit the unique needs of different companies. Plans for individual subscribers start at $19. The pricing for large teams starts from $299 per month and can go up to $599 per month. Each tier includes a free trial period of 14 days to get you started. It also offers a free plan that allows you to automate up to 50 tasks per month.
LeadsBridge
LeadsBridge is an industry-leading marketing platform that allows businesses to capture and manage leads. The platform makes it easy for you to sync your sales leads with your chatbot. It is designed to close the loop between advertising platforms and sales funnels. As a result, users see better overall conversions and increased sales.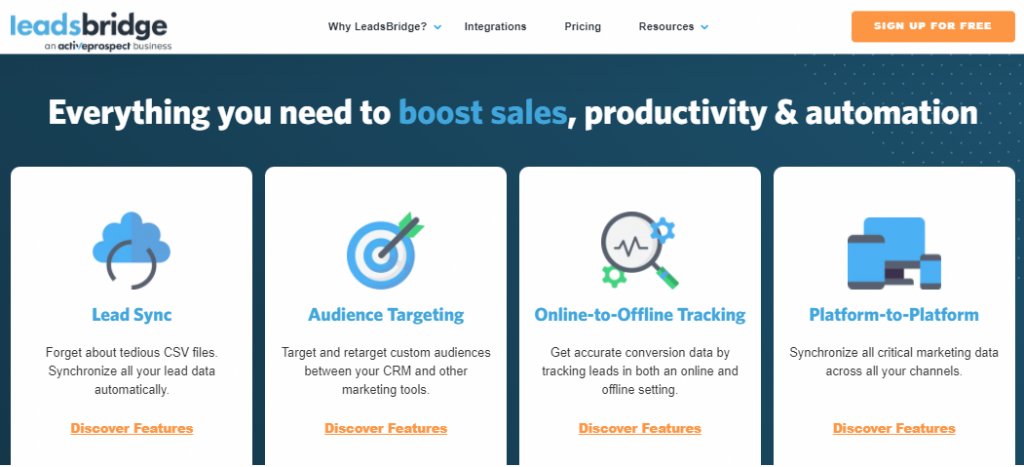 Winning Features
LeadsBridge offers a catalog of over 380 lead building plugins.

The platform automates the lead sync process. It brings Facebook, Google, and LinkedIn ad leads into your favorite CRM.

You can eliminate data silos and make teams more effective. 

Customized integrations to solve unique pain points specific to your business. 

It ensures your campaigns are connected with the most accurate, up-to-date customer information. No need to import bulky CSV files or open multiple tabs to collaborate on leads.
Pricing
LeadsBridge has four plans that are available upon sign-up. These plans are billed monthly or annually, depending on the choice of the customer. The self-service platform provides real-time LeadSync and 1.5k leads per month for $31 per month. The enterprise plan houses custom integrations and is priced at $999 per month.
Integromat
Integromat is an automation powerhouse. With its data transformation and API capabilities, Integromat is an invaluable tool for those looking to streamline the management of their marketing data. It gives you the ability to automate your sales processes by configuring various interactive steps and actions.

Integromat is built with a real-time visual interface so that users can see how their automation is executed and how data flows through the scenario.
Winning Features
With its impressive lineup of plugins, Integromat could pose serious competition to Zapier.

It has a built-in audit log that helps track all of your actions. This means you have a full record of what operations have been executed.

The platform not only connects chatbots to other apps, but it can also transform and transfer data between them. 

It uses basic and commonly used functions for text, numbers, dates, and lists. 

Integromat lets you communicate with a vast majority of modern APIs. And you don't need to write a single line of code to use any of them.
Pricing
Integromat is free for 1,000 operations and up to 15 minutes intervals. To get more professional features, you can opt for the basic paid plan that allows 10,000 operations and unlimited time intervals for $9 per month. 
Pardot 
Pardot is the marketing automation tool of Salesforce, one of the most successful cloud-based CRMs. It's geared towards optimizing lead generation and lead qualification processes. Being a Salesforce product, Pardot is a popular choice for many companies that already use the two in tandem with each other.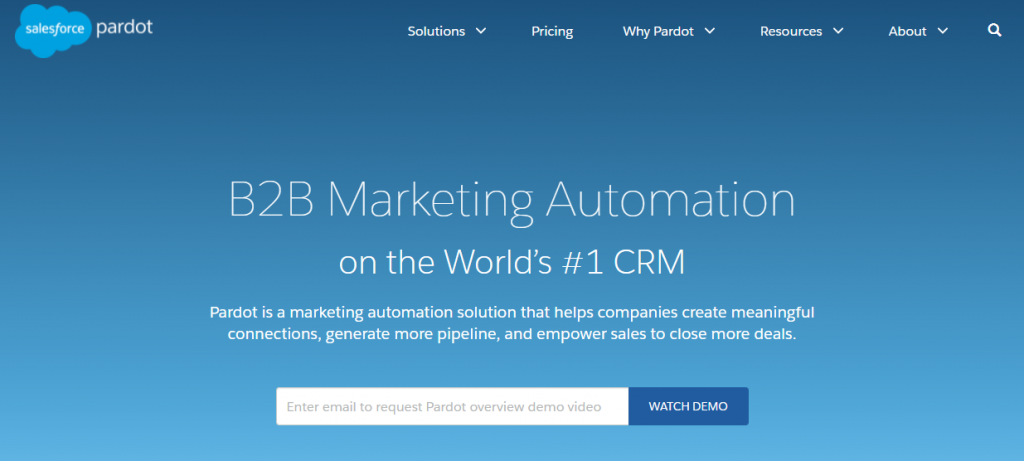 Pardot's automation capabilities are also used by many other platforms, including Drift. Drift, a conversational marketing company, leverages customer data from Pardot for a 1:1 conversation to support the specific actions a buyer just took on a website. A customer is more likely to convert when the messaging is personalized, which is why this alliance helps boost engagement and drive more leads through the sales funnel.
Winning Features
Pardot provides a complete view of user's interactions with your marketing materials. This makes it easy to create segments and automate follow-up.

It is the perfect choice for companies that already use Salesforce for their CRM.

The union of Drift and Pardot uses "two-way" integration that allows Drift to deliver personalized conversations while syncing that data back to Pardot. 
Pricing
Pardot's cheapest subscription plan starts at $1,250 per month. It costs $4,000 per year for the most popular subscription plan that comes with AI. 
ActiveCampaign
Active Campaign sits at the intersection of e-mail marketing and marketing automation. The platform caters to small and medium-sized businesses. It equips them with a potent tool to create automated, personalized experiences for their customers.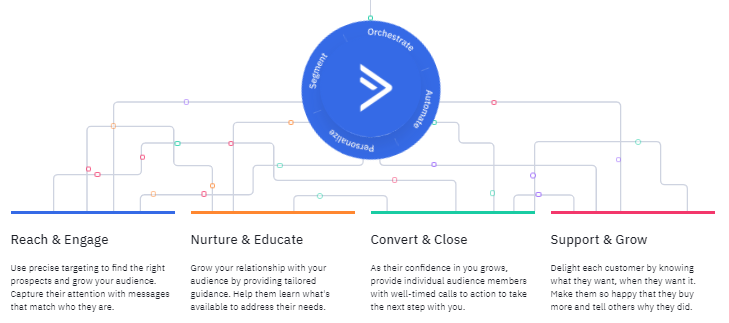 ActiveCampaign features an add-on called Conversations. This feature lets users interact with customers directly on your website. It allows you to review chat transcripts in real-time, push out automated replies when it's appropriate, and even trigger automations based on the chats.
Winning Features
ActiveCampaign's Conversations bundle comes with pre-configured chatbot automation workflows.

With Active Campaign, brands can build relationships with customers through personalized conversations.
Pricing
ActiveCampaign offers business-specific subscription plans. The Conversation add-on comes with a 14-day free trial.
Power up your Chatbots
A truly automated omnichannel strategy should be about more than just the customer. It should take into account employees, partners, insights, and other aspects that can help drive the business forward. With chatbots and marketing automation, the hassle of an omnichannel experience can be boiled down to a handful of meticulously crafted and managed steps. 
Chatbots are like the front-desk reps who make your customers feel special, while automation handles all the boring tasks. When you combine the two, your company's productivity can improve dramatically. And that's where the beauty of an automated omnichannel strategy really shines through. As long as your marketing tools work in synergy and make it easy to build meaningful relationships with customers, you're truly offering something beyond the realm of your competitors.