Search Engine Optimizations or SEO is a practical approach for most organizations to achieve higher visibility when it comes to website traffic. However, SEO is never the sole spear in your pool of arsenal, and SMM or Social Media Marketing is an integral part of the process. 
Most organizations integrate SEO and SMM in their strategic marketing campaigns without thinking about security measures. For example, SMM uses user-generated content or UGC for better engagement.
Though it is a great way to improve traffic and visibility, UGC can put your website at risk due to a lack of security measures; It is the reason why you need to enhance cybersecurity for the SEO of your website. 
Website hacks can be harmful to your website rankings, but according to Google, 84% of respondents who reconsidered cybersecurity for SEO have been successful. So, security is crucial whether you build an SEO campaign from scratch or want to enhance the existing one. 
However, there are several other reasons to enhance security for SEO purposes. Let's discuss some of the causes and best practices to follow. Let's start by understanding the need for the incorporation of security.
Why do you need Cybersecurity for SEO?
From website blacklisting to downtimes that can cause harm to your SERP(Search Engine Page Results) rankings, there are several ways in which a lack of security can affect your SEO.
Blacklisting of Website
When it comes to blacklisting your website, there is no single culprit. Many security issues like hacked domains, lack of secure browsing, and even content hacking on your site can cause blacklisting by search engines. It means no SEO campaign can help you ensure visibility in search results as your site is banned from indexing.
However, you can ensure cybersecurity for SEO and avoid such a scenario. Google has predefined issues that your website can show, which leads to blacklisting.
Content hacking

is a vulnerability where users or hackers add content to your website without your permission. This can be a problem because Google avoids indexing websites with hacked content.

Malicious software

is an attack where hackers can inject malware into the site owner's dashboard and control the website admins. Google can track such spammy activities and blacklist the website.

Social engineering

is an attack where users are influenced or even manipulated to share sensitive information and carry out specific activities like downloading software.
Another problem with lack of security is how it impacts the crawlers while your website is being indexed. 
Crawling Issues
Google employs crawlers or bots to index your URLs and rank websites. These bots are tasked to find relative web page URLs as per user intent for search. However, all of these bots are not just looking for URLs with benign intentions. Some of them are looking for vulnerabilities in your web page URLs based on Google's algorithms.
The worst issue is the duplication of URL path and bandwidth performed by malicious bots that block crawlers from reaching your legitimate web pages. One of the most common errors you may observe due to such crawling issues is 404 error pages where search engine bots try to crawl your web page URLs, but the server denies it.
With such crawling errors, your SEO is sure to go for a toss, decreasing your website's visibility. Another massive security issue that your website can face is SEO spam.
SEO Spamming
SEO spamming is one of the most dangerous attacks that hackers deploy through different malicious activities. For example, malicious attackers leverage a website's vulnerabilities to gain admin control through SQL injection and further deface the site's authority.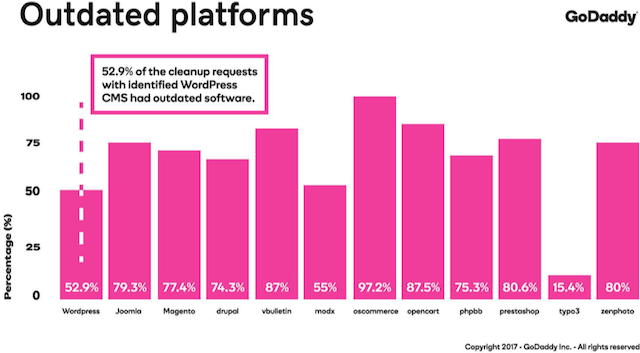 According to a report by GoDaddy, more than 73.9% of websites are hacked for SEO purposes making the problem more complex. Moreover, spammers can use your site's legitimate visits to their advantage through redirects and even build a link farm for higher SEO gains.
So, having sound cybersecurity for SEO can mean more than just saving your website from getting blacklisted from search engine result pages. However, the question remains on how to avoid such issues? Here are some cybersecurity best practices to follow for your website to ensure better results.
Cybersecurity for SEO: Best Practices
When you think about securing your website, there are several best practices to follow. From secure certifications to authorization methods, ensuring cybersecurity for websites need thorough planning and execution.
2Factor Authorizations
Two-factor authentication adds a step of verification to authorize the user access during the login process. Therefore, users need to provide additional information which helps authorization logic systems to enable user access. 
This information can be physical tokens, one-time passcodes, and any form of private detail that the only user can possess. Every user requires,
Username and password

A passcode that is sent to their mobile device, through an email, or even on an authenticator app 
Such cybersecurity measures can ensure that spammers and hackers can't inject any form of malicious content on the website through user access. Another essential security measure is to have HTTPS protocol established.
HTTPS Protocols
HTTPS protocols ensure that your website is secure against several spamming attacks and other such cyber threats. In addition, Google has specifically included HTTPS protocol as a part of its guidelines for the website's core vitals. So, HTTPS is also quite essential for your SEO. 
The best way to establish HTTPS protocol is by installing SSL certificates. SSL or Secure Socket Layer ensures that the data exchange between two systems is encrypted and hard for hackers to read. You can buy a cheap SSL certificate for your website from several different vendors in the market or even choose a hosting service provider that offers it pre-installed.
Conclusion 
Innovations in SEO practices and integrations of intelligent technologies like Artificial Intelligence are making cybersecurity more challenging. However, it is essential to have proper cybersecurity for SEO to prevent any impact on your site's traffic. The best way to ensure cybersecurity for your website is by filtering user access and blocking malicious injections, which can also help you achieve better SEO results.