Lead Generation For SaaS
The usage of products and services has been continuously transformed over the last couple of years. This means you need to gear up and prepare yourself a lead generation technique that gives your potential customers what they are looking for. Or you can say, a strategy that makes your company click in their minds every time they are needed for the service you provide!
In order to make the strategy work, you need the right tools to help you begin with.
In this guide, I will walk you through 10 best tools for your SaaS Startups to generate qualified leads and convert them into your customers like never before!
So without wasting any time, lets jump right to these…
Free Lead Generation Tools For SaaS
To understand each of them a little better, I have categorized these tools into the following sections:
As chatbots have gained popularity among various industries in the past couple of years, SaaS Startups are probably the first ones to welcome this technology with open arms.
Botsify offers a little more than just automation for the website and Facebook live chat support, it helps you generate leads in multiple ways:
1. Lead Generation Forms
You can collect leads through messenger chatbot using Lead Generation Forms within the conversation. Create conversational forms with Botsify to make your chatbot interactive and collect user information then and there!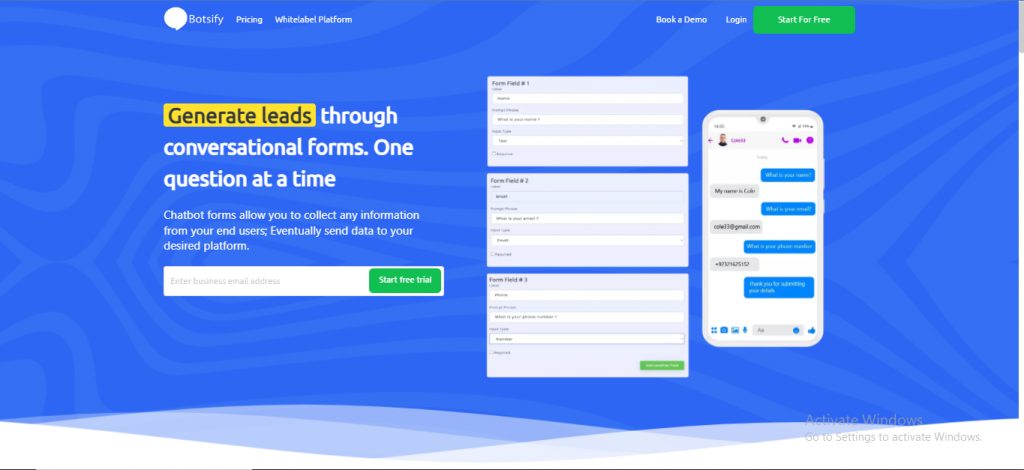 2. Acquire Users From Comments on Your Facebook Page
You can respond automatically to comments and acquire users from your Facebook posts. You longer have to manually go through each and every comment with similar or the same query from tons of users every day!
3. Talk to Your Website Users via Messenger
You can chat with your website users via Facebook Messenger using Botsify. Whenever a user interacts with your website chatbot and requests human assistance, you will be notified on your messenger.
From there on, you can simply respond to that particular user through your messenger chatbot, integrated to your Facebook page.
Heres how it works:
4. Collect Emails Through Website Chatbot
You can collect email addresses to add to your subscription lists via website chatbot. No need to ask for their name and email in a separate pop-up. If a user is interested in conversing with your chatbot, they will simply give their details to you!
Pricing plans: 14-day free trial then paid plans starting at $50/month.
Every SaaS Startups one-stop-shop for the perfect email marketing campaign your new feature announcement needed!
MailChimp is highly popular because it is easy to use and cost-effective to startups as well as enterprise-level businesses.
Similar: Read this blog to learn great sales hacks using MailChimp
It offers social media Ad campaign, website landing page campaigns and many more.
But the best features are MailChimp's drag and drop email builder and the email marketing automation.
The free plan is an excellent lead generation tool for startups offering 12000 emails/month or 2000 subscribers list – that's more than great for free!
MailChimp lets you test your email subject line to make sure it looks as good as you think it does.
You can create a solid email using the templates given and customize it as you like.
MailChimp also has a powerful knowledge base that can help you create better-suited campaigns for your SaaS Startups.
Pricing plans: Free version & Paid plans starting at $10/month.
You might also like: How to Clean your Email Lists
Optinly is a lead capturing tool that allows you to drive 10x leads and conversions with pre-existing responsive popup templates. 
Optinly comes with a clean UI/UX and needs no design or development skills making it one of the best lead capturing tools around.
Below mentioned are a few features of the Optinly 
75+ popup templates that are highly responsive and customizable.

Different types of lead generation popups like spin the wheel popups, countdown timers, fullscreen overlays popups, slide-ins, etc.

Built-in popup editor to customize popup templates to a high level.

Advanced popup display rules like exit triggers, time-delayed triggers, device-based triggers and more.

Seamless integration 15+ top email service providers and webhooks.
With Optinly, you can easily create popup templates in under a few minutes. The growth goals backed by appropriate popup templates promote the user-centric approach to a great extent.
Pricing Plans: 
Optinly comes with a forever free version. The paid plan starts at $25/month.  
4.
ClearoutPhone
In the lead generation process, data accuracy is something you cannot compromise on. The more accurate your data is the more effective results you get and this is why data validation tools like ClearoutPhone are a must for every business irrespective of the industry.
ClearoutPhone is one of the most popular tools for real-time and bulk phone validation, used by over 10000 organizations for data excellence. The tool is easy to use and helps to determine whether a number is valid or not along with other important enrichment pointers such as carrier info, Line- type, location, etc helping you further enhance your lead data and campaign performance. The data is validated using a multi-tiered process including international telecom authority validation, multiple career lines validation and third party validation, ensuring high data accuracy.
Benefits of using ClearoutPhone:
Identifies the type of number

Enrichment of the phone number

Facilitates real-time phone number validation

Multiple data checks ensuring high data accuracy

Seamless API integration with all tools and forms of your choice

Covers 240+ Countries with carrier & Line type lookup

24/7 Customer Support

Free account creation with 100 free credits
Salesforce is highly recommended to all SaaS startups as their CRM software. This platform is considered one of the top Lead Management software solutions. It does not require setting up or manage offline, everything can be easily accessed over the internet. All you need to do is log into your account and start working.
Other than your customers, you can interact with other SaaS startups and companies similar to yours and exchange ideas, get feedback and overall grow within the community!
Learn more: How to Make your customer service great
Salesforce helps you manage your Leads, Existing Customers and your Sales Team. It allows multiple integrations of marketing and optimization software to help you capture more and deliver excellent customer service always!
Pricing plans: 30 days free trial then Paid plans starting at $25/month.
Maker Leads is an excelling prospecting tool for SaaS Startups. You can get a list of all product makers and/or their upvoter list off of ProductHunt and Angellist.
Once you get the list, you can reach out to the product makers or your competitor's Leads (upvoters) and sell them your own product with better offers.
Similarly, if your competitor is also using Maker Leads, you can easily capture your ProductHunt upvoters too!
Cool isn't?
There are two options that you can choose from when creating your Prospecting Lists; Pre-compiled Leads and Product Hunt Leads.
"Precompiled Leads" are readymade lists of products and their competitors to make it easy for you to get all the Leads in one place.
Whereas "ProductHunt Leads" is divided into two categories.
A. Leads by Date – List of Products posted on a specific date
B. Leads by Product – List of Upvoters of a specific product posted on ProductHunt
Pricing plans: List of 50 Free Leads generation tool & Paid plans starting at $15/month
Zapier is not itself a free Lead Generation platform but it helps you connect all these software together to fasten up your processes. You can integrate multiple apps from a list of 1000 Zapier supported apps and start optimizing your lead generation!
Learn More: Check out 79 b2b software of the year
If you are planning to promote your newly launched product, you will need some advertising Free Lead Generation Tools. Other than promoting your business on social media ads, you can place your ads on Google search using Adwords.
Google Adwords places your ad in front of people who search for similar terms to your predetermined keywords. For example, if I create a google ad for 'chatbot for a website when people search for similar or same terms, they will see my ad placed somewhere on google. You can automate your Google ads with the help of automation software as well
This will increase my chances of getting a relevant audience and more visitors to the page or get contacted via the information provided. The best part is, setting up campaigns is free – you only pay when your Ad is being clicked by people.
Ever had trouble scheduling your meetings? When working internationally you must at least exchange 3 emails to schedule a single meeting and have to type in each one manually. Calendly helps you optimize your meeting schedules.
You can simply set up a calendar of your available days and timings for your prospects and clients and easily schedule demos, sales calls, meetings and so on and so forth.
Pricing plans: Free version & Paid plans start at $8/month
Bonus Tip: Add your Calendly link to your email signature. It will not only look super cool but also go to each of them every time so they don't have to go look for it!
You must already know the platform and its usage. But did you know? Quora has become the hub of providing relevant information to people asking questions.
How?
since botsify provides messenger code generation, integrating business cards and other printed materials can be optimized with a messenger code. This information was nowhere to be found on Quora so I wrote this answer, got a handful of upvotes instantly! There are tons of questions on the platform that is relevant to your business, which gives you the opportunity to jump in and make your way to the hearts of your prospects.
So my questions unanswered or with very little or irrelevant information; you can actually contribute by writing well-informed answers and at the same time generate leads through it when anybody enters a similar search term and find your answer!
Pricing plans: Free
This tool is highly recommended to all SaaS Startups. You dont know how many businesses visit your website and leave quietly, without getting in touch with your live chat or never contacted you.
source: lead feeder
Lead Feeder finds who they were, with the help of Google Analytics. The platform provides data for the last 30 days visitors and provides contact information of people working at those companies.
Without any hassle, you can reach out to them, follow up and schedule a demo.
Pricing plans: 14-day free trial then paid plans starting at $59/month.
12. Selzy
What if your business just started and you can't splurge on marketing? Selzy got you covered! With its affordable pricing and a user-friendly interface, it's a perfect tool for small businesses to start their journey on the market and keep growing.
With Selzy, you can grow your list with in-built subscription forms, build picture-perfect emails with no coding or design skills, set up and launch automated sequences in 15 minutes — and more!
The free forever plan is fully functional and allows you to send up to 15000 emails to 1000 subscribers a month.

Selzy offers 24/7 support via chat, phone, and email, with an average response time of 5 minutes.

The email builder offers 100+ free templates for any occasion and a user-friendly drag-and-drop interface for creating awesome layouts from scratch.
Pricing plans: Free version & Paid plans starting from $7/month
If you are looking for email addresses of people and companies this is the tool for you. You can either search by name of a person or a company to get relevant email addresses of employees you are looking for.
The first 100 search requests are free and then their paid plans starting from 1000 searches and more.
Pricing plans: 100 free search requests then paid plans starting at $39/month.